What are online portals?
Online client portals are secure application gateways designed to provide customers, vendors, and partners with a single point of access to a company's products, services, and information.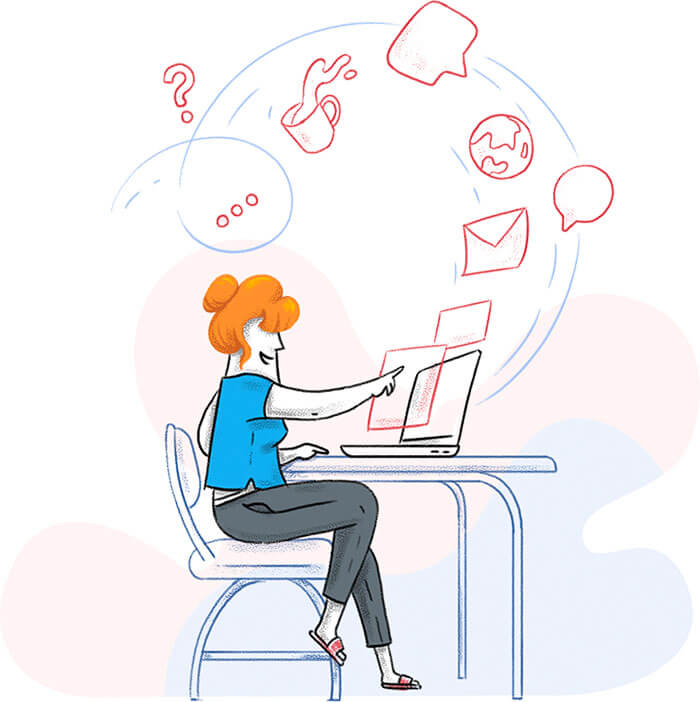 Why does your business need an online portal?
With a dedicated hub at their disposal, your customers, business partners, and employees can find exactly what they're looking for, just when they need it. Using portals, your users can get context-specific access to applications, find help, post questions, access resources, or raise support requests.
Self-service portals allow users to interact directly with customer support processes, and manage data relevant to them, like policies, invoices, deliveries, orders, and online payments.
By giving users their own login credentials, you not only deliver a more personalized experience but also help them become a part of your company. And portals already have built-in authentication and security mechanisms in place. So once your portal is set up, clients can simply sign up and log in—it's that easy!
How do portals add business value?
Besides the value of driving down service costs, a customer portal is also a key productivity tool and experience element. And the benefits don't end there.
One place for everything
A responsive self-service portal will ensure your customers find all the information they need in one place. The more reliable and dedicated your portal is for addressing customer needs, the less they'll need to look elsewhere when they have a problem.
From business websites to PWAs
Portals are readily available as progressive web apps, and even native mobile apps, downloadable with a click. Portal applications are responsive and engaging, like mobile apps, and discoverable like web pages—and they run on both desktop and mobile devices.
Customers can help themselves
CX isn't just about solving customer problems. It's also about providing customers with the tools they need to solve their own problems in the future, like FAQs, knowledge bases, and online discussion forums. Self-service portals do this beautifully—customers can view, edit, and manage data via web or mobile, and access relevant help documents easily.
Your help desk portal, your brand
Branded support and self-help portals reassure customers they're in the right place. And portals are a great way for businesses to promote branded applications with personalized logos, visual elements, and a customized look and feel.
Granular access control
Self-service website portals act as an electronic "front door" to your store, where consumers can obtain products and services. By setting up authentication protocols and sophisticated access controls, you can govern accessibility and secure data. Based on a user's scope of work, permissions can be configured within the portal.
Up-to-date customers
Portals are highly configurable and intuitive to use—they can be personalized with tailored data to suit any user's needs. Customers can be granted exclusive access to product release notes, new feature announcements, version changelogs, and other important product information.
Create a community
Avoid a large number of support tickets by setting up self-service resources, like a community forum, dedicated social media feeds, live chats, Q&A sections, and user guides, on your portal. Peer-to-peer support can significantly alleviate the pressure on your own customer service staff. And stakeholders can quickly get their questions answered, reducing agent workloads.
Improve customer acquisition
Self-service portals strengthen your customers' overall opinion of your company, by giving them a consistent knowledge base and easier problem resolution. You can gauge customer satisfaction by setting up quick surveys on the portal, and asking them to review your company, refer friends, or cross-sell another service they may be interested in.
Try Zoho Creator's feature-rich web portal experience
Zoho Creator portals simplify the way line-of-business apps are shared and used by people outside the organization. Let's see what makes Zoho's customer portals ideal for your business:
Dedicated portal designer
Choose a striking design for each of the three pages essential to a customer's lifecycle—login, signup, and reset password pages. And you can then further customize these pages using the portal page designer.
Custom domain
Design portal pages that behave like a natural extension of your company's website. And you can host your support portal on your own domain, to be accessed from your business website instead of Zoho Creator's.
Multiplatform portals
With a fully responsive design, portals can be accessed smoothly on computers or mobile devices. You can also keep your customers connected and informed through web, email, and mobile push notifications.
Retain brand identity
Customer portals are a great way for a business to present applications that match their brand—with personalized logos, visual elements, and a customized look and feel.
Complete access control
Choose how and when customers access your service offerings. Have product data that should only be accessed by logged-in users, or users on specific payment plans? Set up access controls before launching your portal so that each user can only access their own database. And select your portal type based on the users it's aimed at.
Efficient user management
You can add portal users individually, or import them in bulk, and group them based on approval status. Define individual access permissions for user profiles—to read, write, edit, and comment on the data available in your portals—based on their scope of work. You can also add users dynamically using scripts.
Strong authentication mechanisms
Perform centralized management of user authentication and access rights. Choose between two different authentication mechanisms—single sign-on (SSO) using a third-party identity provider, or federated logins (Google, Facebook)—or simply use Zoho's own login.
Customizable notification preferences
Set up personalized email notifications to communicate more effectively with your users.
Level up your business applications with online portals
Here are a few ways Zoho Creator's website portals can be leveraged to meet business needs:
Student gateways
Universities use portals to keep their students updated on daily schedules, examinations, and assignment details. Students can view staff schedules, grade sheets, and event updates. Push notifications can be set up for updates like schedule changes or announcements.
Support portals
Portals connect customers with support personnel by giving customers real-time visibility into the issue resolution process, like monitoring tickets, updating tasks, or checking ticket status.
Project management
Self-help portals let project teams identify exactly what each customer sees, with defined granular role-based access controls (RBACs), promoting real-time customer-consultant collaboration. Customers can keep tabs on completion statuses and new developments, and get controlled visibility into their project management workflow.
Other common online self-service portal examples include:
HR portals
Product return portals
Sales portals
Help-desk portals
IT self-service portals
Supply chain management portals
Supplier/vendor self-service
Online vendor portals can significantly reduce the effort in conducting business by fielding basic supplier inquiries and automating invoice data entry; freeing staff to focus on higher value tasks for the organization.
Merchant onboarding
Self-registration through online portals helps automate supplier onboarding. Companies can streamline processes for registering and managing supplier access and focus on building stronger buyer-vendor relationships
Order handling and fulfillment
Trading portals give customers and partners—and potential contractors, suppliers, or other vendors—a place to coordinate their efforts.
Top brands that use our platform
Frequently Asked Questions
What are Zoho Creator portals?
Portals are dedicated gateways for your customers to interact with line-of-business applications and data. Users will be able to sign up through the online portal instead of signing up with a Zoho account.
Who is a portal user?
Portal users are anyone external to an organization—customers, vendors, business partners, and others—who need a single point of access to your products, services, and information. For example, a university could set up a portal for their students.
What kind of portals can I build with Zoho Creator?
Self-service portals open up a world of new opportunities for stakeholders to interact with your business. Zoho Creator's website portals can be leveraged to meet business needs for several customer-facing applications, like student gateways, IT support, order handling and fulfillment, supplier and vendor management, HR, sales, help desks, and more.
What are the different authentication mechanisms that Zoho Creator uses?
Zoho Creator allows you to choose between different authentication mechanisms
Portal login - Using the unique login credentials generated when signing up for the customer portal.
Federated login - Using your Google or Facebook accounts.
SAML authentication - A single-sign-on (SSO) framework by which the customers can access the customer portal using an identity provider.
How do the different portal types work?
Portals are divided into three types, based on access control:
Public - Any user with the link to the customer portal can sign up and access it.
Restricted - Users have to sign up and get approved by an admin to access the portal.
Private - Only users invited by the admin of the customer portal can access it. Users cannot sign up for the portal on their own.
What are permissions?
Permissions govern the level of accessibility of the customer portal by a user. Permissions can be configured in different ways by the admin, based on the scope of work for a user within the portal. Some examples include permissions to access a form, or read, write, edit, and delete records. Read more
Do customers need to be added manually each time? Is there an option to import users?
You can add customers individually or import them in bulk. Upon successful import, the customers will receive an email invitation to access the portal. Read more
Can the login page be fully customized?
The login, signup, and reset password pages can all be customized to reflect your company's brand using the portal page designer.
Can I have my customers sign up for the portal?
Yes. You can allow customers to sign up for your application's portal, provided it's either Public or Restricted.
How does licensing work for customer portals? Should the licenses be purchased for every application access?
Portal add-ons can be purchased for the Premium and Ultimate plans. The add-ons are priced depending on the number of users.
Can my employees be part of the customer portal? Will I have to pay the license cost for them?
No. As per Zoho Creator's Terms of Use, only customers (and not employees at your organization) can sign up to the portal.
Can the admin set or reset the password of a portal user?
The portal user can use the "Forgot password?" option to accomplish this. If the user has opted for the default authentication mechanism, the admin can reset their password. If SAML authentication is in use, password resetting would depend on the options available at the IdP's end.