How to improve team productivity with shared inboxes
Productivity is not just completing portions of work items within a given period, it is also defined by the brilliance of the work produced. Team productivity is therefore a measure of the quality and quantity of tasks completed by individual members of the team, at scheduled intervals. While there are multiple methods to enhance team productivity and efficiency, the tools we use to attain it should ensure effective work management and increased collaboration. They should make work easier, rather than being an extra work themselves.
Zoho TeamInbox is aimed to make email and inbox management easier for teams.
Organized inbox
Keep your inbox clutter-free. Zoho TeamInbox's inbox management features helps you achieve Inbox Zero effortlessly.
Shared tags
Tags let you organize your threads based on topics. Create tags and apply them to threads across inboxes. and access information with much ease.

Team admins can create tags from the team setting. Enter a name for the tag, choose a colour for it, and select the inboxes that are allowed to use the tag. Every team member can view and use this tag.
Tags can be applied to threads from the top bar in your email window. All the tags created in the organization are listed in the left pane under the title Tags. Click on the tag name to view the threads listed under them.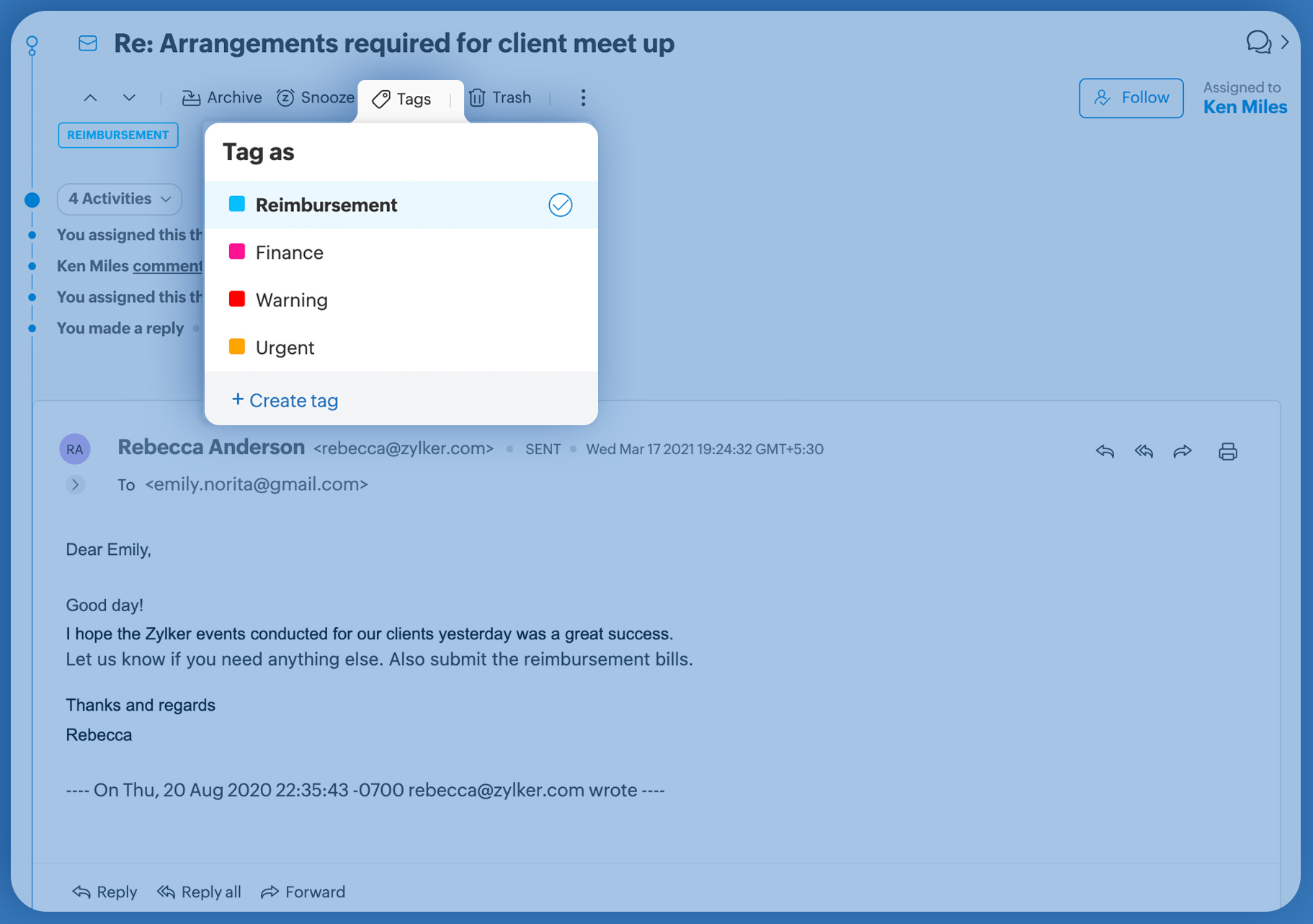 Thread snooze
Snooze less important conversations so to concentrate on the most important ones at hand or snooze a thread to be reminded of to follow up later.
To snooze, navigate to the thread and click Snooze from the top bar. Select the time after which you want the thread to reappear in your inbox. This thread will be hidden from your inbox and be visible under your Snoozed view until the set time period.
To cancel the snooze time that you've set for a thread, find the thread under the Snoozed view, click Snoozed from the top bar and click Unsnooze. Now the thread will be removed from the Snoozed view and will reappear in your inbox.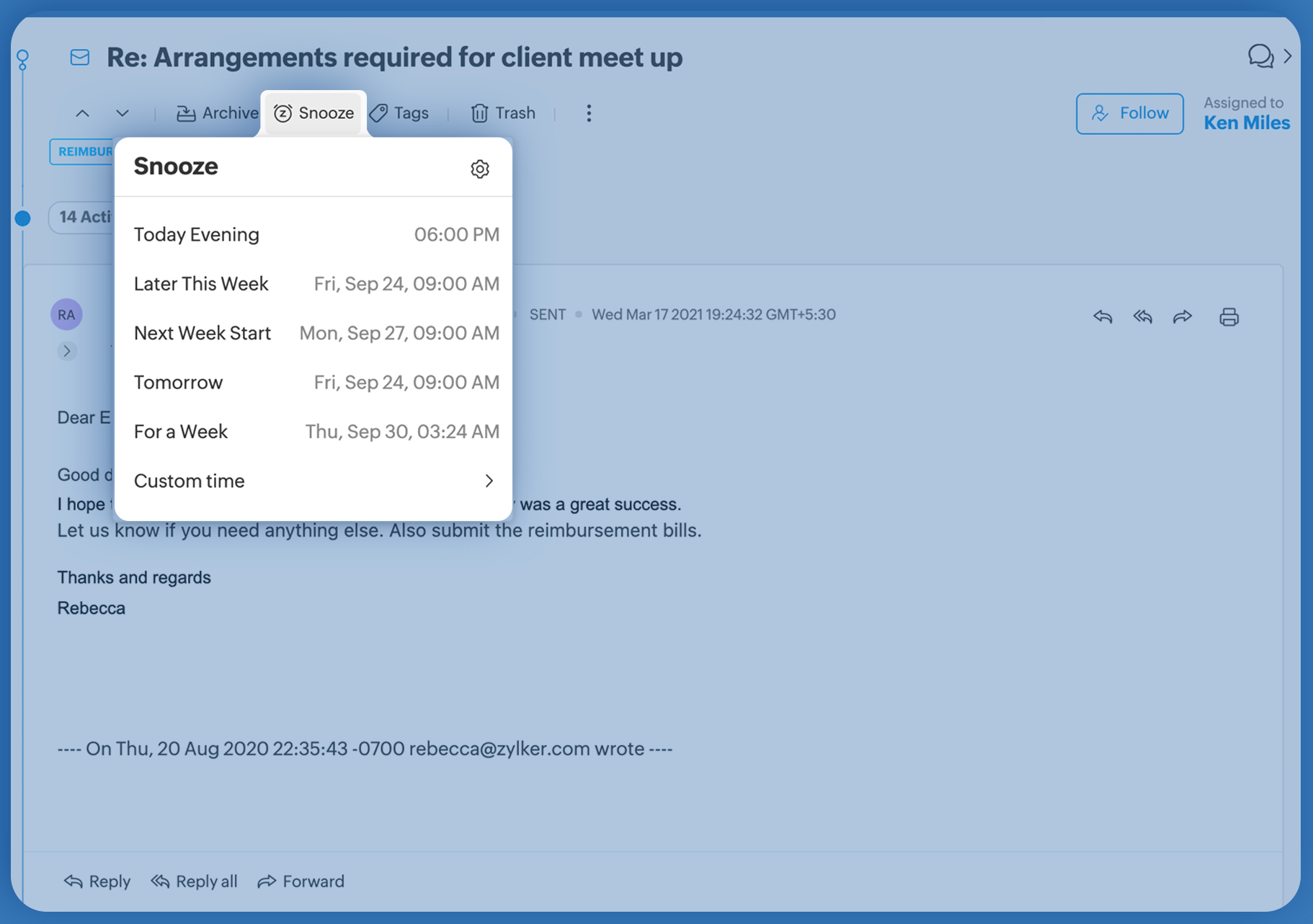 Thread archive
Once you're done with conversations you can archive the thread, thus eventually attaining inbox zero. This will help you focus on conversations that are yet to be responded.
To archive, navigate to the thread and click Archive from the top bar. You can also archive a thread while sending a reply by hitting the Send and archive button. When you archive a thread, it will be removed from the Open view of your inbox and be moved into the Archived view. When a new email is received in an archived thread, it will be unarchived and moved to the Open view.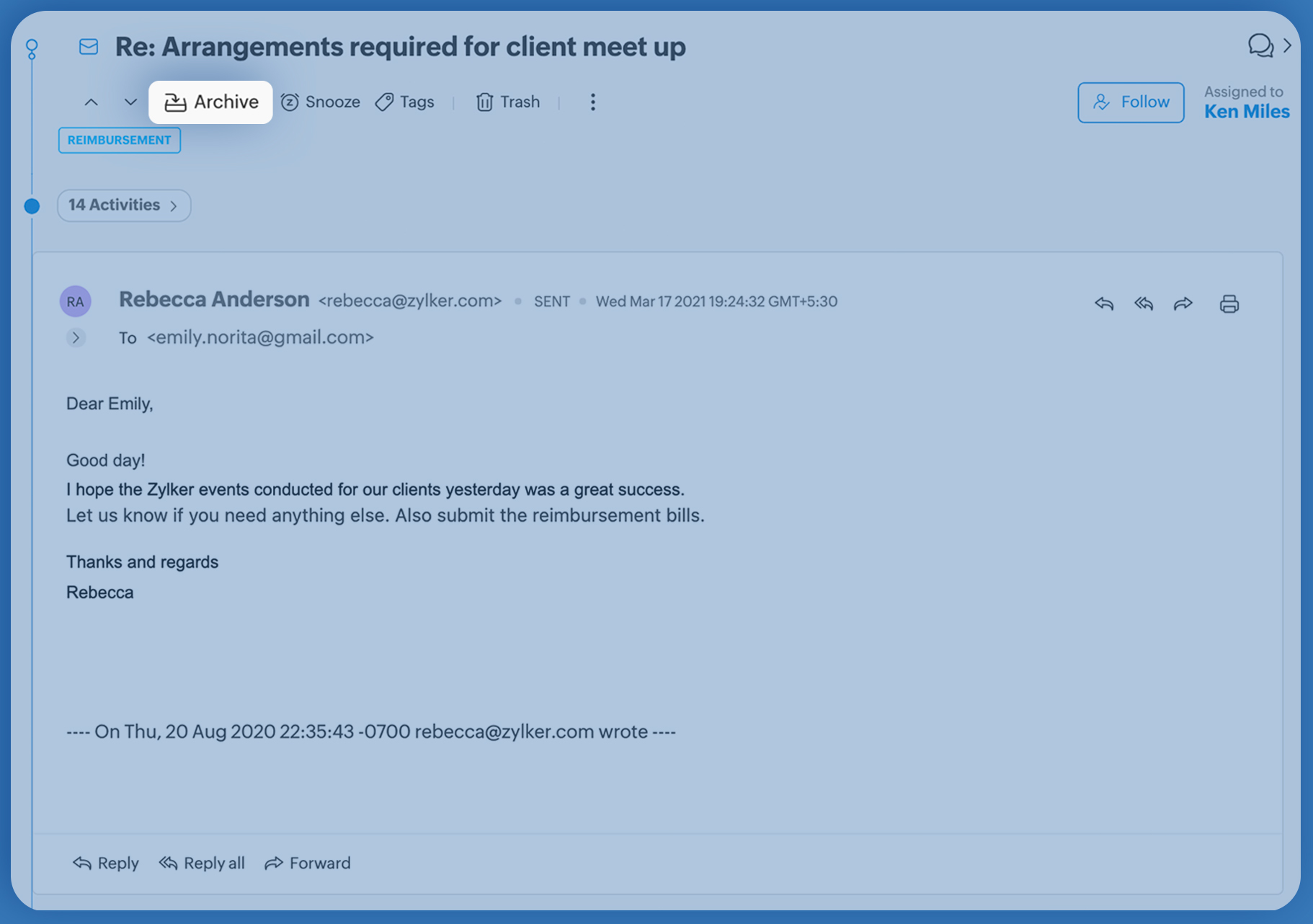 Thread views
In Zoho TeamInbox, your messages are listed under different views so you can manage them easily. You can see the following views in the left pane.
Assigned to me - lists threads assigned to you
Assigned to others - lists threads assigned to your teammates
Following - lists threads you follow
Shared with me - lists threads you've been @mentioned
Draft - lists your drafts
Sent - lists your outbound messages
Snoozed - lists your snoozed thread
Spam - lists spam emails
Trash - lists trashed emails
Unread - lists emails you are yet to read
Automation with rules
Save time and increase team efficiency by handling repetitive tasks with rules in Zoho TeamInbox. Automate thread delegation, notify teammates about specific threads, archive after an outbound reply is made, and do more with rules.
Team admins can create rules from team settings. Set the rule condition and select the action to be performed. Once the rule is created, it will be in the active state, and start processing based on its trigger condition. You can disable a rule at anytime.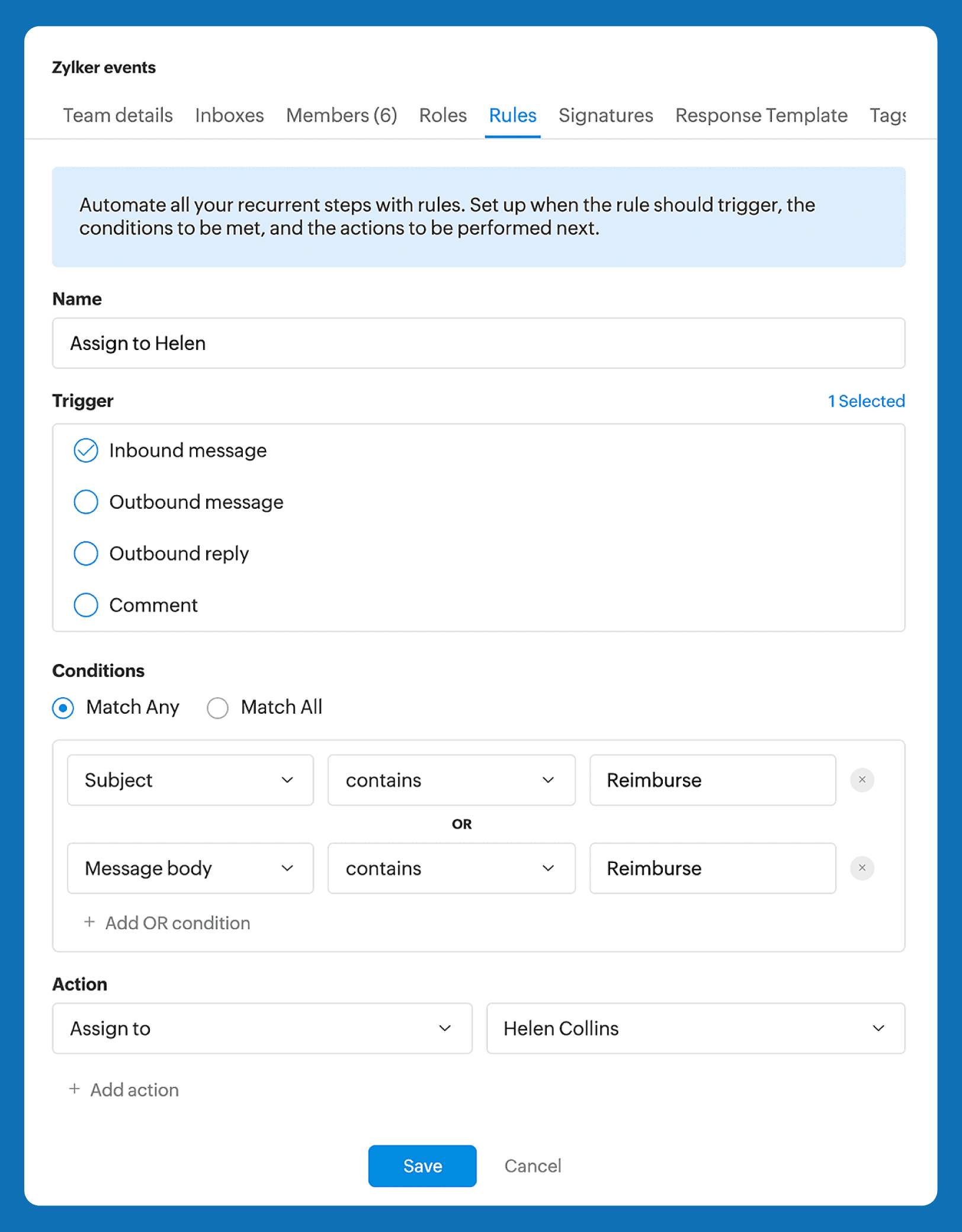 Faster replies
Create response templates and signature templates to help teammates make quicker replies and to maintain consistency in the emails that go out of your team.
Response templates
Create emails templates for common requests and save yourself and your team from writing responses from scratch every time. This also ensures that your recipients receive a precise response, leaving no space for error.
Team admins can create response templates from team settings. Name your template, enter the content, and select the inboxes that are allowed to use it. Now every member in the team can pick the template in the email compose window and send it out as a reply.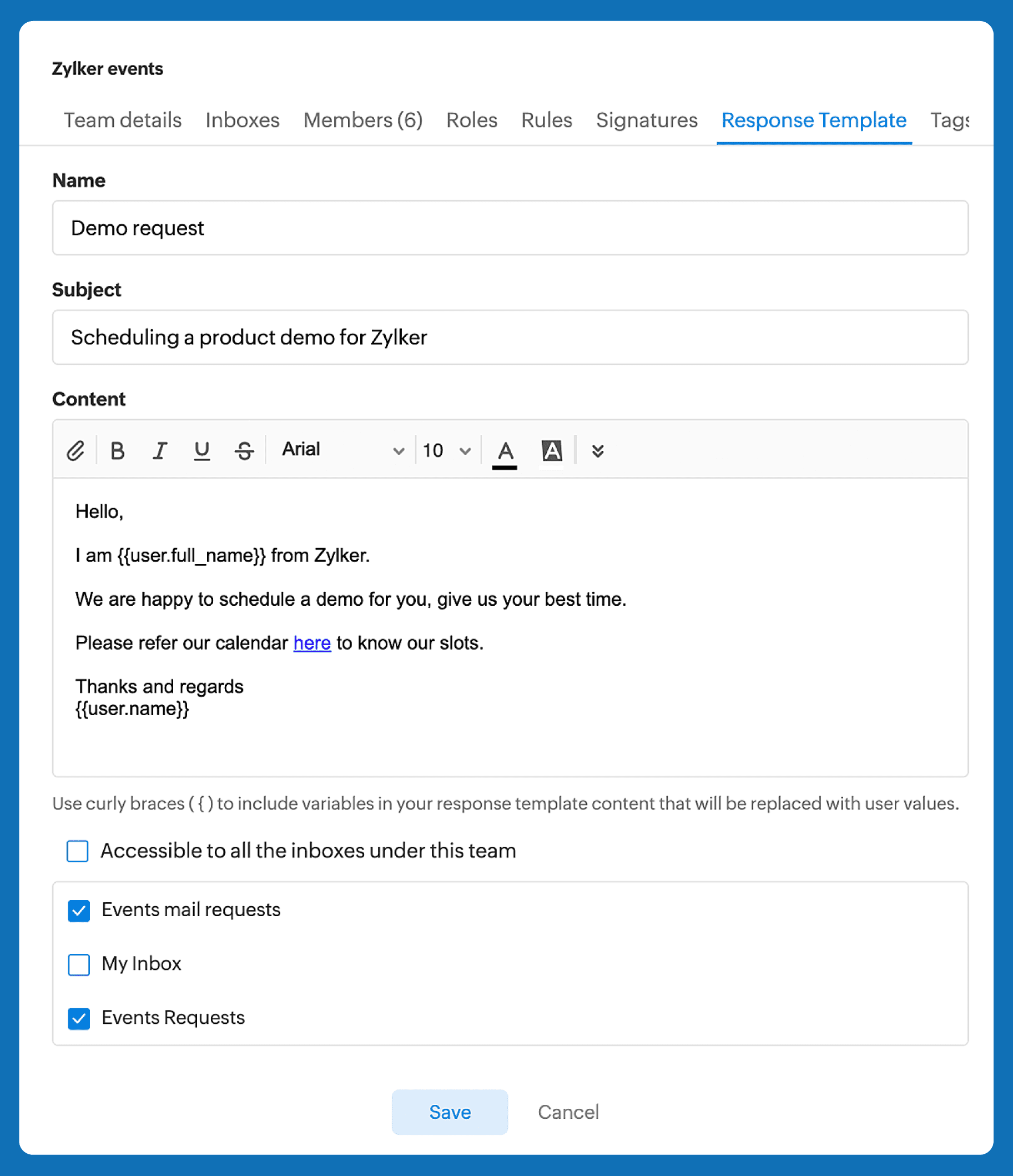 Signature templates
Create signature templates that your team can pick and use while composing the email. Team admins can create signature templates from team settings. Name your template, enter the signature content, and select the inboxes that are allowed to use it.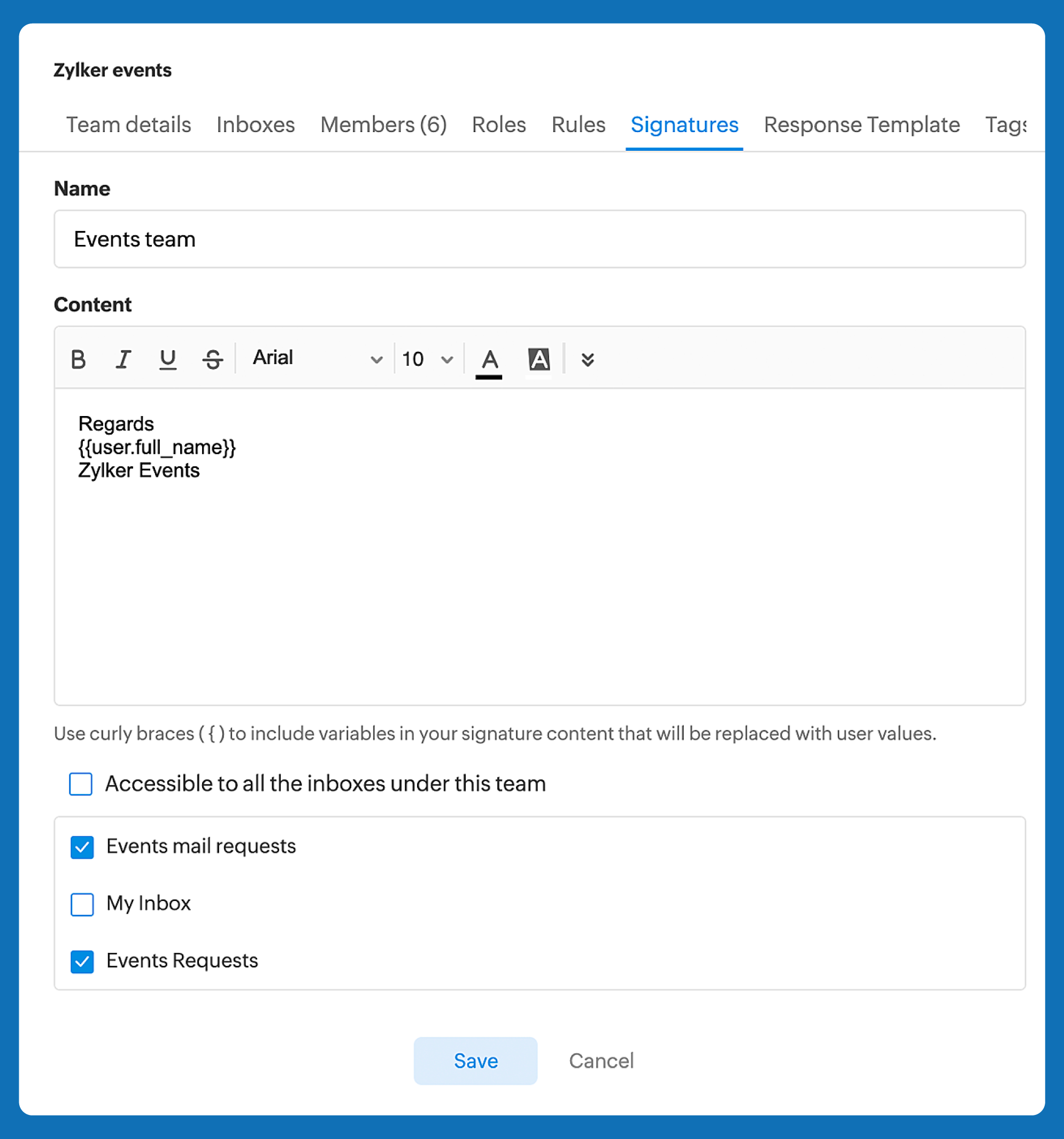 Improve team productivity with Zoho TeamInbox's easy to use features. Manage work items and inboxes efficiently and make collaboration effortlessly, and thereby increase both individual and team productivity.
Try out our features and share your feedback with us at support@zohoteaminbox.com