The ultimate guide to Pinterest for businesses
Last Updated: December 11, 2018
4.2K Views
8 Min Read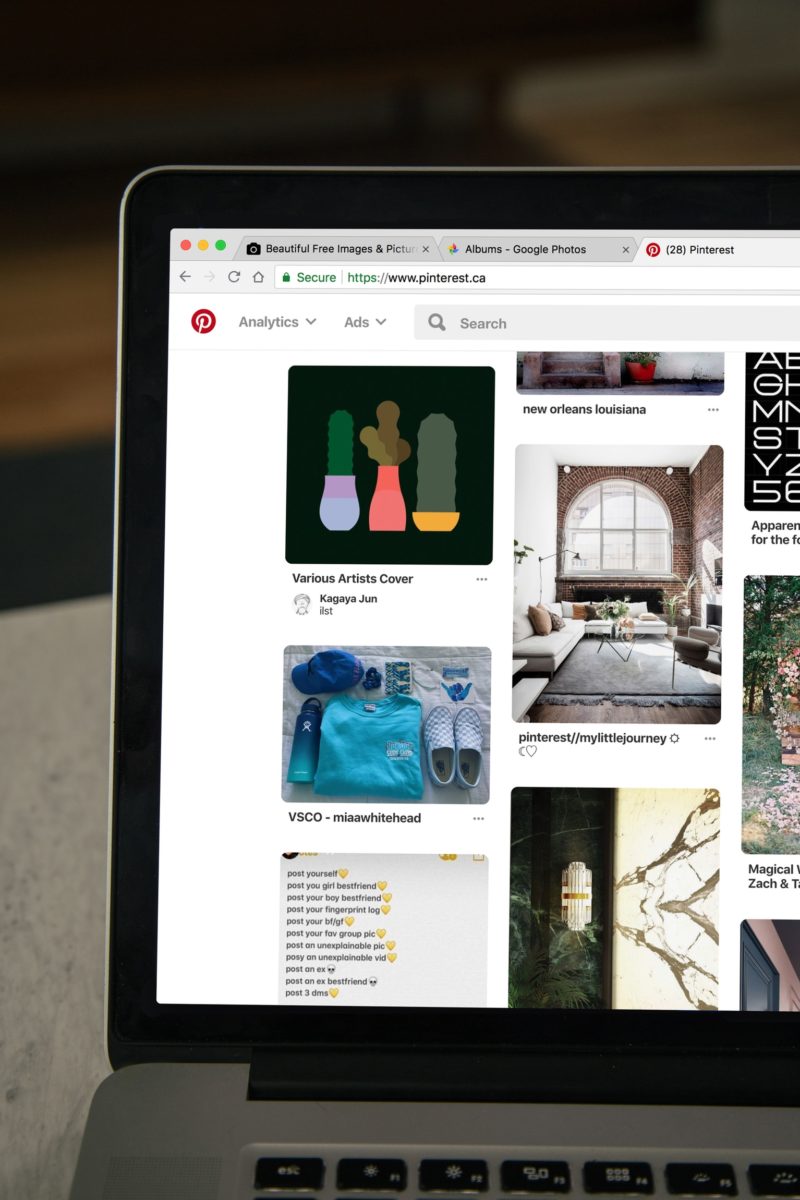 When I say "Pinterest," people often think of that place on the internet where you can plan weddings on an unlimited budget, get ideas for your next tattoo, or look at aesthetic pictures of your next travel destination.
While Pinterest still can help you with all of that, it has officially grown into something much larger than food recipes and music playlists. As their CEO put it, Pinterest is a catalog of ideas, and that spells a lot of opportunities for brands.
Not convinced? Here are some stats for you: Pinterest officially has over 250 million monthly active users. Added to this, here are some stats from Pinterest themselves: a whopping 93% of pinners use Pinterest to plan purchases, 61% say they've discovered new brands or products from promoted pins, and about 50% have made a purchase after seeing a promoted pin.
While it might be extremely tempting to start using Pinterest right away, it might be a good idea to find out if your audience is actually on the network: more than 80% of Pinterest users are women, and the majority of the active users are below 40. If your target demographic is on Pinterest, then it's a great idea to use this platform for your brand.
Pinterest also provides its own educational material so that you can get the best out of the platform. However, we've condensed the most important things you need to keep in mind in this blog to make it easier. But before that:
Basics of Pinterest
Before we get into how you can optimize Pinterest for your business, it's important to understand how content works on Pinterest. If you aren't familiar with it, no problem. It's actually simple—Content on Pinterest is organized as Boards, and each board has multiple Pins in them.
On Pinterest, you first create boards and then add pins to the relevant boards so you can group them correctly. You can also choose any one pin from a board to be the cover pin.
There are a few basic things you need to keep in mind while using Pinterest. Firstly, Pinterest is a very visual platform, so you'll have to focus on creating aesthetic pins. Make sure the pictures are well-lit, composed properly, and in focus, or choose any stock image. Regardless of that, be sure to make the most of the description section. Add your links, include keywords, and make sure to tell your audience exactly what to expect when they follow through to the linked content.
While you do all of this, be sure to pin content regularly. Pinterest themselves recommend that you post content about once a day, and if you're able to create top-quality content regularly, you'll be primed for success.
How to get the best out of Pinterest?
1. Optimize your content
One of the first things that you should do on Pinterest is to optimize your content for the network. And the basics are pretty easy to figure out. It's a visual network, so most people can understand that creating high-quality pins are a necessity, but you can go even further.
Pinterest uses the Smart Feed algorithm to show users more of what they like. This means that the time that you post your content is less relevant because the feed isn't in chronological order anyway. What your users see first will be what Pinterest thinks they will like.
There are a few things you can do to optimize your content for this algorithm:
Make Beautiful images— This goes without saying. Use the recommended pin sizes, and ensure that the pictures are of high-resolution. If you're adding text to the pins, make sure that they are clearly visible, and fit the aesthetic of your image. It is also a good idea to ensure that the pin looks great on the mobile app as well.
Write great descriptions— Descriptions are a great way to give your followers more information, or context to your pins. Write a great description for both your pins and your boards, and ensure that you're using relevant keywords in them. Make sure to put your keywords in front of your description, so that it doesn't get truncated as a part of the caption.
Make it easy to pin from other sources— Be sure to include Pinterest along with other networks whenever you add social sharing buttons. This could be anywhere, including your blog or your website. If multiple people are pinning your content, you'll be able to reach more users on the network
While you keep this in mind, remember that your content need not be just about you or your brand. You can also include content that is not directly related to what your brand does, but if it fits into your audience's interests, it's still a good thing.
2. Engage with your audience.
Like any other social network, engagement is key to success on Pinterest. There are a few ways to do this, but Pinterest messages are probably one of the best ways to directly engage with your followers. What's interesting is that unlike other social channels, you can directly send messages to a pinner's email address as well. This will seem a lot more personal than interacting with your followers through comments on pins that you have put up.
It's a good idea to keep tabs on which boards and pins your followers enjoy the most through your notifications, and then make a list of these pinners based on their interests. Once you've done this, you can send them messages inviting them to similar boards of yours that they may like, or even include a CTA to take them your website.
If you come across a follower of yours who has a strong presence on the website, you can even message them and ask them if they'd like to collaborate with you. Be sure to include examples of the type of content you want, so that they can decide if they want to collaborate with you.
Another great way to engage with your audience is to re-pin any relevant content that you find. If you find a post by a Pinner that you feel will fit in your boards, and might be relevant to your followers, you can re-pin it directly. You could also send them a message about the post that you re-pinned if you also want to add a personal touch.
3. Use Rich Pins
Rich Pins are just enhanced pins that use data pulled from your site and display it on your pin itself. A good idea is to use Rich Pins to include price tags for pins that include your products. However, it may be a good idea to not just push your products alone. In case you want to share blog articles that you've written, you can include the headline, the author name, a description for the article, and even a CTA button that takes your audience to it.
Try to use Rich Pins wherever appropriate so that you can maximize your reach on the platform.
4. Use Group Boards to maximize your reach
Pinterest also has this nice little feature called Guest Boards, on which you can invite other people to post pins to boards you own. The activity on this board will appear on both your followers' and your guest's followers' feed. If you're collaborating with an influential pinner, this is is a great way to increase the reach that your pins have, and you'll be able to attract a lot more followers this way.
If you use tools like pingroupie, you'll be able to find group boards that you can contribute to. When you find relevant boards, add your pins to them, and people might even find your board through the group ones you're a part of. This can help you the follower base for your brand.
5. Use Infographics
Infographics are the best way to relay information to your followers on Pinterest. They are especially effective on this network because they combine visual elements with the words, and can pack large data in small, aesthetic spaces. Here are some tips to create great infographics for Pinterest:
Try to be funny: Funny and cute infographics have the most medium pins or likes on the network. That is not surprising at all. We've written about how you can incorporate humor in your content, but one of the most important things to keep in mind is to define your target audience clearly and then try to use the kind of humor that appeals to them the most.
Use Reds and Yellows: Statistically, infographics with reds and yellows seem to perform better than any other combination on the network. It should also be noted that posts with only two colors performed better than all other infographics.
Create lengthy infographics: Infographics that were 5-9 times longer than their width or more are by far the most popular ones on the platform.
5. Use Pinterest Ads
If you have a business account on Pinterest, you'll be able to use Pinterest Ads to promote your pins on the platform. All you'll have to do is to hit "Create Ad" and then choose your goal. There are four goals available on Pinterest.
Brand Awareness: To build awareness about your brand through Pins.
Video Views: To get more views on your videos so people can find your brand.
Traffic: To drive more traffic to your sites.
App Install: To encourage people to install your app on their phones.
Once you've chosen the goal, you'll just have to define your target audience, set your budget, schedule the date for your campaign, and finally, pick the pins you want to promote. That simple!
6. Use Pinterest Analytics
Pinterest also provides you with its own analytics tool. Using this, you'll be able to see metrics like Cost Per Clicks or Cost per Installs, but you can also customize the reports to choose the metrics that are important for you. It's a good idea to monitor the performance of your ads constantly and then optimize them for better performance.
On Pinterest Analytics, you will be able to compare multiple metrics as well for your benefit. For example, take a look at average monthly viewers, and average monthly engaged. How do they compare?
You can also see which platform provides you the most engagement. If most of your engagement is coming from iPhones, you could concentrate on optimizing your content for that platform.
Another useful feature is the People You Reach feature on Pinterest. Here, you are given segmented data about the people you reach. Demographic data is provided in different forms—according to country, language, and gender. You can view this data for all your audience (your followers and people who just view your posts), or for just your followers as well.
Analyzing this data can give you insight into what kind of posts are performing the best and who they're reaching. Couple this with the trends you notice in other metrics, such as average monthly impressions, to understand whether you will need to change your content strategy for the website, and if so, what you can do to be successful.
That's it from us! There's a lot that you can do on Pinterest, and with these tips in mind, you should be able to see your follower base grow steadily, and soon enough, you'll find yourself achieving your marketing goals on the platform.
Know of anything that we've missed? Leave a comment below, and we'll be sure to get in touch with you!
Vishal

Content writer at Zoho Social, stand up comedian, and lover of dogs. I read a lot.
Comments(
1

)
Witchy

September 13, 2019 at 9:45 PM

Any word on when Pintrest will be integrated in with Zoho Social?
Leave a Reply
Your email address will not be published. Required fields are marked