The ultimate guide to personalization in social media marketing
Last Updated: July 29, 2019
7.5K Views
9 Min Read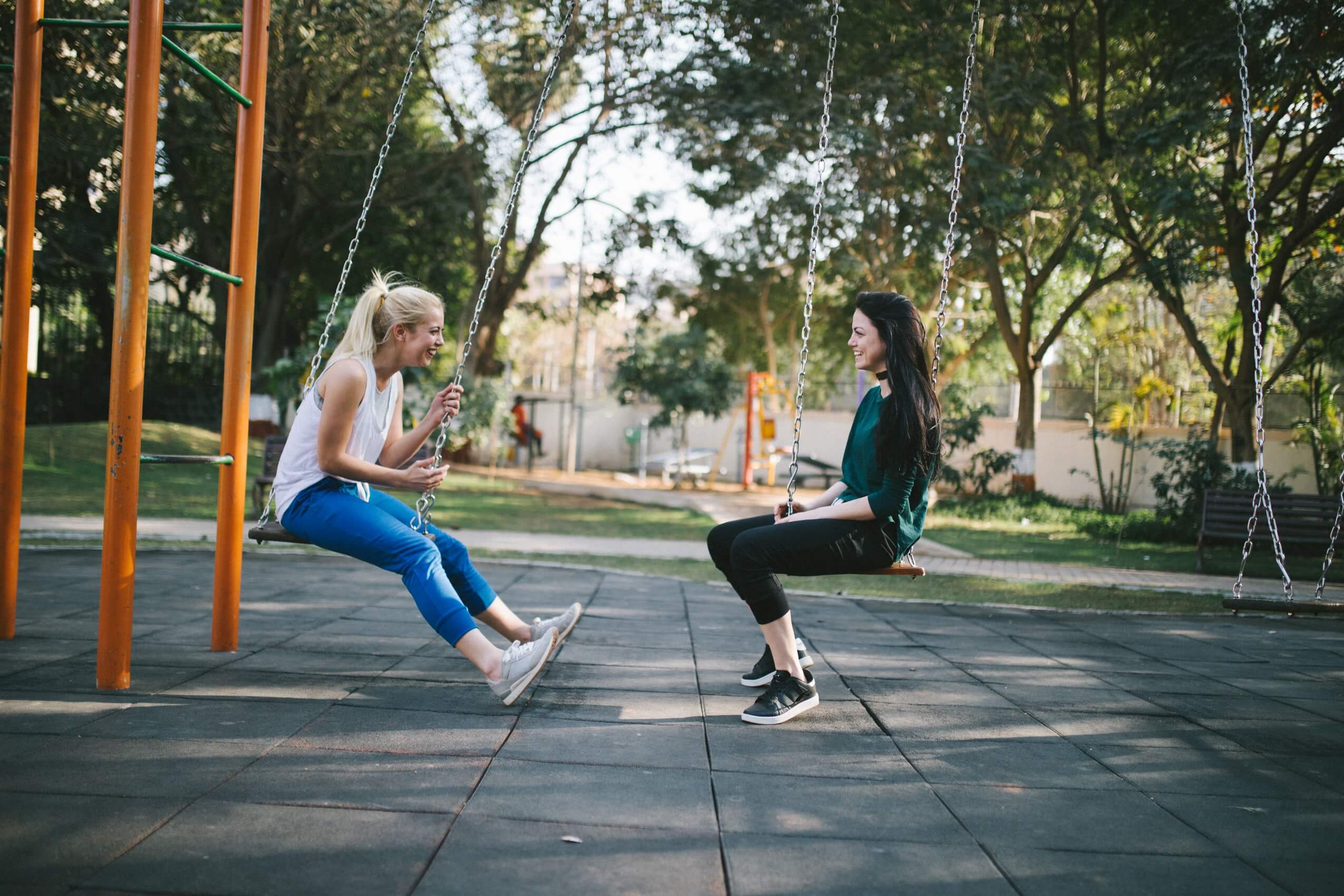 When we talk about the plethora of advantages that social media offers, one of the more commonly discussed ones is that social media allows marketers to establish and develop personal relationships with their audience. Done right, brands can use these relationships to forge a loyal consumer base that feels deeply connected to the brand and its products.
If you're able to establish relationships like these, then you also have the opportunity to personalize your marketing to your audience. You'll be able to specifically show them things that they want, based on their interests and past interactions. This is becoming increasingly important, as people have content coming at them from every direction. Personalized content gives you an advantage, and will help ensure that you stand out.
In fact, according to a recent study by Epsilon, 80 percent of consumers are more likely to do business with a company if it offers a personalized experience.
So, how do you personalize your marketing in a viable way? There's no right answer to this question, but there are few tips you can follow. Before we get into that, though, let's talk about what personalization means.
What do we mean by personalization?
Personalized marketing focuses on targeting specific content to the people who will find it most relevant. That's pretty much all there is to it.
The most obvious advantage to this is that content that's tailored to each person will have a much higher rate of success than generic content that's aimed at everybody. This is because your audience will perceive more value from you if you're able to talk to them specifically and address their needs. One of the most common examples of this is Spotify's "Daily Mix" feature.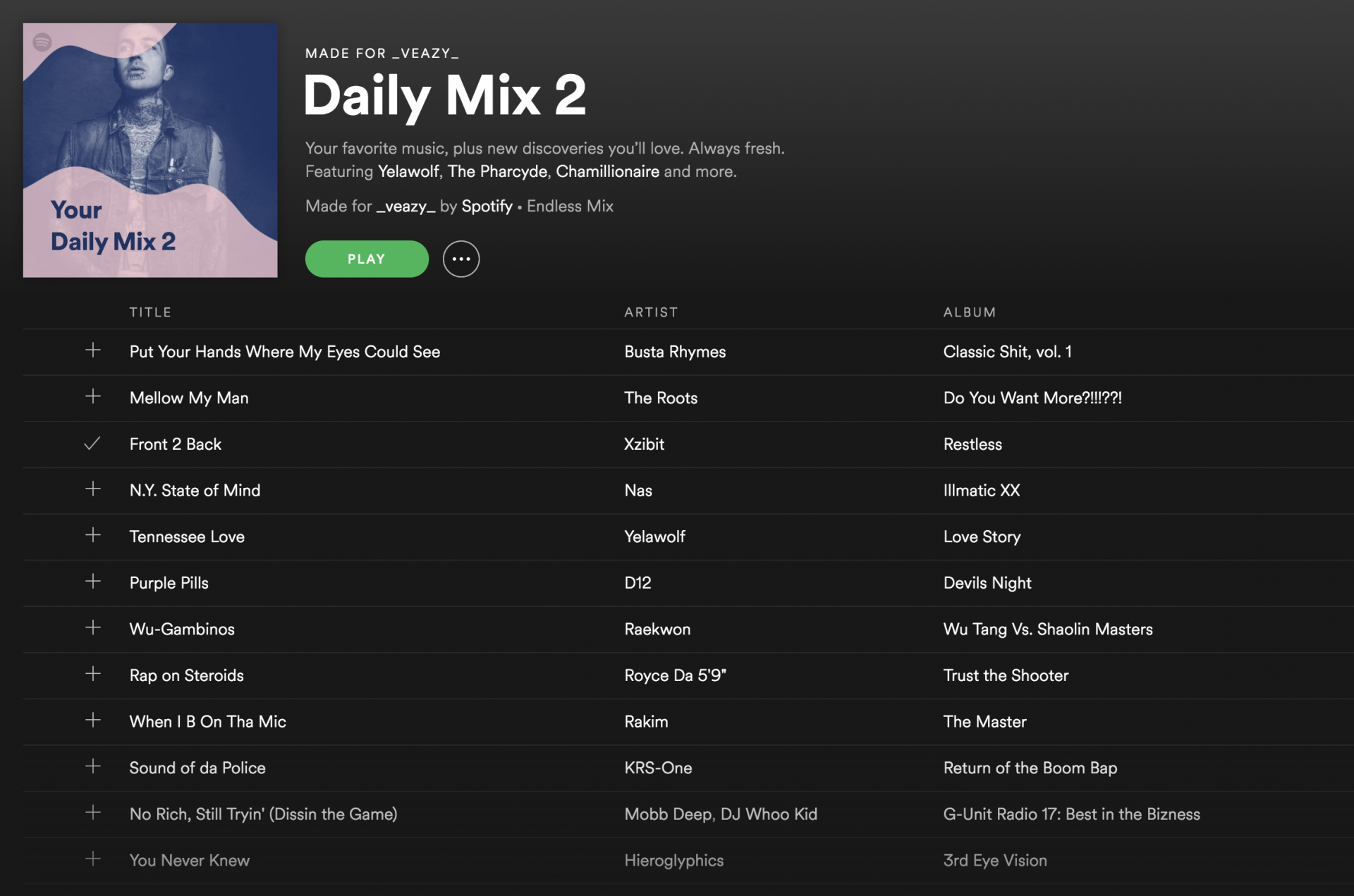 Spotify creates a daily playlist based on the listening history of its users, and this kind of personalized service contributes to why they're so popular. Also note how they include "Made for" and add your username, which adds a little bit of a personal touch to the experience, as well.
Advantages of personalization in marketing
Okay, we now know what we mean by personalization in marketing. But is it really that big of a deal? Studies show that there are many benefits to personalized marketing. Some of them are:
Increased social media engagement: When content is personalized, it's inherently going to be more useful and relevant for the target audience—which means that they're more likely to engage with your brand. Research says 56% of people experienced a boost in engagement because of personalized marketing. What's more, the additional engagement you receive is also a lot more likely to be relevant to your business.
Generate more leads and improve conversions: People are more likely to interact with your content if it's personalized, and because the content you deliver to them is going to be tailored, there's also a higher chance of conversion. This can have positive effects on your social media ROI, as well.
Improved customer loyalty: One of the biggest benefits you gain from personalized marketing is the spike in customer loyalty to your brand. If you're personalizing your messages to your audience, they're going to feel recognized and valued by your brand. This means they're a lot more likely to develop an affinity for you.
Improved brand awareness: Personalized marketing can lead to a lot of positive sentiments among your audience, and they'll be more eager to spread the word about your brand to the people they know. And with 92% of people believing recommendations from friends and family over all forms of advertising, that's something to be excited about.
Personalization and privacy
Because you want to provide personalized services to your audience, you might find yourself using their personal data to craft the experience for them. It then becomes important to ensure that you're not violating their privacy. Doing this can seem tricky on the surface level, but it's important nonetheless. Does this mean you can't obtain information at all? Not really. A study by Accenture summarizes the problem perfectly—80% of consumers surveyed believe privacy is a thing of the past. Even more, 87 % say that safeguards are insufficient to protect personal information. Yet, about half say they wouldn't object to companies tracking their buying behaviours if it resulted in more relevant offers.
So how do we go about this? The best way is to make data-use transparent. If you're using any personal or usage-based data to personalize experiences for users, it's good practice to seek their permission and explicitly state exactly what data points are recorded and how they're going to be used. Also, make sure that your users can opt out of sharing this information with you, if they want to.
Best ways to create personalized marketing
1. Do a segmentation study of your audience
A big prerequisite to providing any kind of personalization is to first understand who your audience is, what they like, and what they dislike.
Before you go into personalization, you'll need to have an overall idea of the customers you're targeting. A good way to do this is to come up with the persona of an "ideal customer." Get as specific as you can when you do this. Try to get a complete profile of your customer, including things like age, gender, income level, interests, and even hobbies. This will help you target your content more accurately. You could also take a look at the profile of your current users, and use that data to craft your target audience, as well. While this will give you an overall idea of who you're talking to, personalization requires that you dig a little deeper.
A lot of this will require an extensive study of your audience. Using data on the demographics, interests, and behavior of your audience, you should be able to segment them into different categories, and then predict the type of content that each of them are likely to enjoy. This way, you'll be able to tailor content that's relevant to their profile.
A lot of businesses already do this—it's how Spotify can find new music for you, and how Netflix knows what shows to recommend to you. This can be very powerful and accurate, but it's important to ensure that you're respecting the privacy of your audience when you do this. You want to come off as endearing and warm, not creepy, like when Target found out a girl was pregnant before her father did.
Without getting into all the technical details, here's a basic rundown of how this would work. There are three steps that are involved in this: data discovery, behavior prediction, and content distribution.
Data discovery: This is the source of customer data for your brand. This needs to be reliable and trustworthy for your personalization to be effective. For Spotify, it's the music that you already listen to on their platform. Your brand can benefit from the data that your audience has already provided from social channels.
Behavior prediction: This is where the magic is. Many brands use tools called customer data platforms to get a full view of all the data they have on a particular customer. These platforms can even help segment the audience into different categories, and based on the behavior of other similar customers, predict the content that they're more likely to enjoy. This even works in real time, so you have all the data necessary to tailor your content immediately.
Content distribution: Based on your available data and predictions, you'll have an idea of what type of content you need to use for each specific segment of your audience. Simply tailor your content accordingly, and voila! You're golden!
2. Use personalized videos
Another great way to personalize content in marketing is to use personalized videos. A holiday greeting with your customer's name on it, or a series of picture slides when your client last visited your office are both great examples of personalization in videos.
Think of Facebook's "friendversary" videos—they're as personal as it can get, and hold value specifically to you and your friend.
Creating videos like this isn't really difficult, with a lot of services online that can help you. Rocketium is a good one, and can create thousands of videos in an unbelievably short amount of time. You can use an existing video as a template, or make a new one that you can then individualize for your users.
But what can you use personalized videos for?
Invitations to events: Let's say you're running an event, and you want to create a social media campaign to promote it. While there are a lot of ways you can do that, personalized event videos can be great. Think about it, wouldn't it be great if you received a personal invitation, with your name, and maybe even images from past events that you've attended?
Thanking your audience: You could also use personalized videos to thank your audience, maybe even for attending the event you invited them to. Or if you're running a charity, you could use personalized videos to thank your audience for donations or taking part in fundraisers.
Here's an example from Breast Cancer Now, who used personalized videos to thank their donors for a successful campaign.
You can also thank your audience for buying your products, and create a campaign based on this. Nike created a great campaign for their "Your Year with Nike+"—they created around 100,000 personalized animated videos, drawing users' data from their fitness app—data that included weather, movement activity, and location—to tell individual stories of goals achieved by fitness app users in the previous year, and even setting goals for the next year.
3. Use retargeting tools
Retargeting is a type of advertisement that allows you to serve ads to users based on actions that they've already taken. Because of this, retargeting is inherently personalized to the user already.
If you're using retargeting tools, you'll be able to serve specific ads to people who've performed specific actions on your site. This could be anything from reading a blog, adding an item to a cart or wishlist, or visiting a specific page on your site. Based on these actions, you can serve them customized ads.
Best Buy does this pretty well. If you go to their site, add a bunch of items to your cart and then leave without purchasing anything—you'll likely see this ad pop up soon.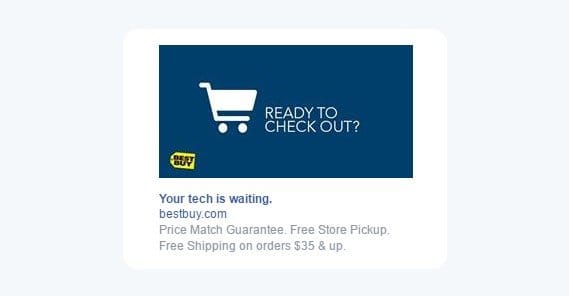 This isn't highly personal at all, in the sense that it doesn't use information on the specific items that you've added to your cart, or related items. But this is a good way to get people to come back to the site and finish purchasing the items they've added.
Once you buy specific items, however, BestBuy will start to target you with personalized ads, and that's where they really stand out. Here's an ad that they showed to a customer who bought a phone from their site: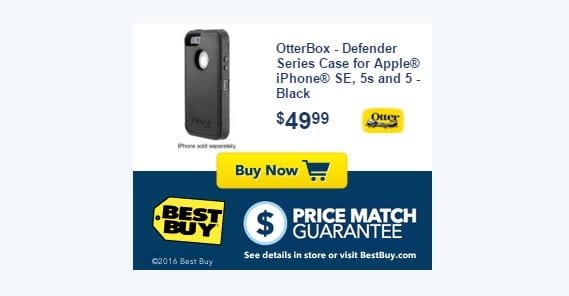 The ad copy may not be the best, but because of how specific and relevant it is to the user, it'll probably do better than any competing generic ad about phone cases from other sites.
4. Personalized messaging and service
Messaging is a great opportunity for your brand to get personal with the audience that's trying to connect with you. While chatbots are growing in popularity, it's still a little impersonal most of the time. The personalization in chatbots usually stops at using the first name of the person reaching out to you.
But there are opportunities to go a step further. It's possible to set up your chatbot to ask questions, and then modify future communication depending on the responses that you get. An example of this is Verve, who provide personalized workout programs depending on injuries you might have.
Personalizing chat messages can be especially memorable, because a one-on-one chat is already inherently more personal. You can ask your support staff to be a lot more personal in their tone and develop relationships with the people they're chatting with, to make the experience even better.
5. Keep your personalization online and offline
Finally, you can also do a little outside-the-box thinking with your social media profiles. Keeping your personalization both online and offline can reap benefits. One of the biggest examples of this is Coca-Cola's #ShareACoke campaign.
To fight it's falling sales, Coca-Cola came up with a campaign where they released bottles featuring over 250 common millennial names, along with slang like "Wingman" or "Bestie." People were encouraged to "share a coke" with these people and then upload pictures of themselves with their Coke bottle on social media, with the #ShareACoke hashtag. This made the campaign go viral, and this personalization helped make it a huge success. This campaign was actually so successful that it set new world records.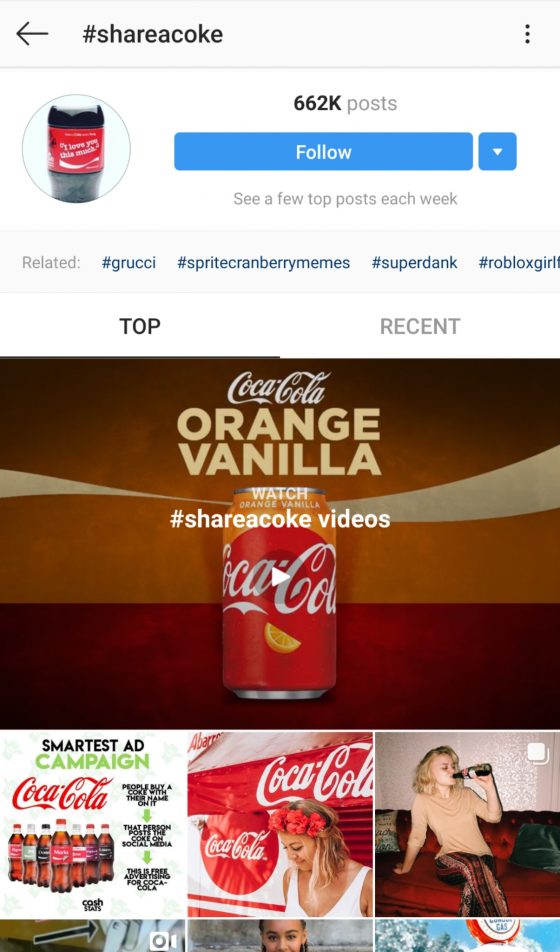 Another great campaign was KLM Royal Dutch Airlines Surprise campaign. Almost a decade old, this remains one of the best personalization campaigns by a brand.
The airline wanted to make flying with them a memorable experience, but they didn't want to resort to cliched promotions like discounts or free food. Instead, they decided to present their customers with personalized gifts.
How did they do this? All they had to do was access publicly available data from the Facebook, Twitter, LinkedIn, and FourSquare profiles of their passengers. Then, they used that data to come up with gifts tailored to their passengers' interests. Very impressive!
One thing to keep in mind when you're developing a personalization strategy is that it's not really about the content that you create—it's about your audience. Done right, you can build great rapport, and possibly create a loyal following for your brand.
That's it from us for now! Have any questions, or know of anything we've missed? Leave a comment below and we'll be sure to get in touch with you.
Vishal

Content writer at Zoho Social, stand up comedian, and lover of dogs. I read a lot.
Leave a Reply
Your email address will not be published. Required fields are marked