Best LinkedIn lead ads practices in 2022
Last Updated: July 22, 2022
777 Views
6 Min Read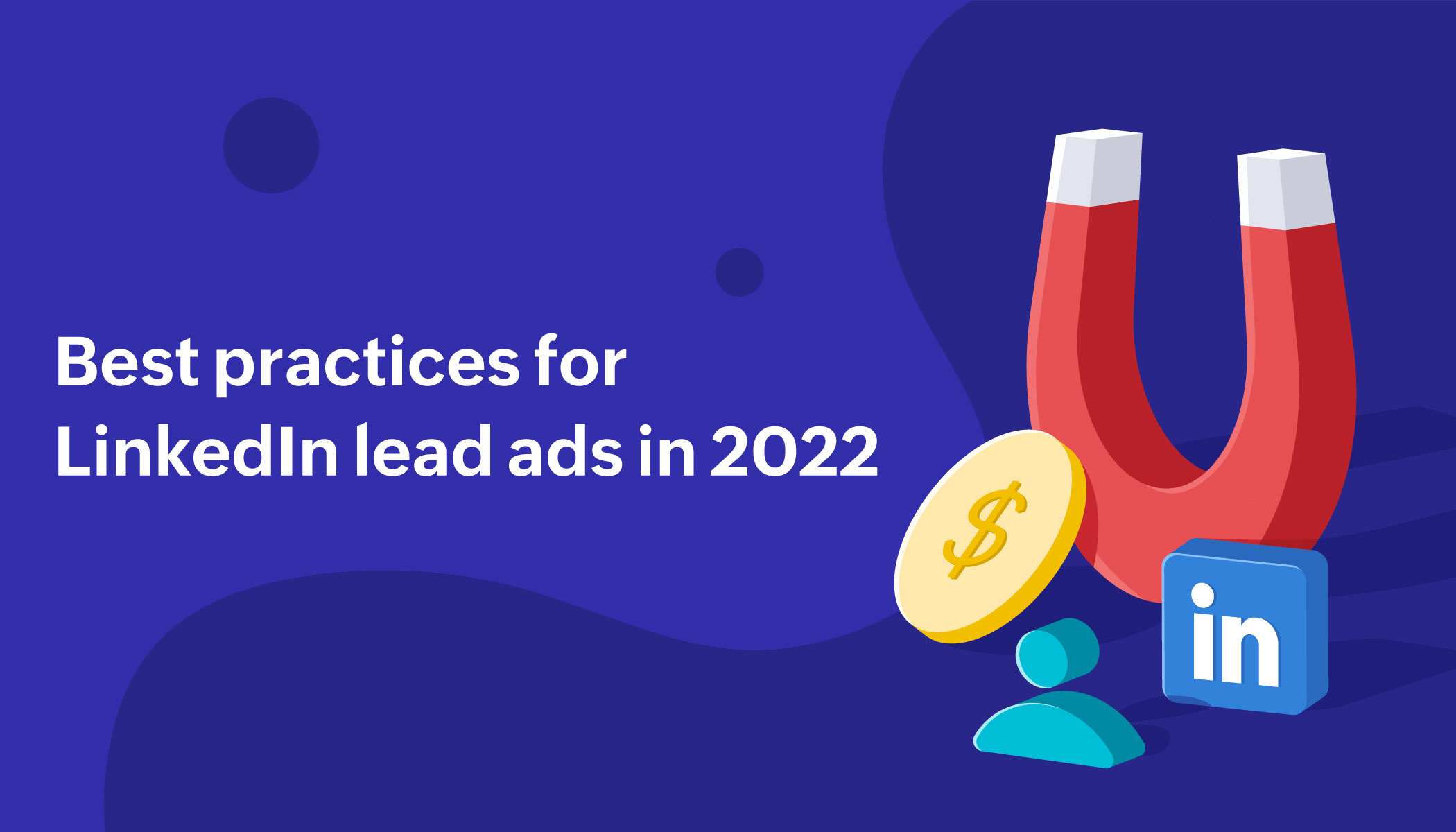 In the social media marketing journey, most of the platforms we use tend to be versatile in which they provide space not just for individuals, but business as well. But that versatility also narrows down your brand's chances of being seen and heard as a brand.
LinkedIn is uniquely business-focused among social media platforms, Through its focus on the professional world, LinkedIn enables businesses to put their brands right in front of decision-makers. According to LinkedIn, four out of five users are in a decision-making position. This represents a significant opportunity for brands, especially in the B2B market. LinkedIn lead generation ads are one particularly effective way to generate quality leads. If you're planning to give LinkedIn lead generation ads a try or looking for ways to improve your game, check out the best practices that have worked well for us in 2022.
Before your LinkedIn lead ads go live
Before planning for a LinkedIn lead ad, you must first take certain steps. For an ad to be successful, your target group needs to be familiar with your brand, and your audience should trust you. Get started by running an ad to create brand awareness. One advantage to doing so is that you'll gain insights about your audience's demographics, which will improve the way you set yourLinkedIn lead ad targets. The brand awareness you generate will prepare your audience for the next phase of your efforts, which will in turn boost impressions of your brand, as well as conversion rates.
Why should you do it?

Helps increase brand awareness.

Introduces your customers to your brand and builds trust.

Helps you understand who your target audience is through the insights you gather. This yields insights about your audience's demographics.

The insights gained will help you plan your budget.

You'll learn about your audience's preferred content.

What should you convey in the brand awareness ad?

What your brand is

What you can offer and the problem you will solve

If you already have an audience, include a sneak peek of what you'll advertise in the upcoming LinkedIn lead ads. For example, if you're planning to aim for more ebook downloads, mention that you're soon introducing an exclusive guide. This generates hype.
Compelling ad copy and CTAs
A good ad copy has the power to make customers feel connected to your brand. When writing ad copy for your LinkedIn lead generation ads, ensure you put yourself in the customers' shoes and position your brand as the solution to the market's prevailing demand. As you write the copy, select a call to action (CTA) message and button that attracts customers. CTAs such as "Download now" or "Learn more" tend to work well, as they imply that you have something valuable to offer, such as a product demo or an ebook. Ensure your messages feel customized and include the link that you want your customers to visit in your closing sentence.
Remember these points when you get to this step:
The audience should feel involved when they read your copy and should be able to relate to the problems you address.

Use attractive visuals, but be sure not to go overboard; you don't want the visuals to distract from your message.

Keep your copy concise and don't stray too far from your message. Too much information can be too much to process.

Make the CTA easy to understand and navigate.
Customize your LinkedIn lead gen forms
LinkedIn lead gen forms are a great source of leads. They enable you attach to a form to your ads to help collect information about consumers that click on the CTA button. It's important that you pay close attention to the fields you include; they should serve your purposes. Here are things you can include in your LinkedIn lead gen forms to generate more leads:
Take advantage of customized questions. They help you qualify your leads and also gather necessary information. For example, you can ask respondents a major issue they face related to your niche, and based on their answers, you'll know who's looking for a solution like yours and might give it a try.

It is mandatory to address privacy at the beginning of the form to assure your customers that you prioritize their safety. You'll have to provide your brand's privacy policy's URL. You can also add a customized field with a remark assuring them that the information will be kept safe.

Refrain from including many unnecessary questions.

Hone your LinkedIn profile page; customers may visit your profile before filling out a form.

Carefully choose your audience demographics; refrain from including too wide of a geographical location in a single ad.

Use the language and field features to your favor; customize them according to the demographics you're targeting.

Explore various forms of ads; with LinkedIn's InMail ads, you can send customized messages, which can be enhance the effectiveness of your messaging.
Integrating with a CRM platform
The point of LinkedIn lead generation ads is to obtain a pool of potential leads. The process required to achieve it should be simple and hassle-free. Once you gather leads, you should be able to sync the data with your CRM tool. These tools can help you understand key metrics while and automating much of your business process.
Nurturing your leads
Your advertising and lead collection journey doesn't expire when the ad does. What you do after getting leads is an important step that will enable your search for potential clients. Using an overview of the insights from your LinkedIn lead generation ad, start identifying the leads to determine what can be done to increase your conversion rate. Remember to treat each type of lead differently according to the stage they're in and what they want.
Here are some best ways you can approach different types of leads.
Marketing qualified leads
If you're in the initial stages of advertising, you might often gather these kinds of leads. Marketing qualified leads, or warm leads, are interested in getting to know your brand and product but aren't ready to buy it. To keep such leads on track, here are a few tips you can try out:
Send a follow-up email talking about your product in detail.

Include helpful ebooks and materials that explain the usefulness of your product.

Initiate conversations and talk about their pain points, along with solutions.
Sales qualified leads
Sales qualified leads, or hot leads, are interested in your product or service and want to become your customers. Don't lose them—immediately reach out to them to show that your team is here to onboard them into a smooth journey. Give these tips a go:
Explain how unique your product is by sending an email explaining how it can solve the prospect's problems; show support for the decision they have taken to proceed further with your product.

Fuel their curiosity by making attractive offers, or talk about how your solution stands out.

Ensure the lead is guided at every step, including at the point of purchase.
Product qualified leads
Product qualified leads already use a free version of your products or services, or are exploring and are more likely to upgrade. Many of them will be skeptical and might need reassurance to ensure your solution will make a huge difference. Follow these tips to earn the trust of such leads:
Show them what the upgraded version has and what things they could improve by getting it.

Try offering discounts to show support.

Explain the features in the upgraded version and recommend the suggested plan if you have multiple ones.
Service qualified leads
These types of leads are already paying customers and might want to upgrade to a more advanced version of your solution. In this case, you should be focusing on them when you introduce new plans, updates, and different products. To keep them active in the customers base, here are some things you can do:
Thank them for their trust and partnership and introduce them to success stories from other customers.

Let them know about what's new with your solution.

Ask for opinions and initiate conversations to understand what they expect.
Conclusion
LinkedIn lead generation ads are one of the best and most sensible ways to generate leads. With the amount of direct professional conversations taking place on the platform, it also proves to be the right stage to showcase your brand to potential buyers. Give Zoho Social a try; track insights regarding your LinkedIn lead ads and automatically feed leads into Zoho CRM. The next time you plan to launch a LinkedIn lead generation ad, be sure to use our best practices and let us know how well they worked out for you.
Comments(
1

)
Despre

February 25, 2023 at 11:02 PM

This will be great guide to find real leads and start your business in every field.
Leave a Reply
Your email address will not be published. Required fields are marked