Zoho Books makes simple
With the Zakat, Tax and Customs Authority (ZATCA) mandating e-invoicing for taxpayers in the Kingdom of Saudi Arabia effective from December 4, 2021, you will need software that helps you stay compliant with the new rules. Zoho Books is e-invoicing compliant and designed to adapt to ZATCA regulations.
What Zoho Books can do for you
Sets up in seconds
Zoho Books is VAT-compliant and ready. This means, all you have to do is to sign up to Zoho Books, and start e-invoicing right away. No complex steps involved!
Prevents unauthorized access
Zoho Books complies with ZATCA's mandates and prevents anonymous access to transactions. As an admin, you can also assign role-based access to other users, allowing them to work with the appropriate modules and features.
Protects transactions
Zoho Books prevents users from altering or deleting transactions, in line with ZATCA's guidelines. Zoho Books' activity logs and audit trail, which are not editable, show the stage-by-stage history of each transaction, helping you ensure that nothing escapes your attention.
A complete solution for your
In addition to helping you adapt to ZATCA regulations, Zoho Books is equipped with features to make e-invoicing straightforward and simple.
Multilingual transactions
Transact in more than one language. Zoho Books supports multi-lingual e-invoicing, and helps you take your business beyond the barrier of languages.
E-invoice approval
Zoho Books helps you prevent errors in your e-invoices with transaction approval. Enabling this ensures that users with approval access can verify e-invoices and edit them before approval.
Recurring
Save more time with Zoho Books. Set frequent e-invoices on recurring mode so you can send them to customers automatically without manual effort.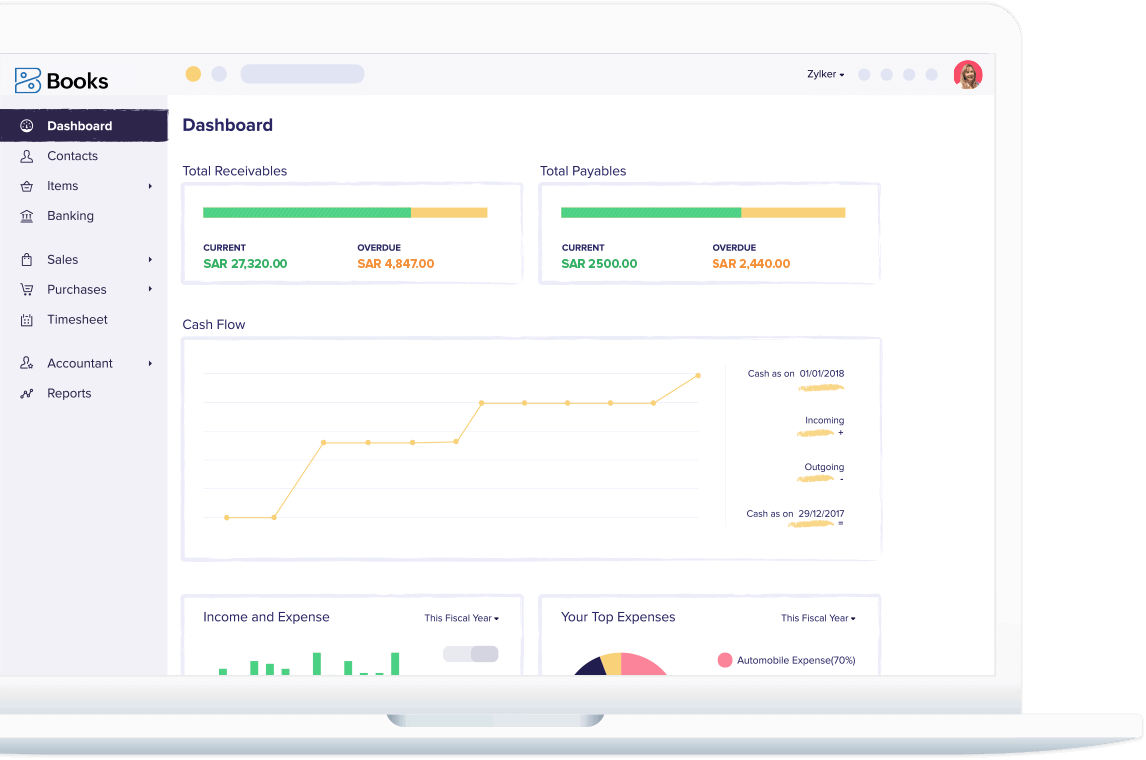 A complete accounting application
---
In addition to making e-invoicing hassle-free, Zoho Books also takes care of core accounting for your business.
Go from quotes to invoices and payments in a few clicks
Record expenses, create vendor bills, and stay on top of your payables
Ensure error-free transactions with transaction approval
Calculate VAT liability, prepare VAT returns and audit reports easily.
Import bank statements and reconcile transactions with minimal effort
Create 50+ financial reports and understand your business finances better
Our resources on
Frequently Asked Questions
E-invoicing is a process in which sellers issue invoices in a digital format and store them electronically. In Saudi Arabia, is going to be mandatory from December 4, 2021, in order to standardize the way invoices are issued and reported. The process will apply to all VAT-taxable goods and services, whether at standard rate or zero rate.

All KSA VAT-registered business owners residing in Saudi Arabia and making sales within or outside Saudi Arabia.
Third parties located in KSA issuing a tax invoice on behalf of another taxable person. For example, a parent company in KSA that issues invoices on behalf of a branch located elsewhere will have to follow these regulations.

×

Are there different kinds of e-invoices?

Yes, there are. For a given transaction, you will issue either a standard or a simplified .

A standard e-invoice (also known as a tax e-invoice) is issued for B2B and B2G transactions. You can directly issue it to the buyer in Phase 1, but Phase 2 will require you to push the invoice to ZATCA and get it cryptographically stamped and cleared before sharing it with your buyer. If your buyer is VAT registered, you must add their VAT registration number to the invoice, and you can choose to add a QR code to it.

A simplified e-invoice is issued for B2C transactions, and your e-invoicing system must generate a QR code to validate the invoice. These invoices are issued in an electronic format and a printed copy is provided to the customer. In Phase 2, these invoices have to be reported to ZATCA within 24 hours of being issued.