Top 6 benefits of automating onboarding
Top 6 benefits of automating onboarding
Last Updated: September 9, 2020
6.7K Views
4 Min Read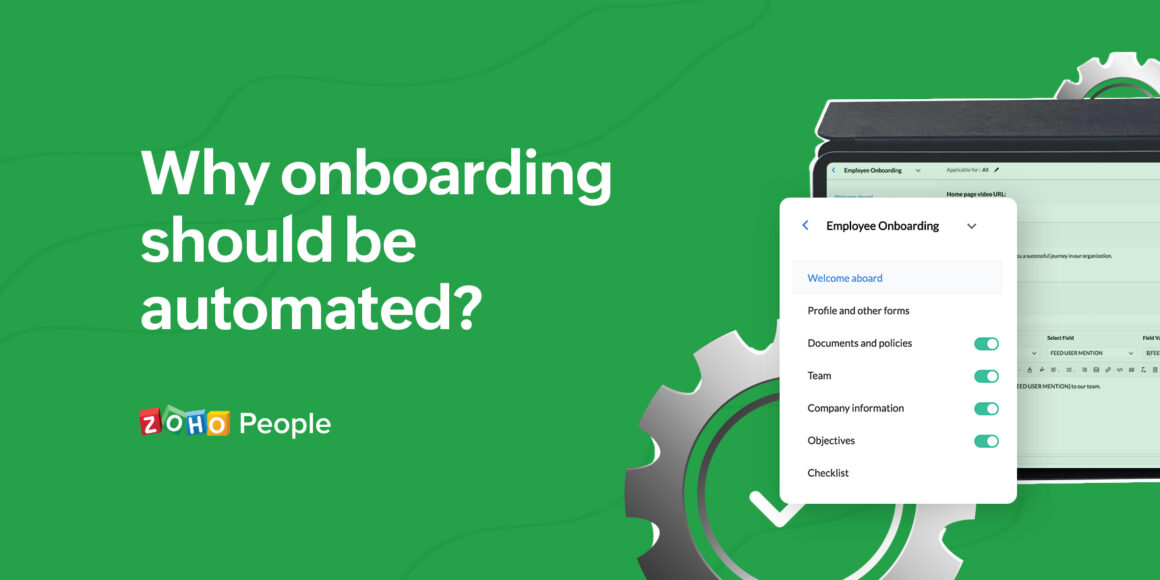 The importance of having an effective onboarding process to welcome your new hires can never be overstated. This is an employee's first look at your company's culture and practices. Providing an exceptional onboarding experience speaks volumes about your organization. Your employees will be eager and anxious to start their new job, and effective onboarding gives them a sense of direction.
On the other hand, a poor onboarding process that is mundane and disorganized doesn't leave a good impression about your organization on your new hires. This may result in your new hires leaving your organization within a year due to low satisfaction and morale. Having a low retention rate can be very costly for your organization as the money, time, and effort spent on hiring and training go waste. Then, you have to spend an equal amount of money, time, and effort on recruiting and training another employee.
Research conducted by the Aberdeen Group has found that having a standard onboarding process improves new hire retention by 50%. This is one of the major reasons why your organization should develop a standardized onboarding process that emphasizes automation. Automating your onboarding process allows your organization to provide an organized and cohesive experience where employees can complete anything they need from a single window. This makes the process faster and easier, showing new hires that you value them and their time. Here are some of the other major benefits of automating your onboarding process:
Saves time by reducing mundane tasks
Managing the onboarding process manually can be a great administrative burden to you and your new hires. You have to prepare several documents, make sure the necessary devices and credentials are ready, oversee the tasks your new hires have to complete, file the forms filled out by your employees, inform them about your organization, and introduce them to their respective teams. When done manually, all these procedures can be daunting and overwhelming, and there are many more chances for errors. With an automated onboarding system, you don't have to worry. Every single step can be simplified and made error-free by creating workflows. This saves you a substantial amount of time and makes onboarding pleasant for both you and your new hires.
Supports candidate onboarding
Candidate onboarding, which is the prerequisite to employee onboarding, is crucial to engaging potential candidates and motivating them to join your organization. With a user-friendly application process, you can improve your company image and reassure candidates that they have made the right choice. Your candidates can provide their details, fill in forms, and both submit and download necessary documents through their candidate portal. This helps them to feel empowered, and seeing that you invest time in their application experience will make them even more motivated to do their best for your organization as well.
Centralizes and simplifies paperwork
Onboarding paperwork can seem endless. Your employees should not be buried with paperwork on their first day. Automated onboarding puts an end to redundant documentation. Forms that collect the information you need can be created and made available to your employees online. Employees can e-sign essential documents easily from a centralized online platform. This way, your new hires don't have to juggle multiple documents or hard copies. Once the paperwork is completed, all the forms will be saved online automatically.
Ensures accuracy and compliance
Compliance is an essential aspect of employee onboarding. Not documenting vital data, forms, and letters can lead to severe compliance issues and penalties. With an automated onboarding system, there much less cause for concern. Because every stage of onboarding is automated, there's little chance of missing anything. A checklist of all the tasks that have to be completed can be created online to make the process stress-free and compliant to all federal and local labor laws.
Gives complete information to new hires
The whole purpose of having a standard onboarding process is to help start an employee's journey in your organization off on the right foot. While onboarding, your employees should be presented with all the information that is required to work effectively for your organization. With an onboarding management system, you can provide this much easier than you could manually. You can include videos about your organization, vision and mission statements, organizational policies, compliance documents, and more. You can also detail the goals and objectives for a new hire's role, so an employee can be more engaged in their job right from the beginning. Information about their reporting manager and team members can be added, too.
Provides insightful reports
While onboarding employees, you must ensure that they complete all the tasks required of them. Tracking the onboarding process manually can be a real pain as it involves sending emails back and forth to your new hires. However, using an automated onboarding management system, the progress of your employees can be tracked in real time with minimal effort. The system generates clear reports to indicate the status of each stage. A list of new hires who have been onboarded and have yet to be onboarded can be accessed as well. This makes the onboarding process even more efficient and error-free.
Also read:4 onboarding metrics every organization should track
Having an excellent onboarding process helps orient your new hires. Without proper onboarding, the chances of your employees leaving your organization within the first year are much higher. You can overcome this with an automated onboarding system where you can onboard your employees effectively in no time.
Zoho People's onboarding management system has every feature necessary to help your organization create a strategic onboarding experience for your employees. Our workflows enable you to keep track of all essential tasks and streamline the entire process. Check out our onboarding management system to learn more.
Also read:5 features to look for when choosing onboarding software
Tarika

Content Specialist at Zoho People
Leave a Reply
Your email address will not be published. Required fields are marked