What is HR Reporting?
Last Updated: December 11, 2023
7.2K Views
5 Min Read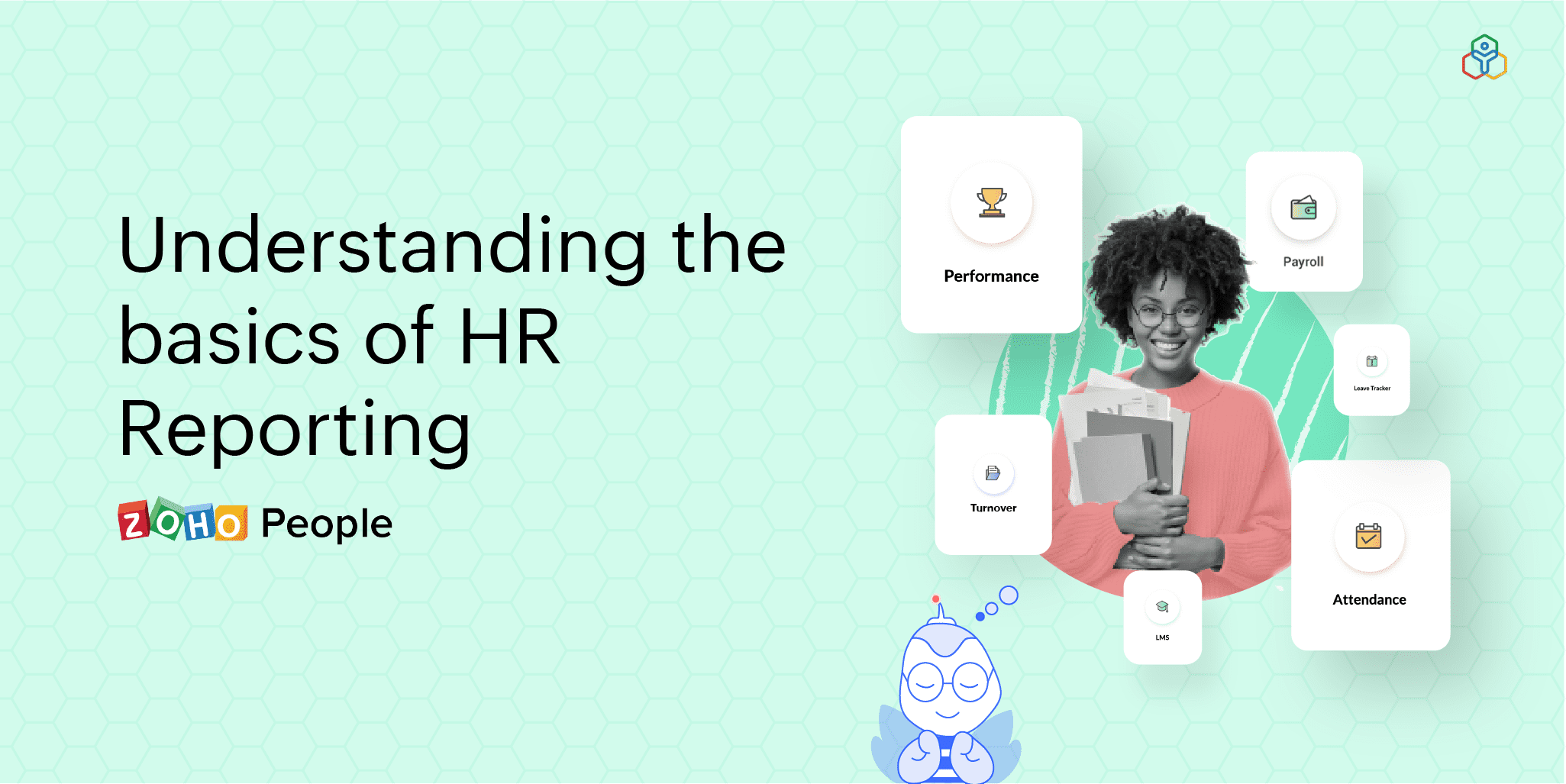 Organizations around the world are beginning to see the value in going above and beyond to provide an exceptional working experience to their employees. In this pursuit, they are relying more on HR data to make informed decisions, understand how their HR practices work, optimize their people management strategies, and identify issues that are preventing growth. With the tons of HR data created every day, how can organizations streamline and leverage HR data to gain valuable insights? This is where HR reporting comes into play. In this article, we break down the basics of HR reporting to give you a better understanding of how to use analytics to create the ideal employee experience.
What is HR reporting?
HR reporting is the process of preparing business reports that assess HR data about processes such as onboarding, attendance, time off/leave, time management, performance, employee learning, and more. These reports should provide a comprehensive view of what's working and what's isn't, highlighting specific issues that affect people management. The HR data and metrics used to indicate workforce trends will depend on the people management goals of your organization. For instance, if you want to hire the right people for your organization, you would want to use the performance data to understand what makes your talented employees perform at their best.
Why is HR reporting necessary?
HR areas like candidate experience, employee experience, and employee engagement are rising rapidly in importance. It's no longer advisable just to make crucial hiring or workforce management decisions based on feelings. Every HR decision that you make can have a massive impact on the growth and success of your organization. That's why it's necessary to adopt a data-driven decision-making process to fuel growth, optimize employee experience, and add more value to your business. HR reports provide all the information you need about your employees and business processes are impacting them. This means that you can make faster, more strategic decisions to strengthen the HR practices that are supporting your people and fix any issues that are deterring employees from doing their best work. This saves you time, money, and effort. Also, C-level leaders and managers can tweak their management style based on the insights provided by HR reports. This helps everyone work together in bringing the best out of each employee.
What are the different types of HR reports?
It's easy to get overwhelmed by how many HR reports are out there, so it's best to narrow your focus to the ones that are consistent with your organization's HR goals. To help you get started, we have compiled some of the most common HR reports that play a crucial role in tracking important workforce trends:
Performance - Analyze performance data pertaining to your organization. Highlight employee goals, important skill sets, competencies, review scores, ratings, feedback, and more.
Attendance and time off/leave - Track the attendance status, check-in and check-out times, overtime details, and more of your employees. With leave reports added in, you can generate information on which employees are available on given dates, what their leave balances are, and any details about loss of payment due to absence.
Turnover - Turnover reports, also know as attrition reports, highlight the number and percentage of employees who quit during a particular period. This is key to evaluating how well your employee retention strategies are working.
Learning - A lot of energy and money goes into professional development, so it's important to measure its efficacy. Learning reports give you a comprehensive view of course ratings, learner progress, trainer ratings, course categories, learning materials, and more.
Payroll - Generate a detailed view of an employee's number of payable days, expected working days, actual working days, hours worked, loss of pay, hourly rate, and more.
Learn more about the different types of HR reports
Who needs access to HR reports?
Employees from all levels of your organization will need access to some HR reports, but the type of reports they'll need access to depends largely on their role, designation, and seniority in the organization. For instance, employees should be able to view their personal attendance, leave, performance, and course reports. Managers will be able to access the attendance, timesheet, performance, leave, and general information reports of their entire team. C-level leaders and HR staff will be able to access the reports of their entire workforce to identify workforce patterns and make informed hiring and people management decisions.
Preparing HR reports
Luckily, creating HR reports from scratch has become a thing of the past. Gathering data from different systems that don't communicate with each other and compiling it into a spreadsheet for analysis is a strenuous process. This is why many HR software systems come with dedicated HR reporting tools. Comprehensive HR systems come with modules that handle everything from onboarding to offboarding, so your HR data will remain consolidated in a single, centralized location. HR reports can be generated in mere seconds, no matter the size of your workforce, because the information is continuously updated and tracked by the system. Custom reports can also be created easily in a few simple steps. For instance, if you want to create a report that summarizes the different reasons for your business's turnover, you can create a specific report just for this purpose. Check out our blog that explores what goes into effective HR reporting.
Final thoughts
HR reporting is pivotal for introducing people management strategies that engage and motivate your employees, enabling them to add more value to your business. That said, how you use the insights provided by the reports can make all the difference. The more data that you use, the more accurate the results are. Combine that with qualitative feedback gathered from employees, and your path to a happier and more productive workforce will be much easier. We hope this article gave you a clear understanding of the different aspects of HR reporting!
Zoho People, our HR Software, comes with consolidated reports that provide insights on different aspects of HR, including performance, attendance, leave, clocked hours, cases, files, and more. All of the reports are centralized in a single window to save you from the hassle of switching between multiple tabs. Learn more about Reports in Zoho People!
Tarika

Content Specialist at Zoho People
Leave a Reply
Your email address will not be published. Required fields are marked