6 HR reports that every organization needs
6 HR reports that every organization needs
Last Updated: July 15, 2021
4.4K Views
5 Min Read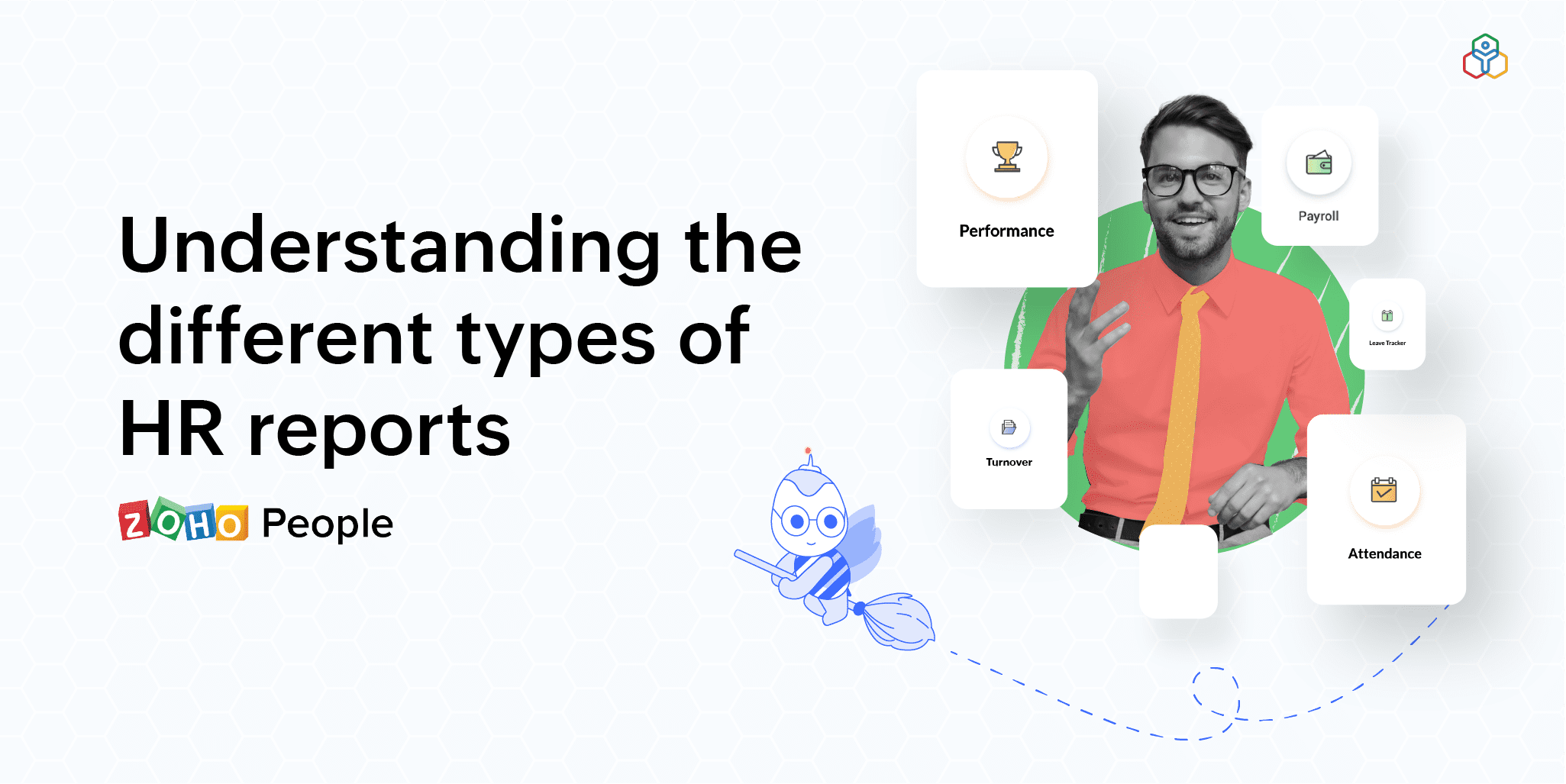 How well you recruit, onboard, train, appraise, and appreciate your employees has a huge impact on how well they perform at your organization. If these areas are poorly managed, your employees will continuously walk in and then right back out of your organization, and you'll spend a large amount of time, effort, and energy on hiring and training new candidates. But as your headcount grows, it can become difficult to systematically monitor and improve every stage of employee management—especially if your team is small. One way to make it easier is HR reporting. HR reports consolidate and break down key data about your employees so you have the insights required to make workforce decisions that actually work.
In one of our previous blogs, we explained some vital aspects of HR reporting, from what it means and how it can be useful to your organization to who should access HR reports and how they can be prepared. We also gave a brief summary of some key trends to measure, but in this article, we're going to do an even deeper dive into some of the different types of HR reports that every business requires and how these reports impact people management.
It should go without saying that to improve employee performance, you should have a clear idea about the performance trends in your organization. It's important to stay on top of your employees' goals, skillsets, KRAs, feedback, and more. Without this information, it will be challenging to see how each employee is faring compared to their peers, and promotions will be based more on feelings rather than facts. Performance reports give you an objective foundation from where to start evaluating employees.
Performance reports can also give you an overview of how each employee is progressing towards their goals. They can highlight skills, and in regards to the appraisal process, the positive and negative feedback received by each employee, and their overall appraisal scores. Nothing can stop you from encouraging better employee performance when all of this crucial data is readily available.
As an HR professional who spends so much time sourcing the right candidates, we know you dread the term turnover. But turnover itself is natural, and it can stem from a variety of sources. Perhaps your employees are feeling a lack of career progress or work-life balance. They could be burned out, or they could have simply received a job offer that better fits with the life they're planning for the future. Keeping track of your organization's turnover rate is necessary to make sure that it never jumps beyond the maximum rate. If you take it one step further and analyze the rate over a period of time, you can assess how well your people management strategies are working. This can allow you to implement management styles and policies that boost employee retention wherever possible.
More organizations are starting to put a serious amount of time, money, and effort into learning courses that will help their employees improve their skills and progress in their careers. This is often done in the hopes that these employees will continue on with the same company, instead of leaving to find work elsewhere so they can develop that same skillset. But if there's one thing employees hate, it's useless training courses. That's why it's essential to make sure every training session is carefully crafted to improve their existing knowledge and develop new skills. To scale up your training programs, you should know what's working and what's not. Training reports help.
With training reports, you can keep tabs on:
The different types of courses that you have conducted

Employee training progress

The course materials attached to each training program

The ratings received for trainers from learners

How different training programs perform when applied on the job
Payroll is one of the most difficult administrative functions and also one of the biggest expenses to your organization. On top of this, even a small error in payroll processing can cause compliance issues and make employees question your organization's credibility. Appropriate payroll reports will eliminate bottlenecks and make the process error-free. Here's just some of what you can do with payroll reports on hand:
Gather the attendance, leave, and timesheet data required for payroll processing

Get a summary of all payroll and reimbursement expenses

Analyze the deductions applied on employee salaries
Because all of this information is readily available and gives clear visibility into each step, payroll processing becomes simple and easy.
Just like payroll processing, your employees' working hours have to be tracked prudently to avoid lawsuits. Employees can only be paid accurately when their attendance data is tracked properly. Attendance reports record and track the working and overtime hours of your employees effectively. With the attendance reports, you can visualize and monitor the:
Number of employees who are present, absent, and on duty

Employees who check in early or late

Time spent on breaks, meal times, and actual working hours

Employees who work overtime and overtime hours

Working days of each employee
Time off is an essential aspect of people management that has a direct impact on employee satisfaction and morale. Monitoring leave trends in your organization closely allows you to quickly spot alarming increases or decreases. Increases could suggest that your teams aren't balancing out their leave enough, while sharp decreases could be a precursor to burnout. Both situations can cause your organization's productivity to suffer, and reports help you prevent this from happening. With the help of leave reports, you can track the:
List of employees who are on leave currently

List of employees who are available to take on tasks during a particular time

Leave balance of every employee

Bradford score of every employee

Loss of Pay of every employee
This way, you can make sure that your organization is not affected by unscheduled absenteeism while also allowing employees to take an adequate amount of leave to take care of their personal needs.
Wrapping up
HR data has become an inevitable part of people management. Reports play a huge role in presenting the data in a way that makes managing your workforce and crafting strategies easier. However, to generate these reports, you need robust HR software that consolidates all your HR data in a single place for processing.
Zoho People, a full HR management system, has reports that pertain to everything from performance and leave to attendance and training. All of the reports have been consolidated under a single tab in our app to give you quick, coherent insights. Learn more about Reports in Zoho People.
Also Read:What goes into effective HR reporting?
Tarika

Content Specialist at Zoho People
Leave a Reply
Your email address will not be published. Required fields are marked