Top 5 features to look for in HCM software
Top 5 features to look for in HCM software
Last Updated: December 11, 2023
1.3K Views
4 Min Read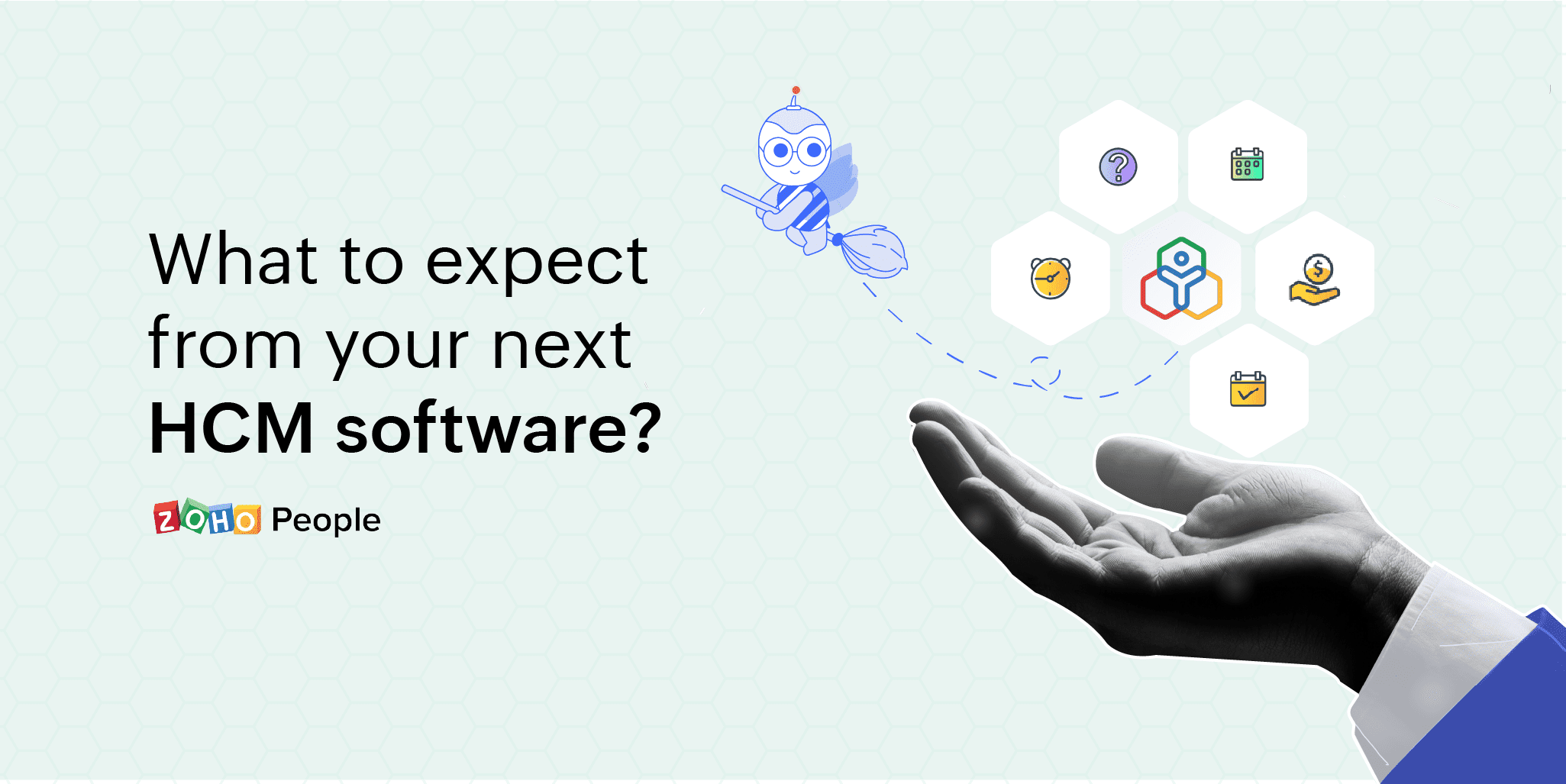 As remote work continues for a large proportion of employees, many organizations are embracing HR tech tools to manage their remote employees. Managing the core HR operations including recruitment, payroll, time off, attendance, etc. manually, while working under different roofs, can put a severe strain on the HR department as well as employees. Over some time, the whole process can get confusing and error-prone, putting your organization at a deep disadvantage in terms of people management. That's why it's crucial to move towards a cloud-based, robust HR tool like Human Capital Management (HCM) software that allows you to effectively manage your employees, no matter where they work from.
To give you a little background, HCM software helps organizations manage their workforce efficiently by automating every essential HR function, from onboarding, employee training, performance management, time management, etc.
If you are planning to invest in HCM software or upgrade your existing HR system, don't worry; we've got you covered. Here's a list of all the features you need to look for in your HCM software:
How you manage your core HR operations including time off, attendance, timesheets, payroll, employee inquiries, etc. can make or break your organization. Even a small error in these core HR operations can make employees question your organization's credibility and capability. That's why the HCM software you choose should be able to automate and simplify all of these core HR operations for both you and your employees. It should come with the following core HR capabilities:
Attendance management system - should support daily check-in/out, overtime tracking, shift scheduling, customization, facial recognition, geo-tracking, attendance reports, etc.

Payroll management system - should be able to automate payroll calculation, simplify compliance, generate payroll reports, and let employees access payslips, submit bills for reimbursement, understand their salary breakup, etc.

Leave management system - should enable employees to submit time off requests, track their time off availability, and allow you to generate leave reports, approve/reject leave requests, customize leave policies for each region, etc.

Case management system - should allow employees to raise queries anytime, from anywhere, and find answers for frequently asked questions.

Timesheets - enable employees to log time, support multi-level approvals, generate time log reports, etc.
Talent development is one of the crucial aspects of Human Capital Management that has to be managed efficiently to upskill, motivate, and retain your employees. A whopping 76% of surveyed Millennials think that professional development is essential for strong company culture. This means you may have to revisit training programs to make them more attractive to top talent.
The HCM software that you select should make the talent development process as seamless and simple as possible.
The Learning Management System (LMS) present as part of the HCM software should enable you to: support different learning styles, cater to the preferences of your employees, add multiple resources and learning materials in different formats, create learning plans, organize assessments, grade learners, provide certificates, and access a wide array of reports that highlight the state of the learning programs.
Talent management is all about how you unlock your employee's full potential and help them bring out their best selves at work. Your HCM software should have features like customizable onboarding, a performance management system, a compensation management system, and more, so as to help your employees:
Acclimate to their job requirements

Get clarity on their roles and responsibilities

Understand organizational goals

Set realistic goals for the upcoming period

Understand their contribution toward their organization

Provide and gain constructive feedback

Ensure they are fairly compensated.
HR analytics is now more important than ever. With so many changes happening in the workplace, you need to be able to understand your workforce in order cater to their needs. Using HR analytics, you can identify the root cause of persistent organizational issues and understand why something is happening the way it is.
Your HCM software should have excellent HR analytics capabilities to ensure that no issue in your organization goes unseen. With an HR analytics system, you should be able to understand your organizations': hiring trends, employee headcount, turnover trends, growth rate, attendance trends, leave trends, performance trends, project status, and training trends. With these data in hand, you can improve your HR strategies in no time.
Compliance is an important aspect of HR management. Lack of adherence to applicable laws and regulations can result in lawsuits and heavy penalties. In addition to this, it diminishes your brand image among your customers, candidates, and employees. As HCM software manages all of the HR functions itself, it's necessary to select a system that can help you navigate compliance challenges. Here's what to expect from your HCM software, in terms of compliance management:
Stores all the data pertaining to employees in a centralized system

Provides greater security to employee data

Ensures compliance with all labor and employment laws governing the region in which you are operating

Allows you to customize settings for different locations to ensure compliance globally

Keeps organizations audit-ready
Wrapping Up
Investing in HCM software is highly essential to automate your HR operations and save time spent behind manual HR processes. However, the ability of the system to take the tedium out of HR operations depends on the features it has. That's why it's crucial to look for an HCM system, whose features align with your organization's HR needs. We hope this blog gave you an insight on all the features you need to look for in your HCM software.
Tarika

Content Specialist at Zoho People
Leave a Reply
Your email address will not be published. Required fields are marked