4 reasons why every organization needs HCM software
4 reasons why every organization needs HCM software
Last Updated: December 3, 2021
604 Views
4 Min Read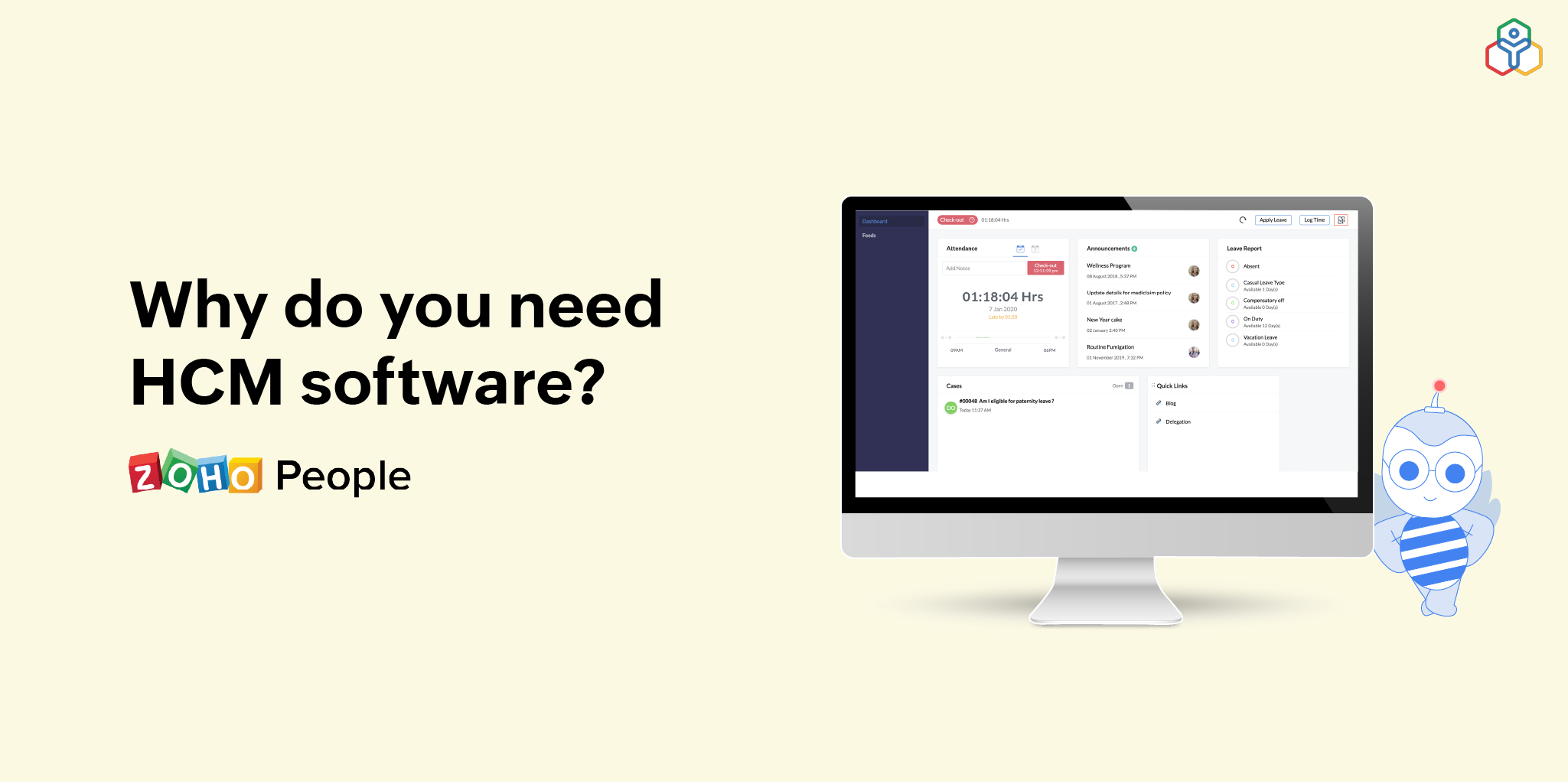 As an HR professional, you'll be expected to wear multiple hats at work. Sometimes, you'll have to track employee attendance and approve/reject employee time off. Other times, you'll have to recruit and onboard employees, or conduct performance reviews and employee training programs. And in the meantime, you'll also have to field daily requests and questions from employees in a prompt manner. With so much to manage, and with how important it is to manage it all correctly, doing it all with manual processes or outdated software systems is a huge challenge.
HR often involves repetitive tasks that are tiring and time-consuming, and they also generate a huge amount of data that has to be maintained prudently. This is where automation features in a dedicated HCM software system can really benefit you and your organization. If you haven't implemented HCM software in your organization, here are four compelling reasons why doing so can take your HCM strategies to the next level:
Keeps employees engaged, productive, and happy
Employee-centric technology like HCM software can provide an excellent working experience to your employees while keeping them engaged, productive, and happy. No employee wants to spend half of their workday doing administrative tasks that are boring and repetitive. With HCM software, all the information that they might require and every task that they need to complete will be just a click away. Nothing makes an employee happier or more productive like a system that reduces their administrative burden and automates repetitive tasks. Employees can:
Take training programs

Ask questions

Refer to frequently asked questions

Access essential documents and files

Apply for leave

Check upcoming holidays

Log their shift times

Track their goals

Receive performance feedback

Provide feedback about their organization, managers, and other processes

Collaborate with their peers

Stay informed about all the organization's important updates
Using an all-in-one system to simplify essential HR tasks can truly keep your employees engaged and productive. In addition to this, the intuitive people analytics feature that comes with HCM software provides all the insights required to identify the root cause of the problems affecting your workforce.
Provides access to useful and customizable features
Implementing HCM software means getting access to a host of useful features that can help your organization optimize your human capital management strategies. A good HCM system will come with tools for attendance, leave/time off, payroll, case management, and more so your core HR processes can be managed from one place. For instance, a payroll management system can automate all of your payroll calculations by drawing attendance and leave information automatically from the HCM software database. Similarly, talent management strategies in your organization can be taken to the next level and employees can be supported throughout their career with features that support better onboarding, learning and development, performance management, and workforce trend analysis. Many HCM systems also integrate with several other applications that businesses use, making it a one-stop solution for all things HR.
Also Read: Top 5 features to look for in HCM software
Supports a right mix of transparency and security
Transparency is the key to fostering a positive work environment that is free from rumors and gossip because every employee will be on the same page as your organization's upper management. HCM software enables your organization to earn your employees' trust with a variety of features that support open communication and transparency. With live feeds, you can make announcements anytime and allow employees to comment on how they feel. Similarly, feedback can be exchanged among employees, managers, and peers seamlessly, fostering a sense of teamwork and belonging.
While this is happening, employees can also access all the required information they need. For instance, they can download their payslips directly from the system without having to contact the HR team. Likewise, if they want to know anything about their mediclaim benefits, they can just log into the system and find the information. Their sensitive and identifying information can be encrypted to avoid data theft or breach, and role-based permissions keep your information only accessible to the right people at all times.
Allows your workforce to work from anywhere, anytime
Remote work is here to stay as employees and employers alike realize they don't have to be under the same roof to be productive. However, intuitive technology is required to support a dispersed workforce. Otherwise, remote work can quickly become super challenging. With cloud-based HCM software, you can enable your employees to work from anywhere at any time as long as they have an internet connection. Employees can be onboarded, trained, reviewed, and managed irrespective of their location. At the same time, employees can make use of the self-service features to complete their HR functions remotely. Because everything is centralized, you don't have to track the status of each process through the system directly, and you also don't have to manually ask for updates. For instance, if you are sending a confirmation letter for e-sign to new hires once their probation is over, you can track if the letter is e-signed or not through the system and configure automated emails to remind new hires to e-sign the document.
Wrapping up
At a time when workplaces are evolving to adopt emerging concepts like employee experience, people-centric work culture, hybrid workplaces, and more, implementing HR technology like HCM software is basic. HCM software can simplify things to a great extent for you and your employees, which can be a great relief when so many other changes and challenges might be impacting your organization. We hope this blog gave you a good idea about why your organization should implement HCM software.
Zoho People, our HCM software, simplifies and optimizes HR practices in a way that allows employees to be the most productive, engaged, and happy. It can help every organization scale up its HR tasks, irrespective of its size or the industry it belongs to. Learn more about Zoho People.
Tarika

Content Specialist at Zoho People
Leave a Reply
Your email address will not be published. Required fields are marked