4 reasons why you need an HR case management system
4 reasons why you need an HR case management system
Last Updated: June 10, 2021
896 Views
4 Min Read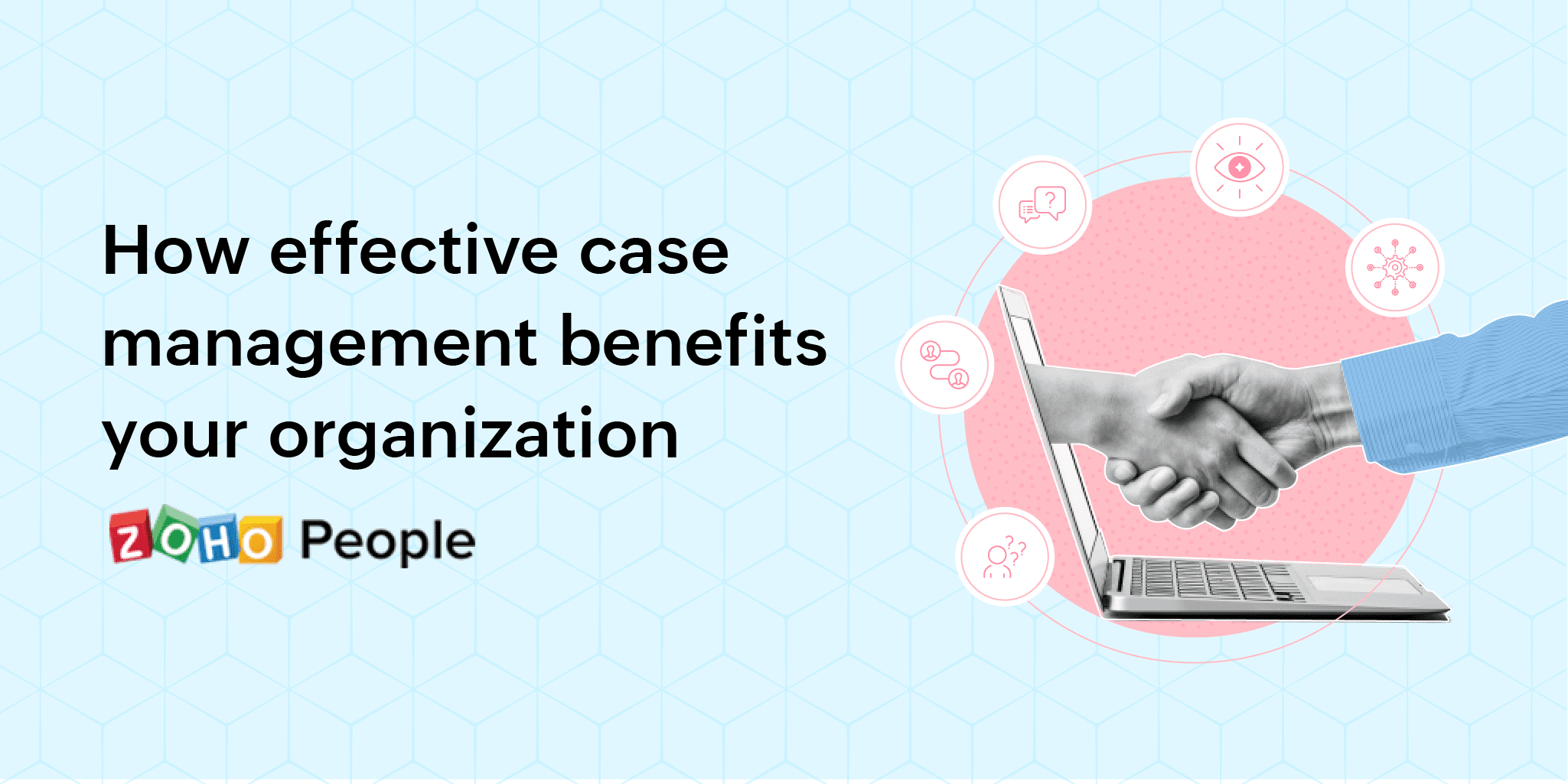 As an HR professional, you're probably used to receiving several questions from your employees on topics ranging from time off balances, leave encashment, and payroll to timesheets, compensation, and benefits. Managing these inquiries manually through paper documents or emails is no longer an option in the existing remote work era if you want to keep your employee experience high. New employees may not know who to contact for a specific issue. Not to mention that when requests begin overflowing, there are higher chances of missing important questions. Over time, this may leave your employees dissatisfied and contribute to a feeling of resentment among your workforce.
These days, organizations are preventing this by using HR software that comes with a dedicated case management system. This way, the flow of employee questions and requests can be streamlined, allowing you and your HR team to solve more issues in less time. If you are not using an HR case management system in your organization, here are four compelling reasons why you should be:
Centralizes and simplifies employee inquiries
Answering questions or responding to requests from employees is pretty straightforward with a case management system. All your employees have to do is select the category that their question pertains to and submit their request. They can also attach any applicable documents right to the case request. Once it's submitted, you can select a deadline and assign the case an agent who will be responsible for resolving the concern. As the whole process is automated, your employees don't have to fill out tedious paper forms or send back-and-forth emails about their requests. Every query is recorded and categorized neatly under separate columns so that you don't miss anything.
Supports better communication
An organized case management system supports transparency and open communication in your organization. This keeps you, your employees, and your HR team on the same page. For instance, your employees can track the status of their requests without having to constantly follow up with a third person. Everybody involved in a particular request or question will be notified whenever an action is initiated or completed. This way, the process moves faster while still following the appropriate approval channels. A case management system also allows commenting, so employees and case agents can discuss without having to use outside communication methods. They can refer back to these comments while solving the case, and if other agents have to step in to resolve an issue, they would also be able to view all the contextual information they'd need to resolve the issue quickly. Lastly, a case management system enables employees to provide feedback on how their request was handled by the agents, which helps your organization improve its case resolution approaches over time.
Some questions will be much more common than others. A case management system allows you to add an unlimited amount of frequently asked questions to every category under the module, reducing the number of requests that need an agent's attention and saving you from answering the same question over and over. These FAQs serve as a central knowledge base that employees can refer to before they raise a request. FAQ entries can be added, edited, and deleted by you and your employees with suitable permissions. Documents or policies supporting the FAQs can also be added to the case management system, making the guide even more clear.
Provides access to intuitive reports
When you don't have clarity on the number of requests you receive or the status of your existing requests, the whole process can get overwhelming for your team. A case management system provides access to several useful and informative reports that highlight the state of your inquiries and requests in a nutshell. Some of the common reports in the case management system give the status of cases, overall feedback received, number of escalated reports, and more. This can be vital to improving the quality of service and closing requests on time.
Integrating with HR software
With a case management system, you can resolve employee questions and requests in a way that is simple, effective, and timely. Your employees will feel more respected and valued when you take their requests seriously and help them faster. When the case management system is integrated with your HR software, it makes the process even easier because most of the HR operations that the questions will be based on will exist in a single system.
Zoho People, our HR software, has a built-in case management system that allows you to organize employee requests and resolve them as quickly as possible. Query categories, FAQs, Reports, and Service Level Agreements (SLAs) make the process streamlined and simple. Learn more about Zoho People's Case Management System.
Tarika

Content Specialist at Zoho People
Leave a Reply
Your email address will not be published. Required fields are marked