Manage data efficiently
Streamline both your data collection and secure storage with our employee database management system. Set up your organization and maintain all your employee records in one central location. Learn More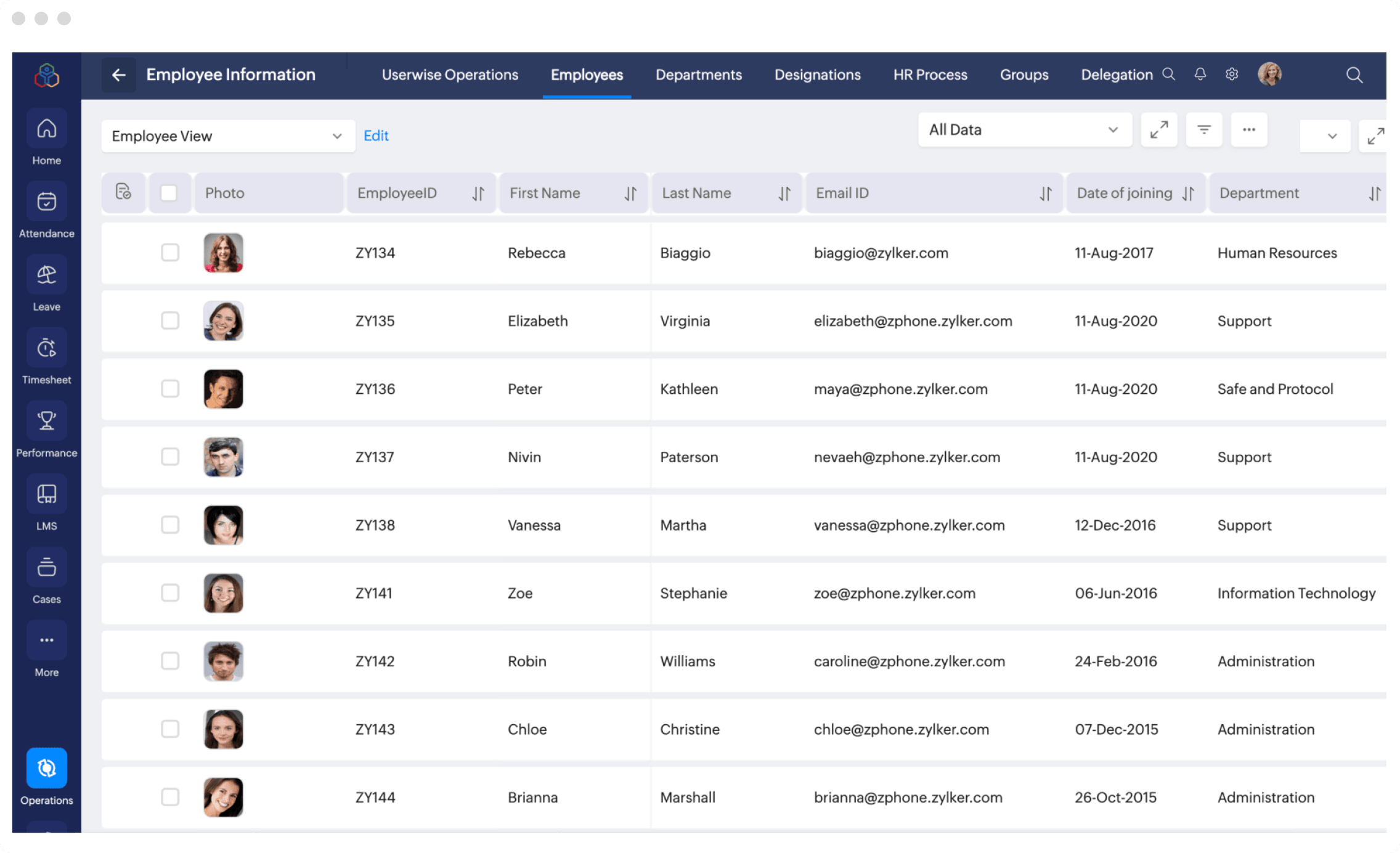 Effortless HR management
Zoho People provides all the tools you need to help your HR staff and employees stay efficient, up-to-date, and productive, even on the go.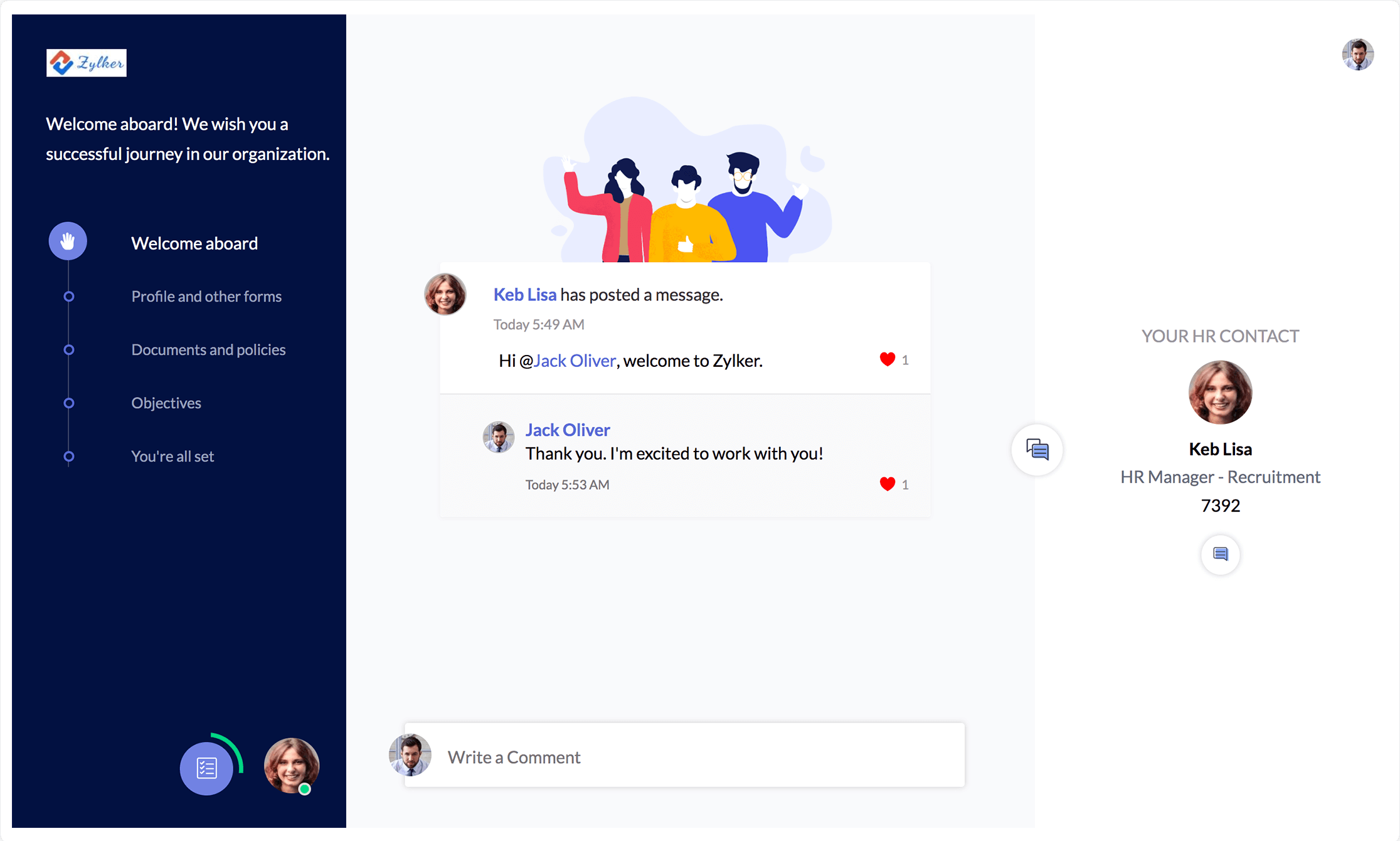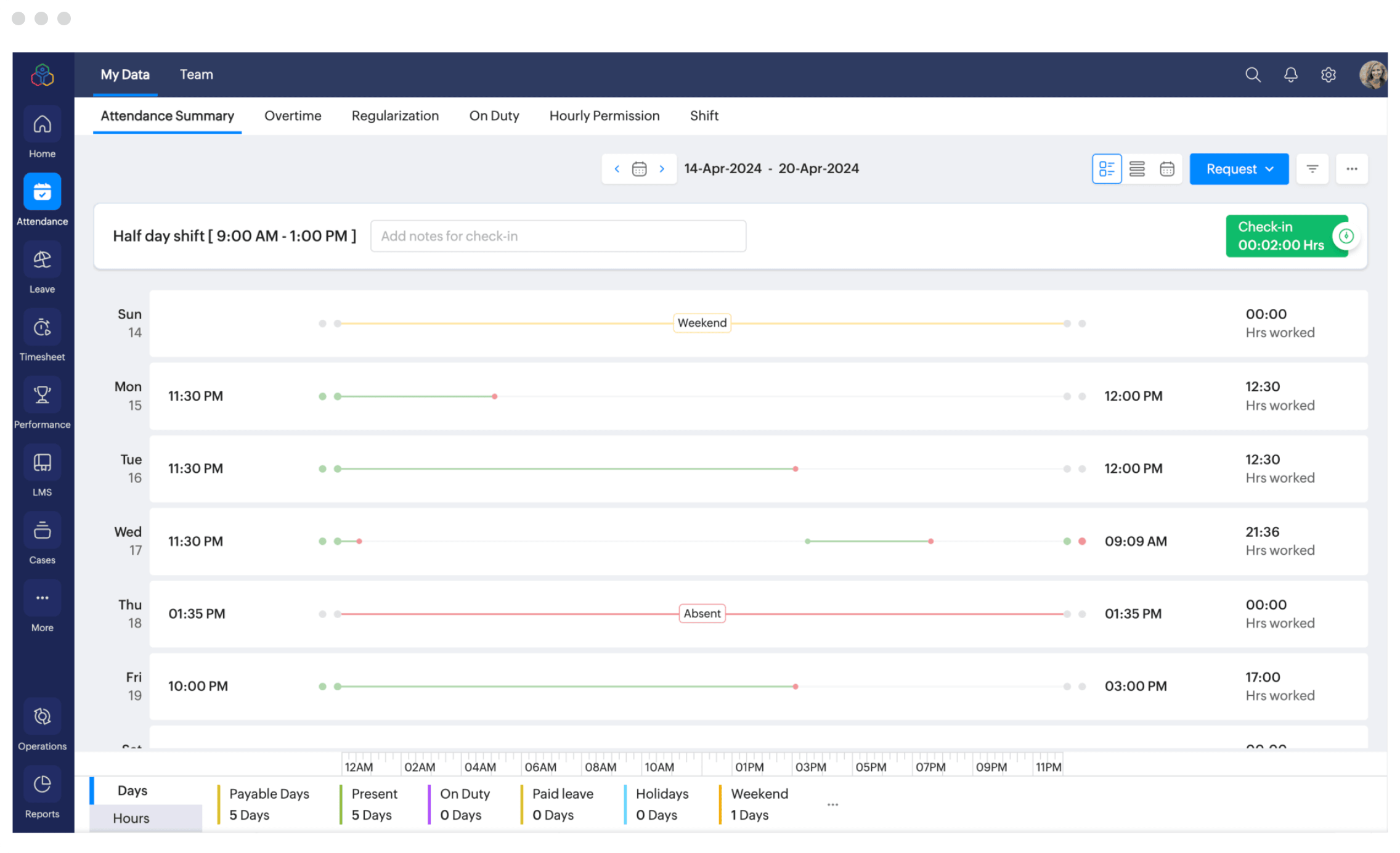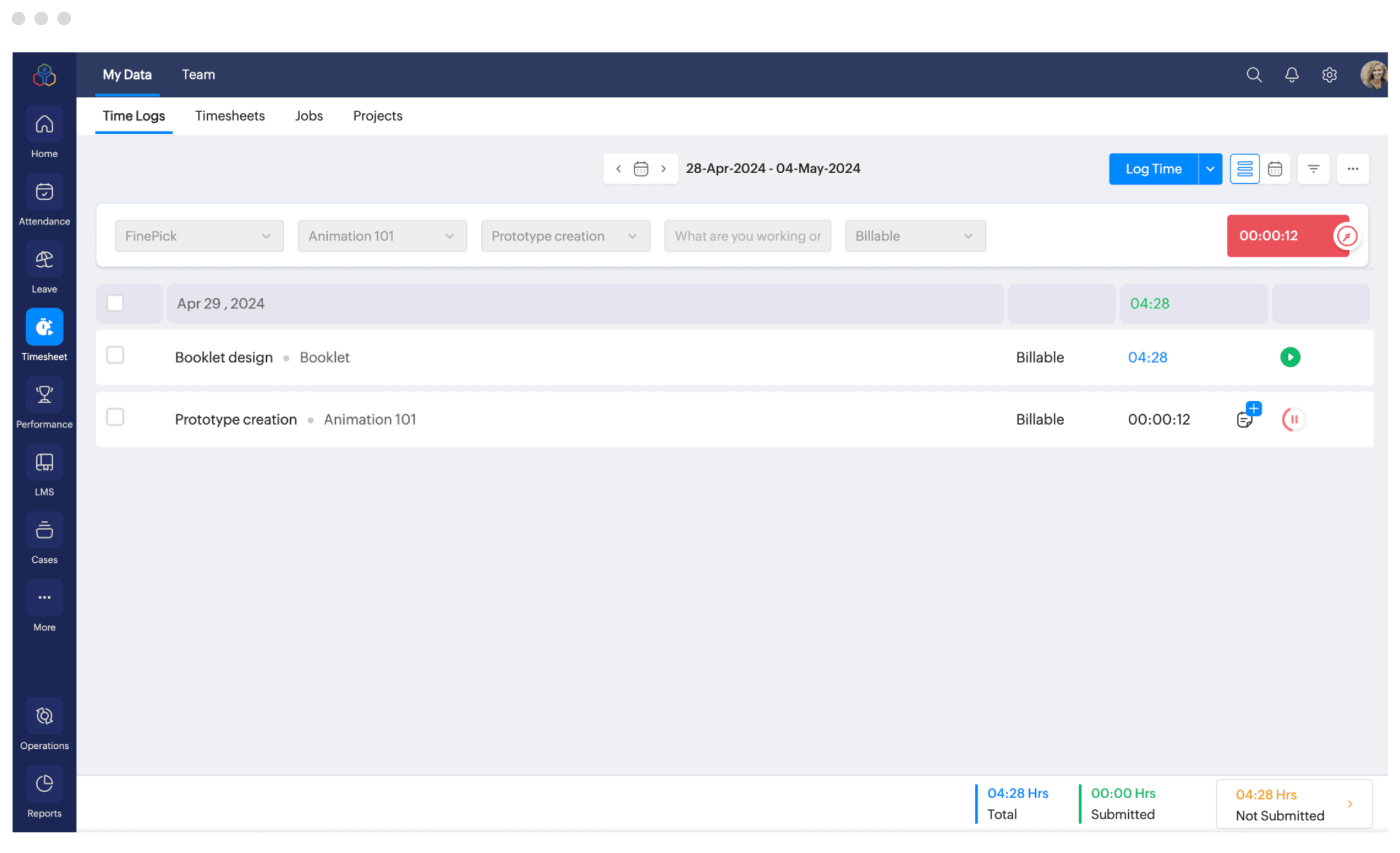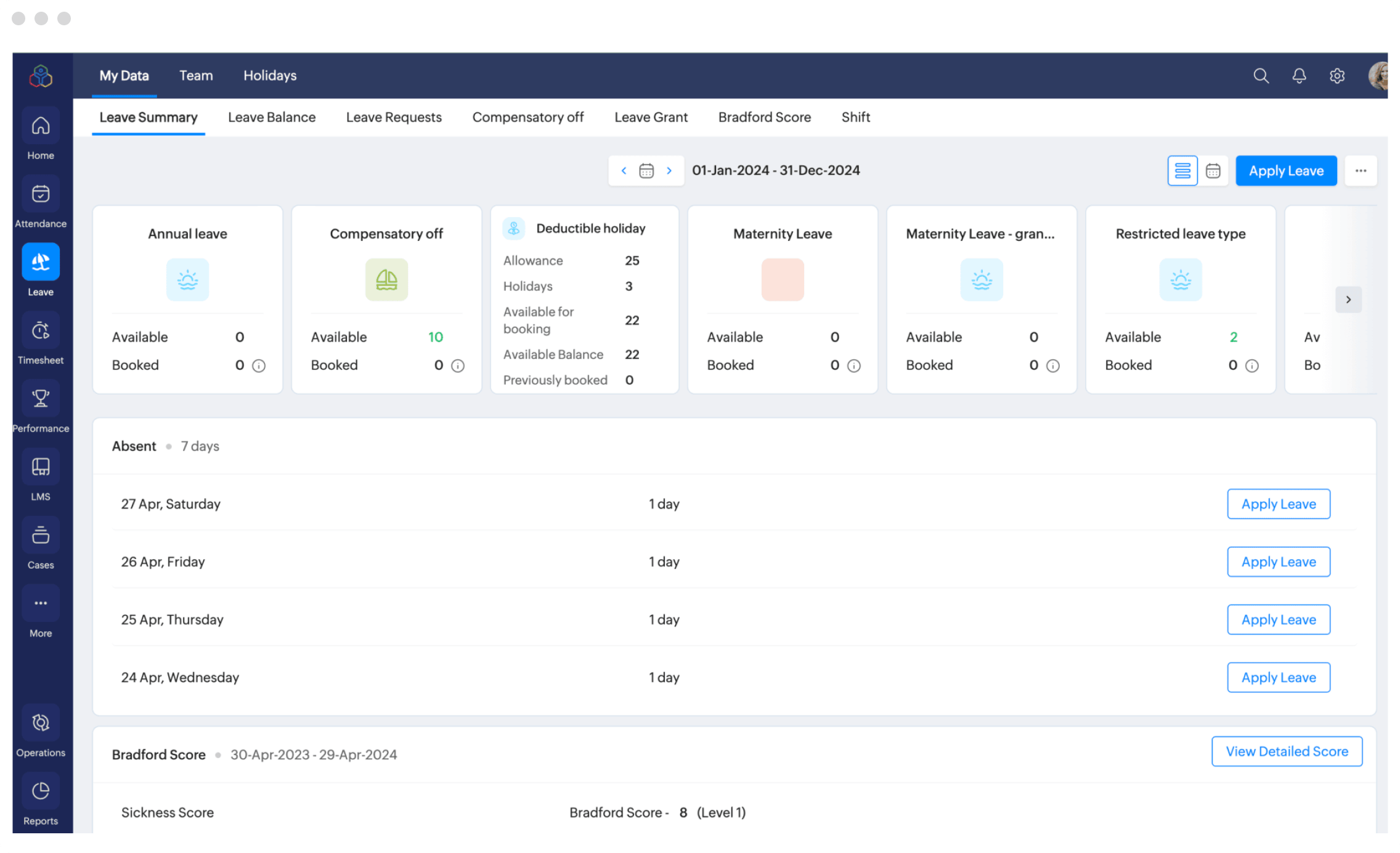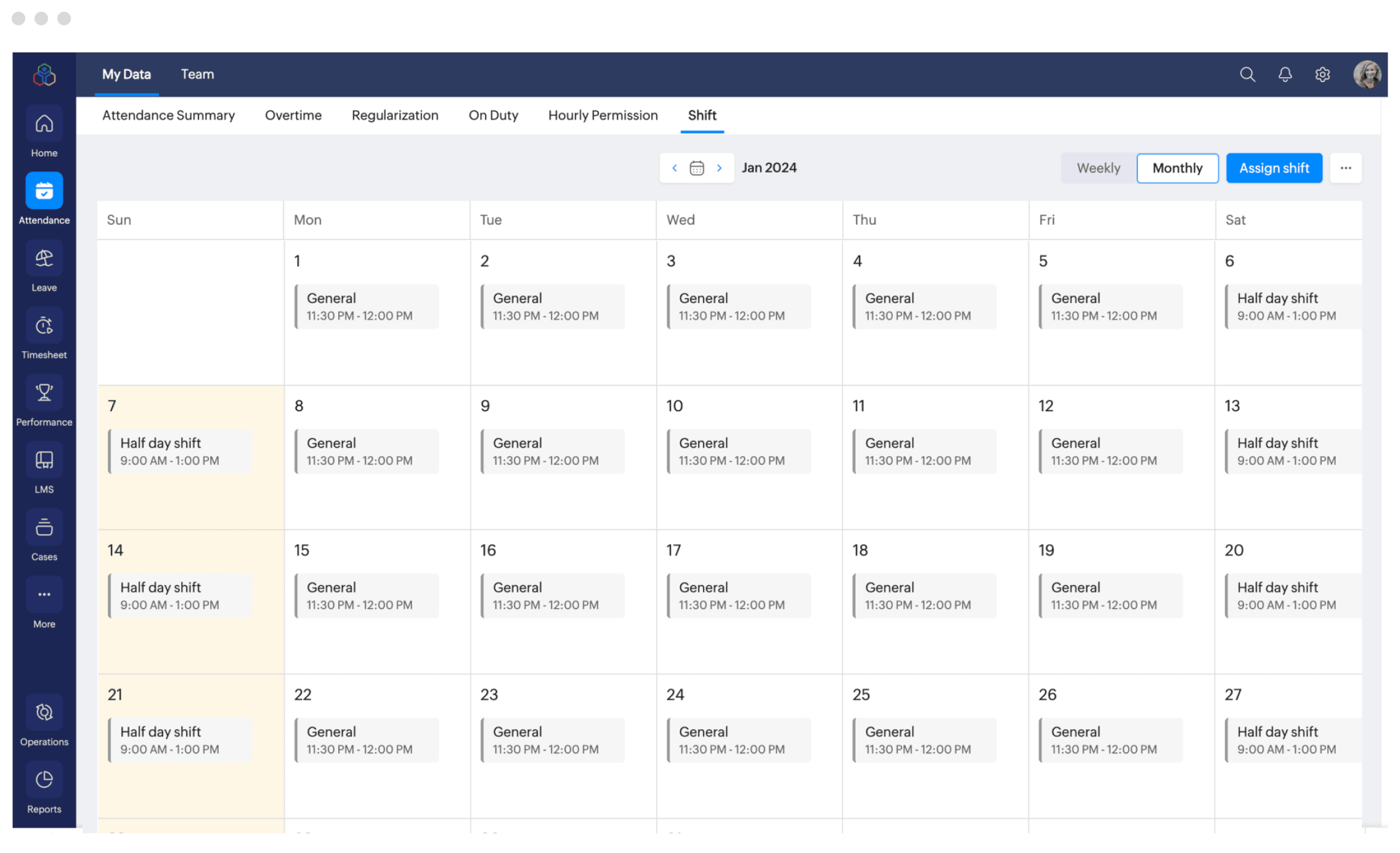 Onboarding

Start a structured onboarding process for new recruits.Initiate onboarding procedures with a new hire portal, customizable workflows, checklists and status-view reports. Learn more

Attendance Tracker

Set your organization's hours, track your employee attendance, and make your payday stress-free. Learn more

Leave Tracker

There's so much to be taken care of when it comes to employee absences, from leave policies to compliance, holidays and accruals. Use our Leave Tracker to consolidate all your employees' leaves. Learn more

Keep track of time

Add clients, break down your projects into smaller tasks, and record hours in a timesheet. Invoicing projects is a breeze because Zoho People is fully integrated with Zoho Books, Zoho Invoice, and Quickbooks. Learn more

Handle Shift Schedules

Managing shifts is a huge challenge in itself. Zoho People makes it easy to create shifts, perform periodic rotations, swap shifts effortlessly, and more. Learn more
Boost your performance evaluations
Change the way you do reviews, and see positive developments reflected in employee performance. Give and receive feedback throughout the year, use evaluation modules like KRA and Goals and customize your appraisal cycle. Learn More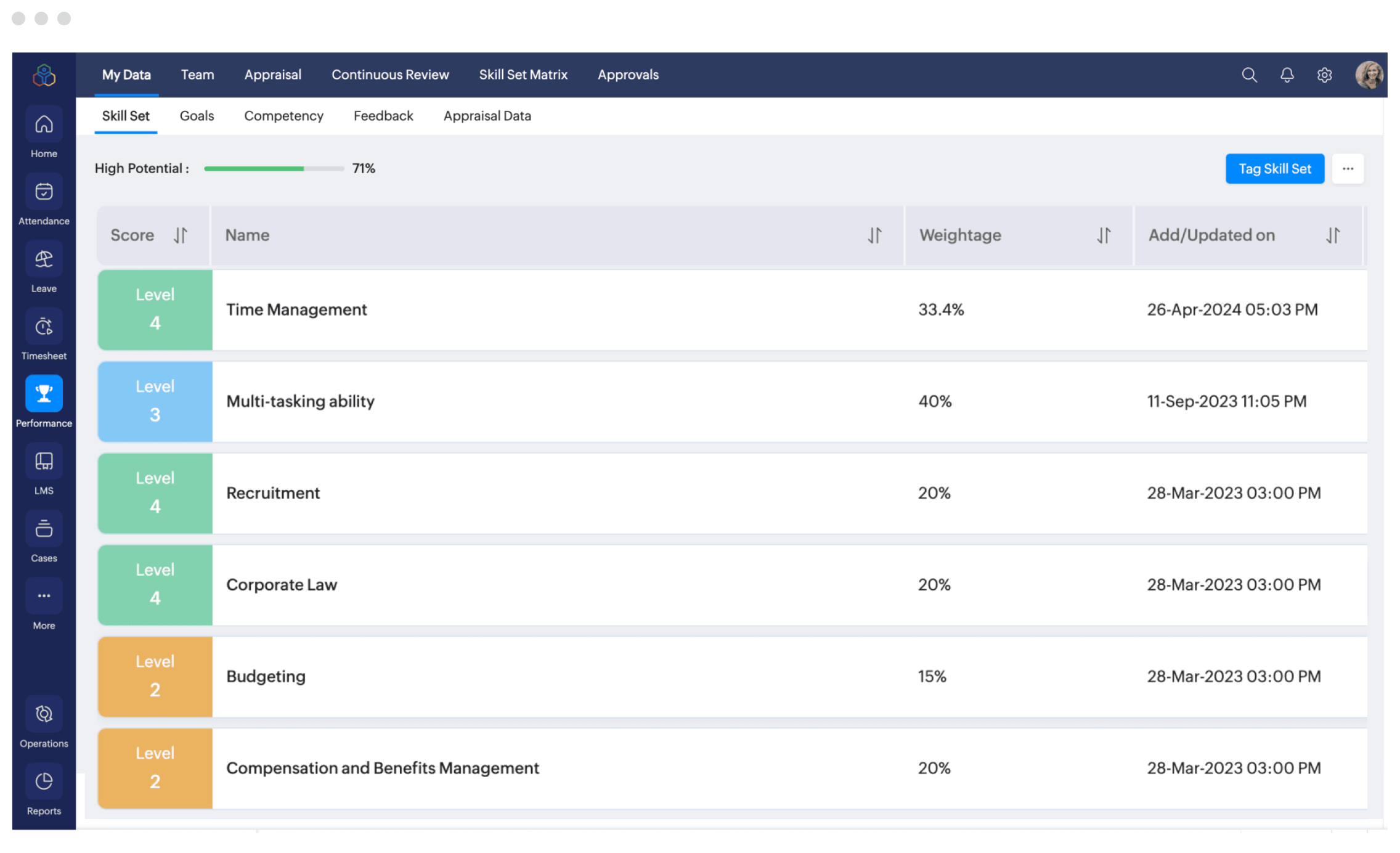 Corporate Learning Management System
Zoho People's LMS is an intuitive platform to easily create and manage your organization's training programs. Create courses, track employee progress, and help your team master new skills. Learn more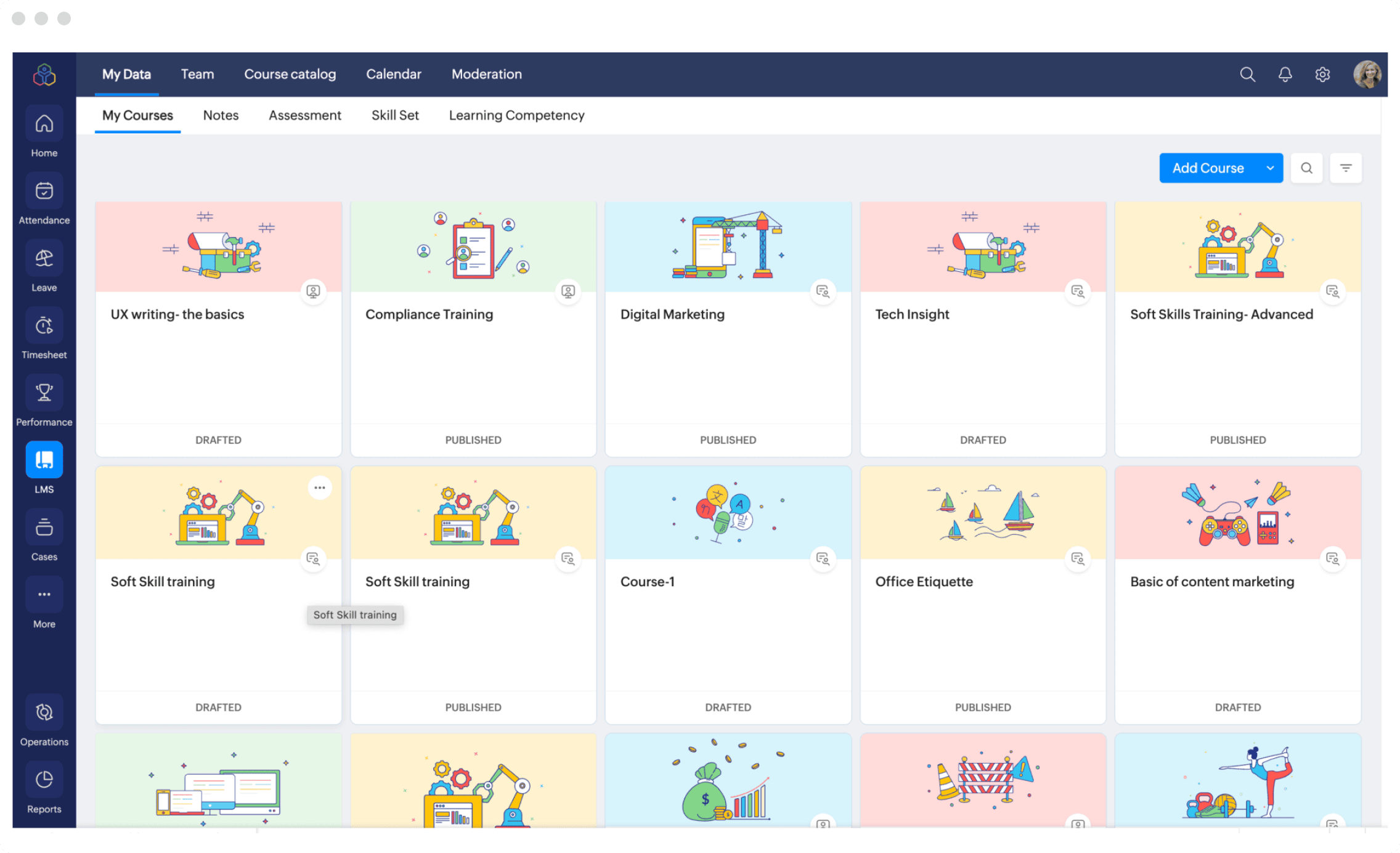 Case Management
Most HRs need a smoother mechanism through which all employees can contact HR. With Zoho People, employees can initiate queries, and HR can sort, track and resolve issues on time, all the time. Learn More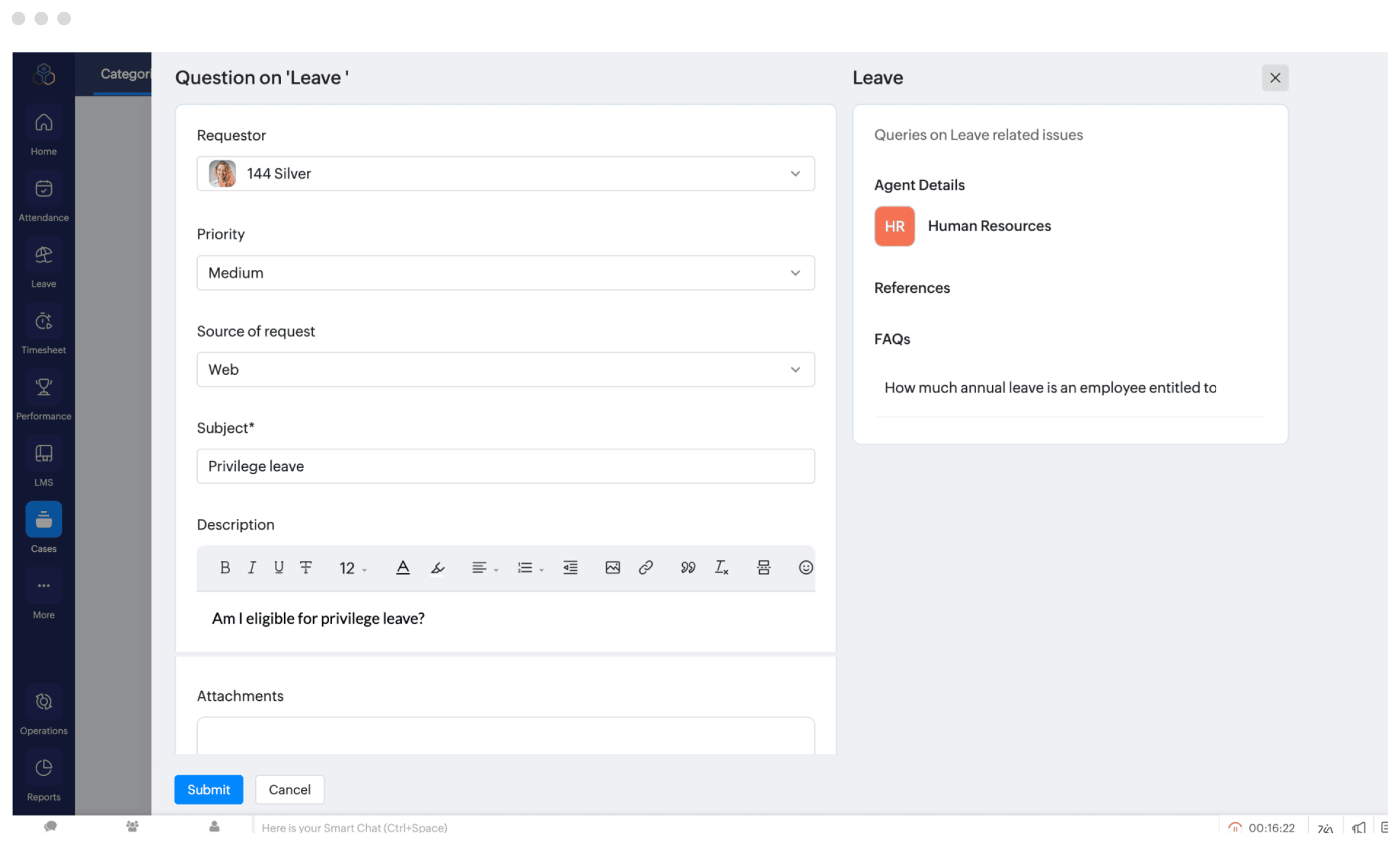 Engage your employees
As HR staff, you know that building a collaborative workplace is vital for your employees to thrive. Zoho People allows employees to track not only their activities but also their teamwork.
Employee Self-service

Eliminate the middle-man and give your people the autonomy to view and maintain their own records. With Zoho People, employees can fill in their details, apply for leave, submit approvals, among other things. Learn more

Feeds and Collaboration

Stay updated on all workplace activities with instant feeds and notifications, just as you would on your favorite social media platform. It's never been easier to share ideas, start a discussion, or make important announcements. Learn more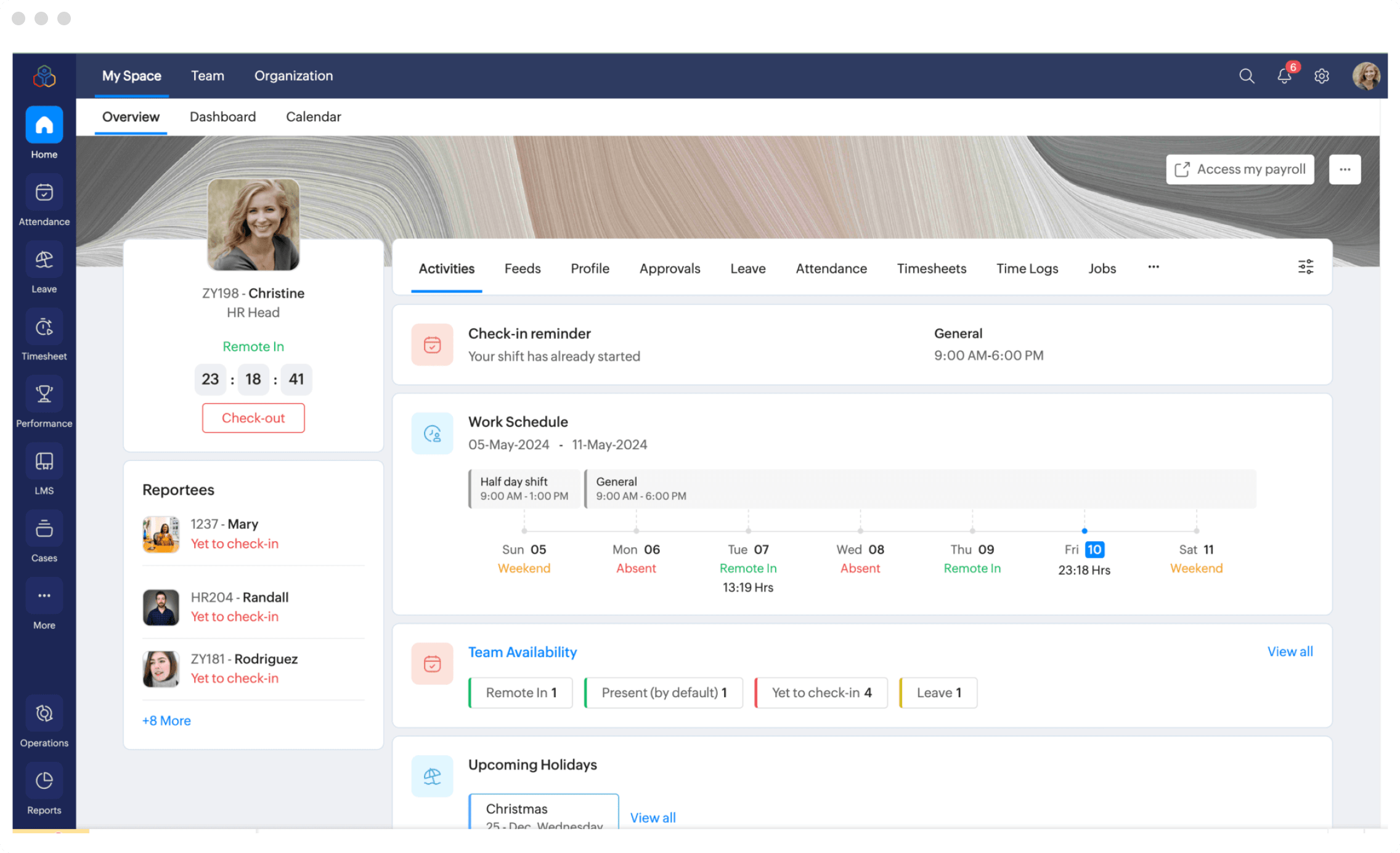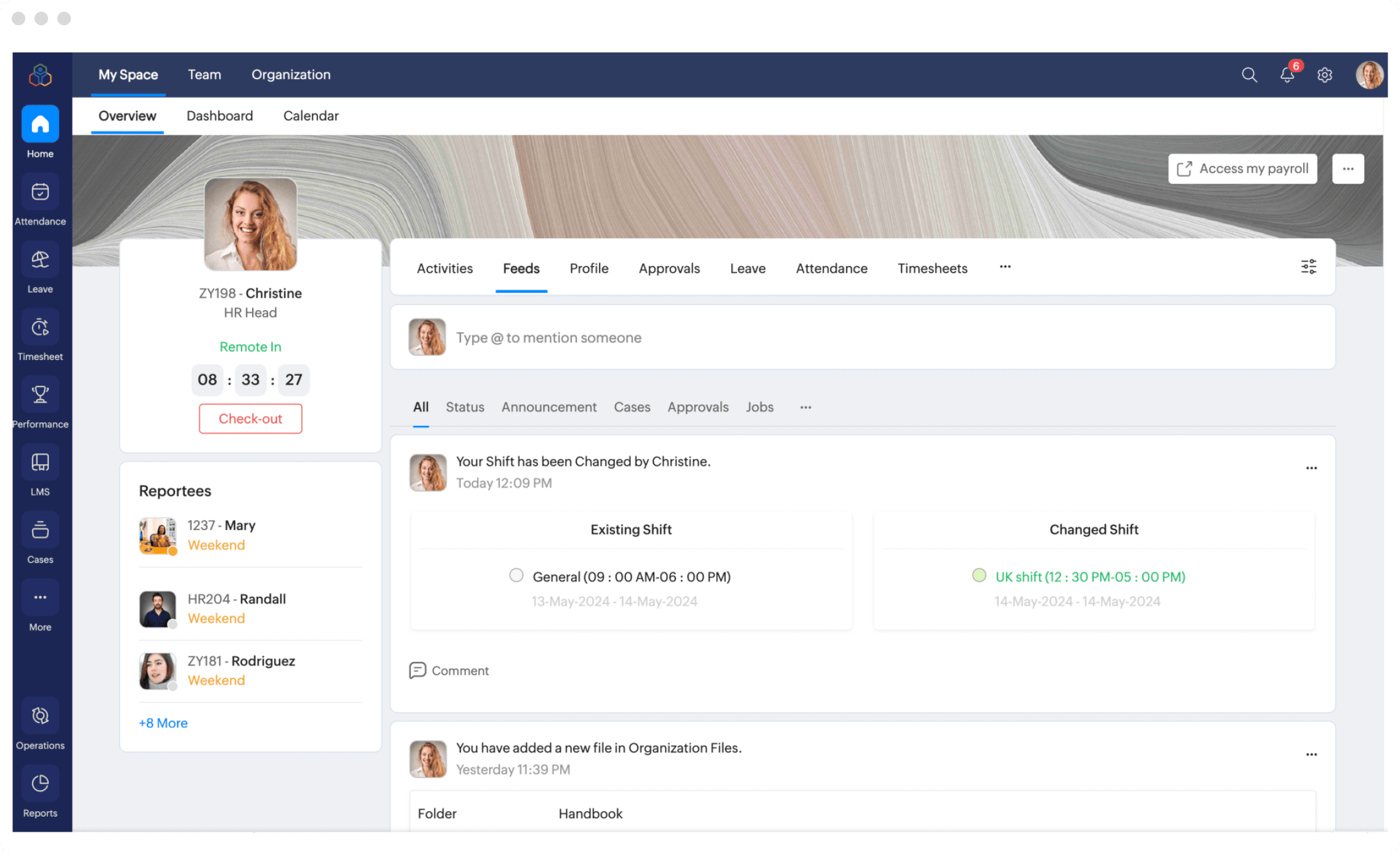 Document Management
Whether sending offer letters, contracts, or updating your policies, there's never been a better way to manage and share all your HR documents.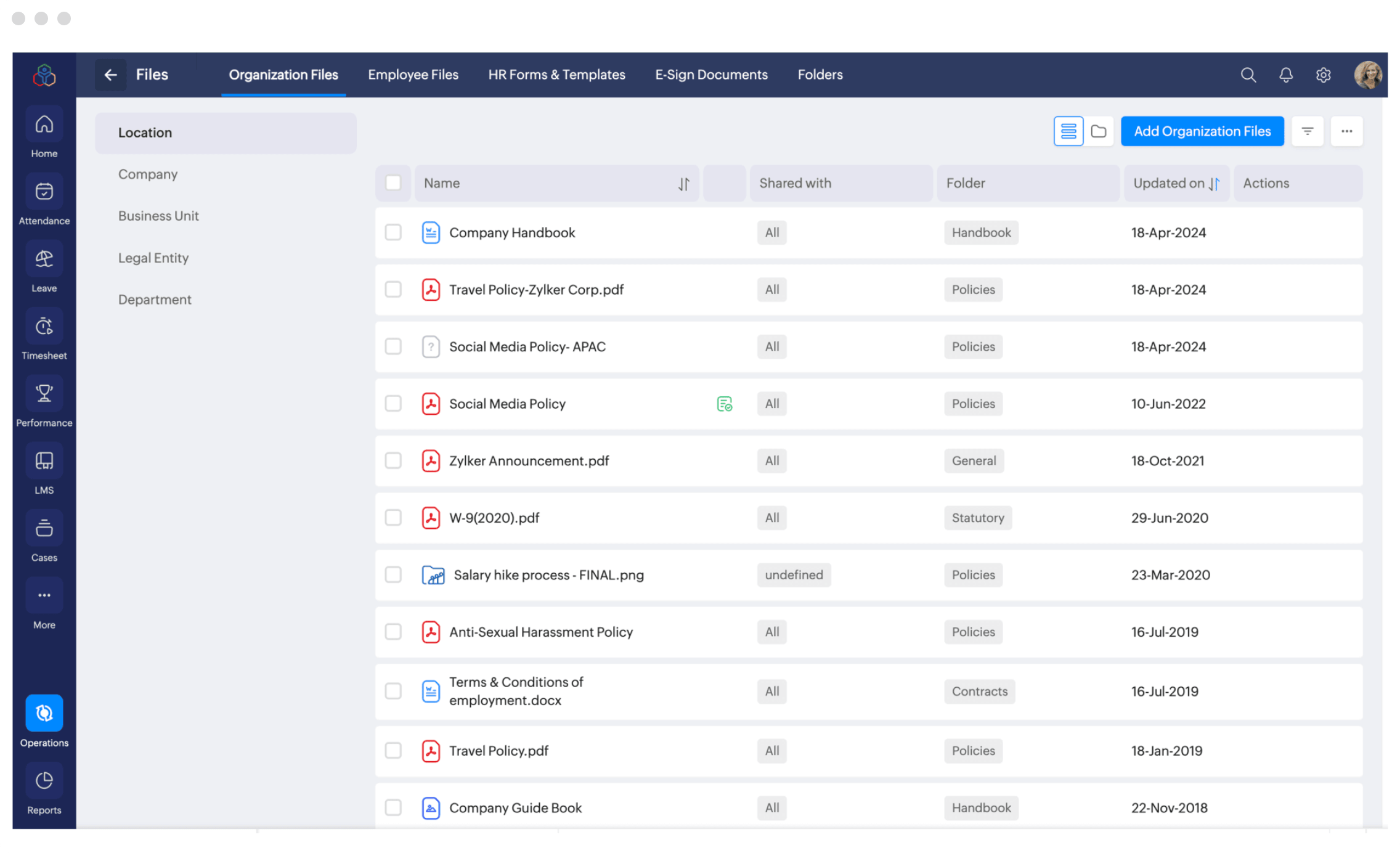 File Cabinet
Zoho People's File Cabinet stores all your documents in a single, central, secure location. Sort, organize, and share files and never get lost in the shuffle.
Learn More
E-signature
For the myriad documents that need to be signed and filed, Zoho People integrates with Zoho Sign, Docu Sign, and Adobe Sign.
Learn More
Customize the way you work
Make Zoho People work the way you do with our extensive customization of forms and workflows. Craft the system you need with fields and tabs that fit your industry and organizational parameters.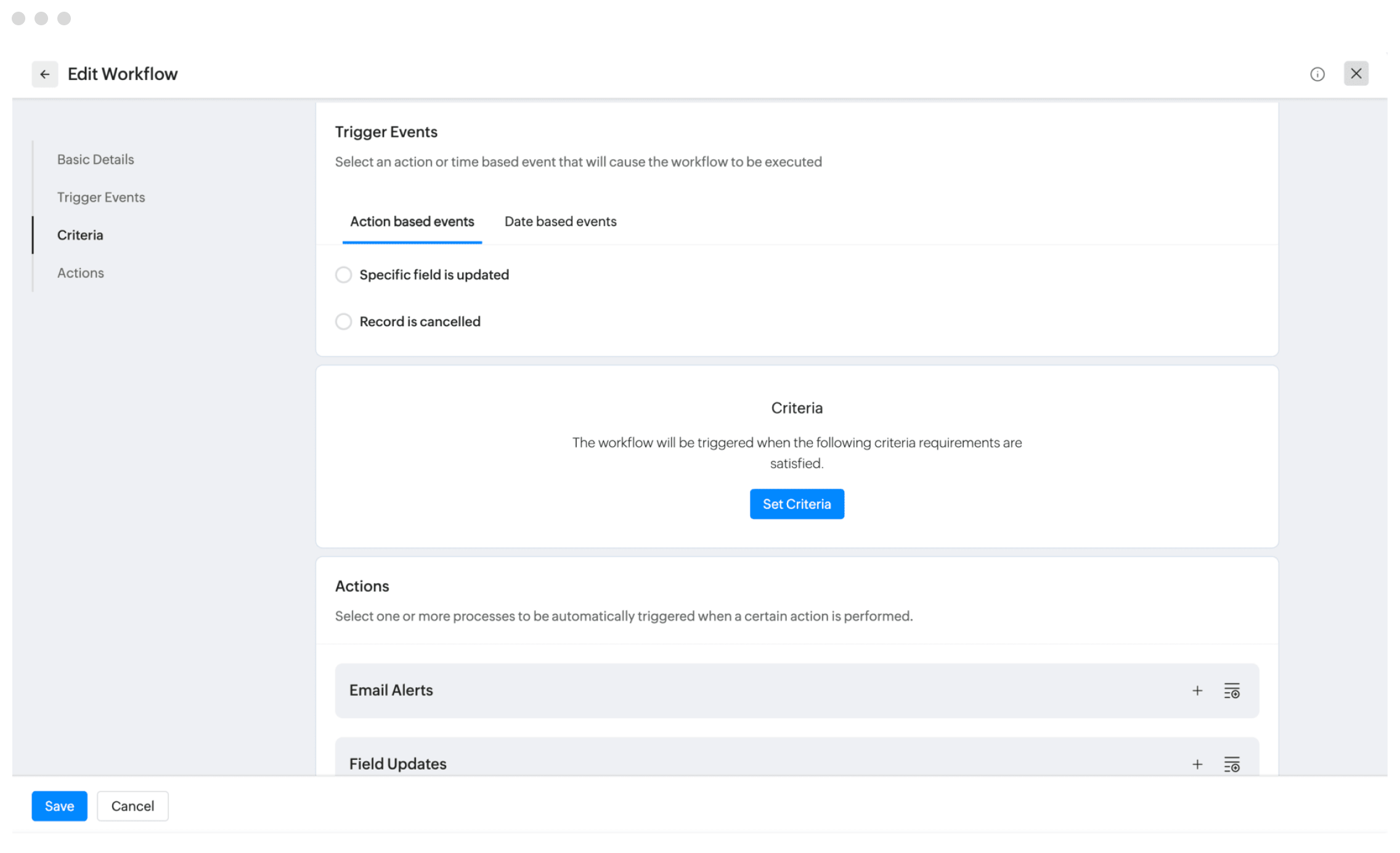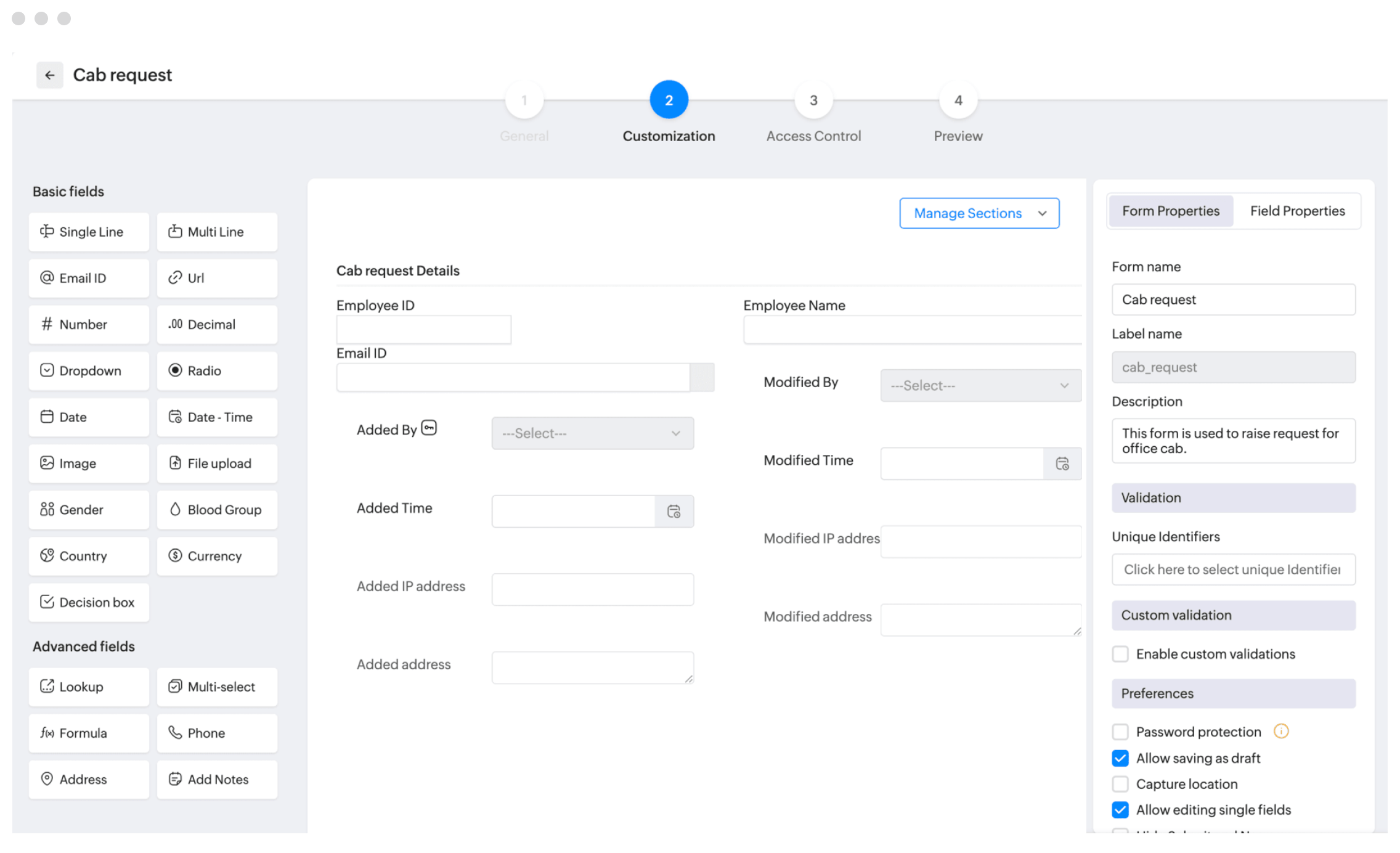 Intelligent Automation

Automate your daily work tasks so that you can focus on what needs your attention the most. From having automatic field updates to creating custom applications for your business, we've got it all covered. Learn more

Custom Forms

Data is key to HR; capturing data right is important for your efficiency. Zoho People's intuitive drag-and-drop form builder lets you create forms, set rules, and establish validations so that only the right information is captured. Learn more
Advanced Analytics
You can't improve what you don't measure. Gather meaningful insights about your workforce so you can identify bottlenecks and make informed decisions. Learn more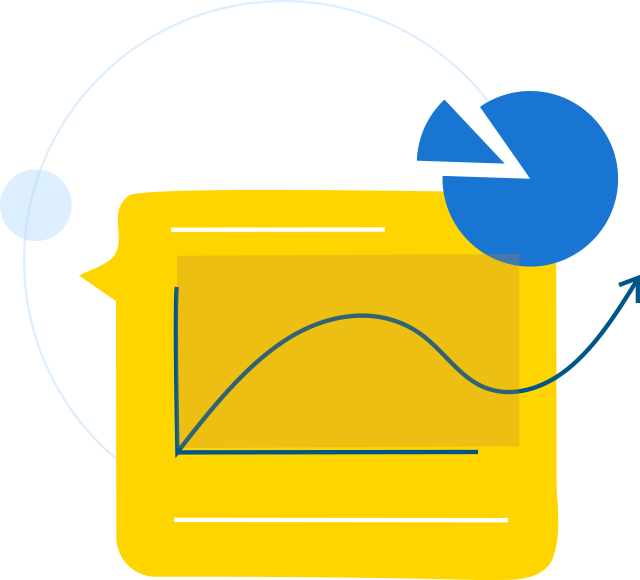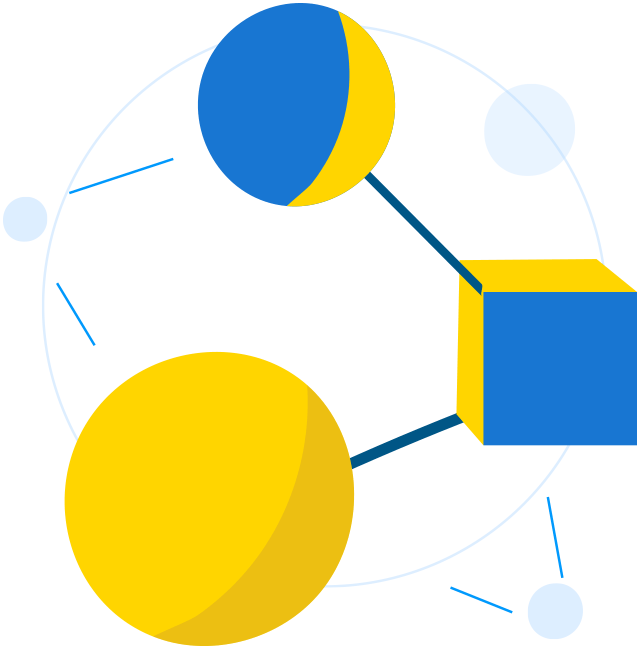 Seamless Integrations
Zoho People integrates cleanly with several Zoho and third-party applications. So why shift between multiple apps when your systems can do the talking? Learn more
User Access Management
Zoho People empowers you to choose which members of the organization have access to view/edit particular documents, modules, or even locations. IPs and Geo-tracking will help you even validate employee check ins and time logs.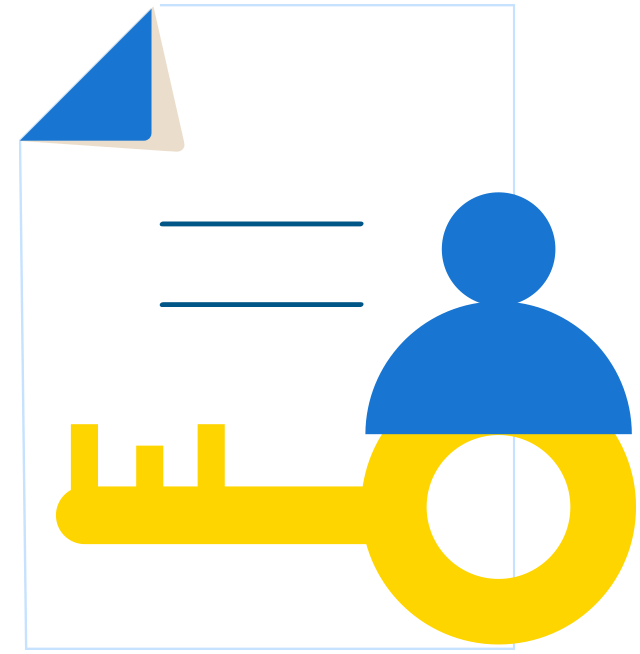 Work with your people, anytime, anywhere
Do more on the go. Zoho People's native apps for iOS and Android keep you connected. Now you can apply for leave, log time, clock-in/out, from anywhere.Learn More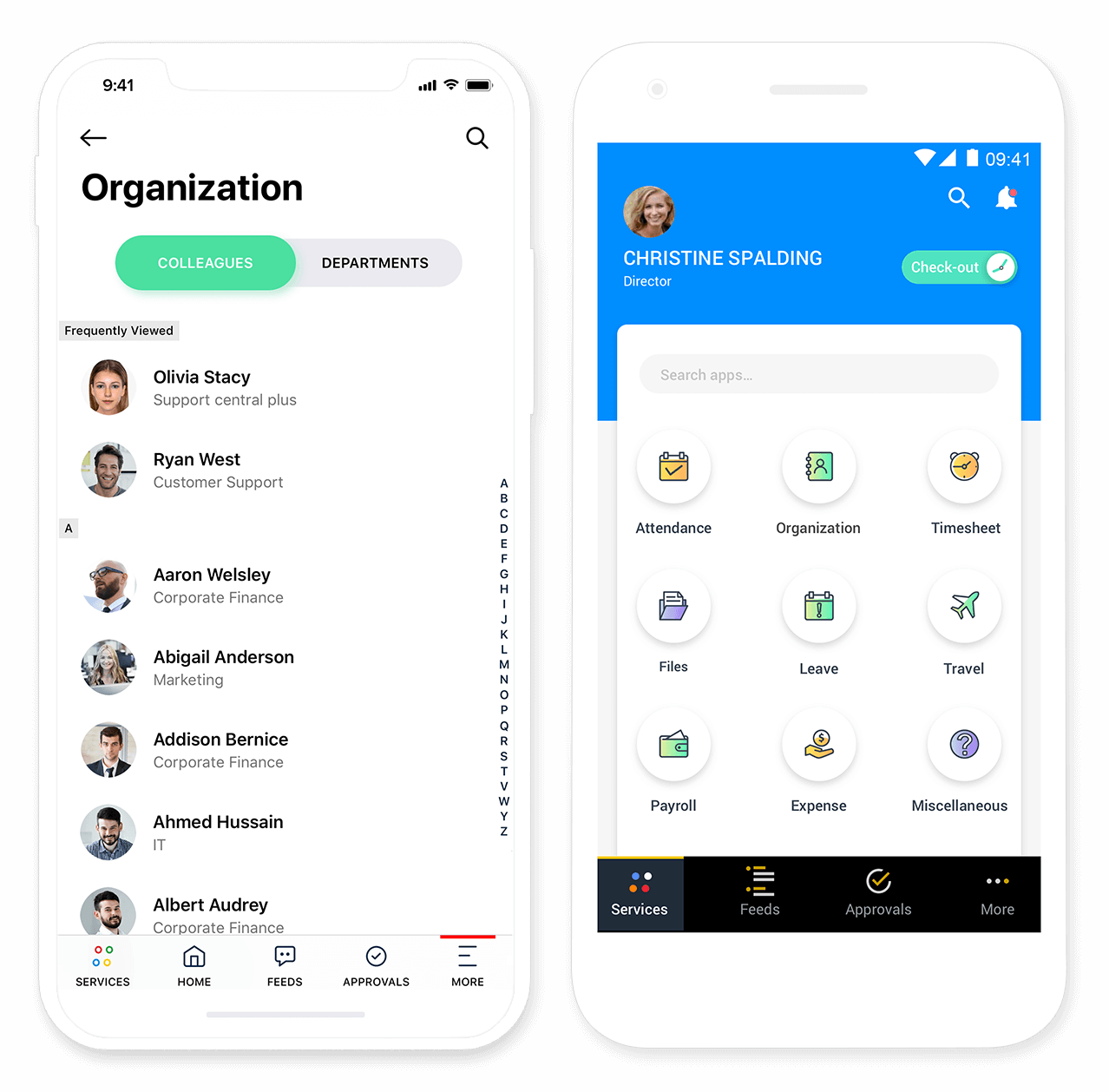 Simplify HR processes. Champion your workforce.
Get Started