How to create a webinar?
You can create your own webinar in just a few steps using Zoho Meeting's hassle-free webinar platform:
Look at what our customers have to say about Zoho Meeting's webinar software
"We looked at a wide range of web conferencing options and Zoho Meeting was the clear choice. The value, flexible audio options, and ease-of-use were the key criteria. The service meets our needs perfectly!"

Randy Fougere
Think2Grow Marketing
"Very useful meeting tools, as we use for Zoho for our CRM and accounts, it was an easy choice to use Zoho Meeting as well. Very good for remote demo's."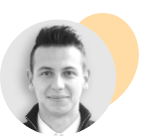 Tolik Rozensteins
Business Development Manager, Security & Vetting Solutions Ltd
Tips for hosting engaging webinars
How to host a webinar efficiently?
Hosting webinars can help you communicate remotely with your customers, business prospects, and partners. You can also leverage your webinars to generate high-quality leads, train internal employees, and more.
Step 1: Find the perfect title for your webinar
Choose a name for your webinar that will intrigue your attendees and keep them interested in your webinars. You can even include the name of the guest speaker in the title if it will generate interest.
Step 2: Schedule your webinars for the right time
Choose a good date and time for your webinar to be conducted. Experiment beforehand and find the perfect time to attract as large a group of attendees as possible. Schedule your webinar for a time that is compatible with audiences from various time zones. You can choose to schedule a webinar by entering new details or simply reuse a past webinar details using the clone webinar feature.
Step 4: Promote your webinar
Promotion plays an integral role in conducting a successful webinar. Promote your webinar on social media using popular hashtags and unique content to encourage your audience to share the webinar with their followers as well.
Step 5: Broadcast your webinar with invites
Announce your webinar event by sending out email invitations to your target audience. Embed your webinar registration links on your custom web pages to attract more attendees organically.
Step 7: Do a trial run before the main event
While conducting a webinar, you may face some unexpected problems or not know how to use a feature. Thus, it's advisable to do a practice run with a reputable webinar software to make sure you're ready.
Step 8: Broadcast your webinar
When the time comes to broadcast your webinar, present your content confidently. Share your screen to help communicate with your audience effectively. Don't forget to record your webinar sessions which can be used for future references.
Step 9: Get constructive feedback
Follow up with your attendees after the webinar to get feedback on your webinar's performance. Do a detailed performance analysis based on attendee parameters to see what to improve for next time.
Step 10: Let your webinar recordings work for you
Post your webinar recordings on a public platform to gain more traction. Send out your recordings to registrants who weren't able to attend your webinar to generate high-quality leads.
Get more insights into conducting a successful webinar
Advantages of hosting a successful webinar
Anyone can host a webinar, but learning how to leverage your webinar to generate strong inbound traffic is what matters in the long run.
Here are some of the critical benefits of hosting a successful webinar:
Improves awareness of your brand
Hosting successful webinars helps you level up your publicity and positively impact your global brand awareness.
Cost-efficient
Hosting successful webinars is an affordable alternative to conducting large scale in-person events. You can use your webinar tool to generate high-value leads with minimal investment.
Reach out to a larger audience
You can host your webinar with up to 1000 attendees in a session using Zoho Meeting's webinar software. This will help improve communication with larger groups.
Train employees quickly
You can train your internal employees more efficiently by offering informative on-demand webinars. Record these training sessions to reuse them for future employees.
Host your enterprise-ready webinar using Zoho Meeting's webinar software
Zoho Meeting's video webinar platform allows you to seamlessly host enterprise-level webinars. Here are some of our enterprise features:
Frequently Asked Questions
01. What are the steps to create a webinar?
Choose a webinar topic and enter the appropriate title and description. Schedule the webinar on a convenient date and time. Set a webinar recurring frequency and invite participants to successfully set up a webinar.
02. How do I host a live webinar?
To host a live webinar, you need to be confident enough with the webinar topic to address it to a large audience. With Zoho Meeting, you can enable practice sessions before the webinar to make sure everything is in place.
03. Can I host a webinar for free?
Yes. With Zoho Meeting webinar software, you can host a webinar for free with up to 100 attendees per session.
04. Can I record a live webinar?
Yes, you can record a live webinar in Zoho Meeting. You can even choose to automatically record webinars to analyze in the future.
05. Why should I prefer Zoho Meeting's webinar platform?
Zoho Meeting provides the most reliable and high-quality audio, video solution catering to all your webinar needs. Zoho Meeting's webinar platform is highly secure and scalable as well.