User Profile Section
The User Profile section of your Zoho Mail account section can be opened by clicking on your Display Picture at the top right corner of the mail interface. This section contains the necessary details about your Zoho Mail account.
Table of Contents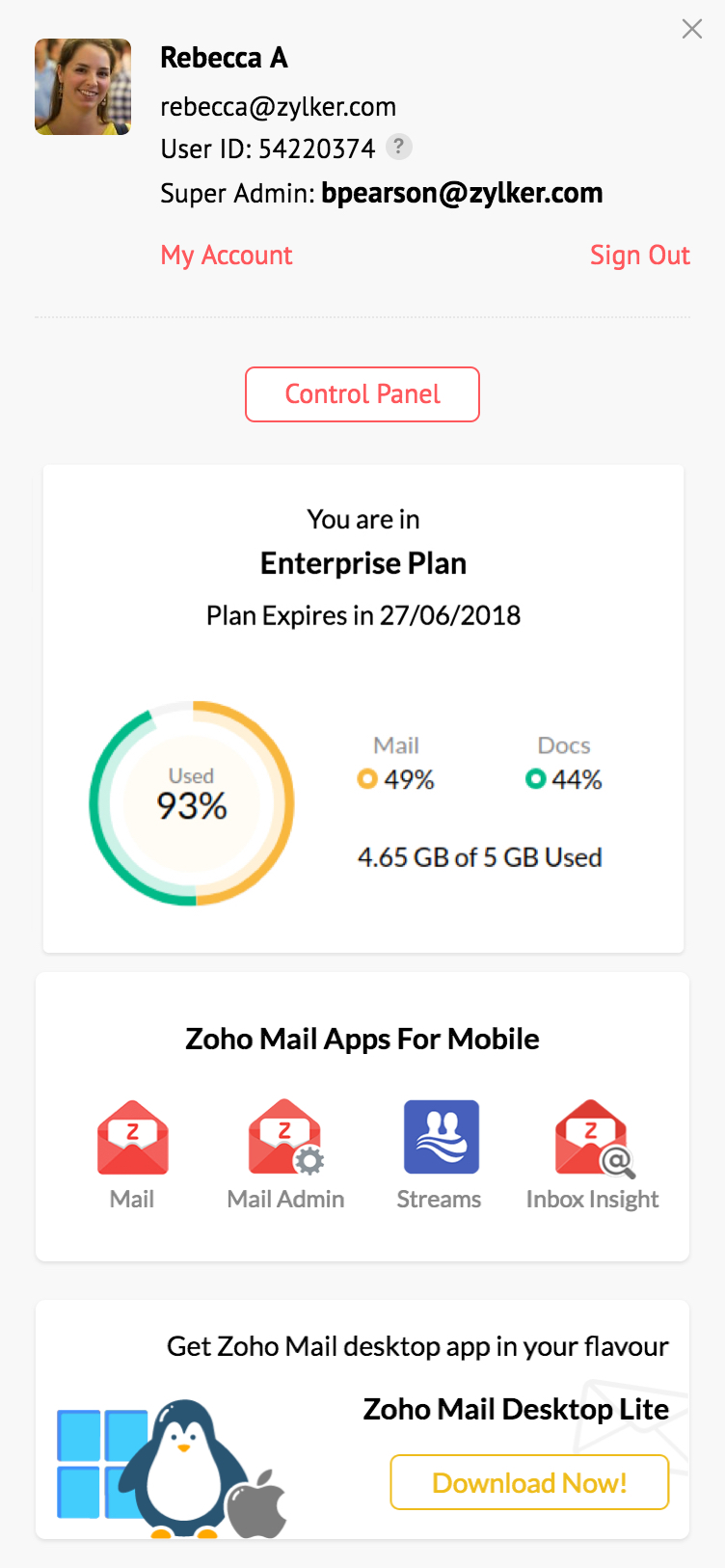 User account details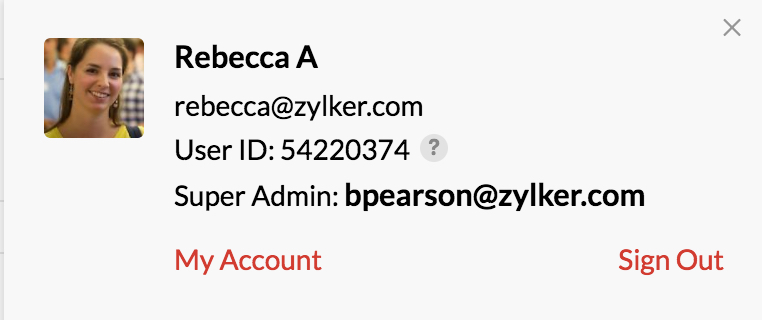 The first part of the User Profile section shows details about your Zoho Mail account. It displays the Display Name, Primary email address, User ID and Super Admin email ID. Other than the account details, My Account and Sign Out options are also provided here. If you click on My Account, you will be redirected to the https://accounts.zoho.com page. Clicking on Sign Out will log you out of your account.
Change Profile Picture
The display picture associated with your email address can be changed from your account. Your profile picture will also be visible to your chat contacts, your community posts, recipients who also have a Zoho account and your organization users. This will be based on the Profile picture permissions that you set. 
Login to Zoho Mail
Click the Avatar on the right corner of your mailbox.
Hover over the avatar and click Change
 
In the Accounts page, click your Avatar and upload an image file from your computer
Select the Photo View Permission from the drop-down 


Zoho Registered users - All users of Zoho will be able to view your profile image. For non-Zoho users your image will appear blank in forums. 
Contacts I chat with - Your contacts whom you chat with will be able to view your image. For others your image will appear blank. 
My Organization users - Only your organization users will be able to view your image. 
Everyone - Everyone can view your image. Suppose you participate in a community post, anyone who accesses the post will be able to view your profile image. 
Only Myself - The image will be visible only to you and not to any of your contacts or colleagues. 

Click Upload
The maximum permitted file size for the upload is 10 MB.
Change Timezone
The time in the email is listed based on the Timezone set for your organization.
In case the emails are displayed with incorrect or irrelevant times that do not match your current time, it is possible that the timezone chosen is incorrect for your account. Follow the steps below to choose the correct timezone. 
Login to Zoho Mail
Click your Avatar, and select My Account
In the Zoho Accounts dashboard, choose My Profile Info section
Under Personal Information, Select Country/Timezone option.
Choose the values from the drop-down. 
Click Save to update the changes
You have to refresh the Zoho Mail page, for the changes to take effect. 
When you have 'Daylight Saving Time' followed in the region you choose, you can select the Time zone with Daylight Savings autocorrected. With this option chosen, the time details in your Zoho Mail will be automatically corrected to your region's time and will be displayed correctly. 
Accessing Control Panel and Subscription details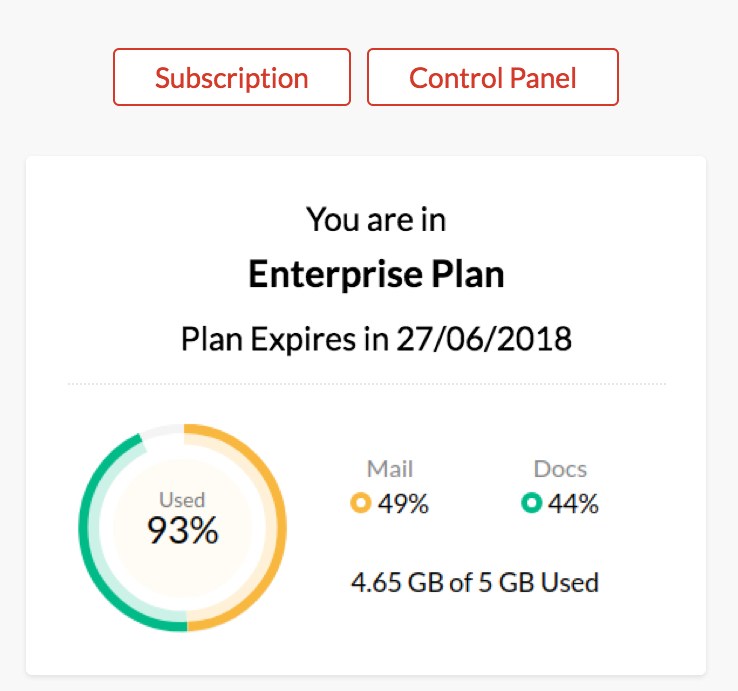 The Control Panel and Zoho Stores can be accessed from the User Profile section by clicking on Control Panel and Subscription buttons respectively. The details of the existing plan of your Zoho Mail account such as time to expiry, storage used are displayed below these buttons. The storage details section includes both the storage used by Mail and Docs. In case you have deleted any emails or files recently to free up space, you can hover over the storage chart and click on Refresh to update the storage information. Any changes in the plan can be made by the Super Admin from the Zoho Stores.
Link to Control Panel: https://mailadmin.zoho.com/cpanel/index.do#dashboard/general
Note:
Control Panel can only be accessed from Super Administrators and Administrators accounts. Subscription button is available only in Super Administrator account.
Zoho Mail Mobile Apps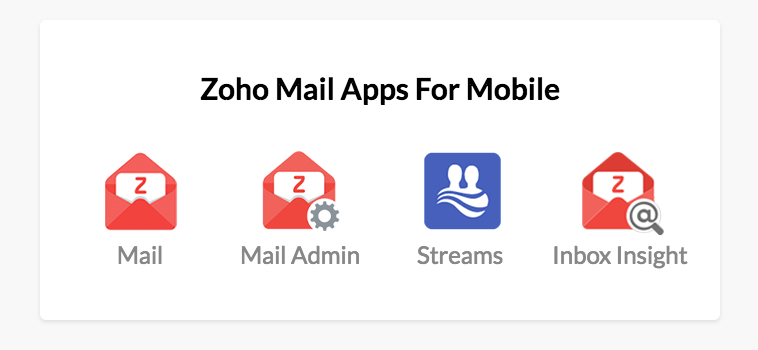 User Profile section displays Zoho Mail Apps available for Mobile. The apps include Mail, Mail Admin, Streams and InboxInsight. Clicking on each icon will redirect you to the page of the respective app.
Zoho Mail Desktop Lite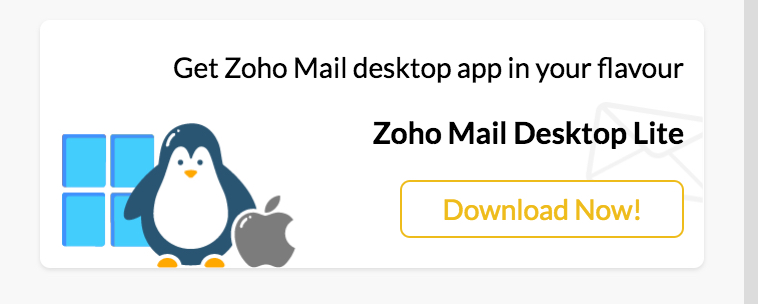 The User profile section of your account also includes a Download link for Zoho Mail Desktop Lite app. Click on Download Now to download the app suitable for your needs.