Online File Storage
With businesses and users being spread across various geographical locations and a vast amount of information stored in the form of documents that need to be shared among users, a central location to store and manage documents is the need of the hour. Zoho Docs is an ideal solution for users who work remotely and deal with a large number of files. It allows you to store files in all formats such as images, music, videos, zip, pdf,etc., and keep them organized in folders for easy and quick access.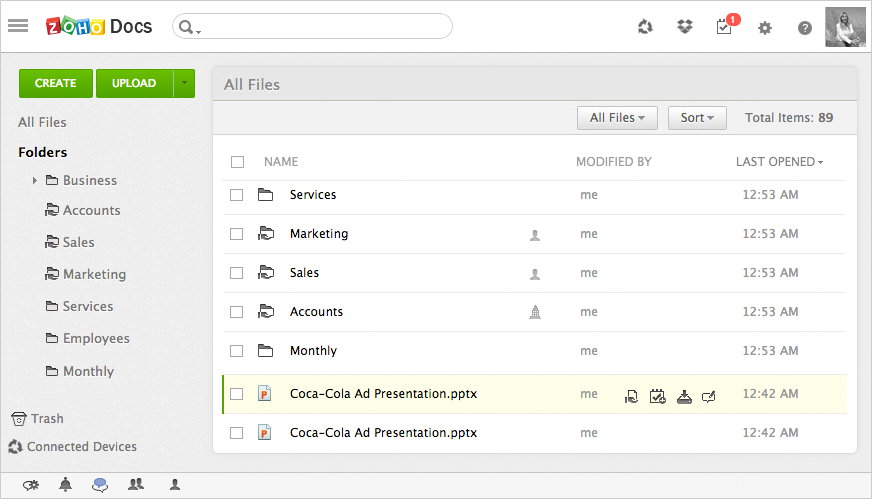 You can Upload and Store Files in Zoho Docs with:
Bulk Uploads: You can add whole folders or multiple individual files and store them in Zoho Docs in one go.

Zip/Unzip Files: You can upload zipped files and unzip them in Zoho Docs. When the uploaded zip file is extracted, the files inside get unzipped and stored in defined folders.

E-mail In: You can transfer and store files that come as email attachements directly into Zoho Docs
Folder and Bulk Upload
Zoho Docs allows you to upload multiple files in one go, without breaking a sweat. You can drag and drop folders from your desktop or simply email files from your existing mail accounts to Zoho Docs.
Folder Uploads
With the Folder Upload option you don't have to go through the mundane process of selecting individual files within folders to upload, as you will be able to upload whole folders directly from your desktop into Zoho Docs. If the folder has sub-folders, then the folders will be created with the same hierarchical folder structure.
Bulk uploads
With the bulk upload option you can upload multiple files, all in one go, into Zoho Docs. You can choose documents and files from your desktop, from various folders and from different drives and easily upload them into your preferred folder in Zoho Docs.
Email-in
Zoho Docs - 'Email-in' feature allows you to email files from your existing mail accounts directly to your Zoho Docs account without the need to login. How does it work? "Email-in" feature in Zoho Docs, provides you a secure email address. Documents mailed to this secure email address will be transferred directly to 'My folders' section present in your Zoho Docs Account.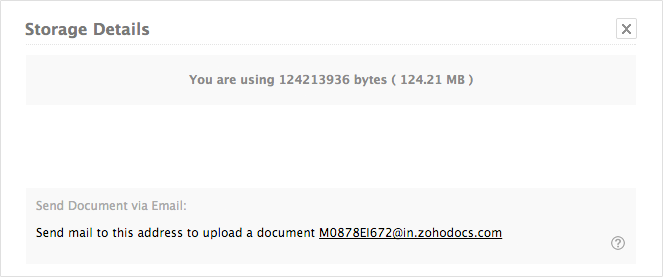 Zoho Docs 'Email-in' feature also allows you to upload scanned documents directly from printer to your Zoho Docs account using the secure email address provided. Once the documents are uploaded in Zoho Docs, you can share, edit, send email etc., in Zoho Docs.
Also, you can share the email address to your team members to transfer documents to your Zoho Docs account. As Zoho Docs supports all file formats, the type of files your team members send really doesn't matter much. Instead of downloading the document to desktop and uploading to Zoho Docs, using this feature, you can simply email documents.
Benefits of "Email-in"
Document Conversion
Converting documents to different formats could become tiresome when working with huge team. Using Zoho Docs, you can export text documents, spreadsheets and presentations to different formats (like PDF, XLS, HTML) in just a click.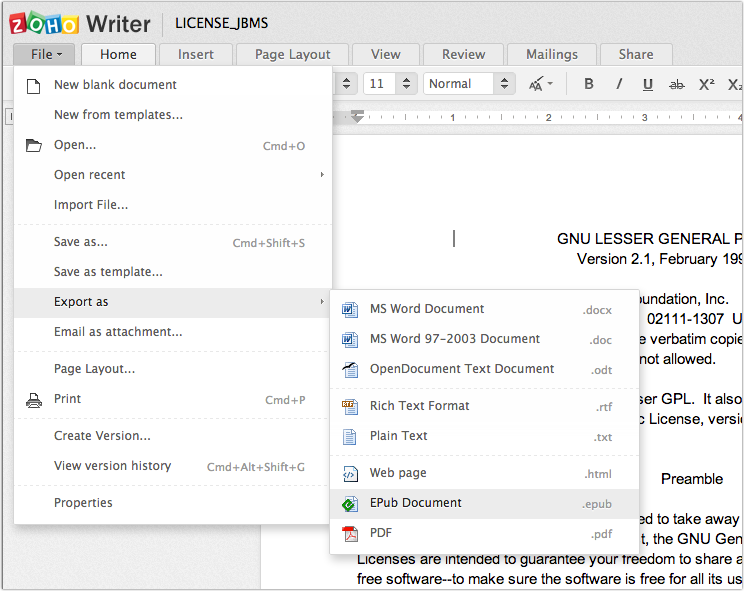 You can import files in different formats to your Zoho Docs account. Also, it can be exported to the desired format from within Zoho Writer. All you need to do is upload the file, select the desired output format, and save it in your system. Also, no third party software installation or sign up is required.
PDF Viewer
From RFPs, resume to e-books - PDFs are a popular format for sharing documents today. Zoho Docs with an inbulit PDF viewer, makes it easy to upload and view files without having a PDF viewer installed in your system. You can directly upload the PDF file from your system, and view it from within your Zoho Docs account.
The viewer retains the original format of the file, and helps you navigate easily to different pages. You can search for text within the PDF document, and copy any selected text to your clipboard.
Full-text Search
In a business organization there are bound to be a number of documents that are stored and finding a particular document might take up valuable productive time. With Zoho Docs you can reduce the time spent on finding the required file as it offers full-text search and tag options that will make it easier for you to locate the file you are looking for.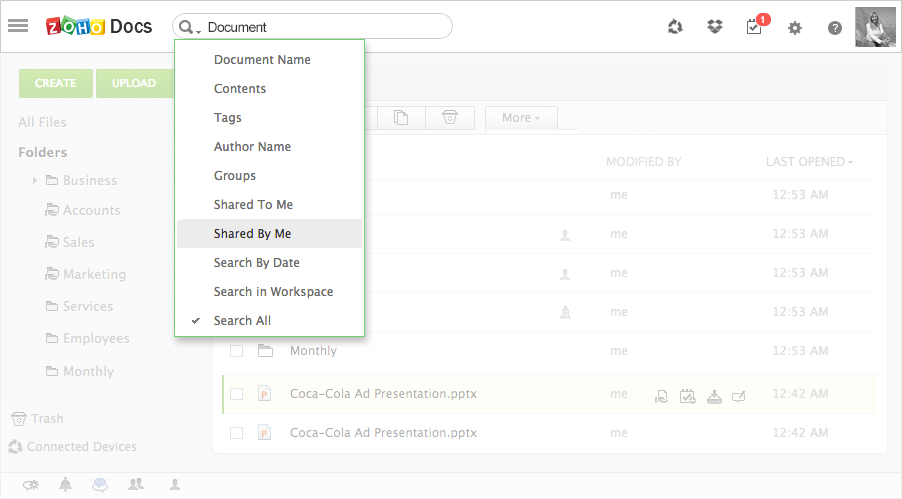 Zoho Docs offers full-text search option, where you can search for a document by either mentioning keywords or phrases contained in the document, making it simpler to identify the document you are searching for. You can search for any file that has text, in any format such as PDFs, excel sheets, presentations etc.