Overview
Zoho Creator Global Search option provides a way for a user to search across the entire application or specific forms, thus saving time in locating data that you want to view. Users submit a global search using the Global search bar which is available in the application header in live mode, irrespective of the page the user is accessing. The Global search feature filters all records that contain the given search term and displays the data in default or custom layouts.
Note
This feature is available only for new Enterprise accounts created after April 2014. We are currently working on migrating the old accounts to support this feature. Please contact support@zohocreator.com for any clarifications.
Global Search
To use global search
Select the form to be searched for from the Search drop-down list. Reports only from the selected forms will be searched and listed.
Enter the search term in the text box and press Enter.
The matching records will be listed.
Use Search Settings to create your own custom search layouts.
Screen shot of a Zoho Creator form with the "Global Search bar" in the application header

Screen shot displaying the search results from the entire application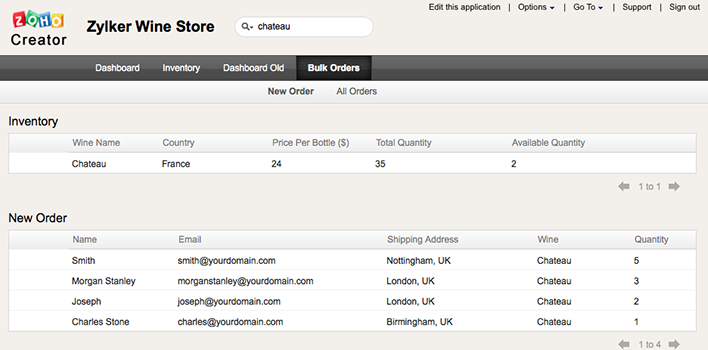 Customize Global Search Layout
When searching for records using the Global search option, the search results are displayed in the default layout supported by Zoho Creator. You can customize this search layout by selecting the required fields of your choice for each report by using the Search Settings option.
To customize the global search layout,
Select Form Settings -> Search Settings
In the Search Settings page, select the Custom Search Layout radio-button.
The form fields will be listed below on the right-side. Use drag-n-drop to add/remove the required form fields to be displayed in the search layout.
Related Topics