Empowering citizen development with low-code platforms: An introduction
Empowering citizen development with low-code platforms: An introduction
Last Updated: July 1, 2020
3.9K Views
5 Min Read
Remote work is the new normal, and it's changed the outlook of corporate culture since 2020. The constant need to stay connected and keep work up to date has forced businesses to find digital workplace solutions.
These app development tools allow organizations to build process-specific solutions that work collaboratively and boost employee productivity. They're an essential part of business strategy, impacting competitiveness and growth.
The most efficient way to tackle this situation is to empower everyone by providing a helping hand—this is called citizen development.
What is citizen development?
Citizen development refers to the practice of empowering individuals who aren't professional developers to create applications. These "developers" are non-IT employees within a business unit who use low-code/no-code development platforms to build applications that address specific business needs or challenges.
Citizen development is a valuable approach for addressing departmental requirements quickly, while allowing IT professionals to focus on more technically complex projects. However, it's preferable for IT departments to monitor and approve the tools used by citizen developers to avoid potential issues related to security, data integrity, and compliance.
The benefits of citizen development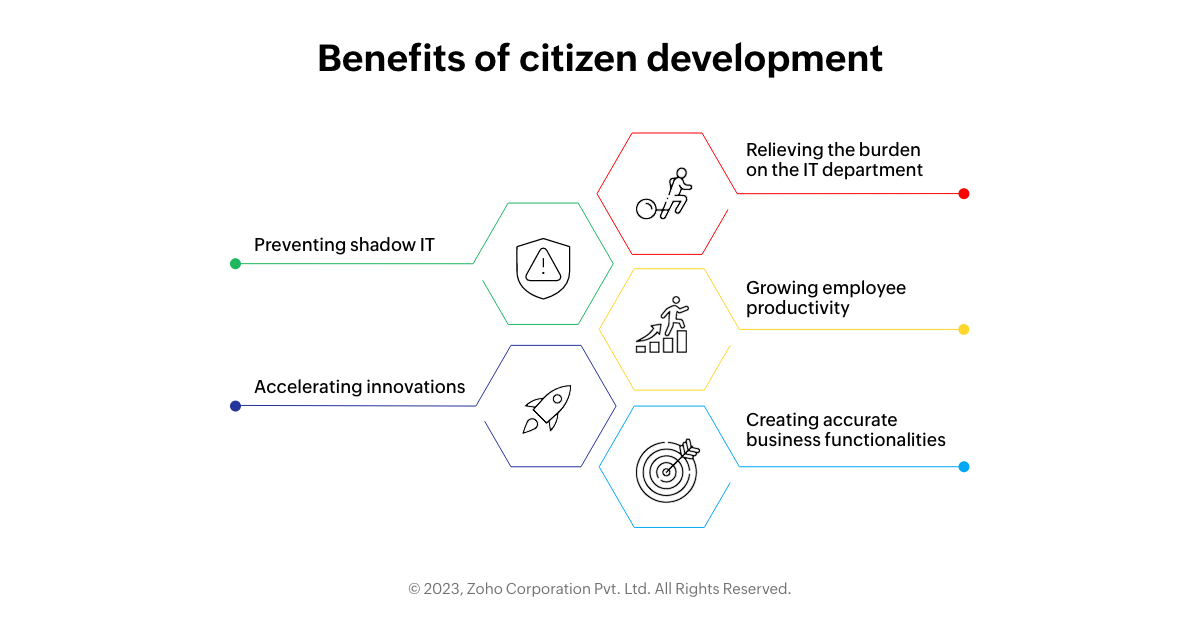 1. Relieving the burden on the IT department
With solid training for non-IT employees through a citizen development program, business leaders can build their own apps and align them with the organization's IT standards. Through citizen development initiatives, business users can build custom solutions for their departmental needs using low-code/no-code platforms, while software developers can focus on technically complex projects.
2. Preventing shadow IT
It's common for IT teams to have a huge backlog piled up in large business units, and for this reason, requests are often rejected. This often ends up with the line-of-business user building a solution outside of IT's jurisdiction, and all of the problems that can come with it. Thus, the use of low-code/no-code platforms, which are IT compliant, ensure that needs are met and business solutions are provided. These platforms also mean that the IT team has visibility and control of all the apps that are being developed and used in the company, which helps to prevent shadow IT.
3. Growing employee productivity
Citizen development boosts employee productivity to such an extent that business bottlenecks are dealt with immediately, without relying on the IT department, saving everyone time and money. With the help of citizen development, business users can build their own solutions to automate repetitive tasks, which will also help to improve operational efficiency.
4. Accelerating innovations
The visible effect on business outcomes and operational efficiency that's brought about by citizen developers often results in organization-wide innovations.
5. Creating accurate business functionalities
No technical expert can understand business processes and their underlying logic better than the business experts themselves. For this reason, it's always preferable when the same business users are empowered to create applications to tackle the issues by themselves.
Who are citizen developers?
According to Gartner, a citizen developer is a user who creates new business applications for consumption by others, using development and runtime environments sanctioned by corporate IT teams.
Citizen developers are agents of change and innovation. Empowering citizen development is a much-needed step at any modern organization—it's where business strategy meets technical stability. With the guidance and mentorship of IT departments, a citizen developer can be an asset that contributes to IT infrastructure. From utility apps like team management, to path-paving supply chain management apps, it's always better when it's built at the behest of a stakeholder, because they're the business experts.
What are the characteristics of a citizen developer?
A citizen developer possesses a unique set of characteristics that enable them to create business applications and automate processes within their organizations using low-code/no-code development tools. They have diverse skills, adaptability, and domain expertise that help them to be an indispensable force in the modern workplace.
Some of the key characteristics of a citizen developer include the following:
1. They're not professional developers.
Citizen developers come from various backgrounds, such as marketing, operations, finance, or HR, who do not have a formal education in computer science or software development, such as business analysts.
2. They're domain experts.
They have a deep understanding of the business or industry they work in, allowing them to identify opportunities for process automation and improvement.
3. They're proficient in low-code/no-code.
Using low-code/no-code development platforms are empowering citizen developers to create applications without writing code. These platforms use visual interfaces, templates, and pre-built components to streamline the development process.
4. They have a user-centric focus.
Although citizen developers aren't software developers, they should have the ability to understand the needs of the users and build apps for the right processes.
5. They're able to collaborate.
Citizen developers work collaboratively with IT departments, data analysts, professional developers, and other stakeholders to ensure the success of their projects.
6. They have compliance and governance awareness.
While citizen developers may not have a formal IT background, they're aware of the importance of adhering to compliance and governance standards within their organization.
Low-code: The framework for citizen development
Low-code platforms are on the rise, not only because it's easy to learn, but also for the all-in-one package it offers. Everything from storage to security is taken care of, which makes signing up the only prerequisite. Although low-code flaunts a handful of advantages—a short learning curve, faster time to market, and uncompromising security—its ability to uplift non-IT professionals and make them citizen developers is perhaps the one most worth mentioning.
Zoho Creator, with its intuitive drag-and-drop interface and pre-built templates, is powered by Deluge—Zoho's online scripting language. Its guided scripting and cross-platform integrations provide an easy step to start your citizen development journey.
The future
Citizen development is the next wave of application development, and once the decision-making process within an organization is streamlined, it becomes easier for citizen developers to thrive. They can be a part of both the business strategy team and the team that build apps to meet that strategy.
In an upcoming blog post, we'll be sharing the experience of Justin Kaese, General Manager at Play Force Australia. At Play Force, Justin, along with his small team, were able to build high-priority business critical applications using Zoho Creator. Stay tuned to find out more.
Akhilesh Balakrishnan

Akhilesh is a product marketer at Zoho Creator with a focus on citizen development and its importance in the future of IT. If not at work, you can find him watching sports, reading politics, or listening to heavy metal.
Leave a Reply
Your email address will not be published. Required fields are marked