Enable open communication to strengthen your work culture.
With familiar features like social-media themed Feeds, Chat, and more, Connect ensures that every team member can share ideas, provide feedback, and stay up-to-date on company news, improving transparency and creating a space for dialogue across hierarchies.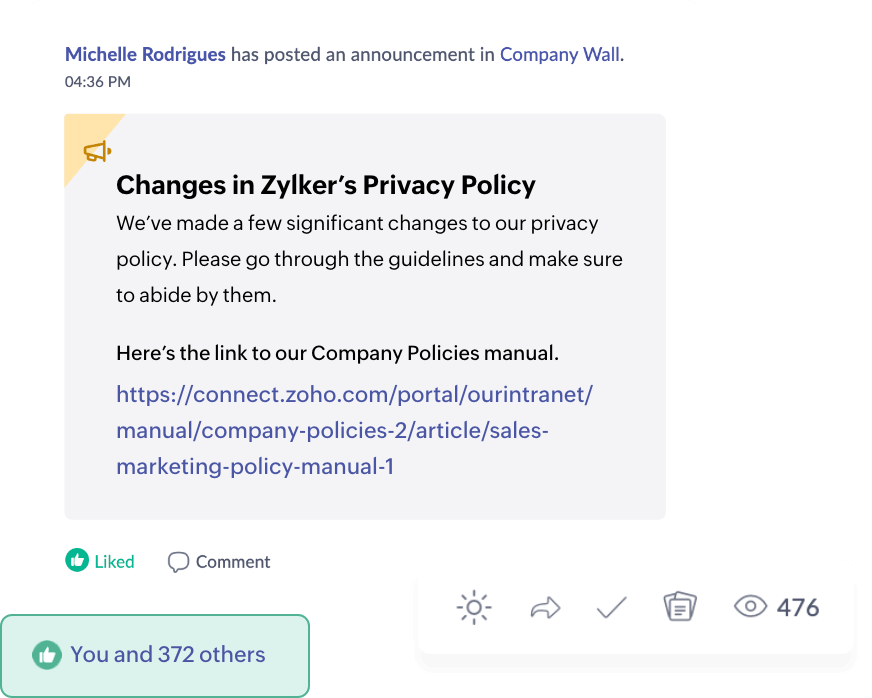 Virtual company newsrooms
The company wall lets you provide a steady stream of news and updates from the organization. Share them as announcements or pin them on top of the wall so everyone knows what's going on.
Learn More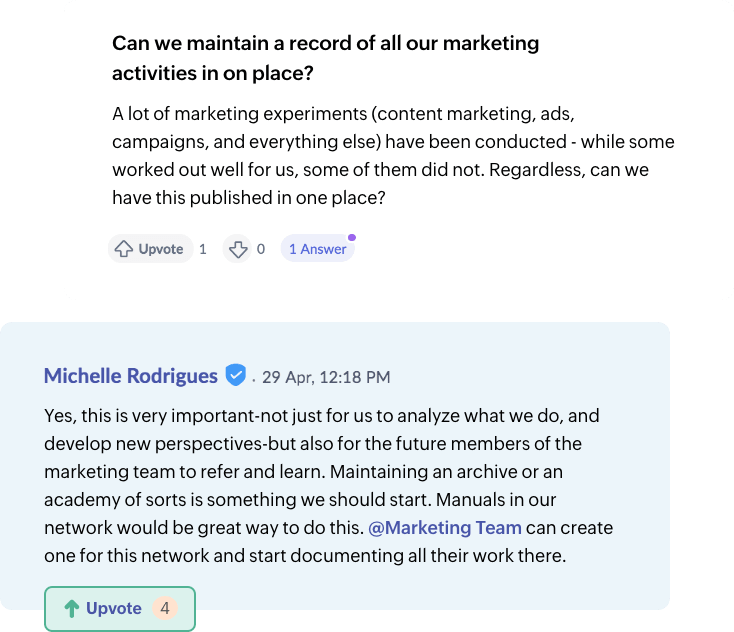 Town Halls for leadership engagement
Build transparency and trust by conducting regular AMA (Ask Me Anything) sessions with management. Provide a conducive space for employees to learn more by holding Q&A sessions on any subject with a relevant topic expert.
Learn More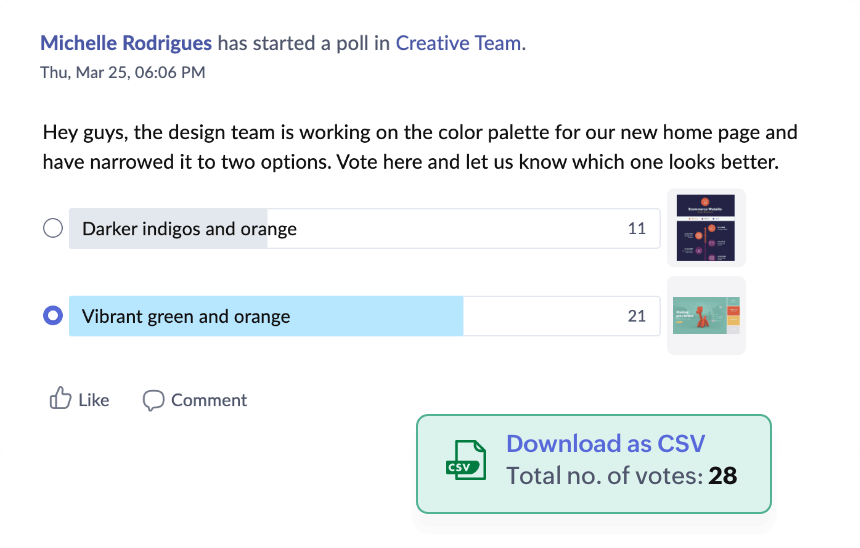 Improved employee communications
With social features such as posts, likes, shares, and comments, employees get to express themselves in a centralized communication space. Provide more context with our rich text editor and multiple post types like questions, announcements, or polls.
Learn More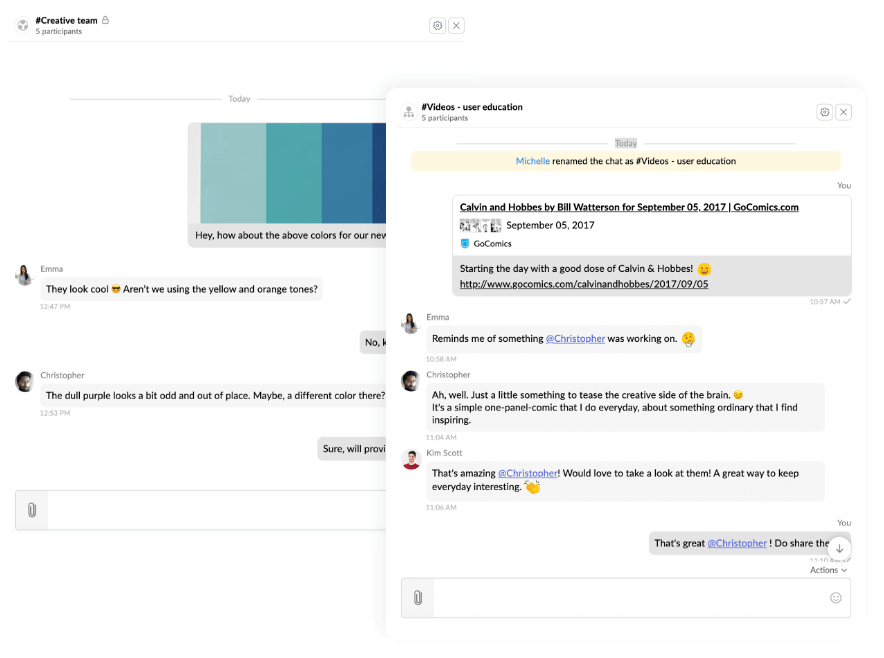 Real-time team communications
Create team chats to communicate in real time. Through one-on-one chats, video calls, audio calls, and screen sharing, employees have the chance to communicate across the organization and build meaningful relationships with other employees.
Learn More
Create a centralized archive of information.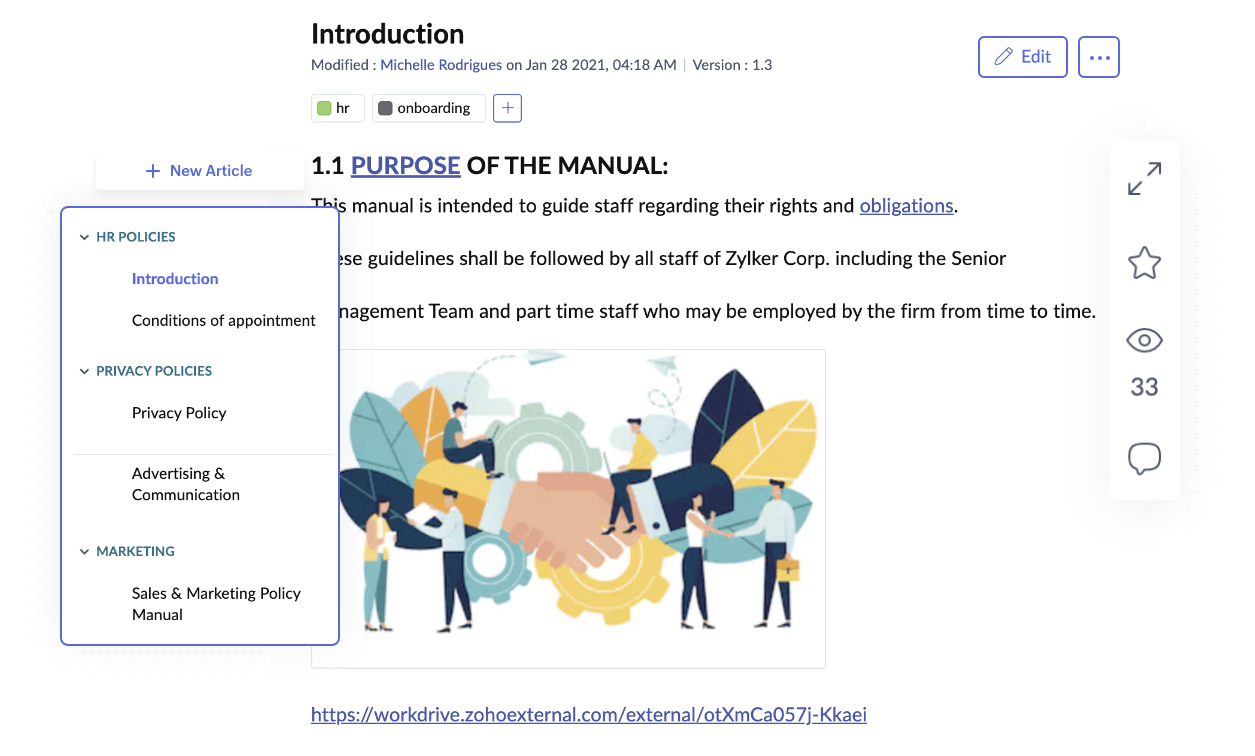 Your organization's collective knowledge base
Create an environment for sharing and learning by building a knowledge base. Get employees in your network to share their expertise and curate them as Manuals other employees can draw from when needed to learn something new.
Learn More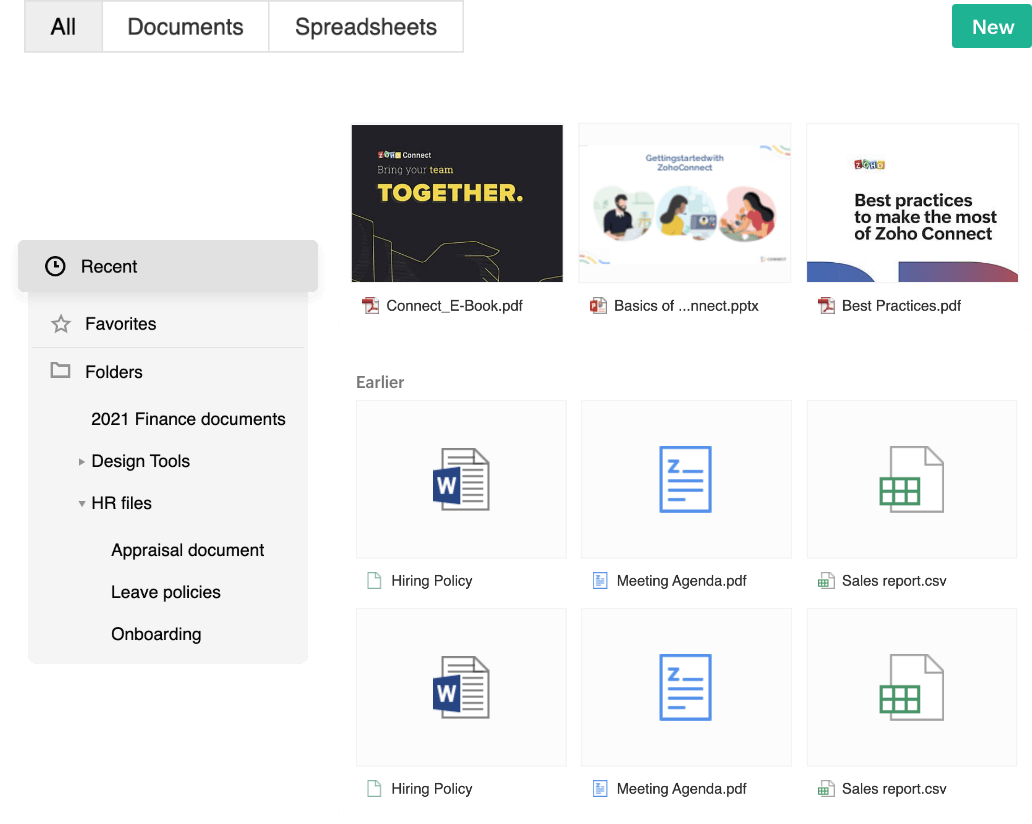 Online document management
Bring all your files together in one place to enable easy accessibility of information. Create documents, spreadsheets, and presentations collaboratively using the built-in editors.
Learn More
Extend collaboration beyond your intranet.
Increase capabilities through Integrations.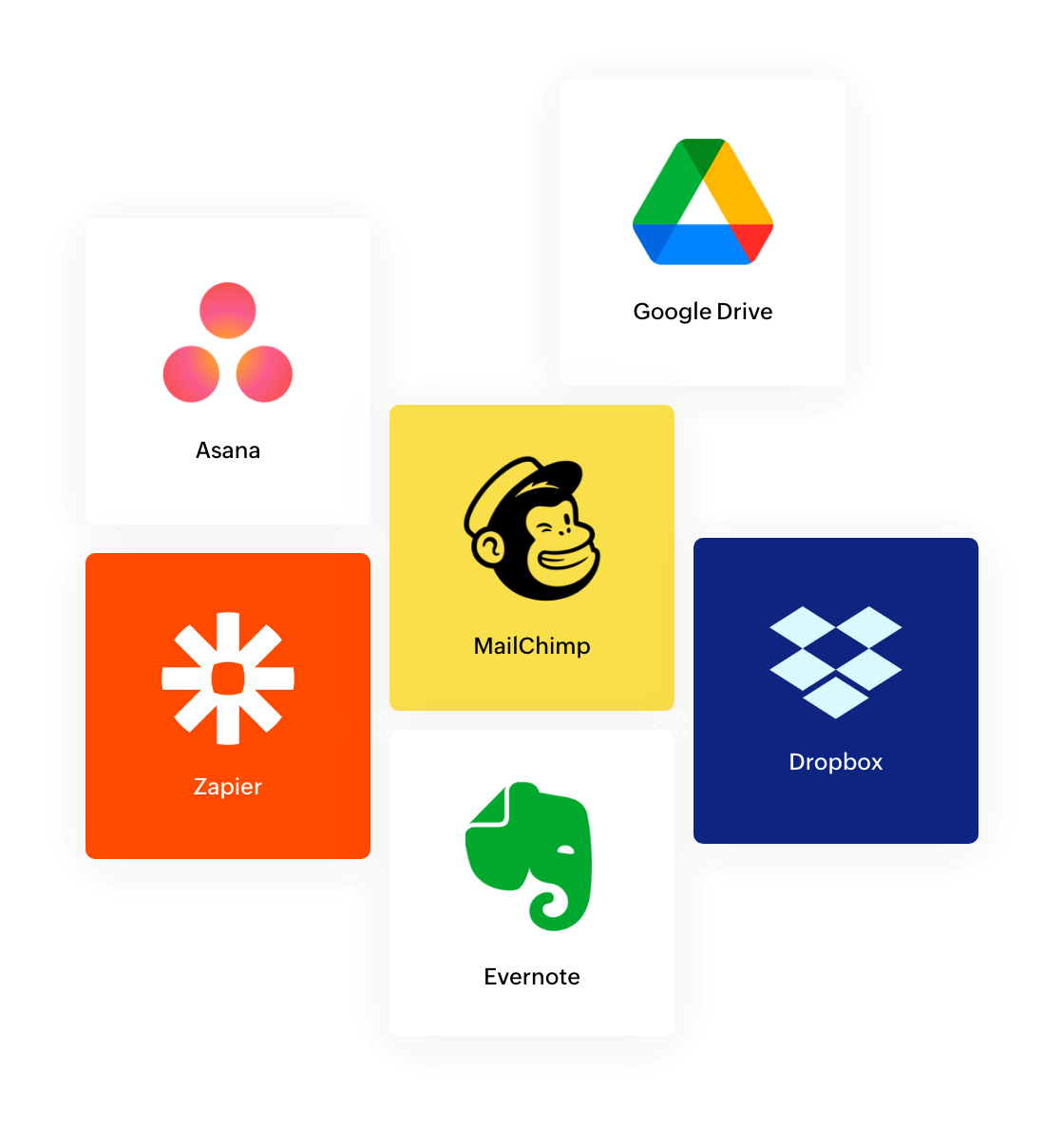 Zoho Connect offers integrations within the Zoho ecosystem with Meeting, ShowTime, WorkDrive, Projects, Sprints, and others as well as with popular applications like Zapier, MailChimp, Trello, and more.
Learn More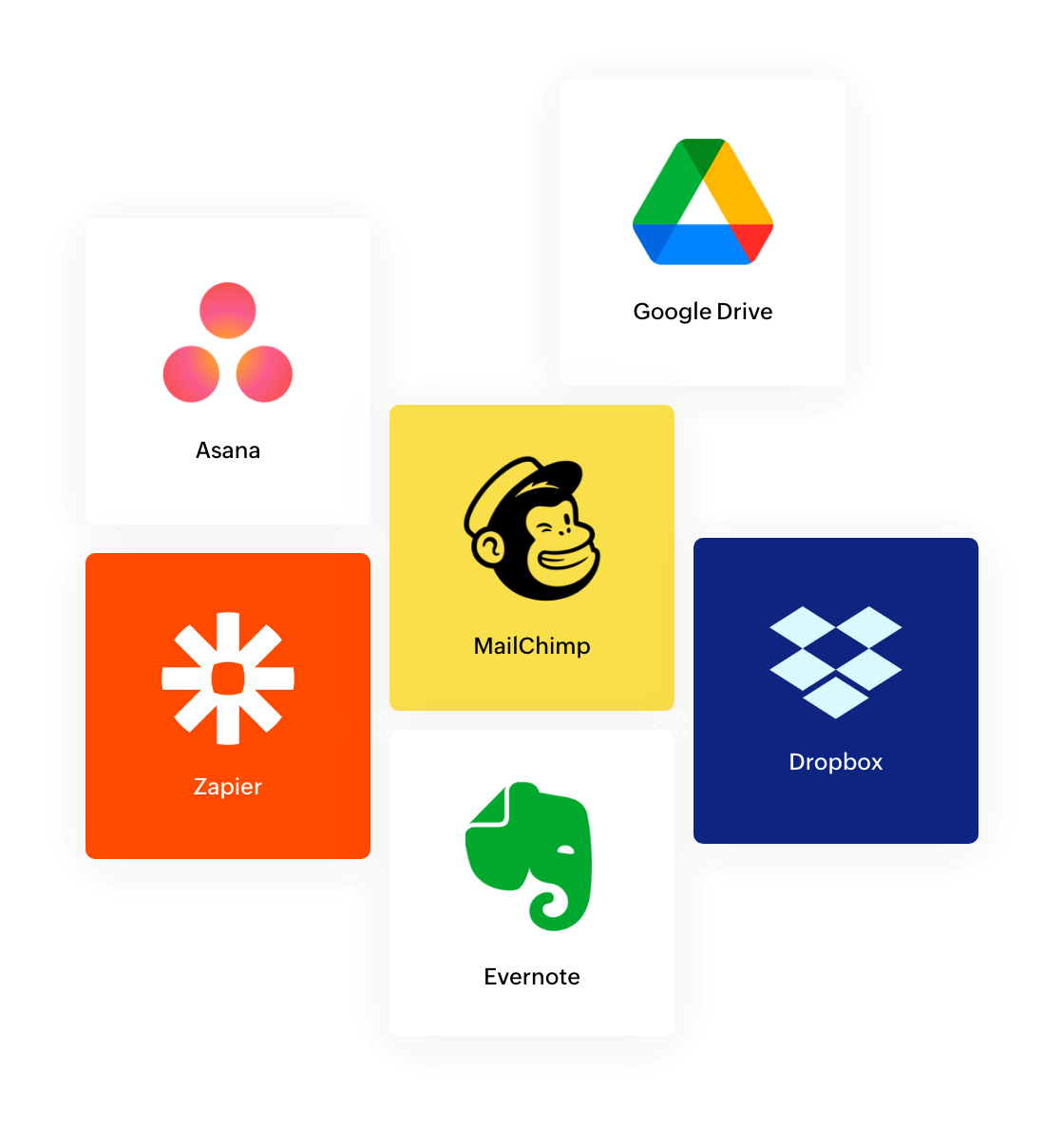 Bring your external collaborators together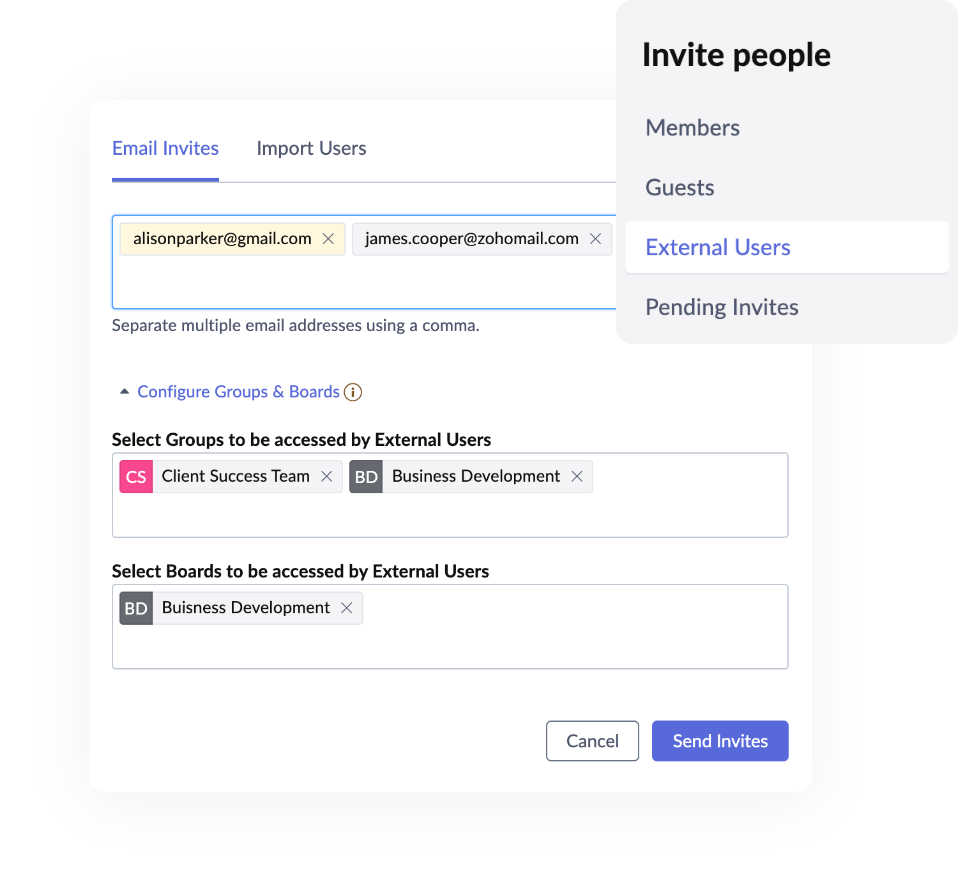 As your business expands, you'll frequently have to collaborate with consultants, contract employees, interns, and anyone who adds value to your work. Add them as External Users and control what they access within your network.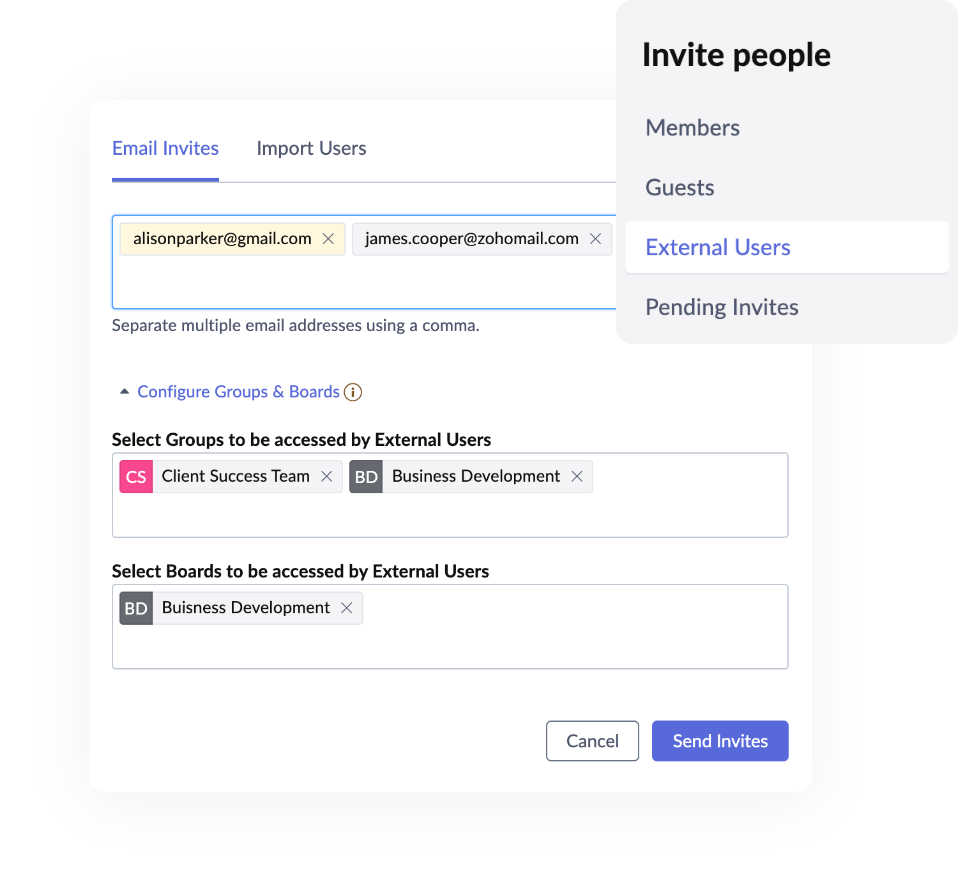 Embed websites within the network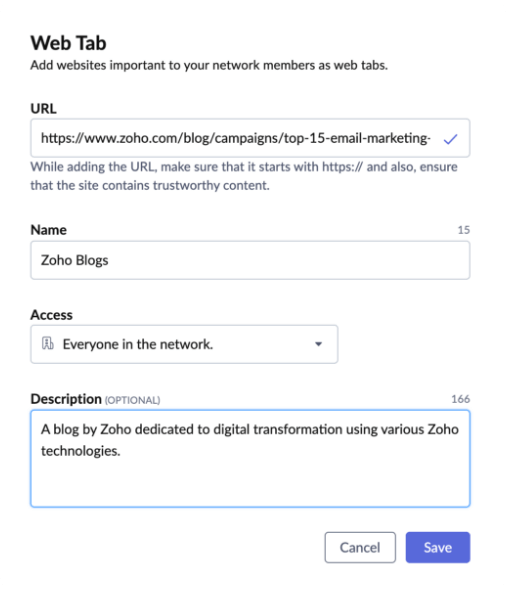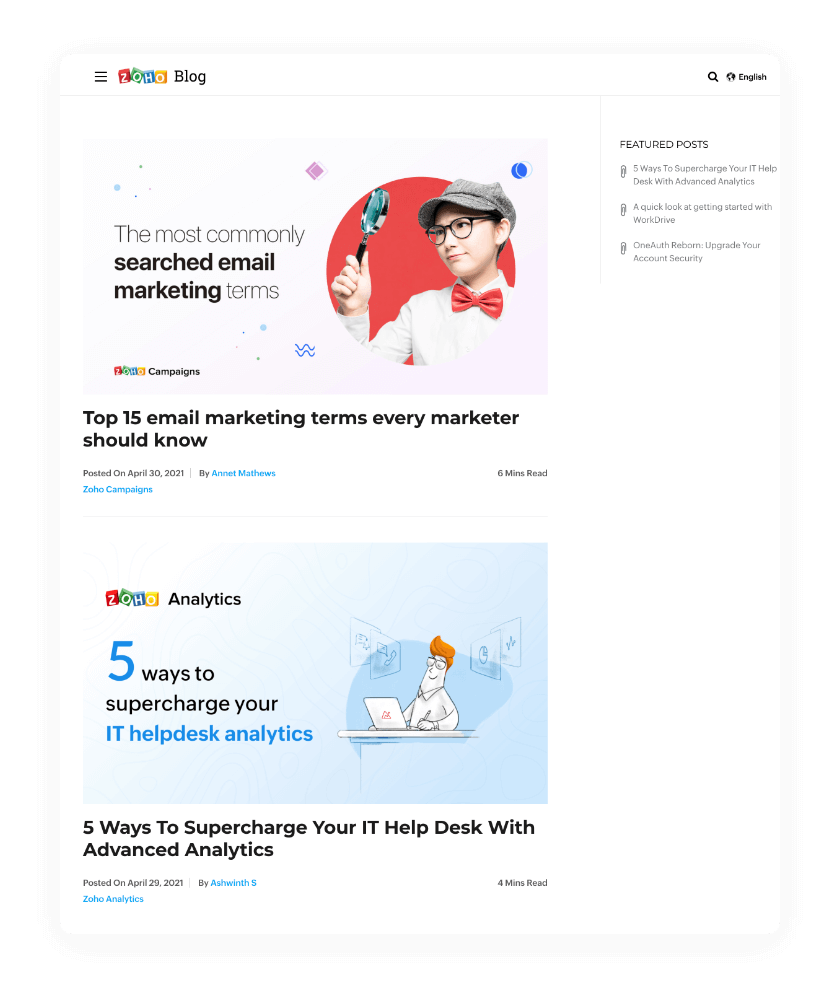 Websites that your employees refer to often or consider a source of information can be added as tabs within Connect, so all the information they need can be accessed from a single space.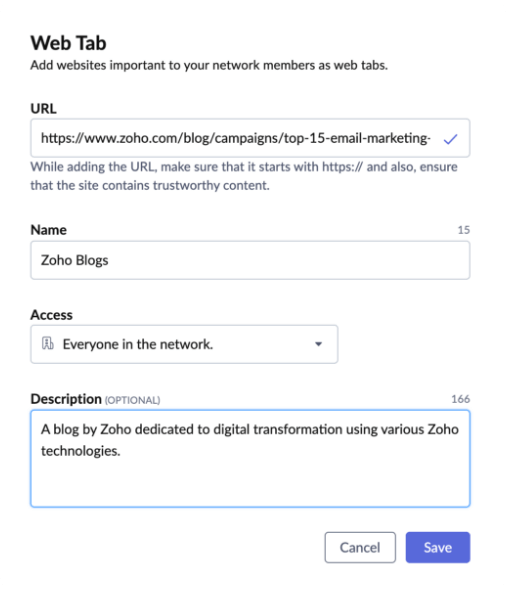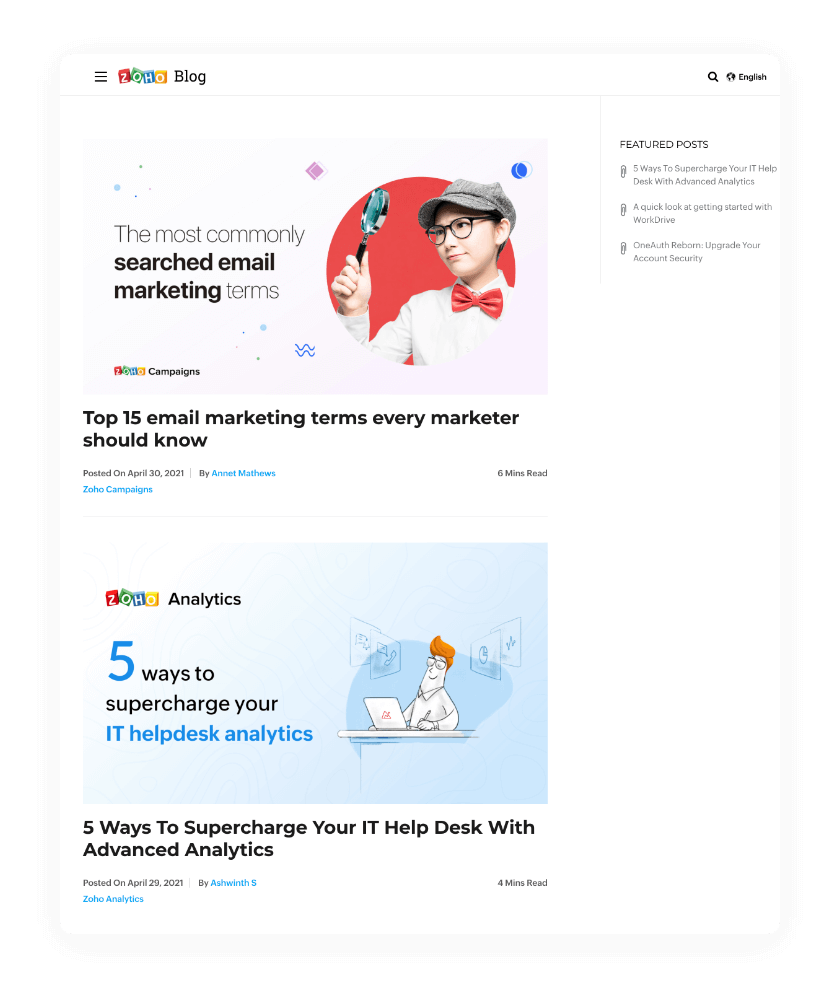 Craft pleasant employee-first experiences.
Improve employee engagement while creating safe and inclusive spaces for employees to share their ideas, opinions, and feedback and work across teams. Allow them to network across hierarchies to build trust and promote a healthy work culture.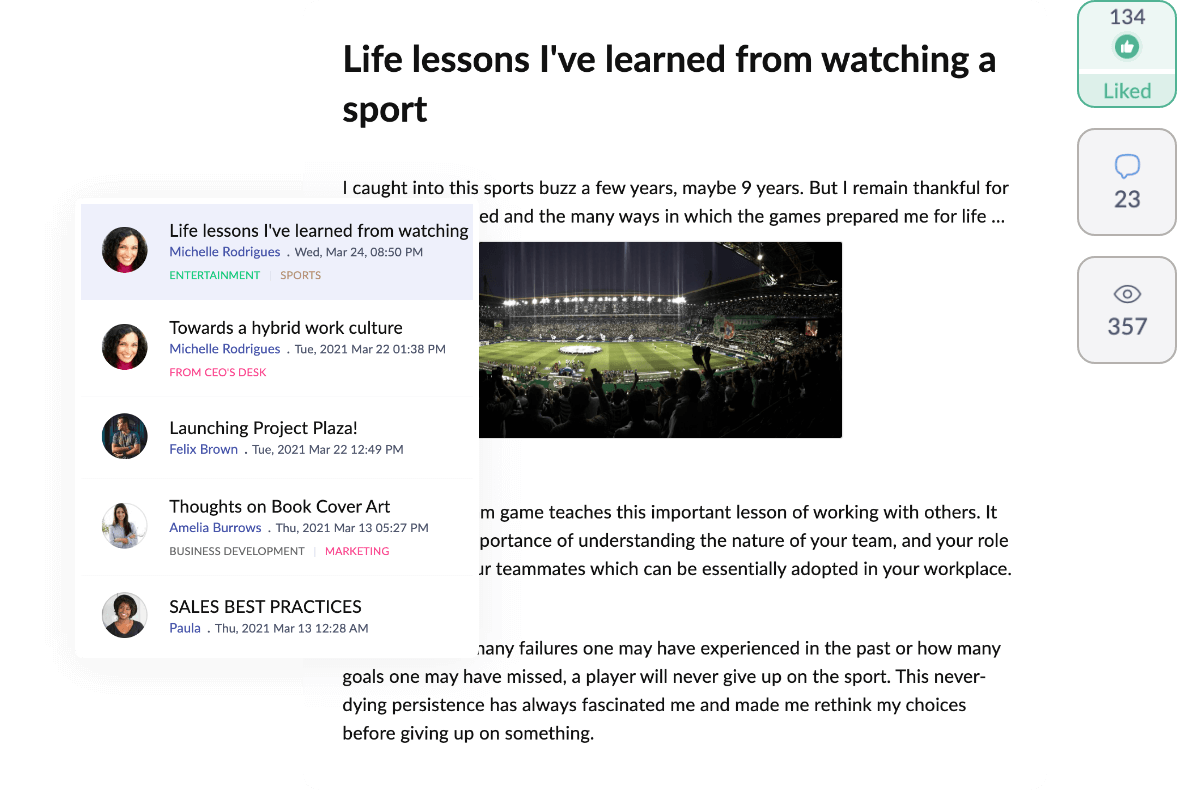 Drive employee engagement
An internal Forum lets you hold broader discussions and crowdsource solutions from within while keeping employees engaged. Create topics to streamline posts, and provide a lively water cooler space by allowing employees to share articles, generate light-hearted content, participate in discussions, and bond as an organization.
Learn More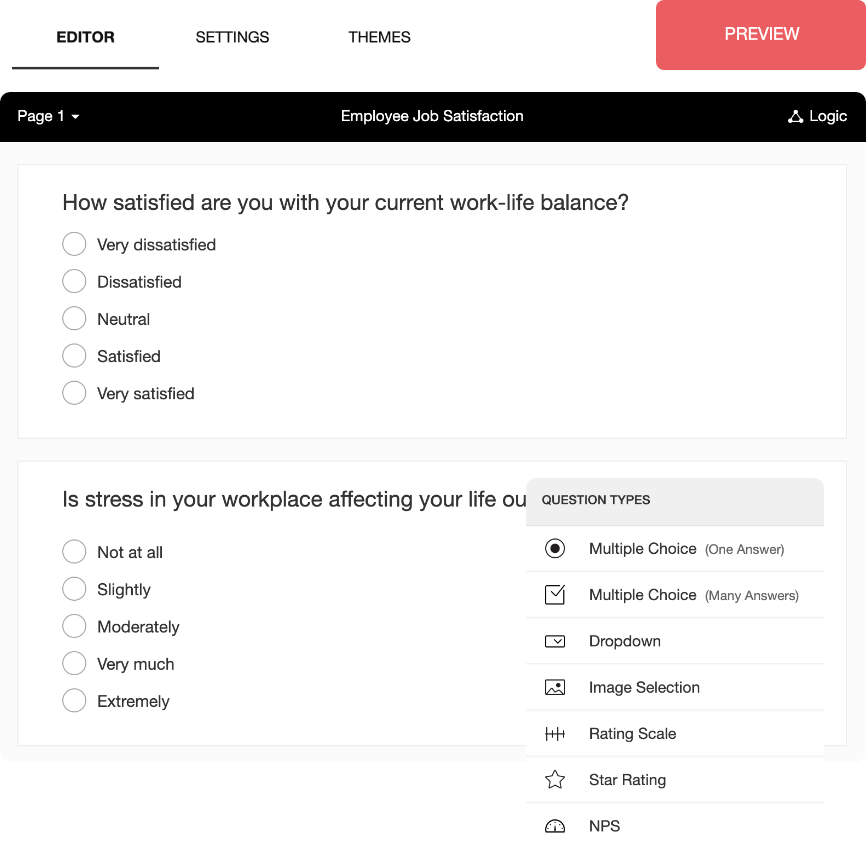 Transform your culture through employee feedback
Create positive feedback loops by regularly conducting surveys to gain insights in to how engaged or happy employees are at work. Select from one of our existing templates or design your own to take the pulse of your organization.
Measure usage and manage your network.
Through analytics, policies, permissions, and customization options, understand how users interact in your network and create a platform that suits the way your organization operates.
Directory

Sync users from your Active Directory or Zoho Directory to your network.

Customization

Make Connect truly yours by adding your domain and customizing the logo and colors.

Policies & Permissions

Define the scope of members and external users in your network.

Moderation

Monitor the content that members share to keep sensitive information under wraps.

Data Export

Secure your data by backing up your team's conversations, forums, manuals, and files.

Analytics

Get the numbers and insights on the most active groups, users, posts, comments, and forums.
Thanks for contacting us! We'll be in touch with you shortly.
Our team is happy to help with any queries you have.