Trusted by Great Brands
Icon

Icon

Icon

Icon

Icon

Icon

Icon

Icon

Icon

Icon
Features and Pricing Comparison
Compare Zoho Analytics
vs

Power BI
Free plan

Yes (2 users)

Yes (1 user)

Maximum file import size

Unlimited

250 MB

Import from Email

 

 

Integration with Zoho apps

 

 

Integration with third party business apps

 

Limited

Data preparation and modeling

In-built - Done using the cloud app

Requires a separate desktop client

Automatic data blending

 

Limited

Automatic data analysis

 

 

Pre-built business analytics

 

Limited

Share visualizations

 

Both the sender and recipient needs to have Power BI Pro licenses

Share using private links

 

 

Historical snapshotting

 

 

Support cost

Monthly subscription is
inclusive of supportFree support only for
Power BI Pro users

Pricing

Cloud:
Starts at

 

for
2 users/monthCloud:
Starts at $20 for 2 users/month
(but requires other paid Power BI services for sharing, etc).

 

On-Premise:
Starts at

 

for 5 users/monthOn-Premise:
Offered as a part of Power BI
Premium plan for $4,995/month
Don't end up paying higher costs for lesser features
Get the complete Zoho Analytics vs Power BI comparison guide to find out more.
For detailed comparison document, mail us at support@zohocorp.com.
Why should you switch to Zoho Analytics?
Flexible deplyoment
ASAP is an embeddable help center that enables your users to get help right from your website, mobile app, and SaaS product. Not only can they quickly post questions and interact with the user community, they can also browse your knowledge base for helpful articles, chat with Zia, your AI-powered help desk assistant, and raise a ticket if required. Learn More.
Prioritized ticket views
There's never any need to worry when you're using Zoho Desk, even if there is a multitude of tickets asking for your attention. Incoming tickets are automatically arranged in order of priority, due-time, or status so that your agents can focus on responding to the most urgent ones first. Handshake Mode even shows tickets based on CRM data.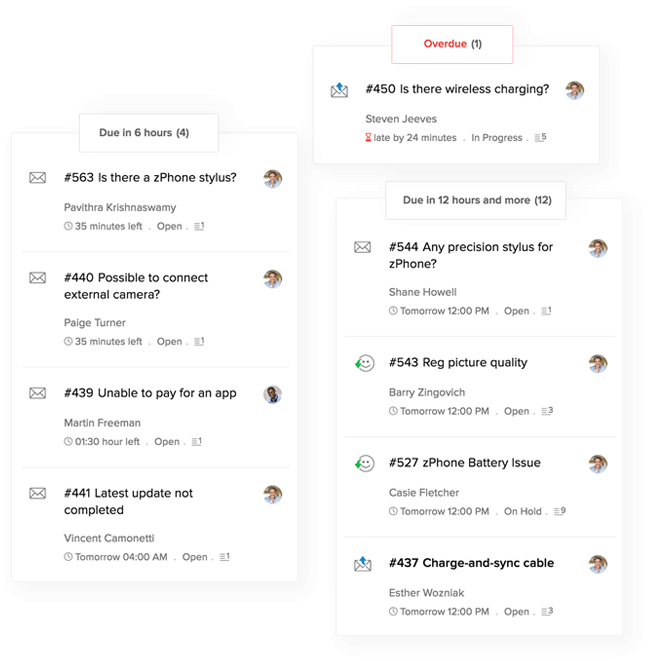 Contextual responses
Inside every ticket, your agents can view the history of the ticket and look up every previous interaction they've had. All of this information, along with CRM data about the customer is displayed on one screen. This way, your agents can quickly get the gist of the conversation and understand the customers' needs before they even speak to the customer. This will help them deliver more personalized responses, resulting in happier customers.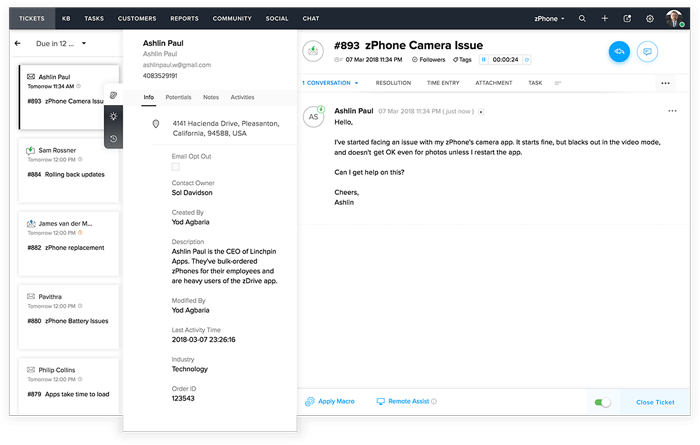 Intelligent automations
To ensure that you fulfill all your service level agreements, you can create automations. Every time a ticket's first-response time or first-resolution time is delayed, you stand in danger of making the customer unhappy. With Zoho Desk, all you have to do is to define the triggers and set the escalations, and your team will never miss a ticket again! Learn More.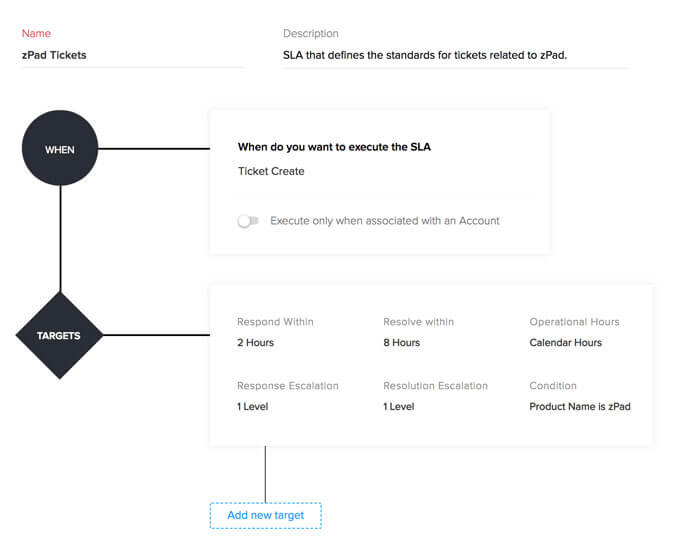 Save upto
82%

by switching to the best Analytics software.

Number of users 25

 
"We evaluated many tools. Most others did not qualify our criteria or they did not provide the kind of features we were looking for (e.g. embedding, scheduled emails, re-branding). Zoho Analytics has a comprehensive set of features and the best part is that these features don't cost us zillions of dollars. We chose Zoho Analytics over Power BI because it comes with a better-tiered pricing model."

Kapil Pendse

CTO & Product Manager, KAI Square.

"We considered Power BI, Tableau, and Looker. Zoho Analytics was better than these products for a company of our size, cost-effective and gets the job done as you want. One of the most prominent features that turned us to use Zoho was their NoSQL support. Apart from this everything worked on SQL which was easily used by our business and tech people."

María Fernanda Cruz

Coordinator, Hold Marketing

"While building our reports, we were able to pick up the phone and talk to a tech support person immediately to help us with SQL and other issues we had. The result - we were up and running in just a few days. Compared to Tableau which wanted to charge us to build our reports and then required a per-user license fee - Zoho Analytics is super affordable and easy to get up and going with."

Jeff Cairnes

CEO, Landmark Reports
More resources to kick-start your analytics journey.
Help documentation
Clear answers that are easy to find, anytime. Help center.
Webinars to get you started
Start your analytics journey with our free webinars. Learn More.
Virtual classroom training
Learn Zoho Analytics online, at the comfort of your homes. Learn more.
15-day free trial. No credit card required.
Switch now