Shared inbox: The system of engagement for your organization
 Shared inbox: The system of engagement for your organization
Last Updated: October 11, 2022
322 Views
7 Min Read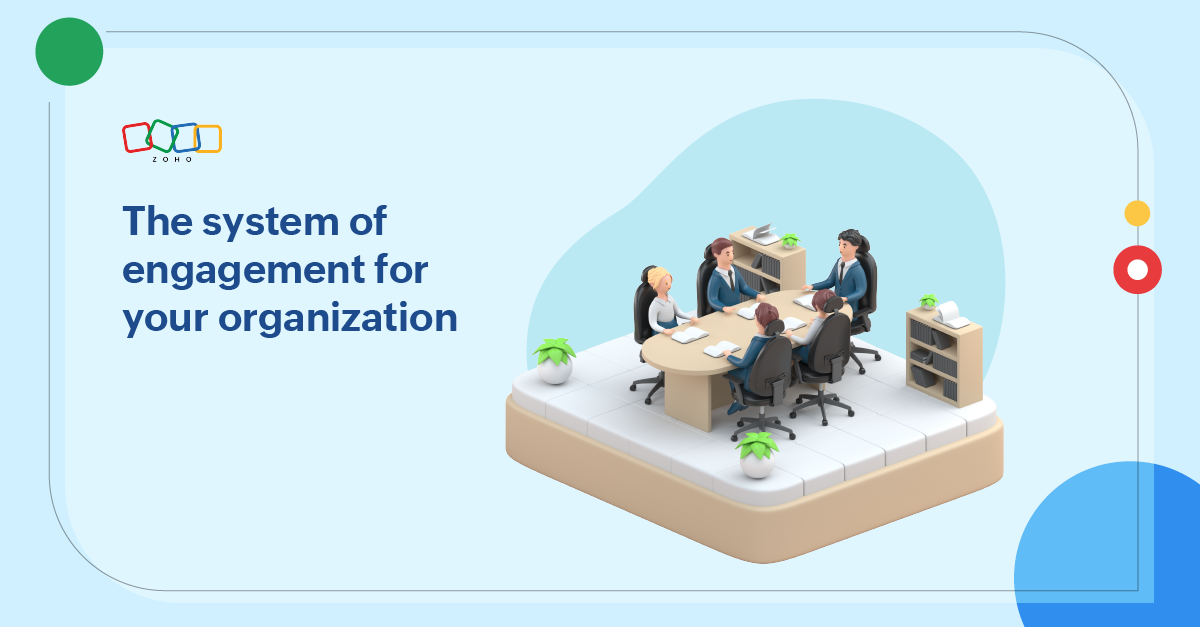 We use a variety of software applications and tools in our professional lives to complete the tasks required in our jobs every day. Some of these tools are provided by the organization, while others are team-specific applications that facilitate the completion of duties within a team, and are provided specifically based on the team's needs.
These tools and applications can be generically categorized as enterprise systems, which can include systems of records, engagement, insights, intelligence, integration, etc.
You can get more insight on enterprise systems from the article "The New Moats" by Greylock Perspectives.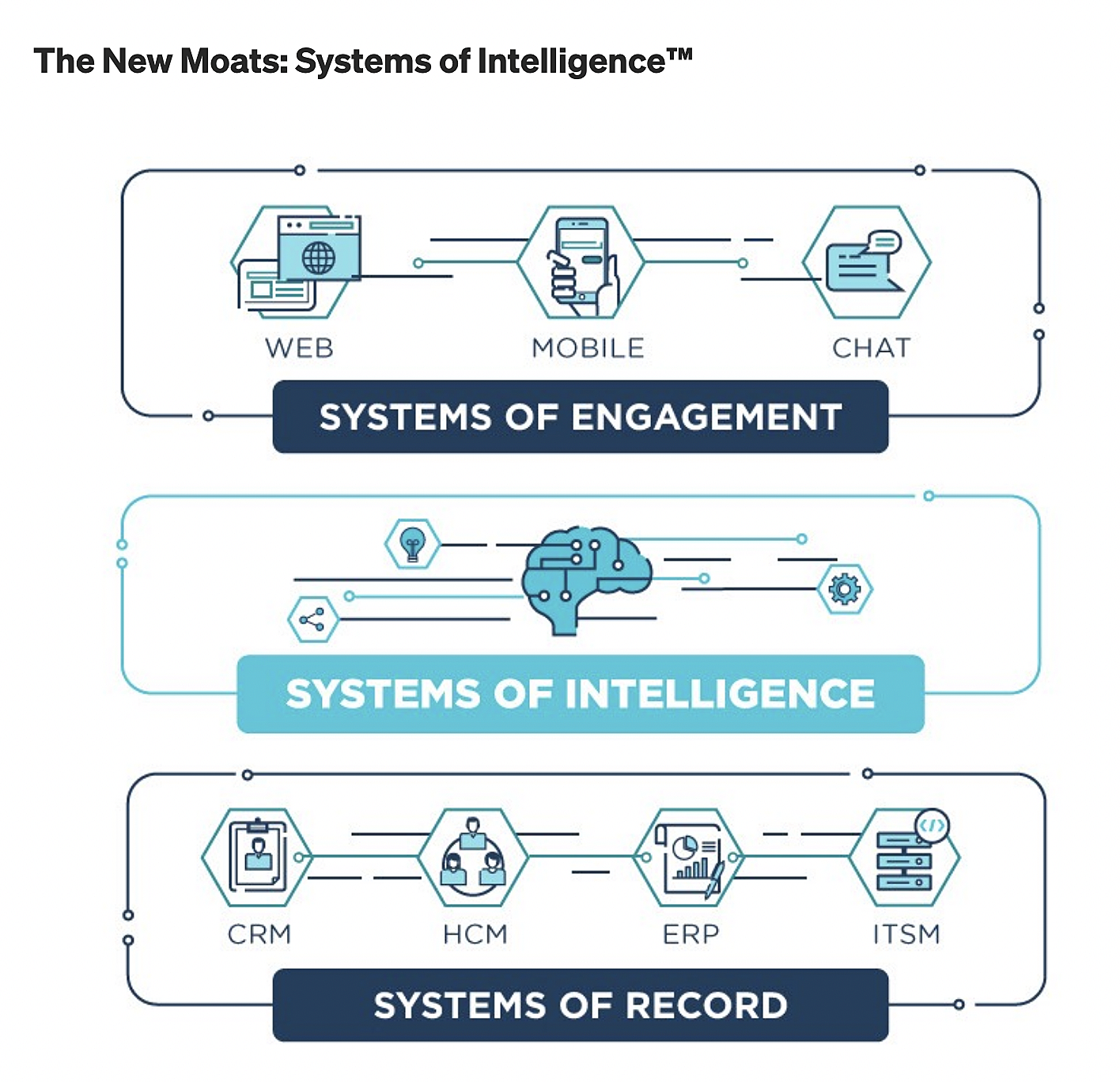 However, given that the SaaS revolution has picked up the pace in the last few years, we are way past discussing enterprise systems. Today, there is a specialized system for every team in an organization. According to a survey conducted by Productiv, the average number of software applications in an organization is 186.
Systems of engagement
Systems of engagement are interfaces for interactions between end users and systems of records. Implementing systems of engagement at the organizational level is a strategic business decision and requires an understanding of the flow of interactions within the organization.
Interactions within an organization
At a rudimentary level, interactions within an organization occur for two major reasons: to request service/support or to provide service/support.
Service/support to third-party stakeholders. Teams such as sales, pre-sales, customer service, and customer support interact with customers and prospects to solve their queries and issues and provide them with product/service support. Customers and prospects reach out with inquiries across various channels, so these teams should be prepared to provide support at multiple touchpoints.
Support at the organization level. Internal teams such as IT support, facilities, administration, HR (payroll, medical claims), product management, and others provide organization-level support to the workforce. These are highly standardized interactions with employees over predefined sets of requests that are catered to by the support teams.
Support at the team level. As part of their everyday operations, specialized teams such as creative/design teams, legal, compliance, finance (accounts payable, accounts receivable), and others provide specialized support to the internal teams. Interactions occur within the context of the service they render.
In addition to interactions during service/support delivery, teams also collaborate with other team members within the organization or with third parties through their work.
Inter-team collaboration. Teams such as development, IT security, and marketing teams communicate with other internal teams as part of their daily operations.
External collaboration. Certain teams, such as marketing, PR, and analyst relations regularly engage with third parties, including media outlets, analyst firms, partners, and affiliates as a part of their daily jobs.
Teams employ a combination of organizational systems (such as email, team chat, workplace tools, and self-service) and department-specific technologies (such as CRM, salesforce, HRMS, chatbots, customer support management, and help desk) to go about their daily operations. The systems of engagement for each of these use cases vary based on factors such as their domain, organizational dynamics, operational process and workflow, the teams and key stakeholders involved, total cost of ownership, and more.
Shared inbox as a system of engagement
Shared inbox is an inexpensive yet intuitive tool with applications in a variety of team collaboration, customer service, and internal support use cases. Multiple users may access, read, manage, and send emails thanks to the tool's single collaboration space.
The origin of the shared inbox
Analyst circles have a running joke that whenever Microsoft overlooks a feature or functionality in their products, an entirely new area and product offering is created out of it.
The shared inbox is a solution developed in response to the constraints of email service providers' group email and distribution list functionality. A shared inbox is fundamentally designed to permit multiple users to access a group inbox simultaneously, conduct optimal actions on the mail, and communicate on the mail.
Later, vendors created features around shared inbox functionalities to improve support delivery and collaboration. Small and medium-sized organizations without a specialized tool for each department extended the applicability of the shared inbox tool across their teams. That's why shared inbox tools became popular among teams that leverage their simple setup and low total cost of ownership, and implement the tool for email management and to streamline team collaboration.
Shared inbox for organization
Though the shared inbox is largely implemented by teams for specific use cases to manage a handful of group inboxes, the tool's full potential can be realized when it's implemented organization-wide for all group mail IDs across all teams in the organization.
Let's explore why it's preferable to deploy a shared inbox for a company rather than for teams.
1. Standardized engagement and organizational processes. A shared inbox is not a plug-and-play application; it integrates with email services to improve email management and facilitate collaboration.
Collaboration and service delivery are essential functions for all of an organization's teams. Therefore, a shared inbox, along with other engagement systems such as email, team chat, workplace tools, and other collaboration apps, should be seen as an organization-wide engagement tool to manage the mails addressed to their teams.
Teams that don't have point products for each use case can employ a shared inbox tool to standardize their process workflow for use cases that are part of their daily operations.
| | |
| --- | --- |
| Team | Group IDs |
| Human resources | recruitment@ resume@ payroll@ attendance@ learning@ med-claim@ |
| Marketing | design@ marketing@ campaigns@ social@ |
| Finance | accounts-payable@ accounts-receivable@ reimbursement@ invoice@ |
| Customer service/support | support@ feature-request@ pricing@ demo@ |
| Admin/IT | facilities@ device@ tech-support@ |
| Travel desk | flight@ hotel@ |
| Bug bounty | bugbounty@ vulnerability@ security@ |
The first step in setting up a shared inbox tool is setting up the organization. Teams can then set up group inboxes for their respective use cases, add team members, and set up workflows on the shared inbox, instead of each team having a different set of processes and tools.
Having the majority of the workforce using the shared inbox will facilitate contextual collaboration and delegation across teams.
In use cases such as recruitment, for instance, HR can temporarily add the hiring manager to the group ID to participate in screening incoming resumes with them.
In use cases such as bug bounty, a group inbox can be set up comprising members from across teams to triage incoming bug requests, resolve the bugs, and reward the requesters.
To improve productivity, organizations must standardize their processes such as service delivery, incident management, bug reports, asset requests, etc., and then implement the shared inbox to streamline the process through email management. Regardless of their position or department, employees should be able to follow the same processes so they can be monitored and improved over time.
2. Eliminating silos. Each team in the organization has a point product of their own.
Silos in organizations originated from specialized and department-specific technologies (such as ERP, CRM, ITSM, and HRMS) when they first began as systems of records, in order to limit data access to only team members with privileges. But as these systems evolved and developed engagement capabilities, silos remained in the way team engagement took place within the teams.
Shared inboxes are a great way to improve productivity in the organization. They can help break down silos and increase collaboration between departments, allowing for greater efficiency and customer satisfaction.
Shared inboxes don't just benefit companies with shared values—they can be implemented by any organization looking for a way to improve their internal communication.
| | |
| --- | --- |
| Team | Use case: Shared inbox eliminating silos |
| Human resources | HR involves the hiring manager in the onboarding process of the new resources to their team to expedite any approval requests and to direct the IT, admin, and the facilities teams with the assets to be provided to the new resource. |
| Marketing | Digital marketing teams pass off support queries by customers on the Reddit community (that marketing team manages using social network management )to support teams. |
| Customer service | Customer service teams triage customers' discount requests with the sales team and leadership, and compiles responses in collaboration with the sales team. |
| Incident management | The compliance team oversees responses to bug requests. |
3. Shadow systems and governance. There are organization-level applications and software that are automatically provided (email, team chat, password manager, meeting or video conferencing apps, self-service website, etc.). CRM, help desk, accounting software, and HRMS are examples of team-provisioned systems. The IT department is responsible for the provisioning, implementation, customization, and upgrading of these applications.
Individuals and teams may sign up for a free trial or enroll in the "freemium" version of a product without involving IT, resulting in shadow IT within the firm. According to the data on shadow IT compiled by Productiv, 43% of an organization's applications aren't managed or purchased by IT and lack security features like single sign-on.
A shared inbox is a low-cost and user-friendly technology that can be applied to a range of team collaboration and team support use cases. The tool's ease of installation and low total cost of ownership could result in shadow IT and a lack of governance if teams are allowed to install the tool themselves.
Implementing the tool across the entire organization will ensure that the IT department is involved in the tool's installation and evaluation process. The IT team will be responsible for implementing and configuring the tool securely, and will determine who has access and who should be in charge of management, etc.
Summing up
If you're a growing organization and want to streamline your processes and team collaboration, the shared inbox is a useful addition to an organization's tool stack. A shared inbox is a great way to make internal communication easier. It enables teams to collaborate, share information, and work together more efficiently.
To strengthen the relevance in all contexts and use cases across different teams, make sure the shared inbox has the ability to be integrated with applications across functions.
Be it implementation within your team or across the company, always involve the IT team in the vendor evaluation process, and the implementation and configuration of the shared inbox tool. Also seek their help to set up a strong governance framework.
Sandeep Kotla

Sandeep is an inbound marketer with Zoho Corporation. Previously, he handled analyst relations and corporate marketing for ManageEngine (a division of Zoho Corp) and its suite of IT management products. He currently spends most of his time re-imagining and writing about how work gets done in large organizations, reading numerous newsletters, and Marie Kondo-ing his inbox.
Leave a Reply
Your email address will not be published. Required fields are marked