You need an alternative.
Being told that a product you relied on is shutting down is always frustrating. This rings especially true when the folks who bought it don't make it convenient to shift to a new platform. Sure, the process of shifting information across databases is especially tedious, but if you have to create your surveys from scratch again, why would you choose SurveyMonkey?
Is SurveyMonkey any better than their alternatives?
You need a powerful survey builder, something that can do everything that FluidSurveys did but even better. You need an assurance that the survey builder wouldn't shut down, leaving you stranded, yet again.
Join the Zoho ecosystem of products.
Quality survey software is just one of many amazing products in our menagerie. With access to a wide array of features and tight integrations with other Zoho products, you will be never be left wanting.
We will never sell ourselves.
Why? Because we have never taken VC funding, and never will. Our priorities are different; our company has been around for twenty years. We are not trying to liquidate or "look for an exit". We are dedicated to creating better products for our customers for years to come.
Danny Peard Client Services Isaacs, Cole Charted Accountants

"I have tried SurveyMonkey and found Zoho Survey to be more cost effective. Zoho Survey's support staff have been very helpful. I didn't even get a response from Survey Monkey!"
Features to love
Have your survey ready in minutes. Create your own with our drag and drop builder or choose from our collection of templates.
Collect your responses online, offline, or on your mobile. Distribute them via email, social media, websites, and more.
Crunch complicated data into simple reports and charts. Be empowered with the best data management tools and realtime reporting.
Features
Survey
Question types

24

28

20

Question and Page Logic

YES YES YES

Translate Survey

34 languages

20 languages

20 languages

Auto-fill and Piping

YES YES YES

Email Notifications

YES YES YES

Custom Themes

YES YES YES

Branding

YES YES YES

Export and Print Survey

YES YES YES

Customize Reports

YES YES YES

Advanced Reporting

YES YES YES

Export Reports

YES YES YES

User Management

YES NO YES

Portal Creation

YES NO NO

Survey Review

YES NO NO

Email Campaign

YES YES YES

Mobile Optimized

YES YES YES

Offline survey

YES YES NO

CRM Integration

Zoho CRM

Third party

Third party

Website Tracking

Zoho SalesIQ

NO NO
Price Comparison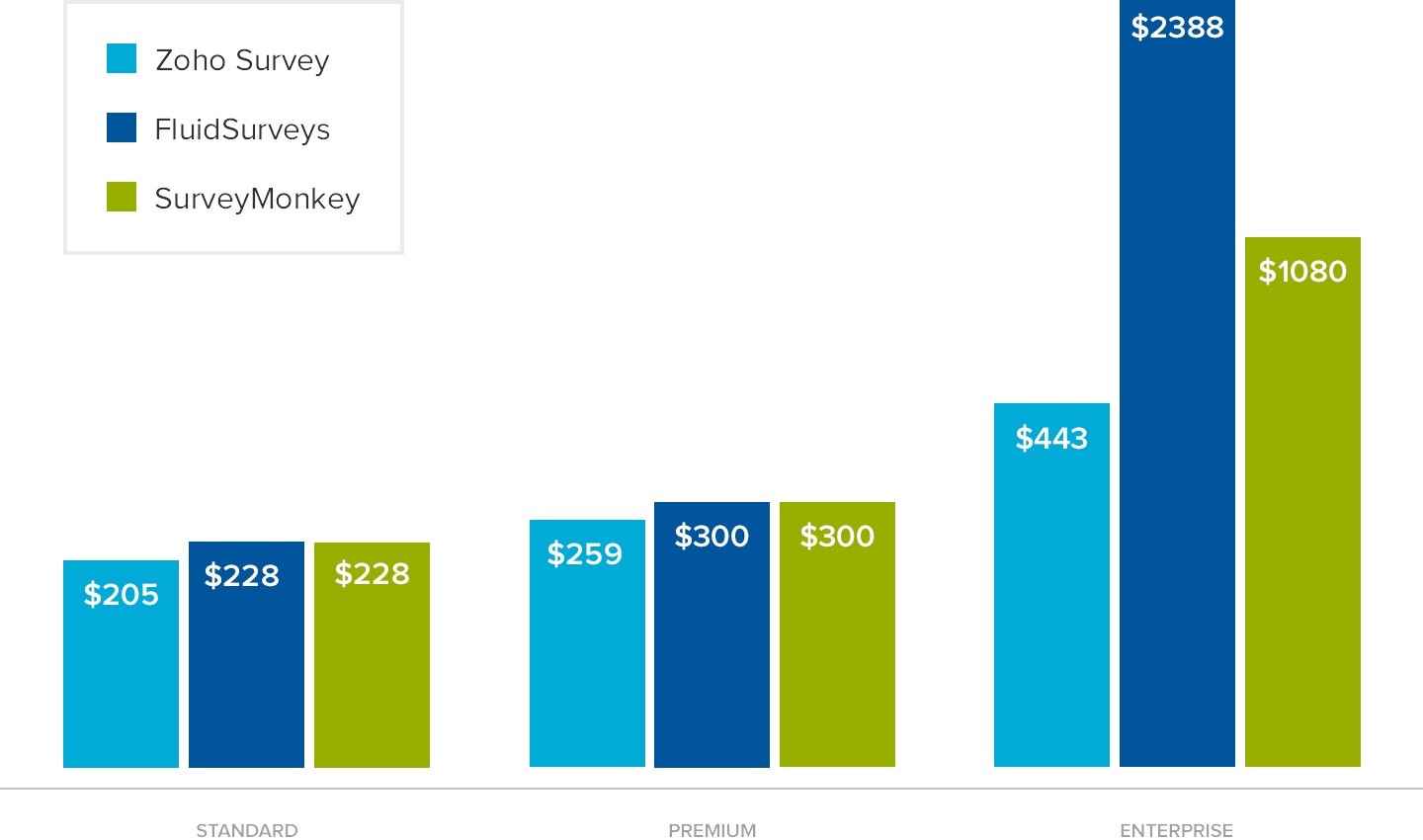 Zoho Survey
SurveyMonkey
Fluidsurveys
*

FluidSurveys customers get a 10% discount on their first purchase.