Webhooks
Expand the possibilities of what you can do with your surveys and survey feedback using our Webhooks integration. With this integration, you can now connect with any third-party platform and perform tasks within that platform based on the feedback you receive.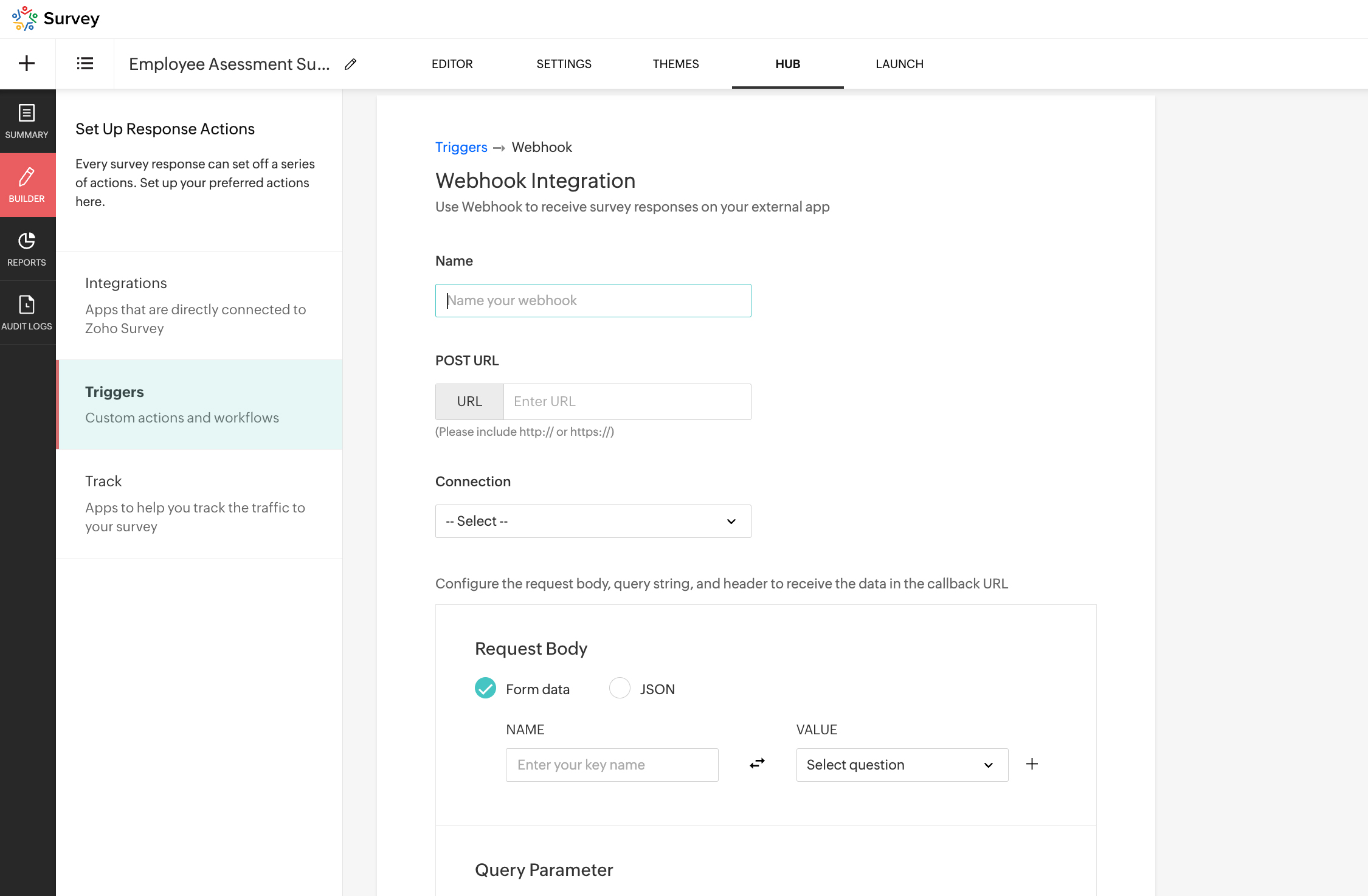 Zoho CRM
Improve your sales team's effectiveness, one answer at a time. Combine your survey responses with CRM data to find out what makes your customers happiest.
Learn More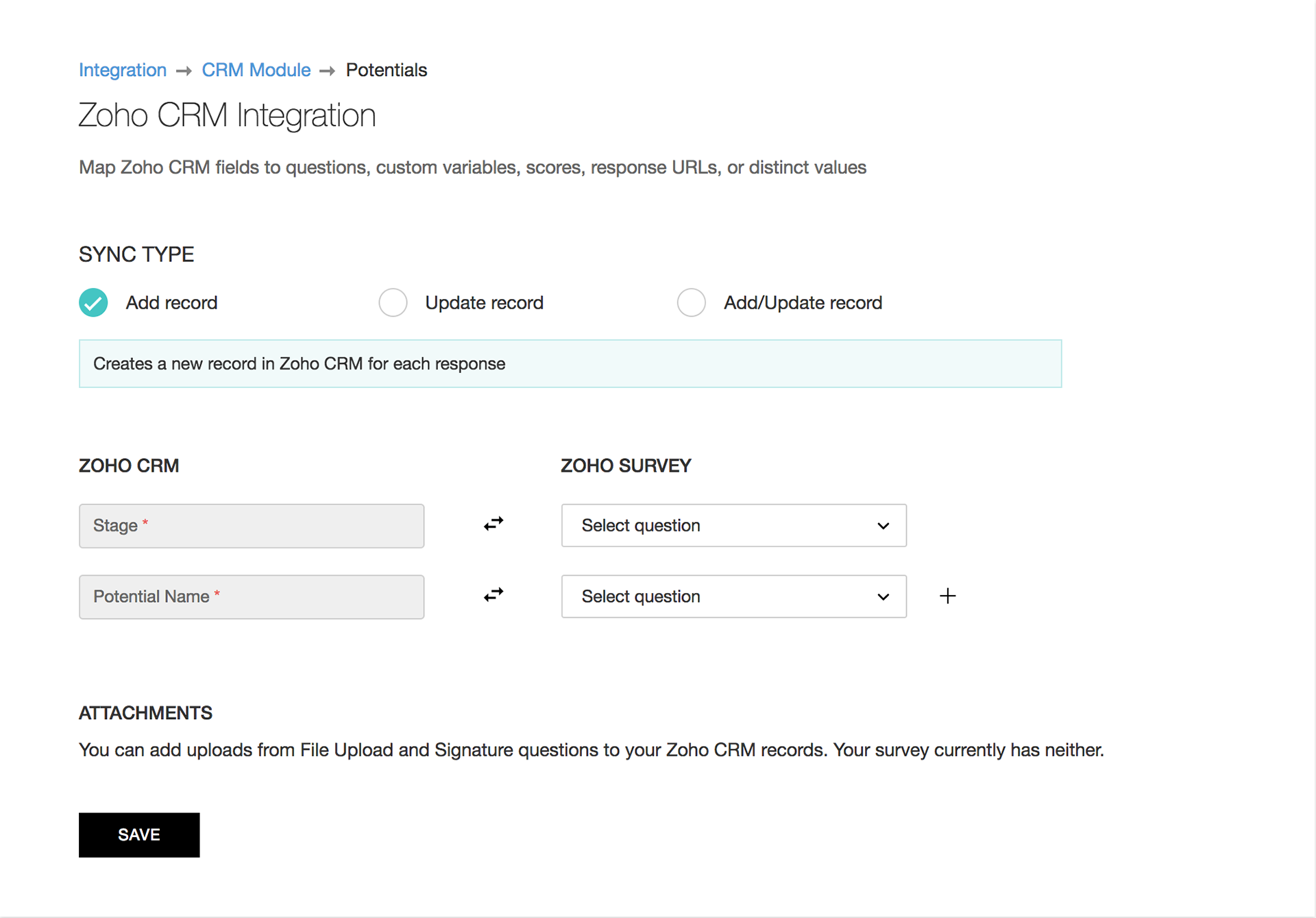 Zoho Campaigns
Email your surveys with ease. Use Zoho Campaigns to manage mailing lists, send email in your audience's native language, analyze how your messages perform, and more.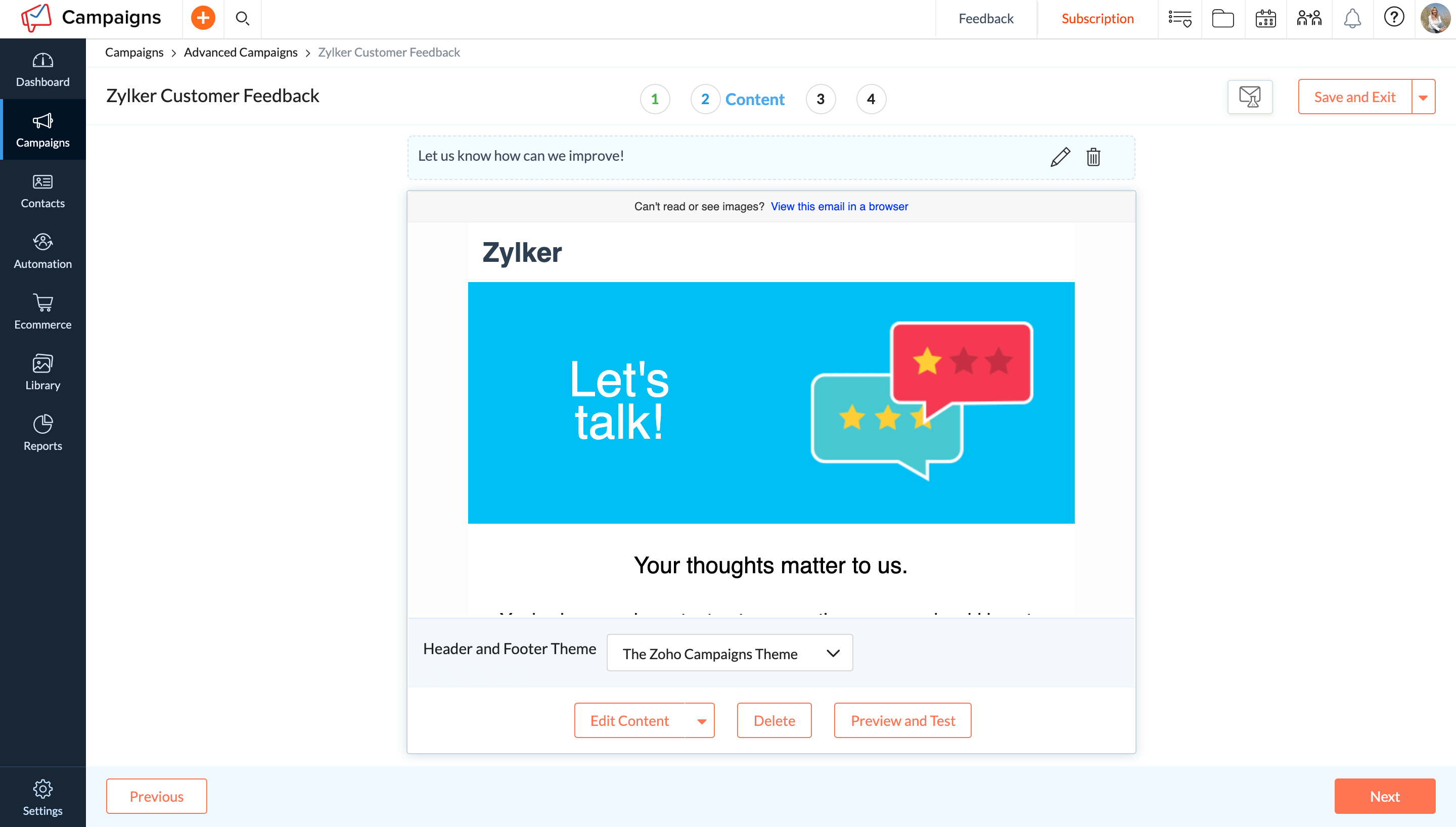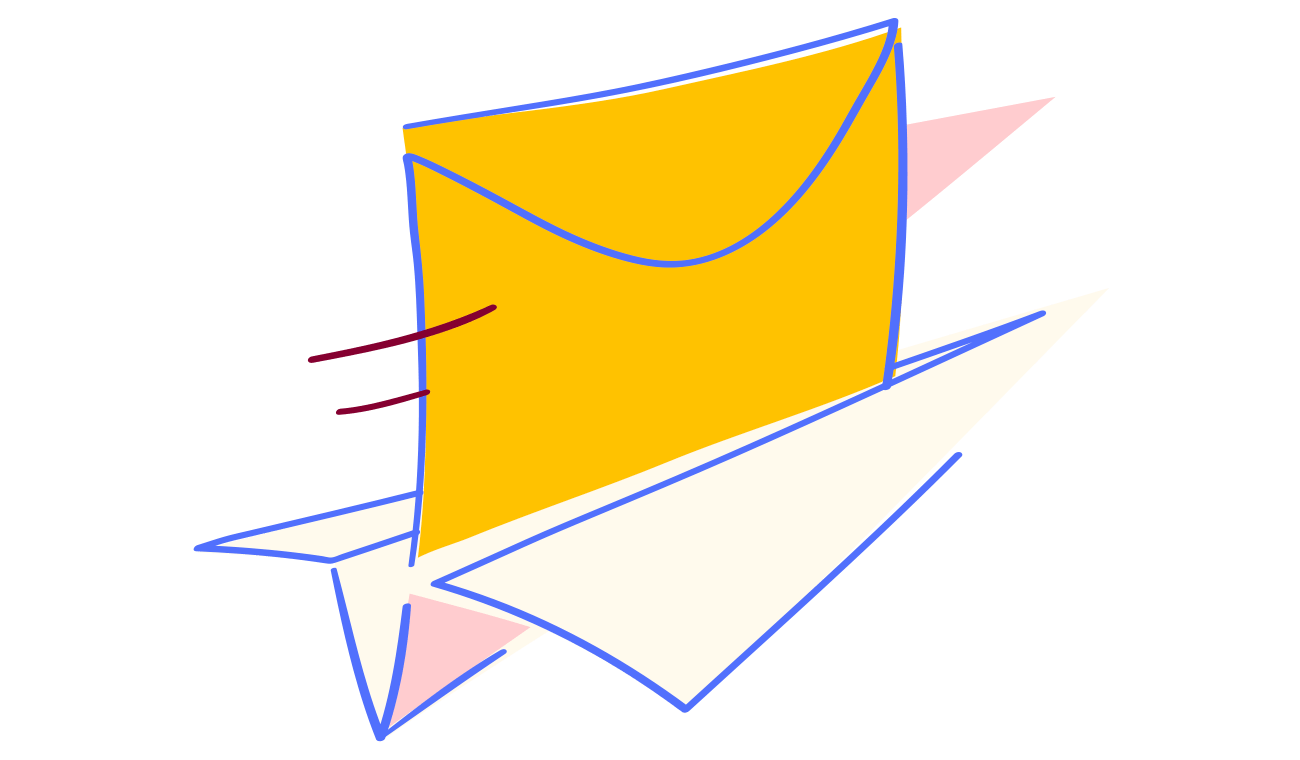 Simpler and Better Email
Send surveys with precision and style. Upload your contacts, and segment them into lists to target different groups. Zoho Campaigns handles unsubscribes, bounces, and spam addresses for you. It also has fully customizable email templates designed specifically for surveys.
Improved Understanding
Zoho Campaigns' reports will help you understand how your customers interact with your email campaigns. Combine these findings with Zoho Survey's reports to better understand your audience. You can even auto-fill with contact details from Campaigns to make it easier to fill out and analyze surveys.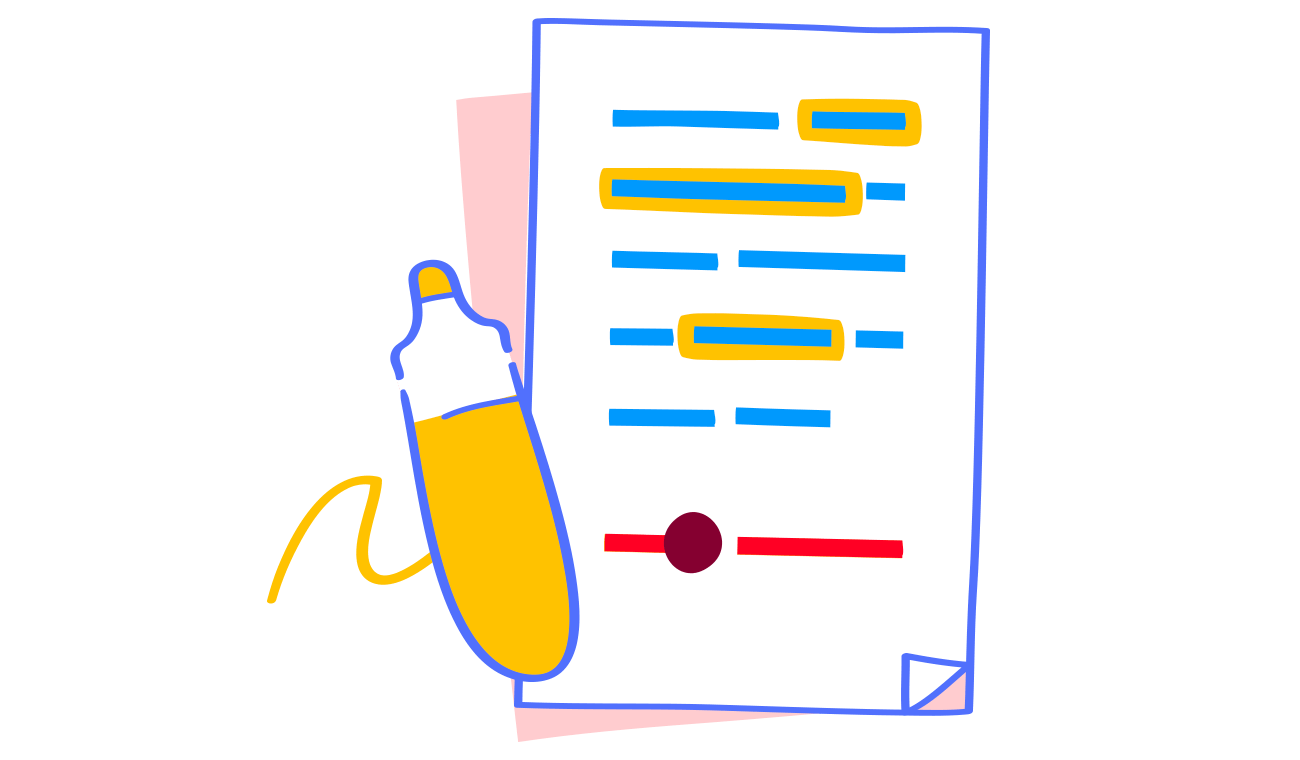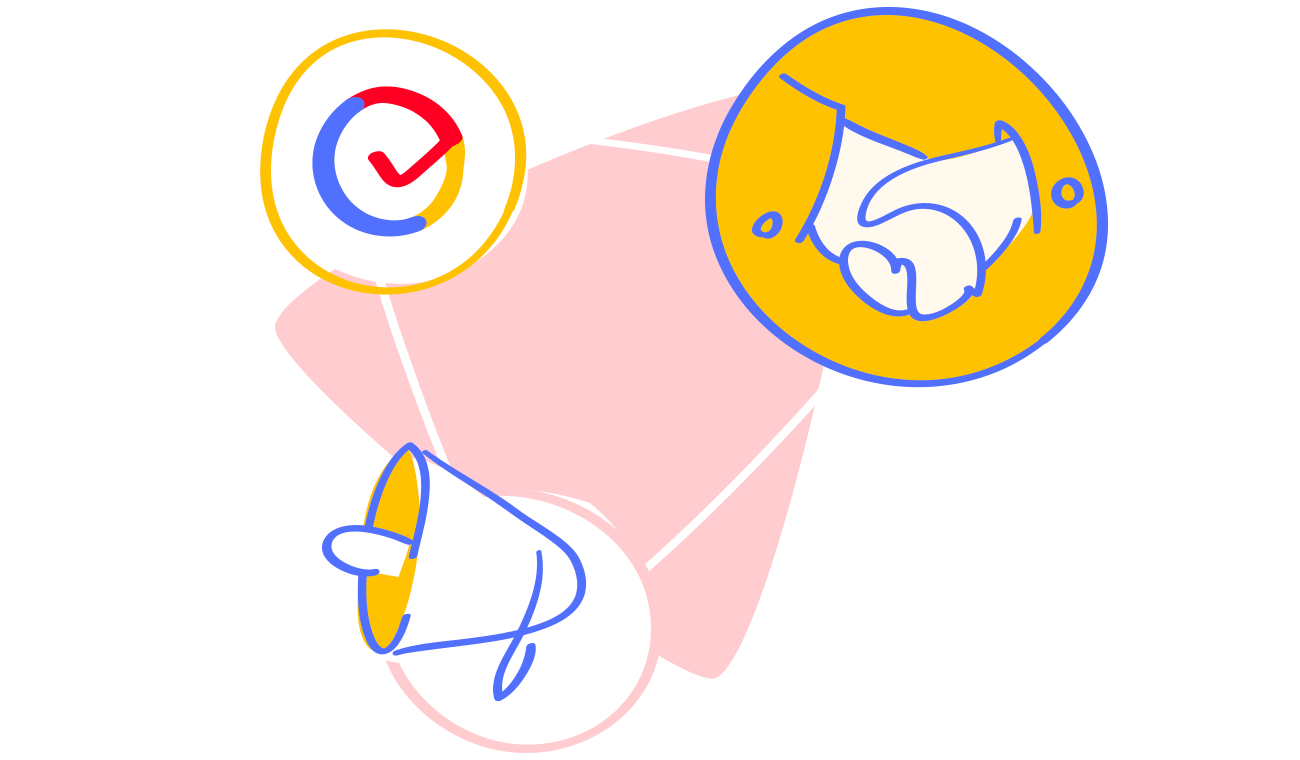 Survey, Campaigns, and CRM
Use the contacts stored in Zoho CRM for your campaigns. Our integrations also let you send your survey directly from Zoho CRM.
Zoho Flow
Integrate to over 300 applications with our Zoho Flow integration. Zoho Flow allows you to create workflows with triggers from Zoho Survey that cause an action in any of its other applications.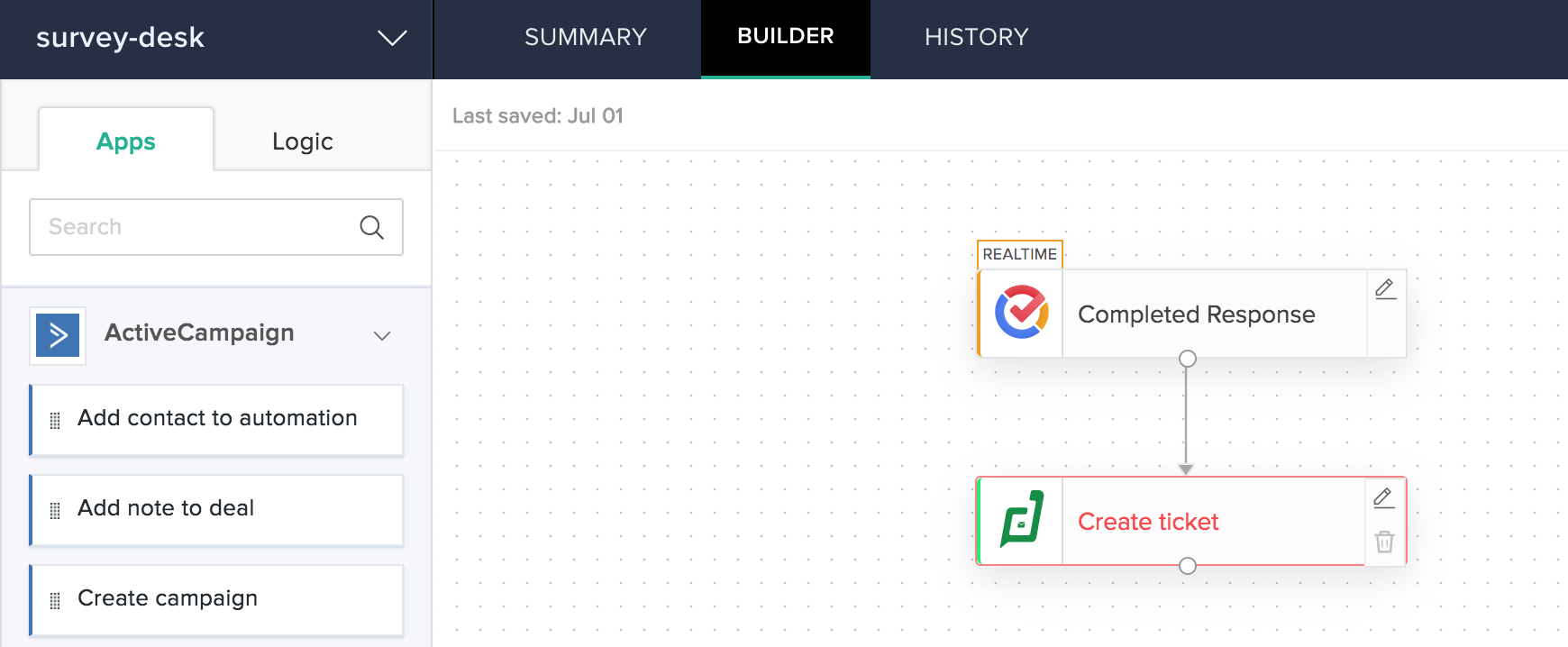 Zoho Sheet
Integrate with Zoho Sheet for a real-time transfer of all your survey data to a spreadsheet. Conduct in-depth analysis of your data, and infer more from your responses. Your reports can also be exported at any time to Zoho Sheet, to be saved and analyzed.
Zoho SalesIQ
Learn more about the intentions of your leads and opportunities to increase your sales team's efficiency.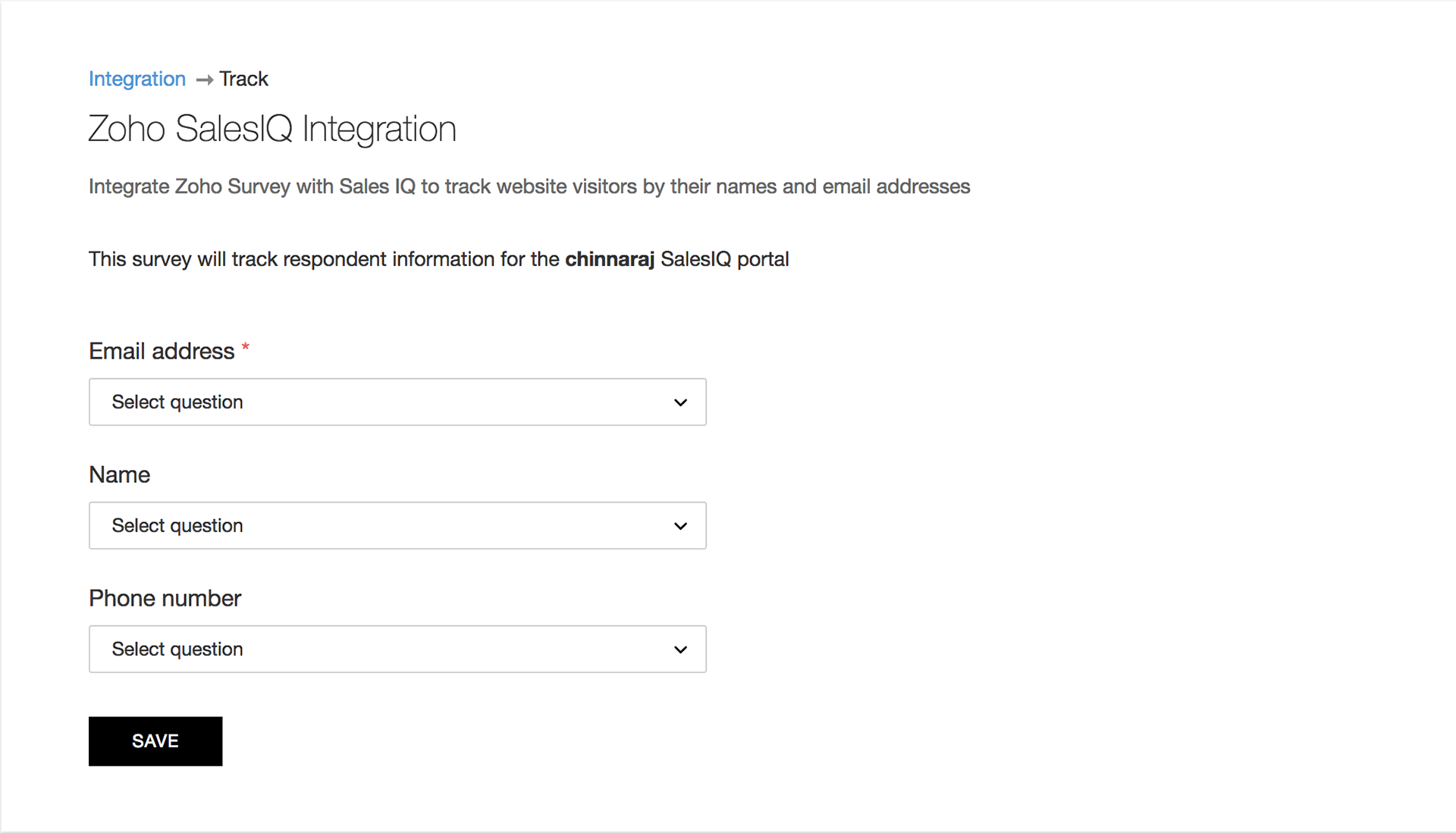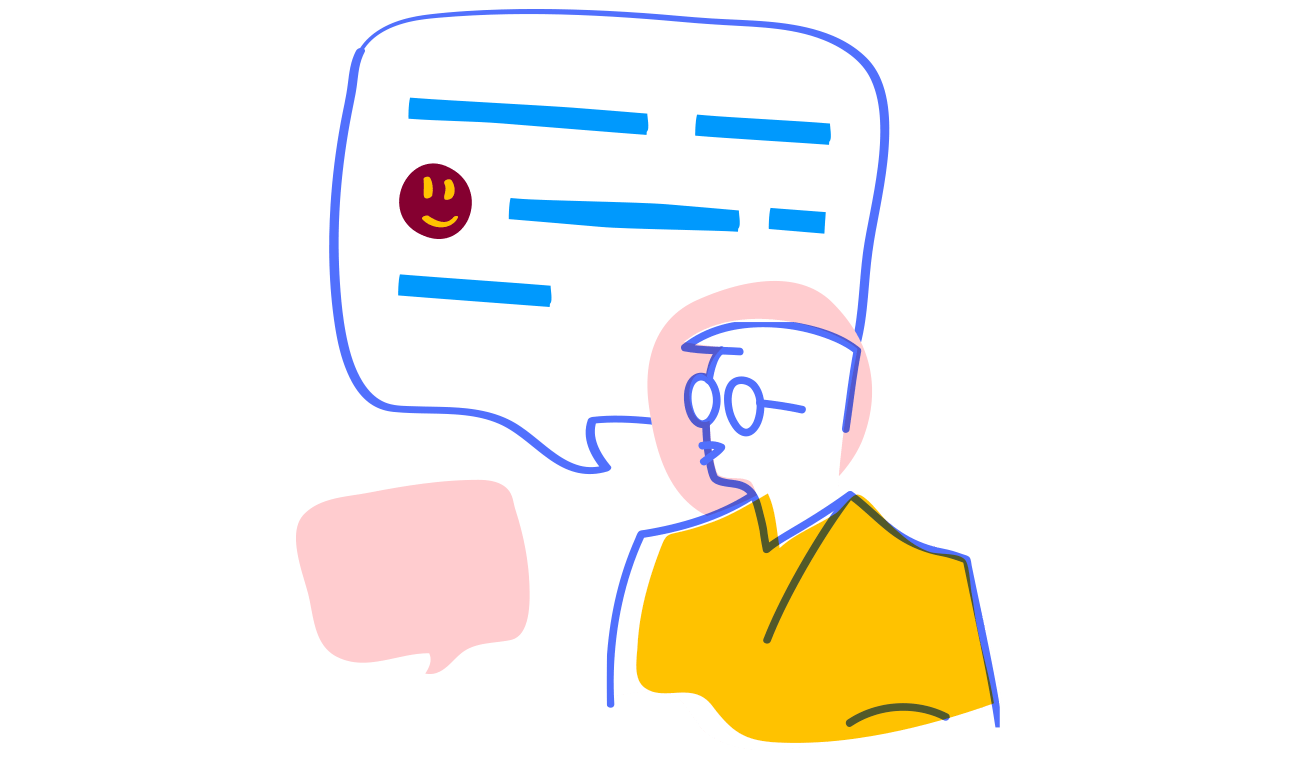 Give Customers a Voice
Give your customers the opportunity to speak. With Zoho SalesIQ, you can chat directly with leads who have a high level of interest in your offerings. When you integrate with Survey, you'll also get a clearer perspective of the overall market potential and feasibility. Combine the two, and you've got the information you need to provide the best possible solutions.
Increase Sales Efficiency
Integrate Zoho Survey, SalesIQ, and CRM to give your sales team all the context they need, right at their fingertips. Just log in to the Zoho CRM portal, and your team will have information about your customers' interactions with the website, their interests in your product, and their contact information—everything needed to reach out and convert.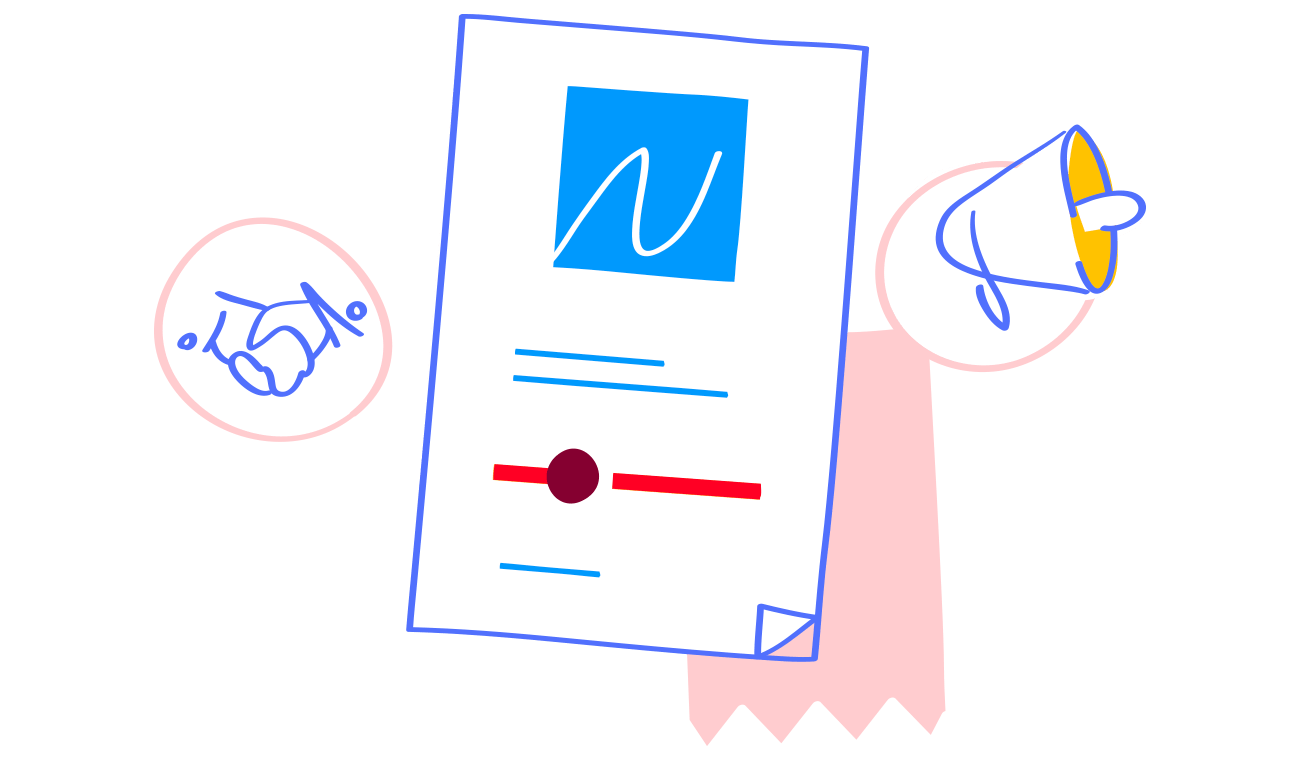 Zoho Analytics
Make the most out of your survey's reports. Use Zoho Analytics, our full-fledged business intelligence tool, to conduct an insightful analysis of your survey reports. You can also create cross-functional reports using data from Zoho Survey and other sources like CRM.
Learn More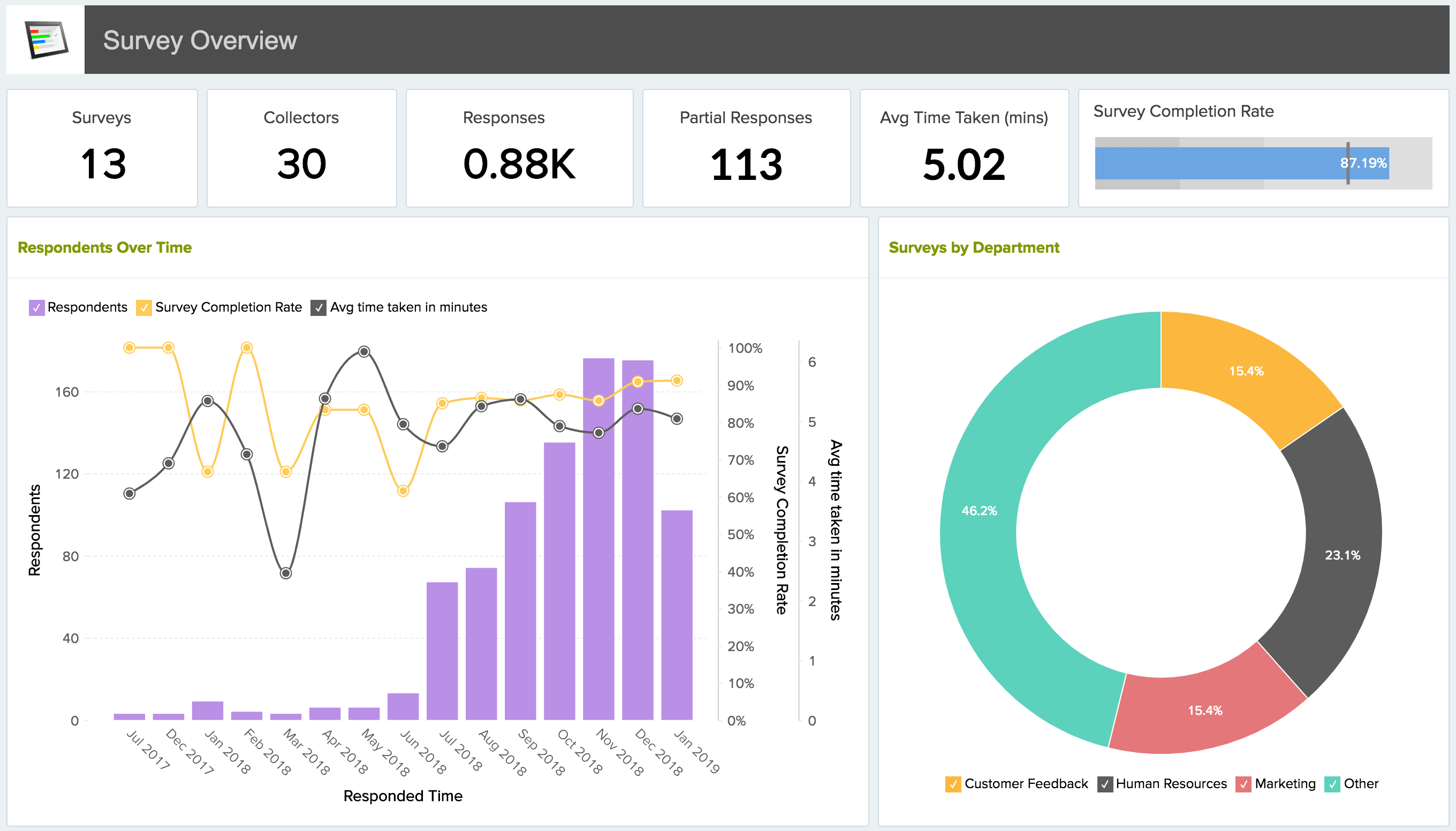 Zoho Recruit
Zoho Recruit is a cloud-based application that helps ease the recruitment process. Features like resume parsing, smart search, and automated updates make managing candidate data and tracking applications easy.
With the Zoho Survey and Zoho Recruit integration, you can gather information from candidates to improve the recruitment process, run online tests from within your Zoho Recruit account, and seamlessly transfer data between the two platforms.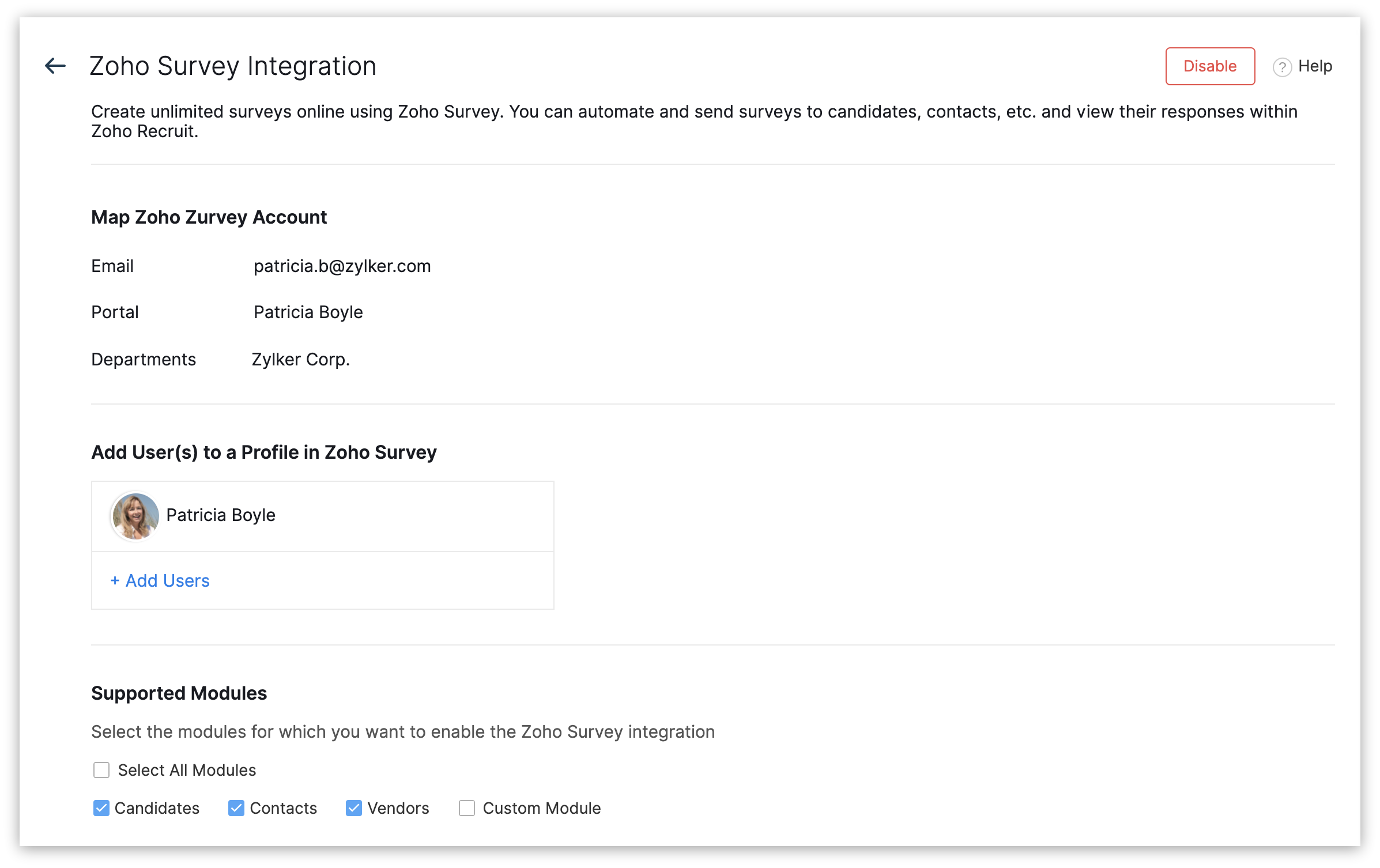 Zoho Commerce
The integration with Zoho Commerce can help you gauge your customers' liking towards your ecommerce offerings. Send contextual surveys to your customers in any step of their purchase journey of your choosing.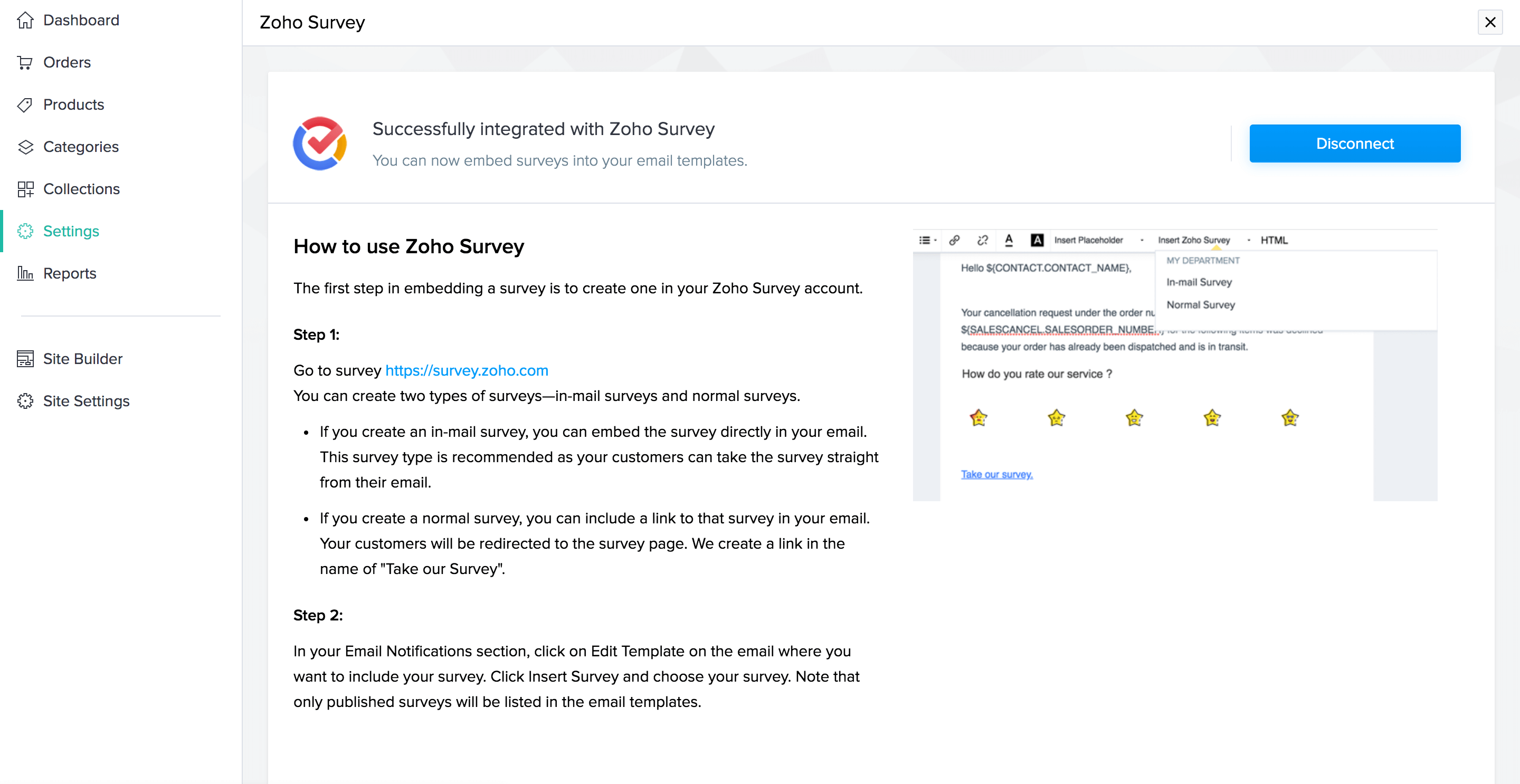 Google Sheets
Analyze your survey data in Google Sheets, or use it as a bridge to transfer data to your preferred reporting software. Once you've integrated, every response you receive on Zoho Survey will be updated immediately in Google Sheets.
Learn More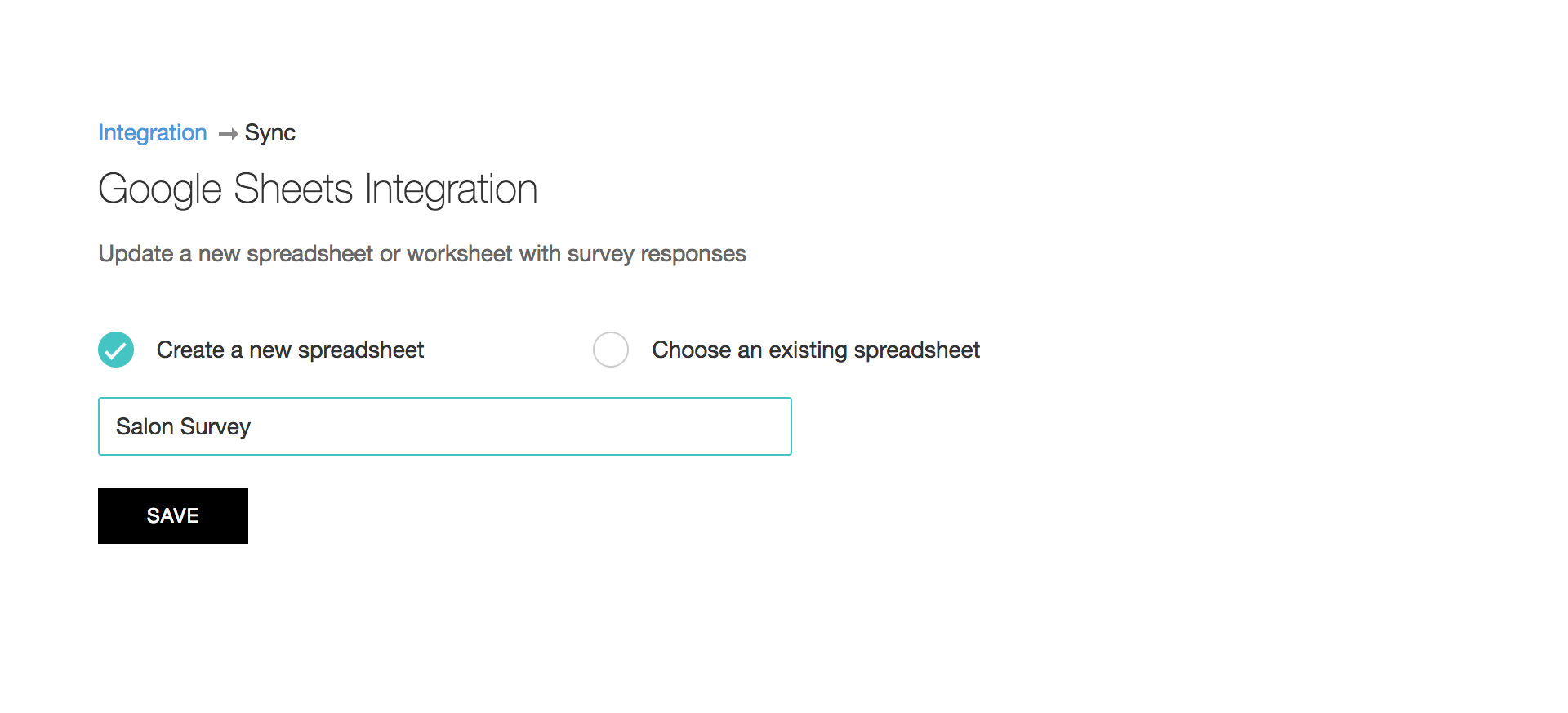 Slack
The integration between Slack and Zoho Survey offers quicker decision making to your teams. Poll your channel for quick resolutions. Post surveys in your channel for in-depth opinion gathering. Share survey results with your team and keep them notified of any new responses.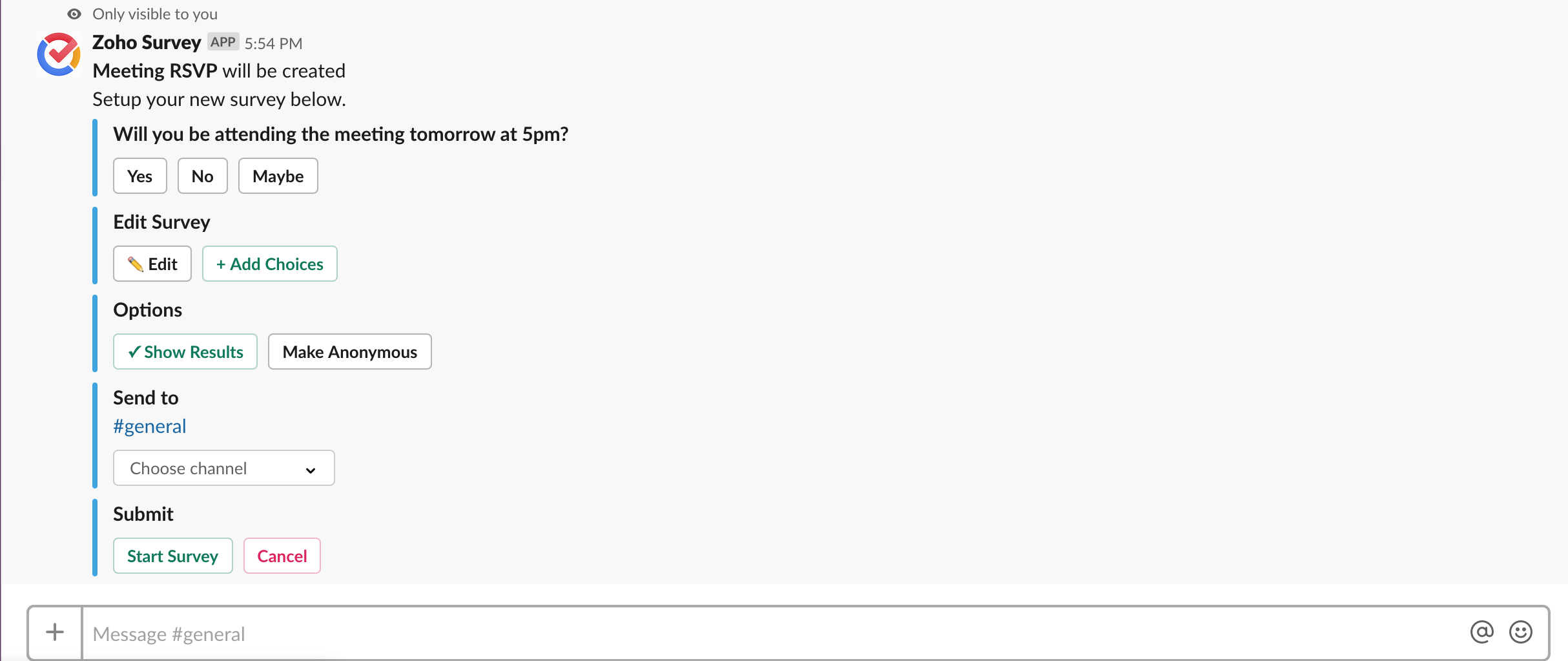 Tableau
The Zoho Survey and Tableau integration allows users to conduct a comprehensive analysis of their reports using Tableau's analytics platform. Spot trends and solutions with rich data visualization. Ask questions of your data and get the results immediately.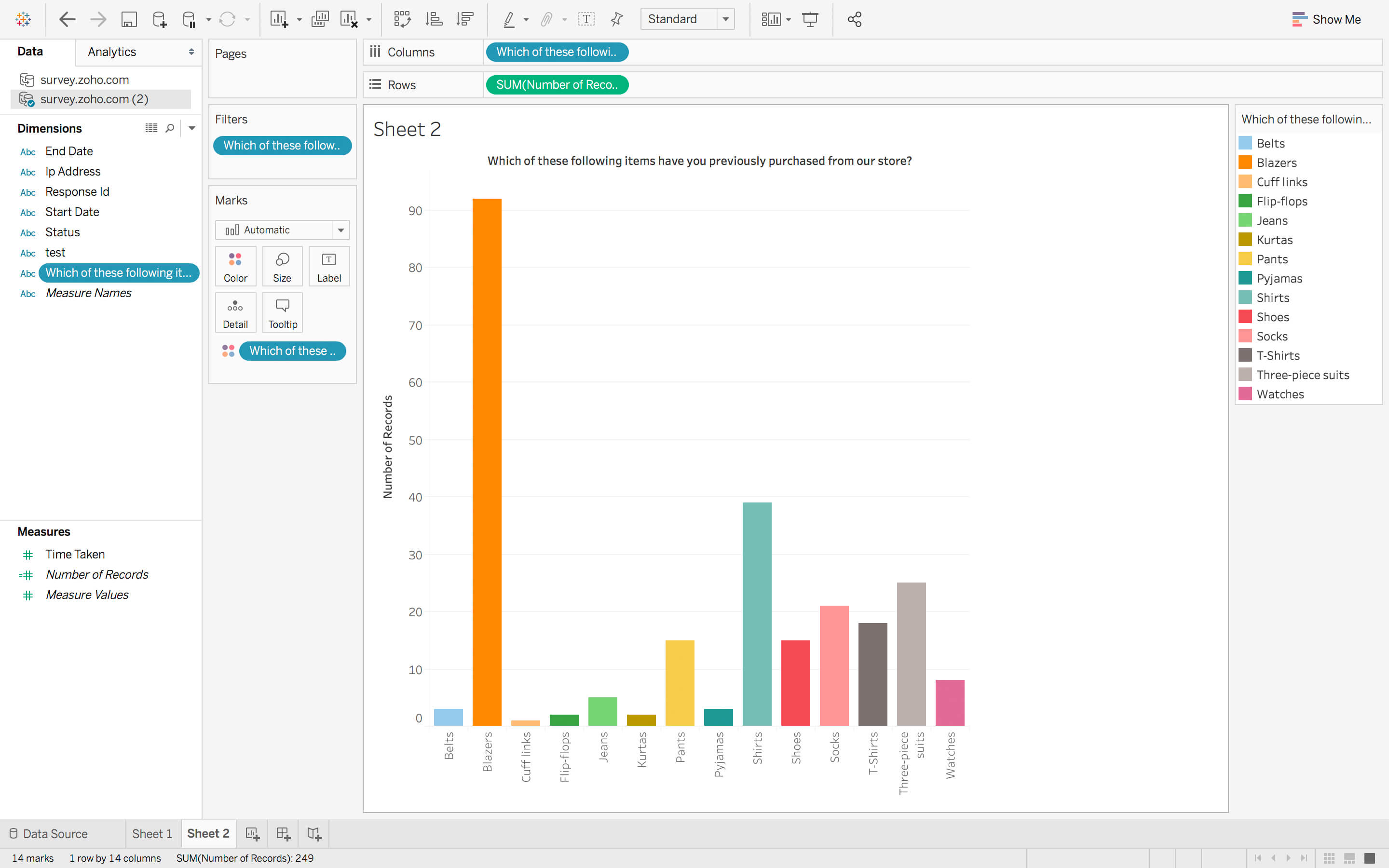 MailChimp
Zoho Survey is integrated with MailChimp, so you can send out your surveys to all of your email lists. All you need to do is connect your accounts and you'll be good to go.
Learn More
Eventbrite
With the Zoho Survey-Eventbrite integration, you can now send surveys created on Zoho Survey to your event attendees on Eventbrite. Create pre and post-event surveys to learn how to plan and host better events while also finding out whether a specific event was successful or not. And with ready-made event templates, you can create and distribute surveys quickly.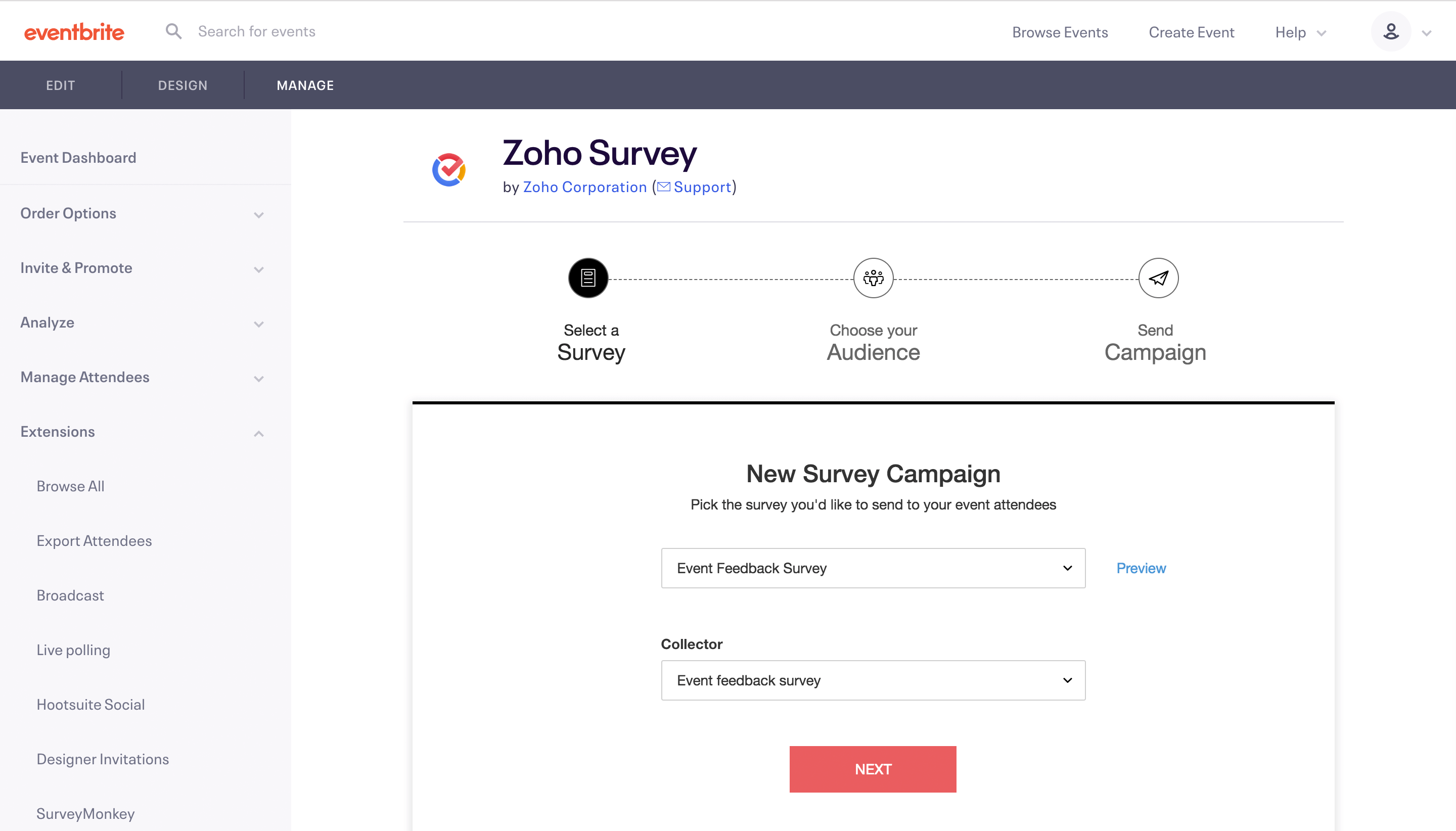 Zendesk
Gather all the information you need to provide better service to your customers. With the Zendesk and Zoho Survey integration, you can easily follow up with your customers and provide the best solutions for them, thereby, converting unhappy customers into happy customers.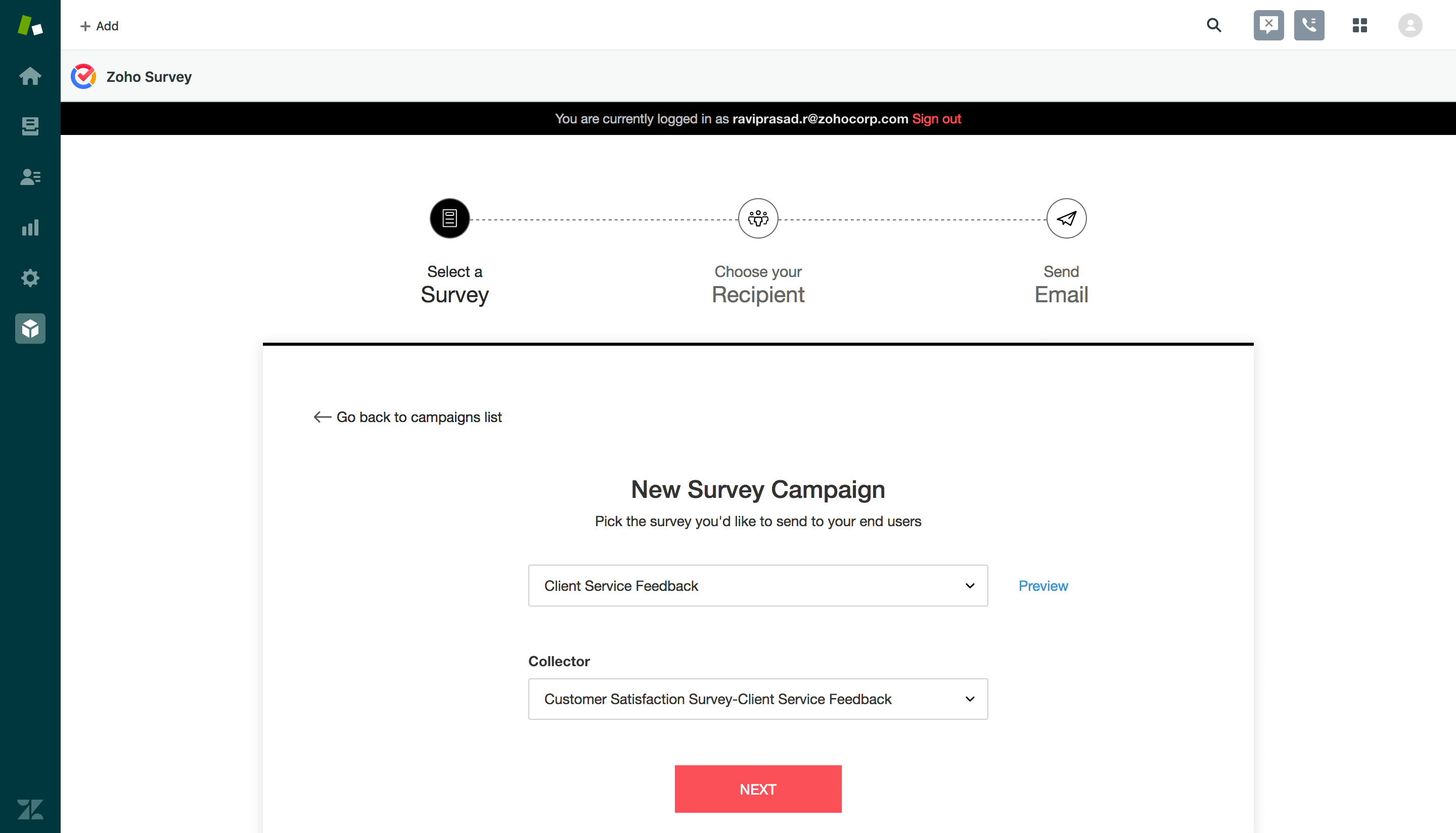 Shopify
Send your surveys via Shopify to your website's customers. You can send personalized surveys to your customers, embed surveys in the online store and in the order summary page, and use multiple collectors.