Why audio-based social media is the future
Last Updated: June 16, 2021
5.3K Views
5 Min Read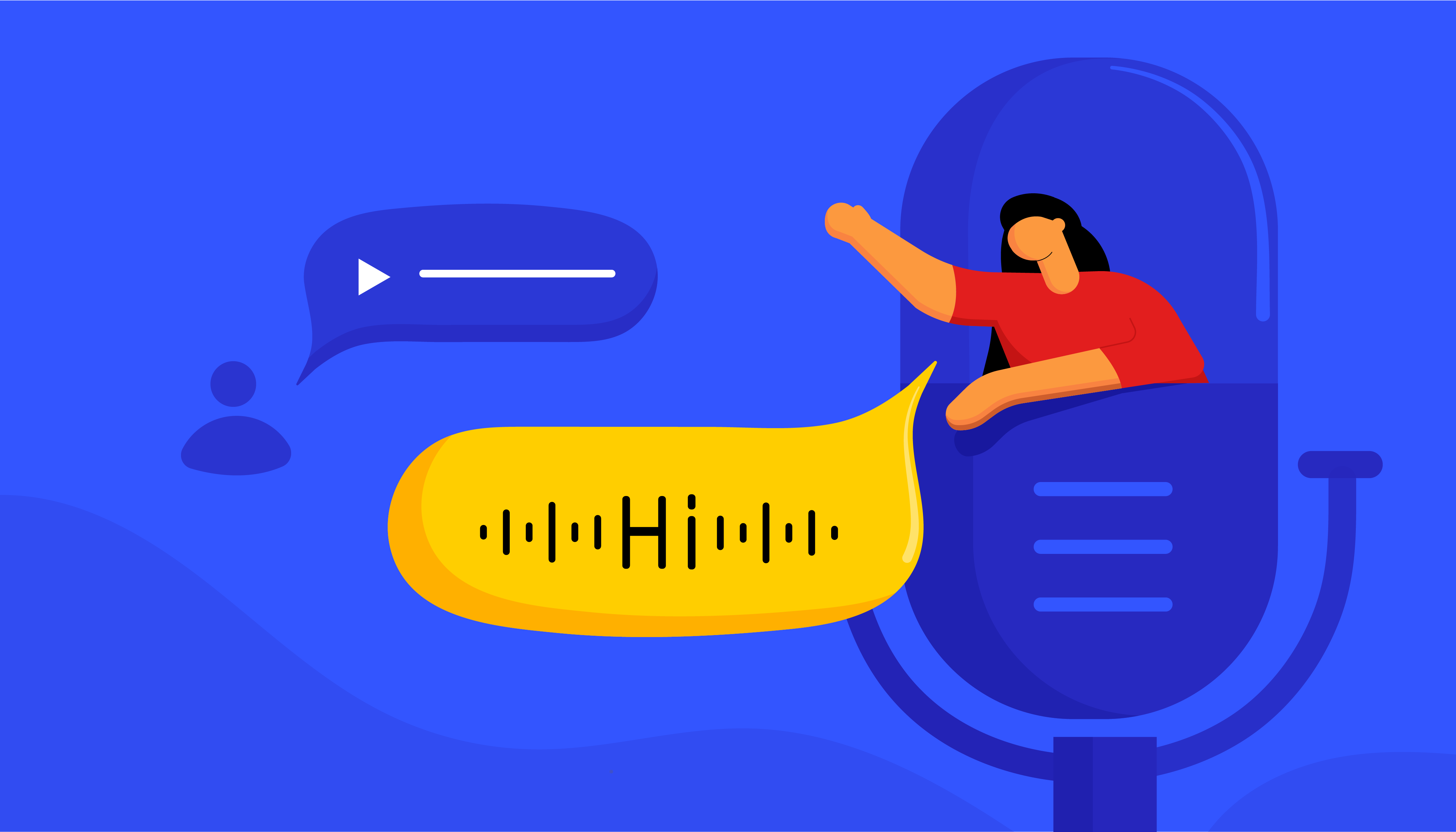 Earlier this year, we discussed how Clubhouse will be the next big thing, but the spotlight now is not only on Clubhouse but also on the entire audio-based social media concept. The growing audience on platforms like Clubhouse and Discord—as well as with major social platforms like Twitter introducing their own audio space (Twitter Spaces)—makes it seem like audio-based social media is here to stay. And with the world moving into the "new normal," it is likely to be the next big thing!
The introduction of audio in social media
Communicating through technology is coming full circle. With multiple waves of the pandemic and a majority of businesses functioning virtually, people have actually grown fatigued of Zoom and other kinds of virtual web conferencing tools. As people seek a way to overcome this fatigue, they are connecting via voice again, whether through phone calls or voice texts. It seems like we're tired of virtual meetups, and voice is making us feel intimate and close again.
Audio messaging has been available for years through products like WhatsApp voice notes. For countries like India that have a wider audience for WhatsApp audio, Twitter Spaces is quickly gaining popularity. These audio-social platforms allow you to hop in and join a conversation that interests you without having to scroll or stare at a screen.
It takes the concept of a podcast to the next level. Imagine listening to a podcast about something that really interests you and wishing you could chime in and share your thoughts on that topic in a live session. The skyrocketing usage of audio-based social media is giving birth to a lot of hip tools like Clubhouse, Discord, Swell, Twitter spaces, and others.
The key players of audio-based social networks
Let's take a brief look at some of the key players with an established user base in 2021.
Clubhouse
In spite of still being an iOS-only beta app, Clubhouse is one of the major players and has been enjoying exponential growth since 2020 with over 10 million users as of April. One of its main draws is the presence of a lot of celebrities, from Elon Musk to Ashton Kutcher, who are either silent listeners or chairing sessions. Its popularity has made it the leading player in this space. We took a closer look at Clubhouse in our recent article.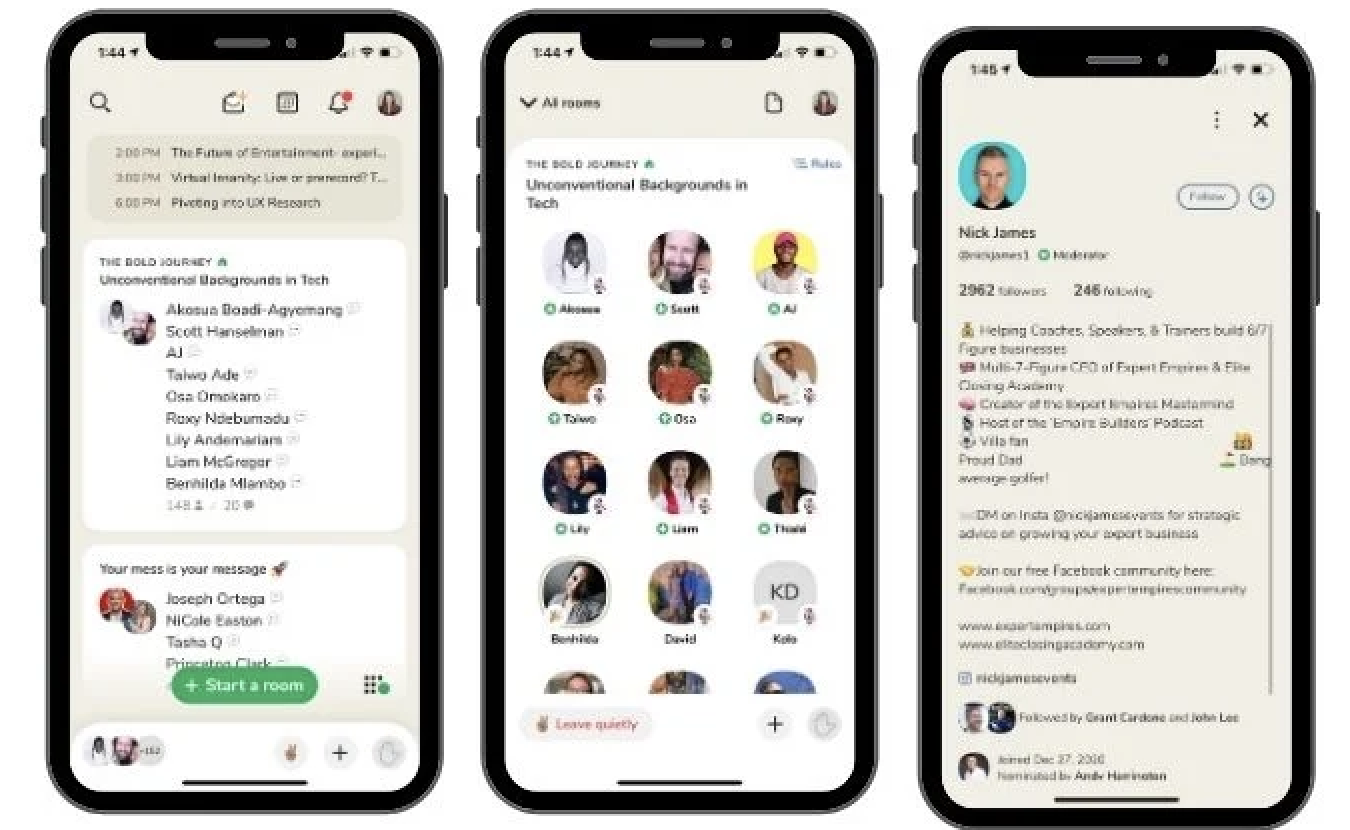 Discord
Discord existed before all of its audio-social competitors. It was started in 2015 and serves as a hub for gamers and streamers, but seeing the growing audience with tools like Clubhouse and Spaces, they are rebranding themselves as "your place to talk." It behaves the way a typical online group would with users and community members able to chat in a typical text-based format as well as able to post files and links. Discord is not strictly voice-only, but channels can be set up as voice-only, and it is the only app that has a desktop version as well.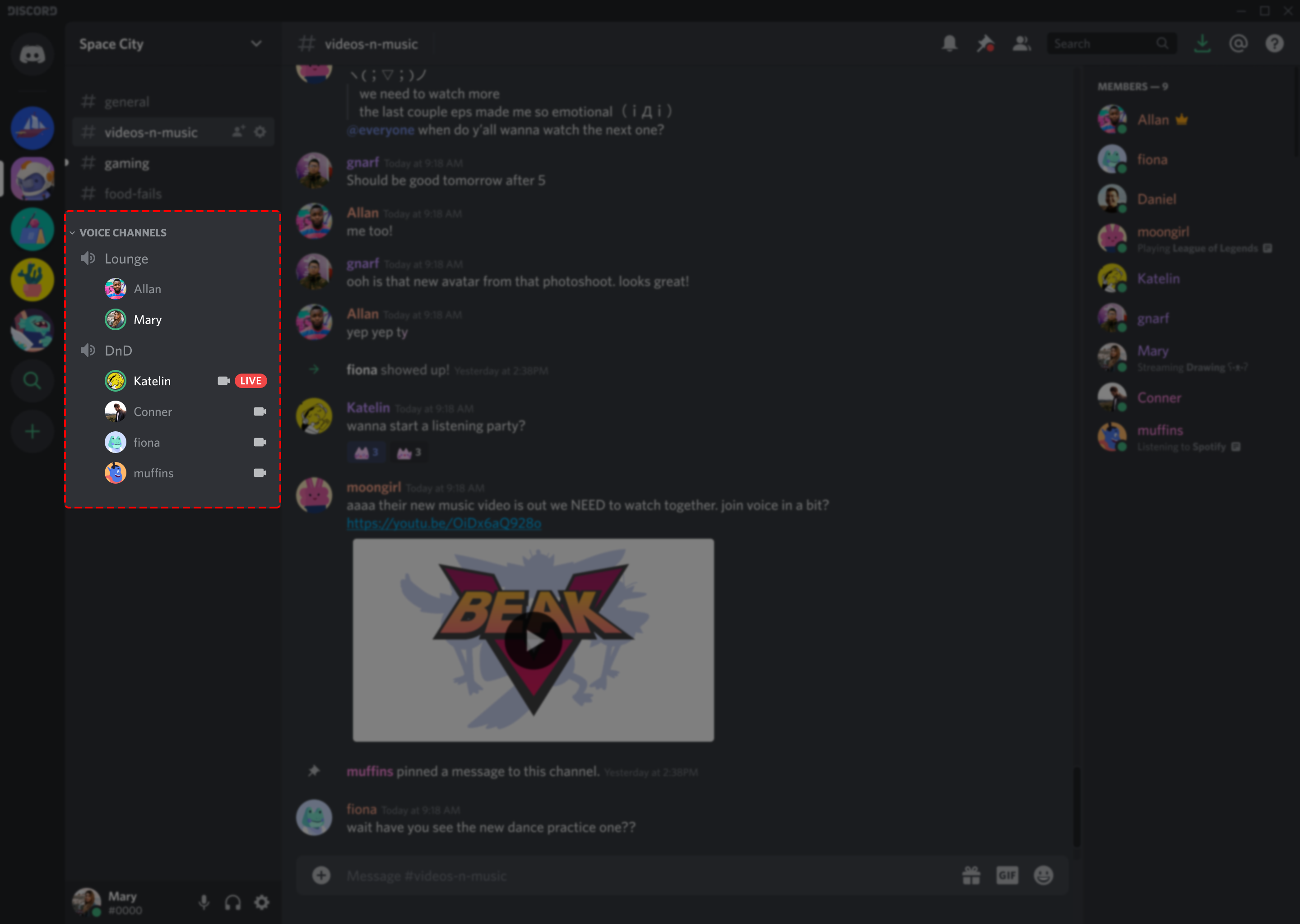 Courtesy: Discord
Twitter Spaces
Twitter rolled out their product, Spaces, which lets a user create live conversations other Twitter users can join. The current version of Spaces only allows a limited number of Twitter users to create a Space, however anyone on iOS and Android can join a Space in progress, and up to 11 people can speak at any given time. The minimum follower count of a Twitter user who can host a Space is 600.

According to the Twitter Spaces team, they're working on a scheduling feature for Spaces, which will make it much easier to promote and notify your followers ahead of time. In addition to talking, you can pin Tweets to the Space and turn on captions so everyone can follow along with what you're saying.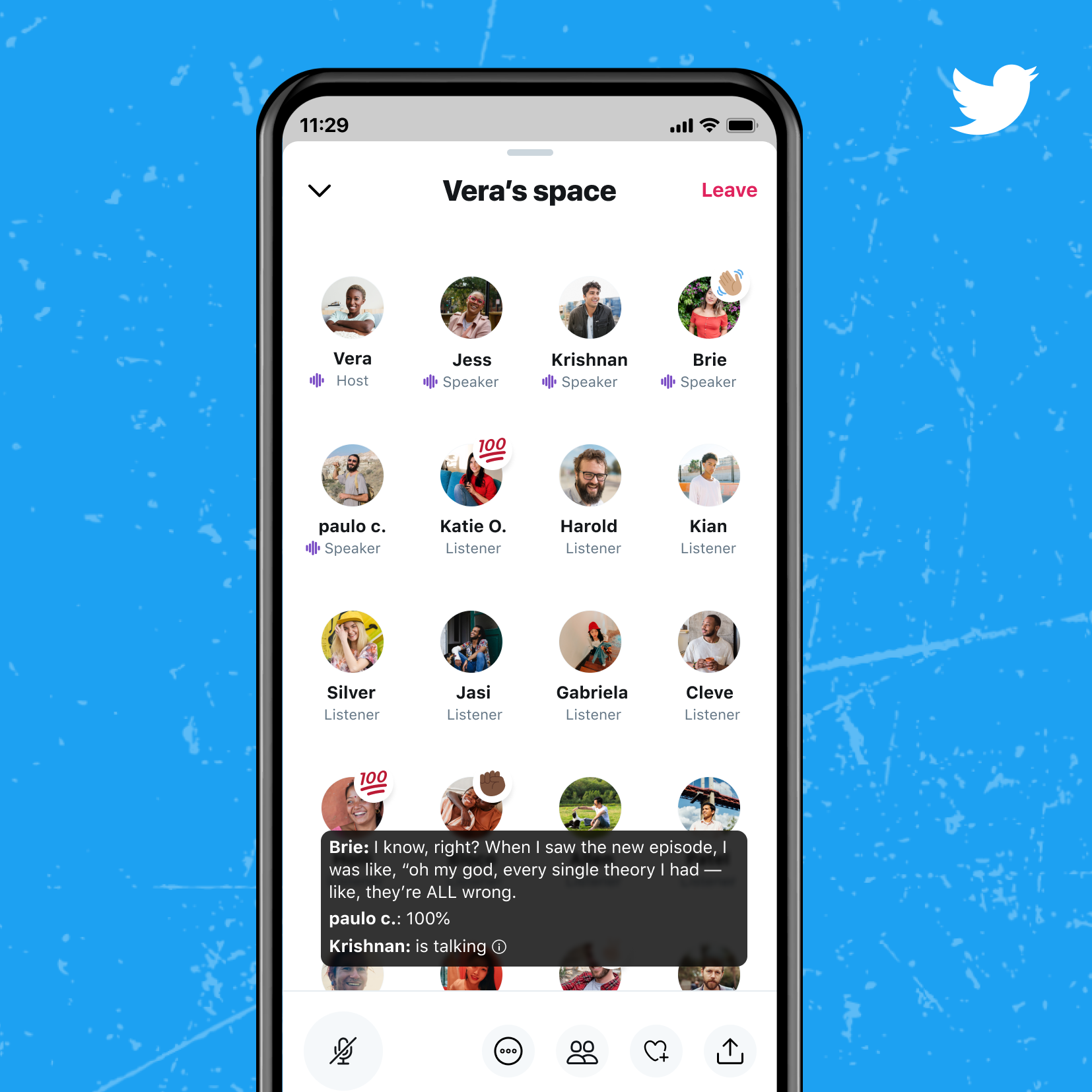 Courtesy: Twitter
The importance of audio in social media marketing
Investing your brand-building time into a new social media platform is a lot of work, and even more so when it's a relatively new concept like audio-based social media. So what do you gain out of it that will make it worth the time investment?
You won't find much difference between these new social platforms if you plan to integrate audio-based social media in your marketing plan and customer care. This model is a great way to personalize the customer experience more, a goal many businesses are still trying to comprehend. This is mainly due to the fact that it uses conversational marketing in a key role. Building relationships with customers through conversational marketing is one of the most effective ways to improve the credibility of your brand and to personalize the customer experience. With social audio, a person performs the role chatbots usually play in conversational marketing. To be successful, brands need to appoint a trained spokesperson who can present, communicate, dialog, and listen with empathy.
Social audio is more of a live audio conversation, and people consuming it will expect an authentic human discussion rather than a scripted session. This is brand-new territory for businesses, and the brands that will prevail will not only be ahead in their marketing game but will also have the chance to be the market leader for years. Live audio means audiences can literally hear the voice of the brand, so brands need to be cautious on what they communicate—one slip can drag them down, and they could see this play out in real time as the audience leaves their live session.
Why audio will be the next player in social media
This pandemic is advancing technologies to reach users earlier than predicted. Almost a majority of business is happening online with the help of video conferencing and social media platforms. Online events are the latest to join this list, and social audio has the potential to make an impact in this live online space. Recently in India, a leading music distribution label hosted an event on Twitter Spaces that recorded an audience of more than 16,000.
In no time, these platforms will start monetizing in varied ways:
Marketing or advertising spaces will be offered to brands via sponsorship, banner ads, and promoted audio rooms.

Customers will pay to access ad-free, premium audio experiences.
Spotify and other music streaming platforms already offer this ad-free, premium membership. In coming days, don't be surprised if Clubhouse or Twitter Spaces do something similar.
With more people moving from their television screens to spend more time online, brands need to reconsider their social media strategy, as your brand's approach to social media marketing needs to be consistent with customer behavior. Keep monitoring your audience and stay ahead in your marketing game. We think you'll thank us later.
So do you think audio is the future of social media? Drop your views in the comments and let's get conversational!
Ashwin

Marketer by day and writer/poet by night! I get the dopamine rush when my thoughts are put down as words or poems. A person with big time OCD (Obsessive Cinema Disorder).
Comments(
21

)
roney

December 28, 2021 at 6:40 PM

Thanks for sharing the best information for us .

Sharyl Twist

December 28, 2021 at 10:49 AM

Thanks for sharing, your article is great.

DLS 2022 Mod Apk

December 14, 2021 at 12:29 PM

Thank you for sharing this. It was helpful. Keep sharing such things.

Milena Wheel

December 6, 2021 at 2:19 PM

It's very interesting to observe how audio-based social media become more and more popular, maybe one day they will even replace text social media! Thank you for sharing interesting information

GBWhatsApp

December 5, 2021 at 4:09 PM

Your post is helping me a lot. Its really nice and epic. Thanks a lot for the useful info on this topic. You did it so much well. I love to see more. Keep sharing and updating. Also share more posts with us. Thank you.

Roblox Mod Apk

December 1, 2021 at 7:04 PM

Even though I am here for the first time, I am very impressed with your post. Thanks for sharing.

Mod Apk

October 10, 2021 at 11:02 PM

Its a pretty helpful for me. Thanks for the post.

Jony

September 25, 2021 at 4:29 PM

Amazing work please share more amazing posts like this. Thanks!

Ashwin Ram

September 27, 2021 at 11:25 AM

Thanks for your feedback Jony. Keep following this space for more content.

Jony

September 25, 2021 at 4:27 PM

I have read your whole post it's very informative

FMWhatsApp

September 8, 2021 at 7:01 AM

Osm! This site is very effective. I love to read post. Keep sharing, Sir

Herry

September 7, 2021 at 3:19 PM

I have read your whole post it's very informative

My GB Apps

September 2, 2021 at 4:46 PM

Amazing work please share more amazing posts like this. Thanks!

GBWhatsApp

August 26, 2021 at 4:39 PM

Very informative post bro.. keep up the high work.!

Irony Grid

August 10, 2021 at 9:47 PM

Thanks for the detailed info on this topic. It's very hard to find nowadays to know about the basics but you did it so much well and I loved it . I would love to see more about it.

Ashwin Ram

August 11, 2021 at 4:43 PM

Thank you! Watch out for this space for more articles on social media marketing.

Whatsapp GB

July 20, 2021 at 8:17 AM

Very nice information Thank you very much

Gb WhatsApp Pro

June 29, 2021 at 10:36 AM

Very Beautiful Information Thanks Bro

Ashwin Ram

June 29, 2021 at 10:57 AM

Thank you!

Sweety kumari

June 22, 2021 at 10:57 AM

Hey Ashwin, Your post is very helpful and informative. Audio messaging has been available for years through products like WhatsApp voice notes. It is good idea for marketing. You have mention all things about audio marketing. Thank you Sweety

Ashwin Ram

June 29, 2021 at 10:57 AM

Thank you!
Leave a Reply
Your email address will not be published. Required fields are marked