Zoho Sign offers numerous business benefits, including:
80% faster document turnaround time

Get documents signed in minutes or days, not weeks or months.

$30 saved per envelope

Cut the overall average costs spent on printing, scanning, and mailing documents.

50 hours saved on average per employee

Adopt digital signatures to save time and boost productivity. Automate repeated tasks.
Why e-sign?

Signing documents with pen and paper is often cumbersome and time-consuming. With electronic signature (aka e-sign), we can

digitally sign documents

from anywhere

. E-signing is also legally valid in most countries.Learn more
Recognized by top-industry analysts and peer-to-peer review websites
Leader & Outperformer - GigaOm Radar Report for E-Signature Solutions 2023
Learn more
Leader - IDC MarketScape Worldwide eSignature Software 2023
Learn more
30,000+ businesses trust Zoho Sign
How Zoho Sign can transform your
paperwork
Why Zoho Sign?

It is a complete digital signature app for business signatories. The terms

"e-sign" and "digital sign"

are often used interchangeably. However, e-signing a document means just adding the digital image of a handwritten signature that can be easily forged. A digital signature uses cryptographic techniques backed by a digital certificate to provide proof of identity.
Digitally signed documents are tamper-proof and cannot be altered once signed. Zoho Sign is a digital signature app that doesn't stop at just signing, sending, and managing documents. It helps you verify the signer's identity, collect payments, sign documents across borders with the highest level of legal compliance, and much more.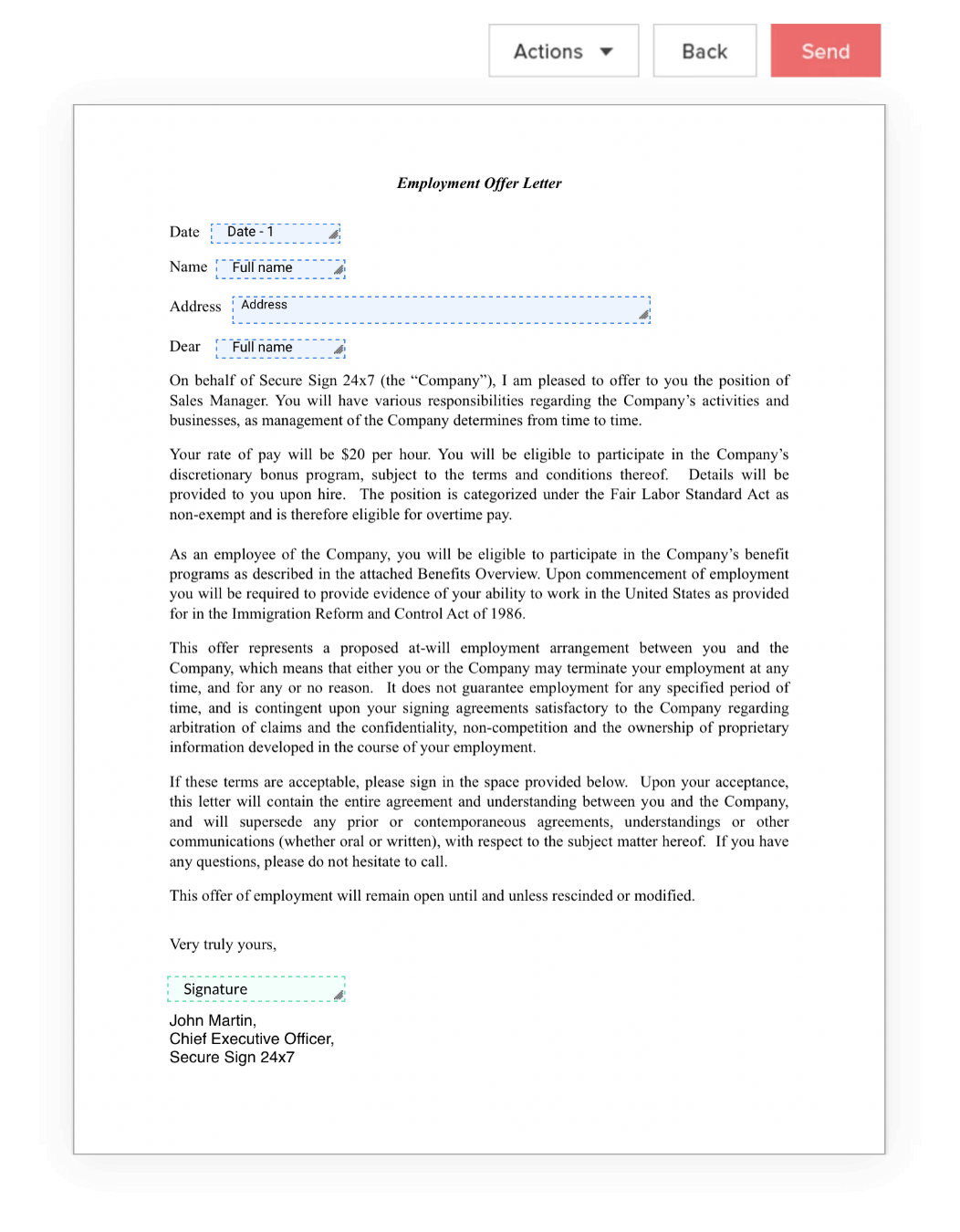 Custom branding

Incorporate your brand image across your documents, with customized logos and emails.

Bulk send

Send documents to multiple signers in a single click. Say goodbye to time-consuming manual paperwork.

Reusable templates

Create personalized templates once and use them forever, saving your time and effort.
Explore more Zoho Sign features
Popular use-cases
Sales contracts
HR documents
NDAs
Purchase orders
Invoices
Expense reporting
Social media policy
Vendor agreements
Compliance documents
Sales contracts
HR documents
NDAs
Purchase orders
Invoices
Expense reporting
Social media policy
Vendor agreements
Compliance documents
Keep your data secure and compliant
Ensure that your documents are signed, shared and stored with multiple levels of security.
Learn more about security
Integrate with your everyday apps
Zoho Sign helps you sign business documents directly from other popular Zoho apps and third-party apps. We also offer REST APIs to automate the document signing and management process directly from your own apps or websites.
Learn more
Sign documents on the go
Create and send documents for signatures anywhere, anytime, and on any device.
Learn more
Frequently asked questions:
What's the difference between electronic signature and digital signature?

Electronic signatures are just digital images of handwritten signatures appended to a document. Digital signatures contain one or more characters in digital format, representing an individual's identity, which are attached to the document in the background. Learn more about electronic vs. digital signatures

Are digital signatures legal?

Yes, digital signatures are valid for most business documents worldwide. However, there are exceptions in some countries. Read our legal guide

How does Zoho Sign work?

Zoho Sign uses Public Key Infrastructure (PKI) technology to provide the highest levels of security for digitally signing and verifying documents. Learn more about how Zoho Sign works.

Are my documents secure in Zoho Sign?

Yes, Zoho Sign offers high-level security, using AES-256 encryption while at rest and SSL/TLS encryption while in transit. Additionally, our multi-factor verification, blockchain timestamping, and audit trails add extra layers of protection, allowing you to send and sign documents with confidence. Learn more about our security features.

How does the pricing work?

Zoho Sign offers a free plan for individuals allowing to send or sign up to five documents each month. Sign's paid plans for businesses start at /user/month. Sign's API pricing is simple and transparent, it costs per document signature request.