2020
Dec
Zoho Sprints add-on for Show
Features
Communicate project information efficiently and get charts and graphs of project insights in an instant.
View detailed reports of any sprint you choose
View the progress of individuals and comparisons between team members generated as pie charts and bar graphs.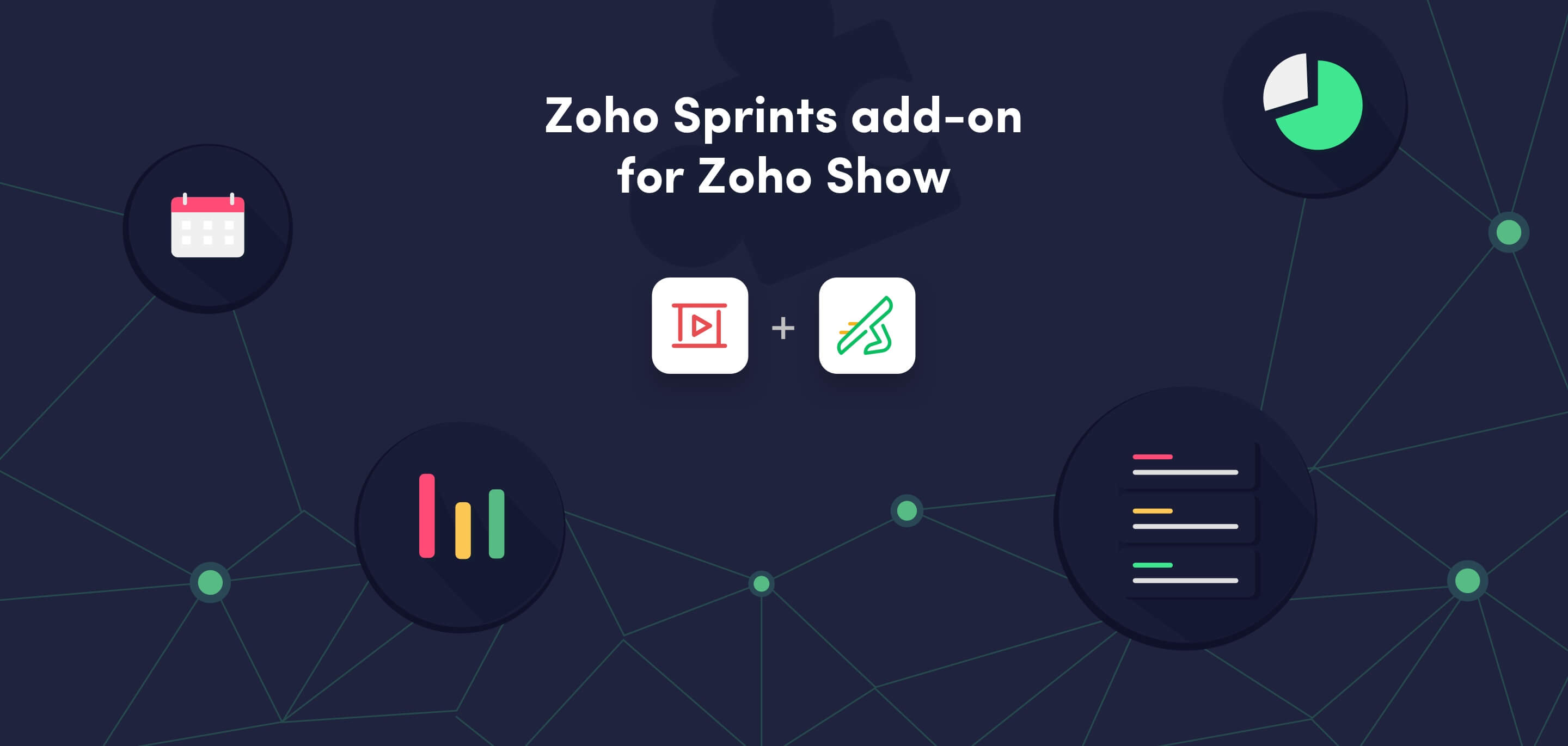 Customize and add new layouts
Android
Customize existing layouts and create new custom layouts by adding the necessary placeholder boxes for text, charts, images, tables and more to the slides. Custom fonts, colors, and other background effects can also be added to the layout. These layouts can help bring a consistent look to all the presentations of your organization.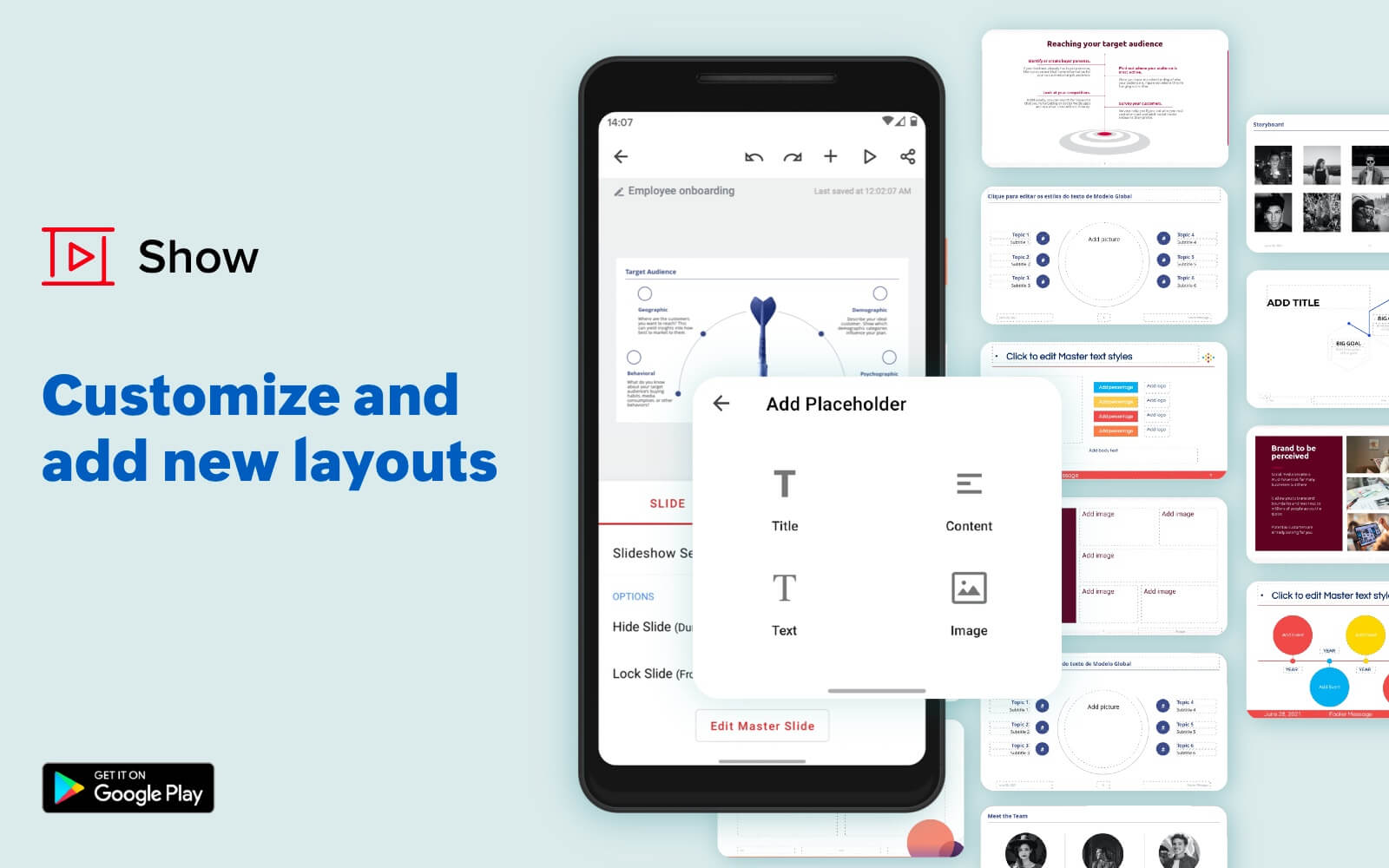 Nov
Work Offline with Zen Mode
Android
Make presentations available offline to view and edit them in your Android app. Work on your slides offline and sync your changes whenever you reconnect to the internet.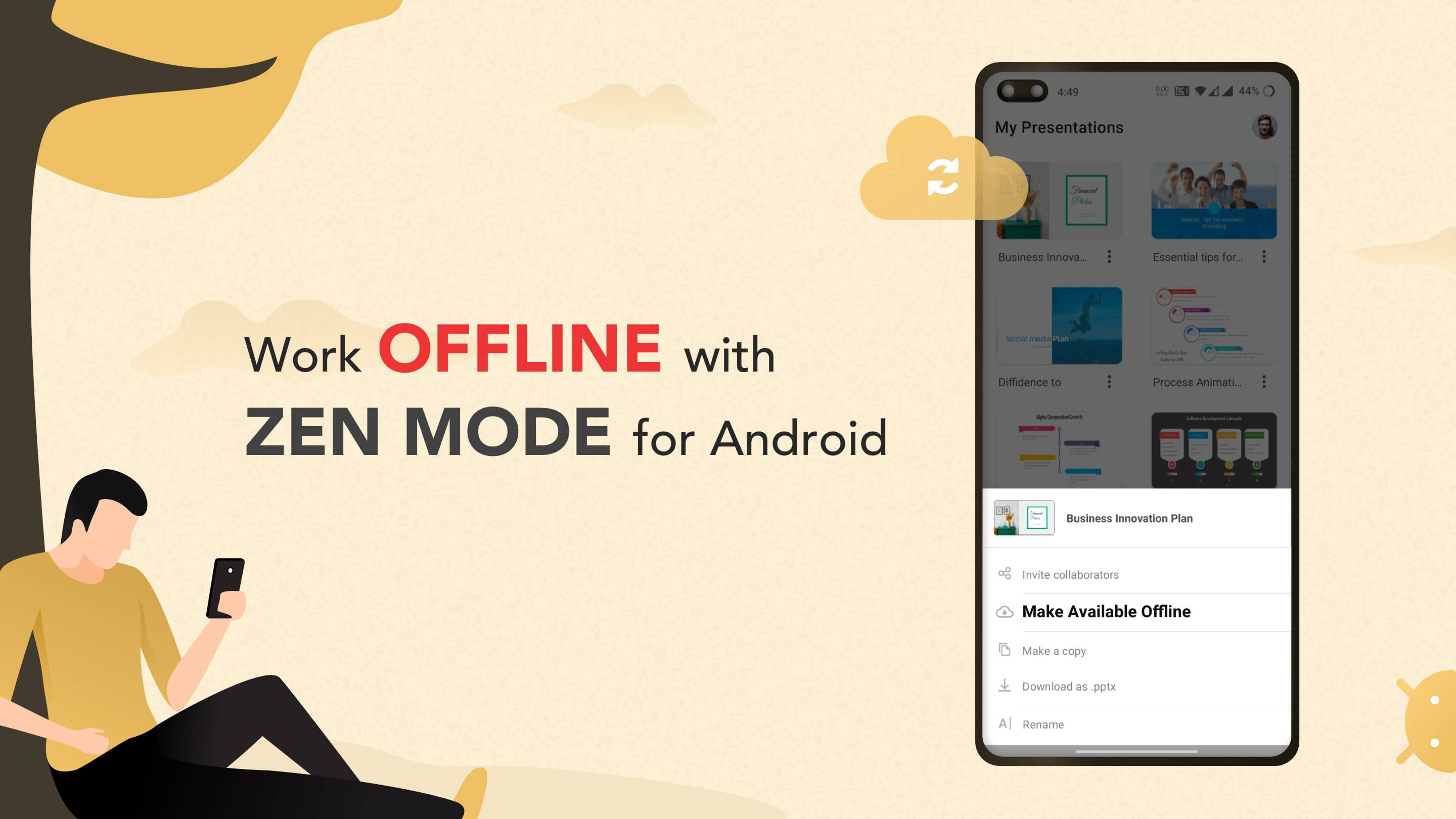 Unsplash integration with Show iOS app
iOS
Get access to millions of royalty-free images right from your iOS app. Avoid accidental copyright infringement by choosing from Unsplash's library of high-quality images.
Learn more about Unsplash for Show's iOS app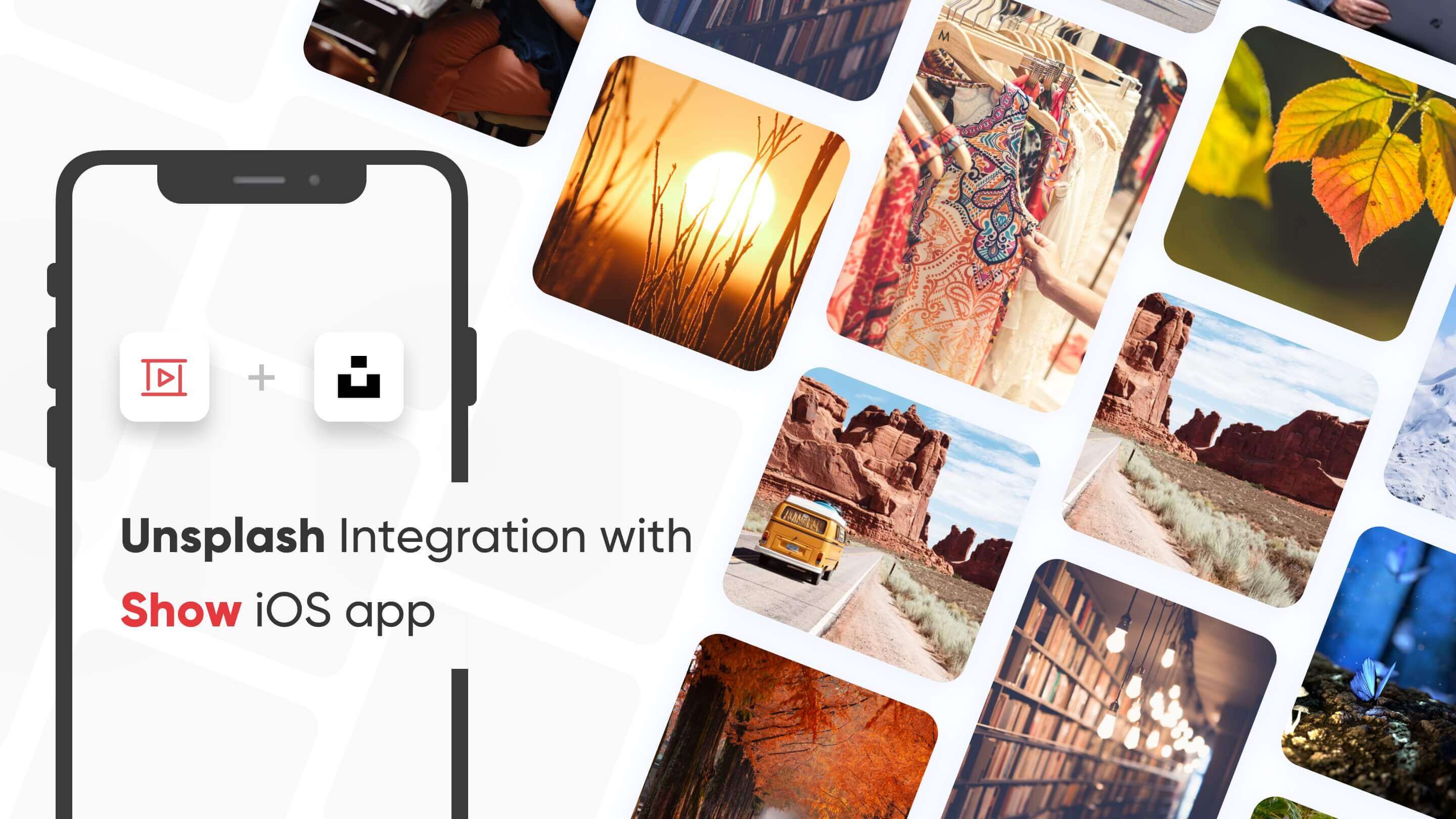 Sep
Introducing Template Library
Features
Since presentations have become a vital way of sharing organization information, it is better to cut down redundancy across teams. Standardize successful company presentations by adding them as a template in a central repository for everyone to access.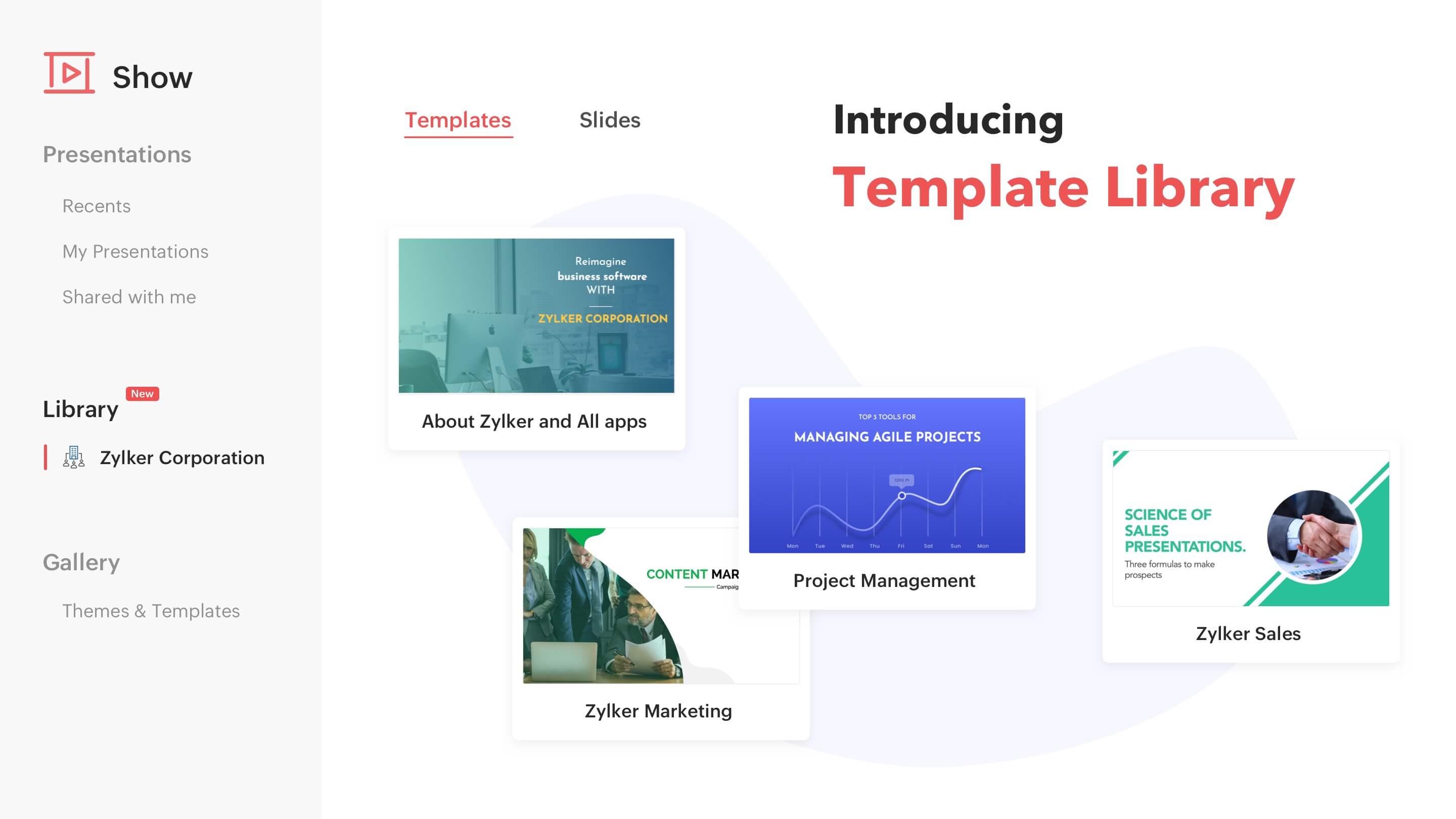 Aug
Templates in the Android app
Android
Create professional presentations in minutes using templates in your Android app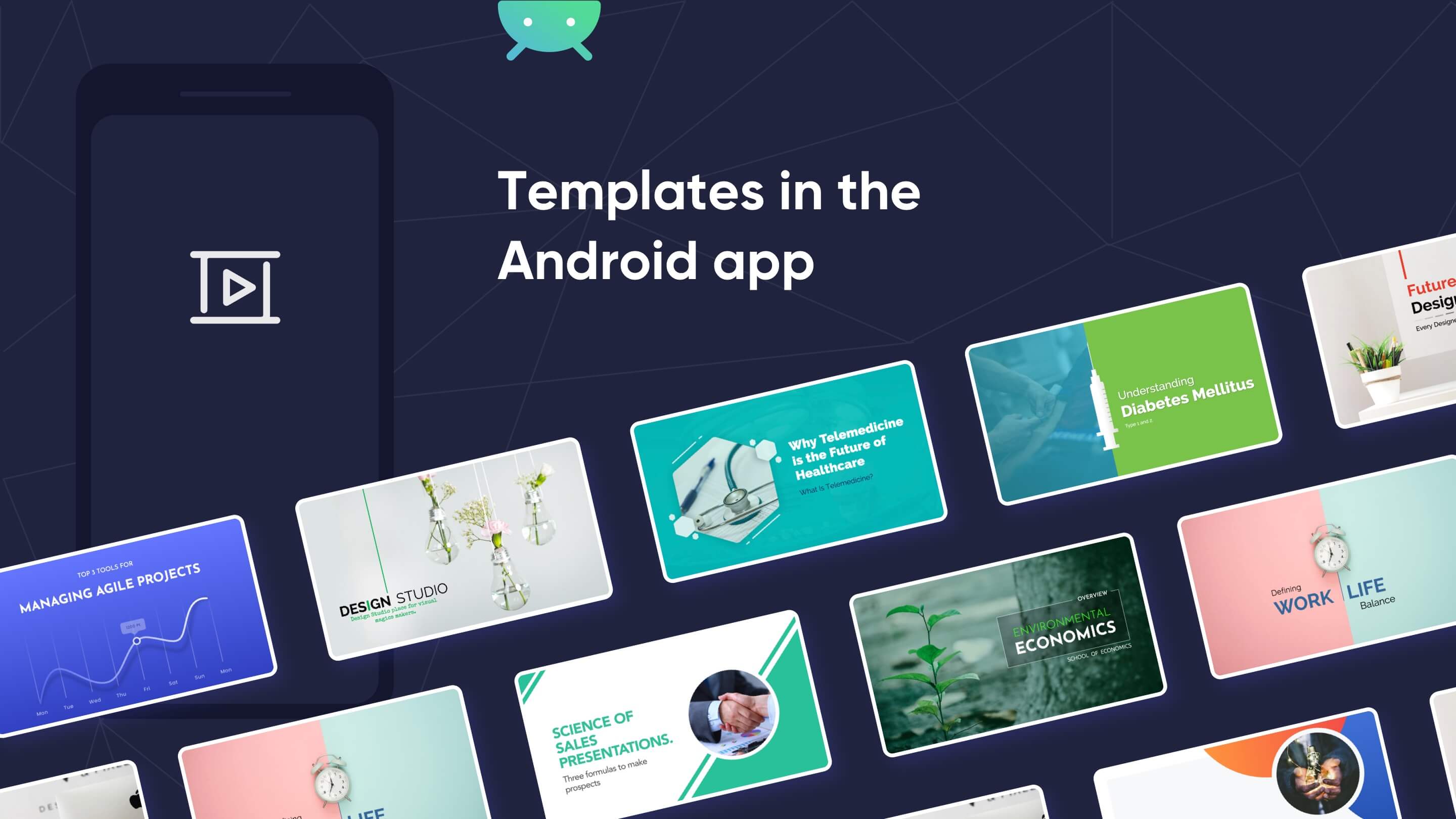 Jul
Introducing the Show iOS editor app
iOS
Create, edit, share, and collaborate on presentations using your Apple device.
Clean and contextual user interface is easy to use
Templates help create impressive slide decks
Dark mode goes easy on your eyes
Present with your Apple TV
Humaaans integration
Features
Add a "humaaan" touch to your slides with these customizable illustrations.
May
Introducing templates in Show
Features
Create professional business presentations in less time.
25+ templates available to choose from
Split into 6 different categories: Marketing, Industry, Project Management, Sales, Education, and HR & Recruitment.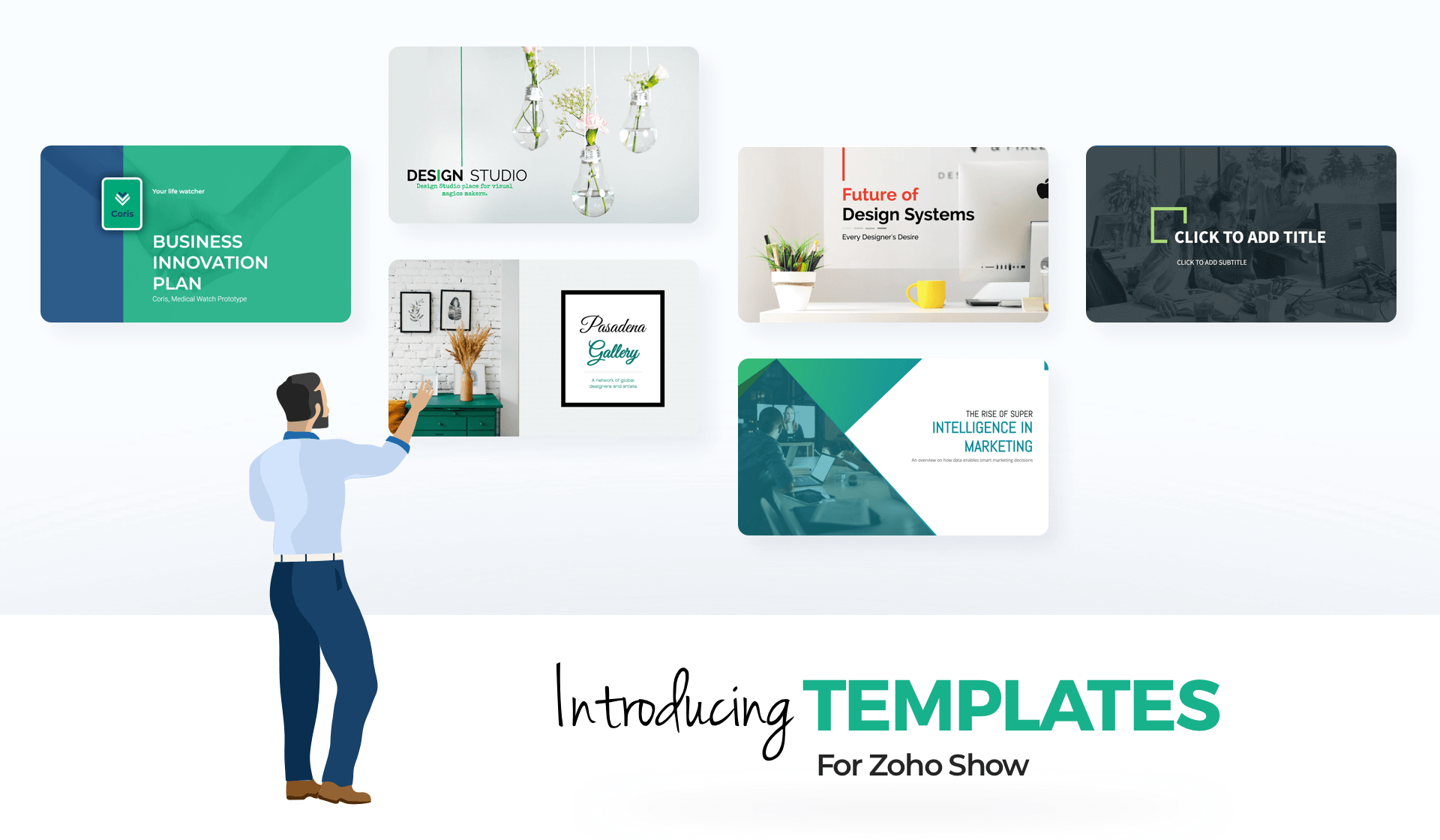 Apr
Zoho Show extends support to Chromebook
Blogs
An intuitive presentation tool, perfect for your Chromebook.
A free presentation app for your Chromebook
Templates available for your every need
Useful add-ons like Unsplash and more are available in the Add-on Store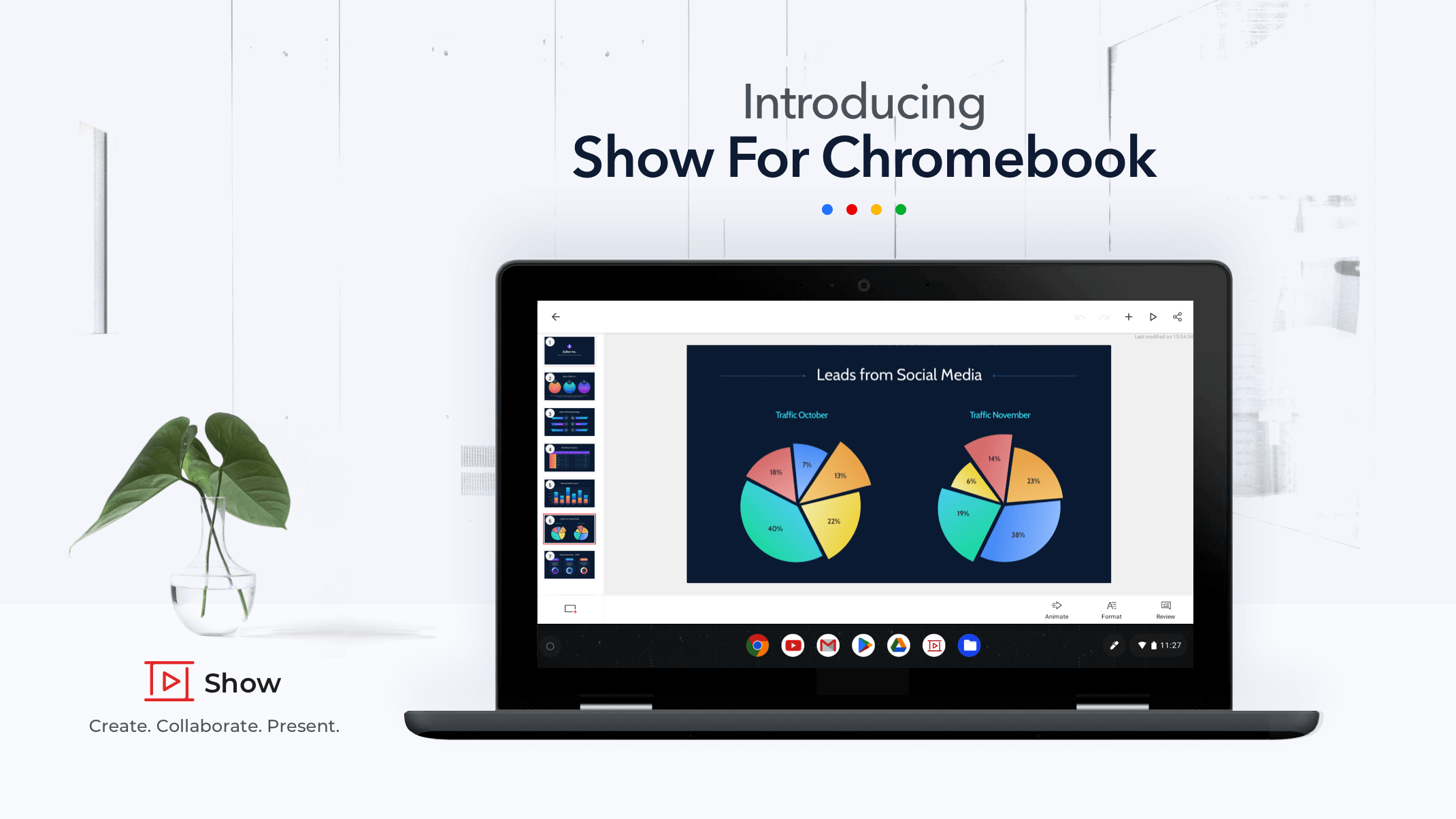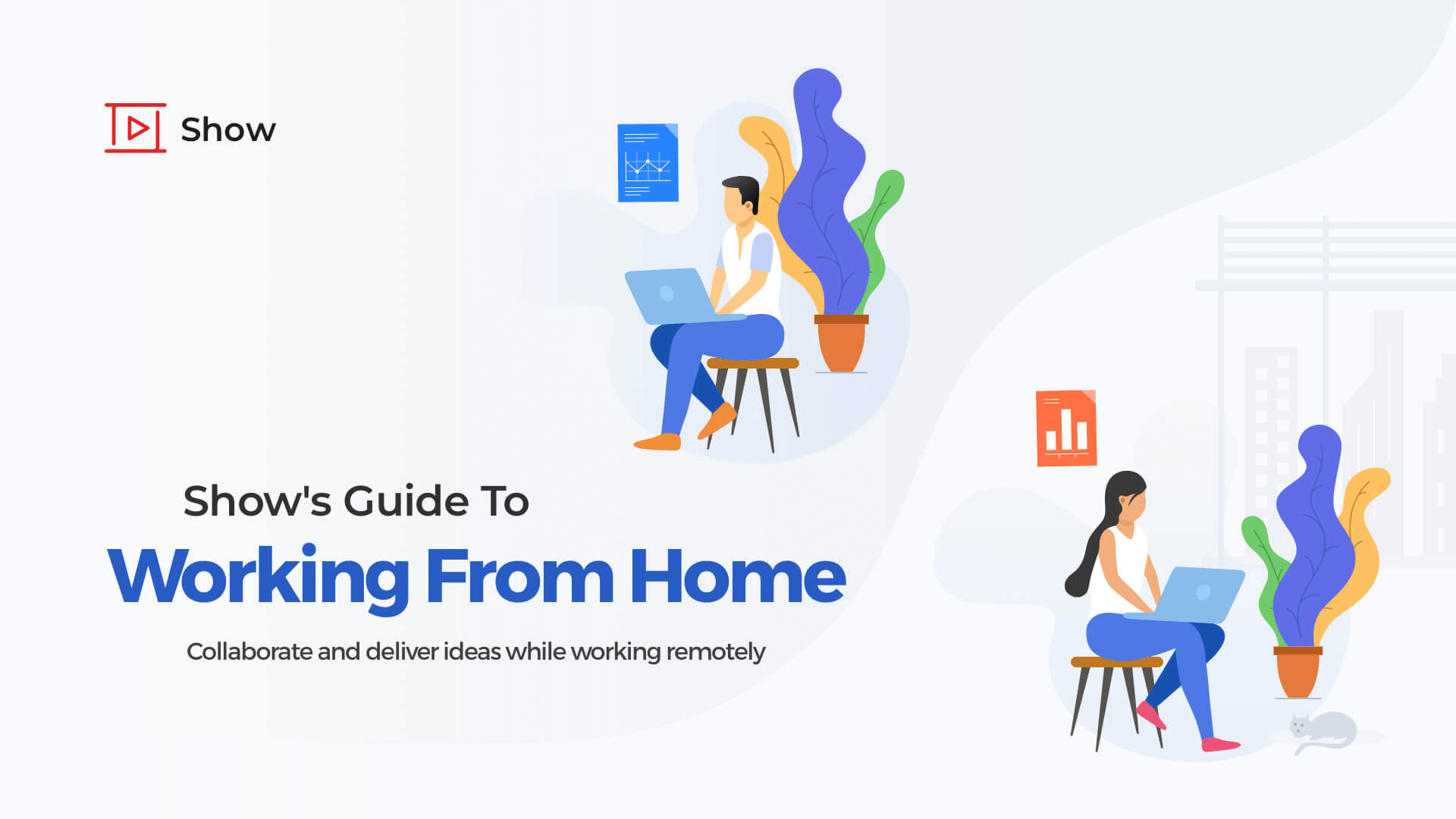 Here's our complete guide to make remote collaboration more effective
Mar
Zoho show integrates with Giphy
Features
Explore and add GIFs to your presentations without switching apps.
Feb
Picture-perfect slides, right from your Android devices
Features
Unleash the power of Unsplash to your Android presentations
Jan
Zoho Show integrates with Slack
Features
If Slack is where all your work happens, why use a separate app for your presentations? Introducing Zoho Show: a collaborative presentation software for teams that Slack.
Create presentations inside Slack
Collaborate with your channel members in real time
Share presentations across channels and individuals
Import and edit PowerPoint files
2019
Nov
Dark mode for Android
Features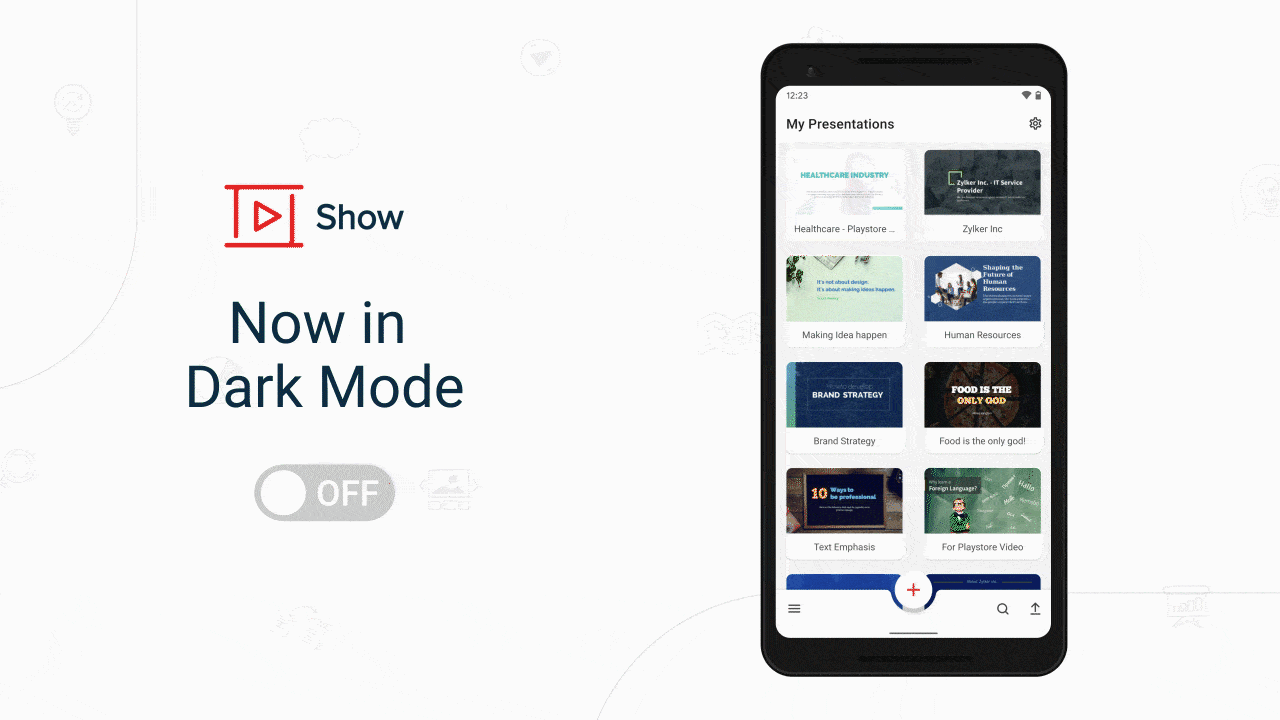 Presentations should be eye-catching and not eye-straining. With dark mode on our Android app, make more space for your ideas and less space for fatigue... 
Sep
Introducing Zoho Show's integration with Jira
Blogs
Create presentations within Jira eco-system
Collaborate on slides with teams
Configure Jira cards directly to your slides
Sync Jira information on the go
Showcase your reports with flair
Generate smart reports
Share presentations internally or externally
Aug
Introducing Unpslash integration with Show
Blogs
Choose from millions of royalty free images using the Unsplash add-on
Watermark free images
Available for free
Jul
Customizable shapes
Features
Create and edit any shapes
Leverage the simplicity of shapes to engage your audience's attention
Conceptualize your ideas effortlessly
Jun
Scribble feature in Android
Features
With scribble feature in Android you can draw any shape and our app is smart enough to recognize and streamline irregular hand movements. This feature helps you to bring your ideas right of your finger tips - literally.
Mar
Zoho Show integrates with Confluence
Blogs
Create presentations directly within your Confluence
Collaborate on slides in real time
Make your confluence pages beautiful and dynamic
Embed slideshows directly on wiki pages
Jan
Introducing Zoho Show extension for Google Chrome.
Features
Take your Chrome experience to a whole new level. Download the Show extension to quickly draft up new ideas and convert them automatically into beautiful slides. The extension also lets you create, edit, import, and play all your favorite presentations—all in one place.
Introducing Zoho Show for Android
Blogs
Create presentations using any android device
Collaborate with your teams on the go
Share presentations using any medium
2018
2016
Jan
Import, render and export charts with Zoho Show.
Numbers and accounting data are often represented in the form of spreadsheets and tables. While this may seem detailed, it does not sit right within a presentation. Directly producing data to an audience is one thing, but how will you highlight an increase in trend or compare two different variables?
Analysis is possible only when your numbers are expressed in the form of charts and graphs.
With Zoho Show's latest update, all your charts and graphs are effectively reproduced. They are now shipped in their exact format without being converted into images. The next time you import/export your .ppt/.pptx files into Zoho Show, you will find the graphs, pie charts and other illustrations of the same quality. This includes their colors, texture and borders.
Types of Charts:
Bar Charts - Compares data from different departments, giving a quick look at the highs and lows.

Eg. While studying website traffic, expenditure by various teams, number of people in various ages groups for vaccination and more.

Column Charts - These charts are oriented vertically.

Eg. In periodic profit analysis, clustered forms of these charts can be used to compare the revenue generated in different years among different regions.

Pie Charts - Shows the relative proportions(percentages) of collected data.

Eg. To display percentage of budget alloted to different departments, percentage of how americans spend their vacation, breakdown of employees' nationality in the company.

Doughnut Charts - Donuts might have more than one data series. Every ring in the donut represents a specific data.

Eg. To plot the sales of a product in different locations for consecutive years, quarterly sales, internet users by millions in different countries.

Area Charts - Ideal for explaining the magnitude variation between different data.

Eg.To depict the export and import records between two nations.

Line Charts - Simple way to visualize by connecting individual numeric data.

Eg. To display webpage views and company growth.

Scatter Charts - Gives you an idea of trends and concentrations which will direct your focus.

Eg. Reveal the height and weight of individuals based on gender.

Bubble Charts - Varied size about the bubbles depict the data.

Eg. Class attendance, country wise policies are displayed.
Note: Editing and creating new charts will be available soon.
2015
Oct
The power of touch - create, edit, and share your presentation.
Edit your slides on your iPad and Android tablet with the updated Zoho Docs Presentation app. Tap on your device to create presentations, edit existing ones, add attractive images, and insert animations.
Make a head start.
The user-friendly visual editor makes your life easier. Select the object (i.e. text, image, or shape) and all its functions will appear on the user panel.
Create and edit stunning presentations.
The app gives you themes that let you display your content with visual diversity. These themes control the colors, fonts, effects, and background styles of all the slides in your presentation. Combine themes, layouts, shapes, charts, pictures, etc. to tell your story.
Click and fit into the slide.
Notice an impressive image for your presentation?
No need to search for a similar image on the internet or your computer any longer. Just click a photo with your camera in your iPad or tablet, and insert it in your slide. You can also use images from Flickr.
Transcribe as you talk - voice recognition.
Instead of typing on your device, speak to it; what you dictate will display on your screen, saving you time.
Draw your own.
Don't worry if you can't find images or clip art to represent exactly what you want. With the editor app, you can draw your own. Draw an object from scratch using a slide pen, or even your finger, on your iPad or tablet. You can also add formatting effects to your freehand object, including resizing, rotating, changing the colors of the shapes, and 3D effects such as shadows.
Highlight what's important.
Draw your audience's attention to important sections without your slide pen. Just place your fingertip on the area to emphasize a point, and it will automatically reflect on the screen.
Make your slides lively.
Even the driest of topics become intriguing when they have some animation. Your slides will look dynamic because you can twist and turn the images and text. It's also a great way to make your presentation dramatic by revealing items one step at a time.
Work the way you want to.
Because your slides are saved on the cloud, you can collaborate as much as you like with your co-workers on the most recent version. You never know when you might need to turn that collaboration into an impromptu performance. The app lets you give your presentation, no matter where you are. The slide decks can be accessed on any desktop, tablet, or phone; embed them within your site or blog.
Those spelling mistakes - never again!
Blogs
Imagine this. You are in front of an audience presenting an impressive slide deck. Suddenly, a few misspelled words appear on the screen. It's not that you don't know how to spell the word, it's that you were rushing to get your thought out. Either way, presenting those misspelled slides to your audience is a nightmare. Now, Zoho Show gives you the Auto Spell Check option.
By default, the Spell Check feature checks the spelling for you; make your ideas flow without worrying about minor errors.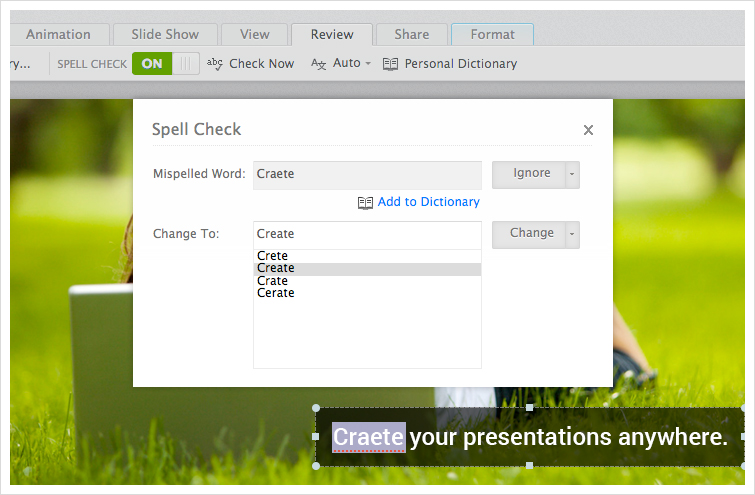 Feature Highlights:
Check Now - Spell Check reviews the entire document and detects the misspelled words, underlining them in red as you type. You can choose one of the suggested words from the suggestion list and replace it.
Supporting Languages - Spell Check detects a total of 87 languages. It also provides six versions of the English language, distinguished by region.
Your Own Dictionary - Like that catchy word and want to use it again in your document? Add it to your dictionary using the Personal Dictionary in Zoho Show.
Jul
Download Published and Broadcasted Presentations:
Blogs
Zoho Show now lets your participants download presentations that have been broadcasted or published.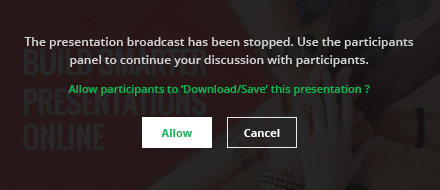 The slideshow can be saved as either PPTX or PDF files. And it doesn't end here! Your participants also have the option of saving the presentation to their Zoho Show account directly.
Pick. Choose. Print.
Blogs
When was the last time you wanted to print just a few selected slides? Or a hard copy of your slide notes to help you with your presentation delivery? Zoho Show now lets you print..
Multiple Slides - Print 1, 2, 3, 4, 6 or 9 slides on a single page.
Slides with notes - Have one or two slides printed along with respective slide notes.
Handouts - Printouts of individual slides, with space for the audience to take notes.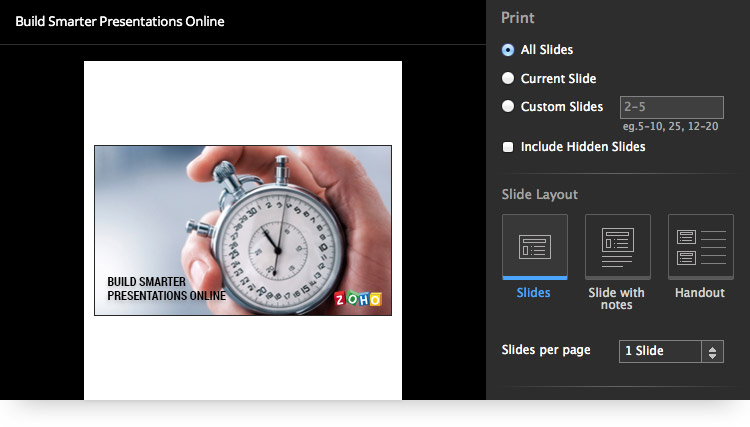 Jun
Where did the Spinner go ? Faster slideshow loading.
Blogs
Presentations in general take time to load. It's worse if the presenter is in a hurry. Think about the last time you needed to load a presentation, and all you could see was the spinner that delayed it a few seconds. Well, not anymore!
This update of Zoho Show ensures the disappearance of the spinner. This means your slideshows will load in a snap, without even a two second delay! It's quicker and you can save your work in a jiffy. Work on your presentations with ease and speed without worrying about any waiting time.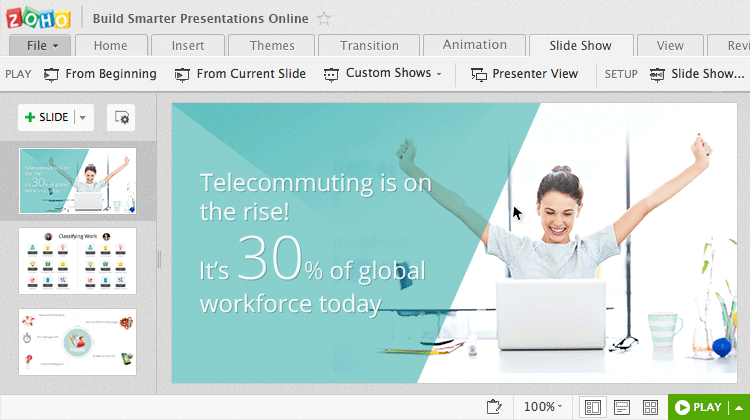 Enhanced Broadcasting - New and Intuitive UI
Blogs
Zoho Show gives you the new and improved presentation broadcasting user interface. It is so simple and clear that it makes navigating a breeze. And not just that. It is also equipped with a Timer and the Blackout feature that helps you focus your audience's attention as required.
And for the participants? Your audience can now go through the already broadcasted slides, and have the option to 'Get-In-Sync' with the broadcast session whenever ready.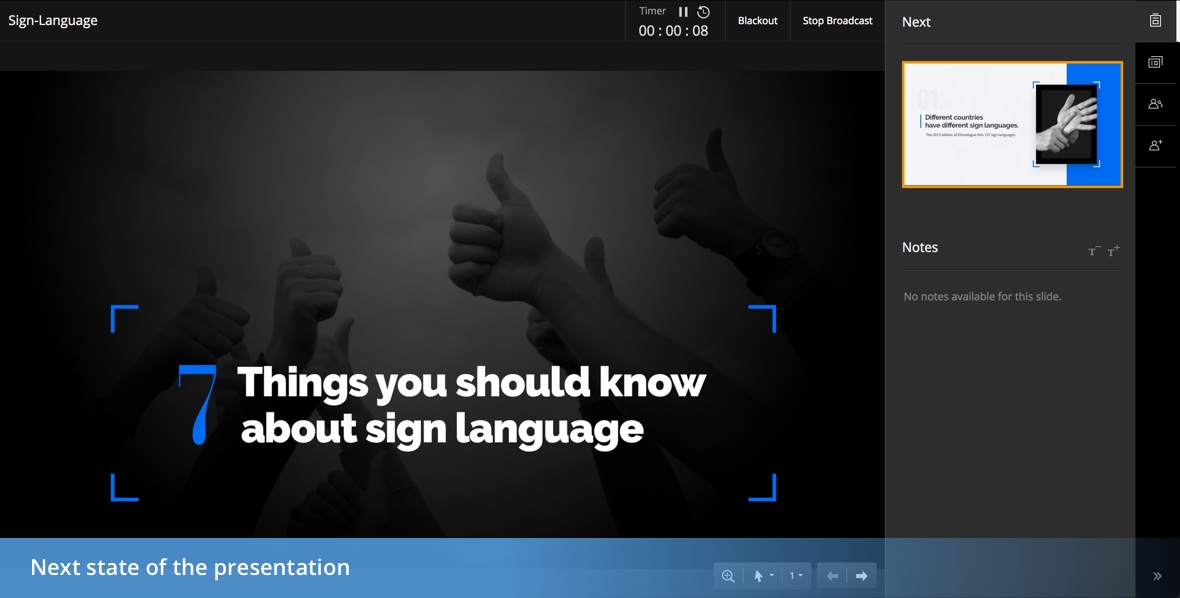 This come with four new categories on the right pane:
Next state of the presentation and the presenter's notes.
Thumbnail list of the whole presentation allowing the presenter to jump between slides.
Invite Participants Panel : A Panel to invite users to the broadcast session.
Participant's panel: A panel where participants can engage in discussions.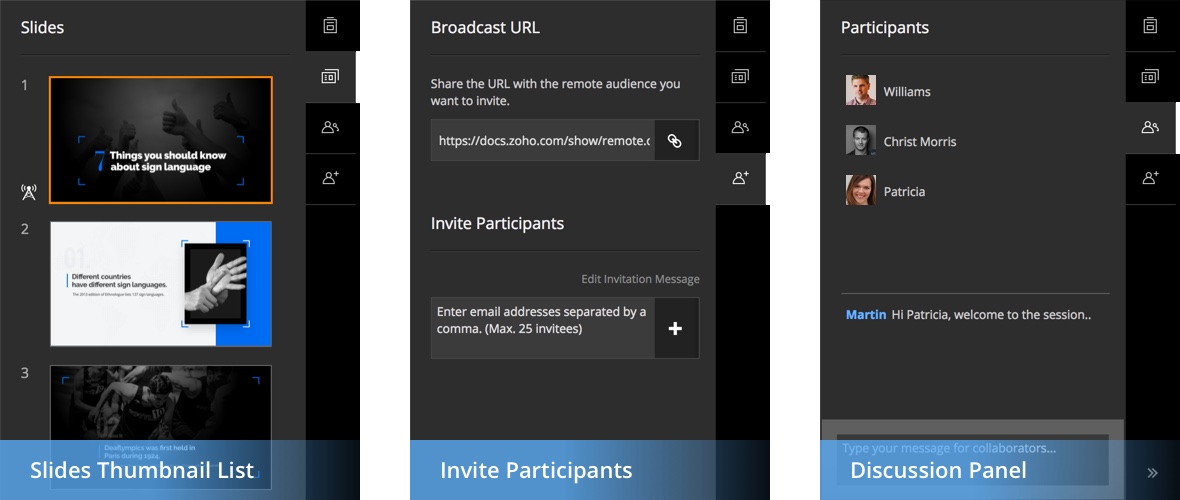 Co-create and broadcast presentations.
Blogs
Collaboration and working together can create magic! Using Zoho Show all shared users can now broadcast a single presentation.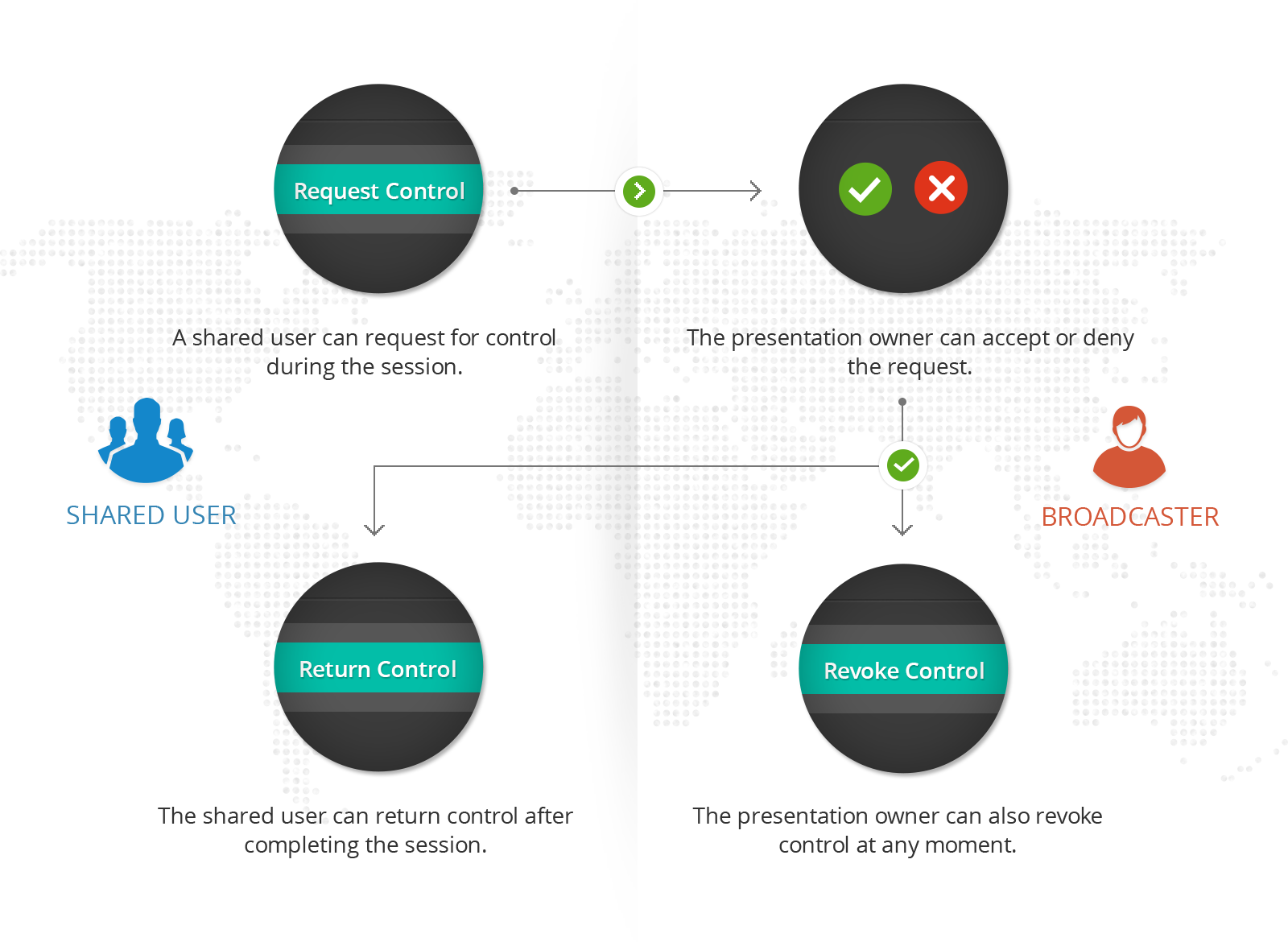 Zoho Show now gives you more character bullets to visually enhance your presentations . We've hand-picked the characters that will be the most useful for a presenter. However, you are free to select what's relevant to you from the many character options that we have now provided. The characters have also been categorized, to help you choose and use them easily.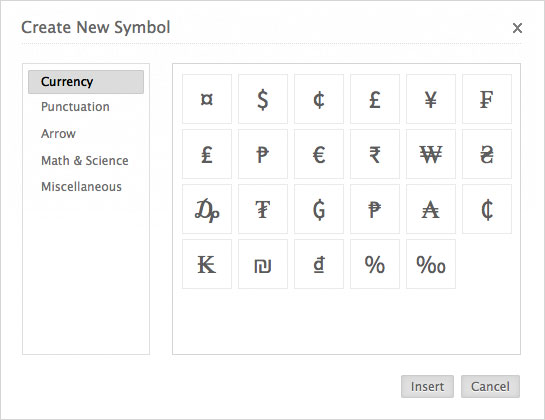 Coming soon: Symbols can be directly inserted into the document.
Feb
SlideShow App for Zoho Docs (iPhone and android)
Blogs
We have successfully launched our slideshow app for both iOS and Android devices in Zoho Docs
(iOS 8 and Android apps)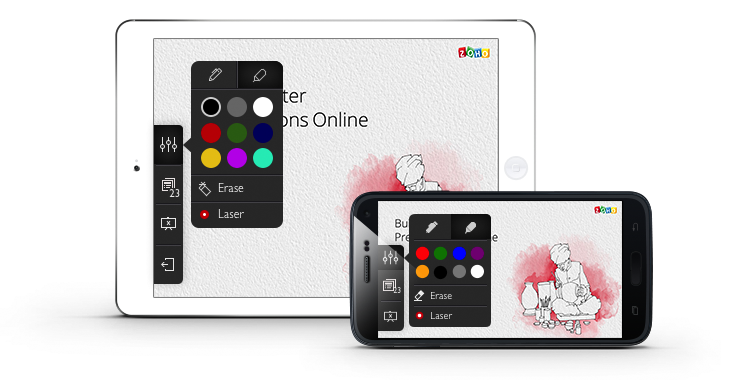 No more static, non-interactive slideshows. You can now make an impact by delivering presentations with the redesigned and more interactive user interface.
Express and emphasize your content by using the pen/highlighter feature.
Blackout your screen to refocus your audience's attention on you.
Convey your ideas creatively using animations and transitions.
Stay amazed, there's lot more to come!
Install the app now!
Jan
Image library for Zoho Show.
Blogs
When was the last time you wanted to use an image for your presentation but couldn't locate it with ease because you have a pile of images to browse through in your 'Download' folder? Most of us would have come across this situation. We realized that the task of managing images was getting tougher for presentation software users. Not anymore! Introducing Zoho show image library.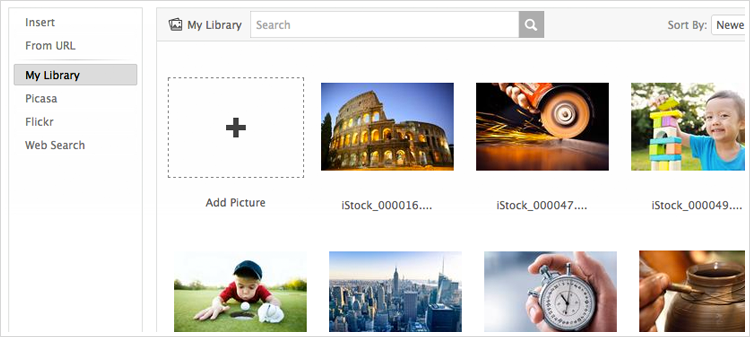 The Zoho Show image library is tightly integrated with Zoho Docs, and lets you search for an image, sort and pick images that you had downloaded earlier or access images that were just shared with you by your collaborators. This saves you a lot of time and effort, otherwise lost searching images scrambled across various drives in your computer.
2014
Dec
Import tables from PowerPoint.
Blogs
Document import and associated incompatibility issues have always been a nightmare for users. The threat of losing the accuracy and exactness maintained in a formatted document kept users away from trying more powerful alternatives to PowerPoint. But here's a reason to smile and take the big leap to Zoho Show!
Zoho Show now supports hassle free import of your PowerPoint document! Especially your painfully crafted tables, rich with numbers and images!! This import ensures that you can view your document in the very same format as it was created - no faulty margins, misplaced numbers or unruly images! Presently, the tables that are imported can only be 'viewed' by users. The 'edit' feature is on its way and we will keep you posted about it.
Sep
Presenter View - A presenter's greatest asset.
Blogs
Presenter view enables you to see what the audience is viewing on the screen, while also having an extended version of the presentation open on your laptop. This means, as a presenter you no longer have to depend on the same slides duplicated on two screens. You have access to elaborate slide content and a set of other tools that makes presentations effortless.
With Presenter View, you can view notes privately, keep track of the elapsed time,use slide pen to highlight content, zoom into convey ideas better, and blacken screen to refocus your audience's attention on you.
All that needs to be done is to configure the laptop to run two screen simultaneously - the laptop screen for you (the presenter) and the projector screen for your audience.
Edit text in grouped objects.
Blogs
The 'Group objects' feature helps us bundle together individual images,shapes,charts or text boxes for easy movement during any editing activity. However, editing text within a grouped object still remains a challenge to most of us.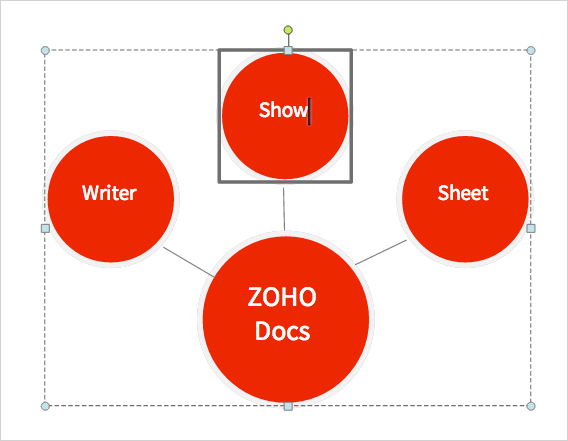 With the new update, you can edit texts in any grouped object, effortlessly. This helps you save a lot of time otherwise lost in the tiring process of ungrouping objects, then editing the text and finally selecting multiple objects to group them back together.
Aug
Bring in more clarity with Zoom.
Blogs
If your text rich presentation with bullet points get monotonous, 'Zoom' is the perfect feature to get back your audience attention. A presenter can now provide a bird's eye view of any topic and then zoom into a particular point in the slide, using the Zoom tool, to elaborate the idea. Such a presentation would follow a non linear format where each relevant point on the slide is clickable and lets you zoom in further, unraveling a story step by step.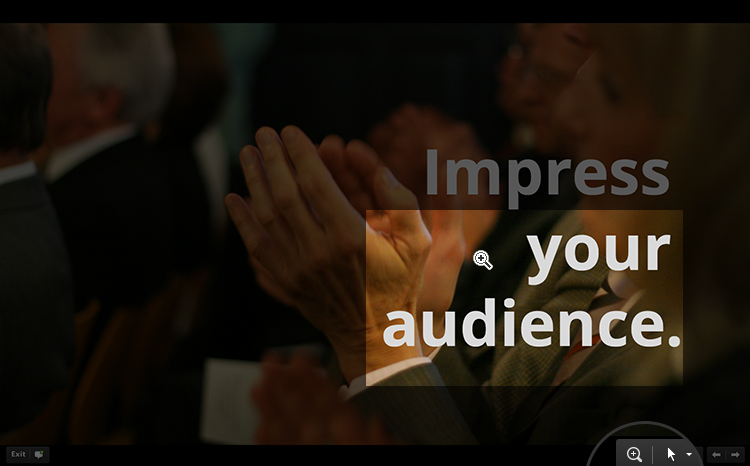 The tool also comes handy when presenters address a big gathering and it is often difficult for the audience at the back or at the corners to view slides clearly. This particularly applies for slides with detailed content, charts, graphs, or images that require a closer look.The dynamic zoom tool will help you zoom in deep into a content and back to the original view, smooth and easy.
Apr
Handle multiple slides in a breeze.
Blogs
Content editing in presentations would most often require us to move slides to a location within the presentation or to another presentation. Copying and pasting one slide at a time could be a torturous exercise if there area lot of slides.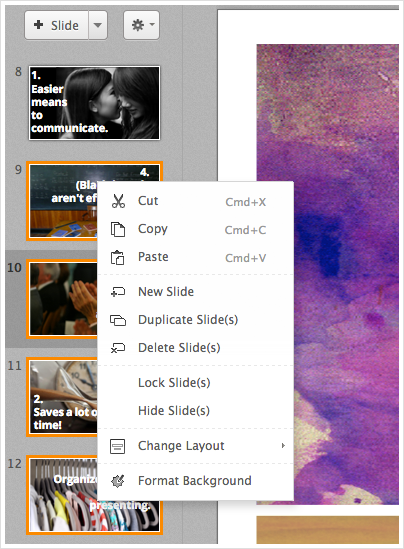 The multiple slide selection feature lets you select and move or sort slides in one go rather than repeating the process a number of times. All that needs to be done is to select the required slides and then copy, cut or drag the files to the suitable destination. If the slides are moved to a new presentation, it would inherit the theme of the slides that precedes it at the destination.
Mar
Organizing Presentations - Made Easy!
Blogs
Forget going back and forth to the Zoho Docs screen just to move your presentation from one folder to another. With this update, we have added the feature to shift folders right from the presentation editor. All you need to do is, from the document title section, select the folder to which you want to move the file, and click done! Your presentation is moved.
Animate Your Way Through
With the new grouping feature available for shapes, the animations option has also been enabled for all your grouped objects. So not only you can group your shapes, you can also add animations to it and impress your audience. Once the objects are grouped, the animation applies to the complete block, leaving you the pain of applying it individually to each shape. So start creating designs and animate your way through.
Feb
Enrich Your Presentation with the Brand New Themes
Blogs
If you think your presentation looks a bit tame and needs a fresh look, we have the right theme for you. With a more professional, elegant, and classy look, this update we have eight new themes added to the list. So get the new look, and gear up to show off!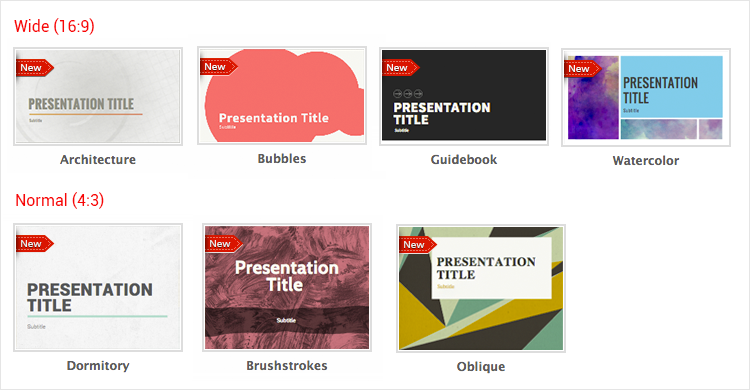 Group and Ungroup Shapes
Blogs
Imagine adding a shape and filling in textures, formatting styles and effects for each one individually! Too much of pain? Save time, and make your work easier by grouping your shapes together to create unique designs, and format them without going one at a time.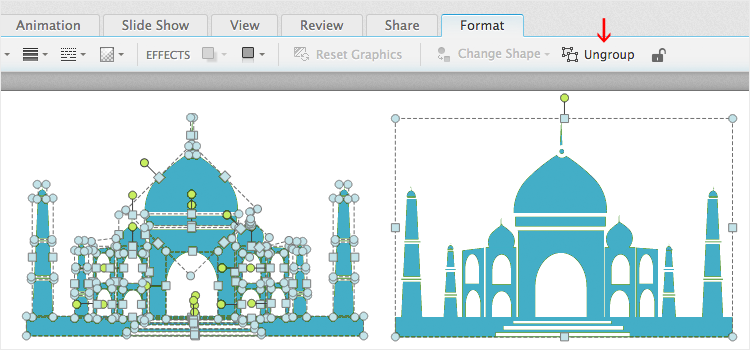 You can now share all your presentations in a safe and secure way. Be the owner of your own content, and restrict your collaborators to edit your work. With the new lock feature, you can lock a shape or a complete slide, restricting collaborators to make any further changes. Once locked, the content can't be edited by anyone and that includes the presentation owner as well. Just click to unlock the particular shape or slide to make any changes.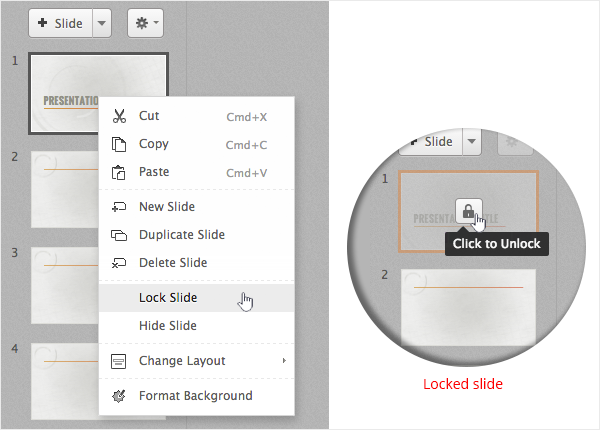 Now avoid multiple clicks to adjust the line spacing for your content, as we bring the line spacing option right at your toolbar. Seeing the frequent need of using the line spacing option in presentations, we have now brought line spacing to the toolbar under Home tab, making it easier and faster for the user to edit the content. So just select your text, choose your option, and get perfectly spaced texts.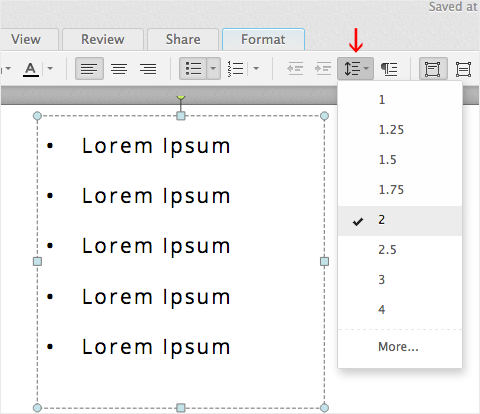 Check-In / Check-Out
Zoho Docs presentation provides a check-in/check-out feature that allows only one person to work on the document at one time. The Check-in / Check-out function, is very helpful in a collaborative environment as it prevents team members from overwriting each others changes.
2013
Dec
You have a fascinating story to tell. Built a slide deck that is visually captivating. Practiced your speech for hours. You're almost there.. But the game isn't won yet. Integrating social interactions, is perhaps, one of the obvious ways to make your presentations more interactive, engaging and effective. We are glad to introduce Twitter Feeds for your presentations. From now on, you can embed live and as well as customized twitter feeds into your presentation. Learn more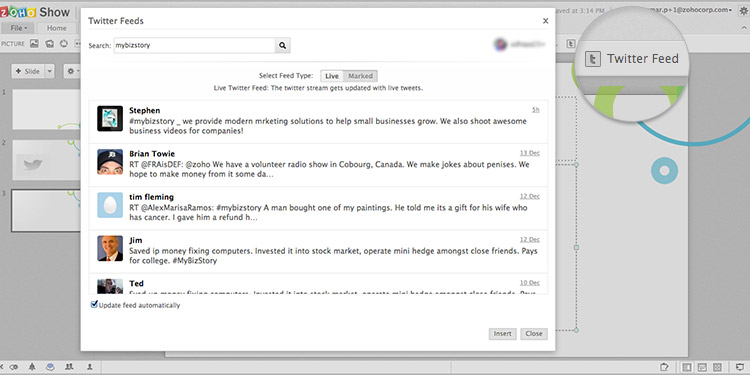 Sep
New Slide Transition: Swivel
Blogs
Just In: Spinner & Wipe Effects
Blogs
Embedding Gadgets
We now support embeds from the following websites as well.
Aug
Zoho Show now sports a fresh look with the new gray interface that looks more neat and professional. You will find the menu tabs well organized with feature sets smartly grouped under each tab. The new UI also aims to provide a consistent user experience across other document editors within Zoho Docs.
More Animation and Transition Effects
Blogs
Animations and Transitions are a great way to make your presentations more engaging. When used wisely, they can even act as a powerful aid to visually communicate more complex ideas simple. Here is an opportunity to choose from a wider gallery of animation and transition effects, with many new styles to spice up your presentation.
Videos are powerful when it comes to delivering a memorable visual experience to your audience. We have now made the process of searching and embedding videos in your presentation simple. To start with, you can embed videos directly from YouTube and Dailymotion. Sure, we will extend the possibilities in future. Watch Demo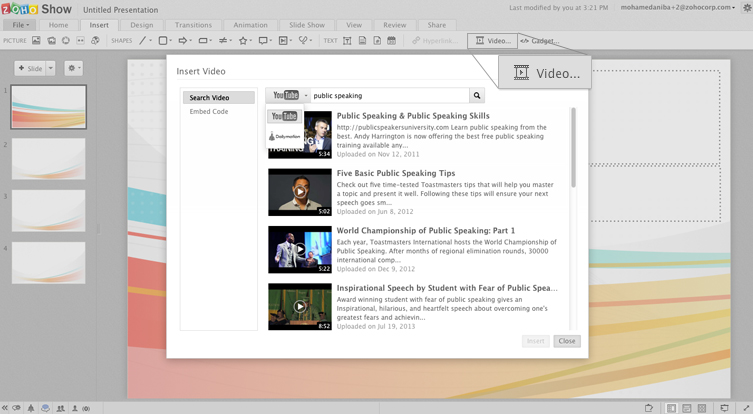 Picture and Shape Pre-sets
Blogs
Once you have inserted a picture or a shape, you'd want to add effects to make it more prominent. Shadow, reflection or gradient and texture fills are few of the most popular effects that you can choose to emphasize an object on a slide. To make it easier for you, we have added Picture and Shape presets under the respective formatting tabs. Just pick one from the readily available built-in variations and keep building your slide deck.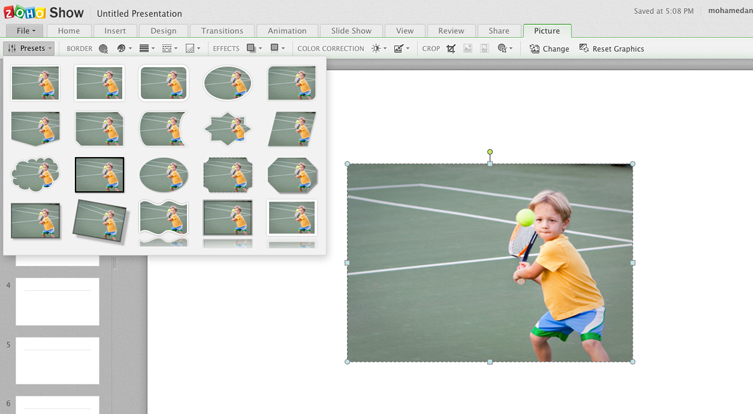 Dynamic Picture and Shape Formatting Tabs
Wondering where the Style tab meant for picture and shape formatting has gone? Well, we've trashed it just to make it better. Now you'll find the tab only when you actually need them. Click on the shape or a picture and you'll see the format tab right there on the menu.
May
Share Presentations to Non-Zoho Users
Blogs
All this while, you were allowed to share your presentations only with people who have registered with Zoho. This update, we have made it more flexible by letting you share presentations to non-zoho users, that is, with people who have not registered with Zoho. When you choose Anyone with the link, a link is automatically generated which you can share through email to specific audience.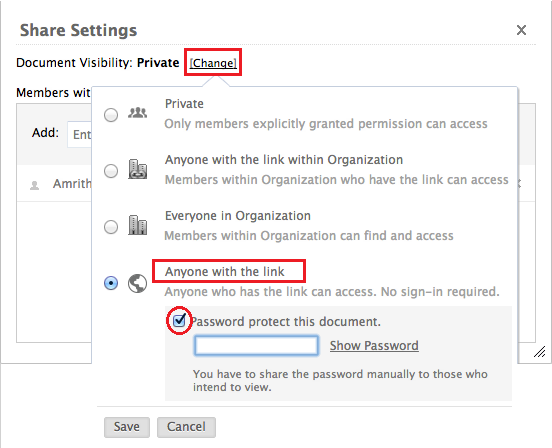 Apr
Collaboration Notification: See Who is Editing the Presentation
Blogs
Co-authoring a presentation has always been easy and effective with simple file sharing, real-time edit views and live chat functionality. This update, we have made it even better with the live edit notifications. You will now be able to see who is editing the presentation and exactly where they are working in a document. A part of the content will be highlighted and marked with the name of the person who is currently editing the presentation.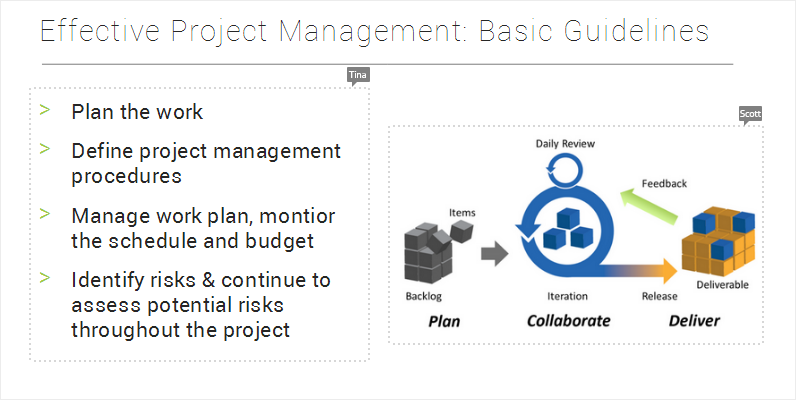 Aligning objects on a slide just got easy with smart guides. Smart guides are the dotted lines that appear default, when you try to position an object on a slide. The smart guides will come in handy when you are aligning multiple objects in a context, for instance; while creating flowcharts and diagrams. You can also extend the usage of smart guides to images, text boxes and media files.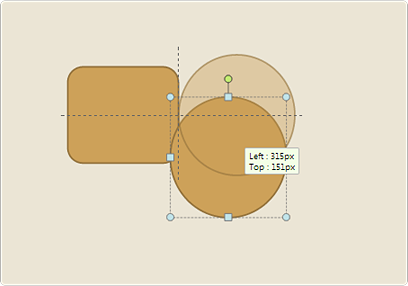 Feb
Wide Screen Presentations (16:9)
Blogs
Big screen presentations are now possible with Zoho Show. The new set of themes is specifically built for the widescreen aspect ratio of 16:9. Your slides will be less cluttered, as there is more room for the content.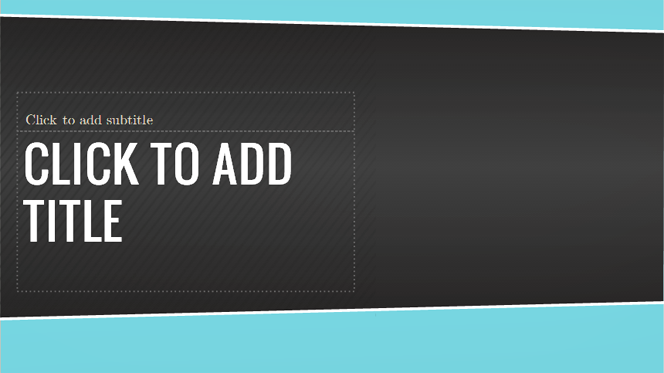 Adding images to your presentation just got easy with the new picture placeholder support. You can now fit images into one of the pre-designed shapes, while maintaining a consistent style and position. Image re-sizing and cropping is made simple and painless.

We seldom realize that fonts can actually make or break the overall effectiveness of a presentation. Wise choice of fonts can help you create powerful visual content that is highly engaging. This release, we have added around 20 new web fonts. Sure, there is lot more to come.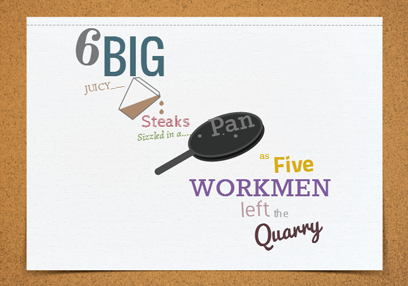 20+ New Presentation Themes
Blogs
Themes are merely not a design for presentation template; this is where first impressions are formed. Be it a casual presentation or a very formal business meet, the new themes are just perfect for all the occasions. Each theme looks unique; with a clean and recognizable layout, fresh color scheme, and minimal design that gives a lot of scope for your content.

2012
Nov
Radial Gradient Effect
Blogs
A gradient is a gradual blend of two or more colors or slight variations of the same color. Gradients can be used to modify shapes or to create compelling slide backgrounds. There are basically two types of gradients - linear and radial. We have been supporting linear gradients for quite some time now, and this release you can see the radial gradients in action too. The transition of colors takes a circular path in radial gradient and these are predominantly used to add effects on circular objects.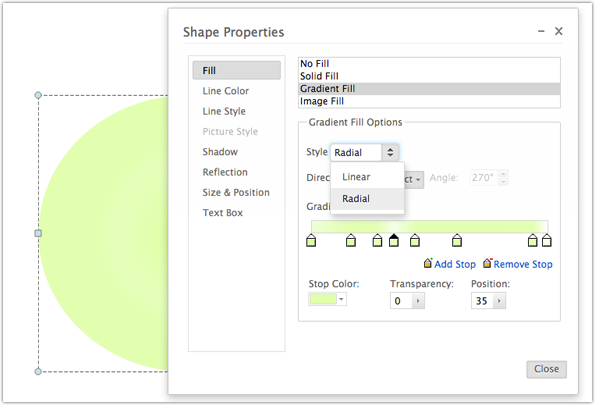 Zoho Show Gets Integrated With Zoho Docs
In a step to unify and showcase the office apps under one common web address, Zoho Writer, Sheet and Show are integrated with Zoho Docs and from now on, all the three services will be accessible from the Zoho Docs URL: https://www.zoho.com/docs
Zoho Docs provides a centralized UI for Writer, Sheet and Show documents. All the documents you create in Zoho Writer, Sheet and Show are stored in Zoho Docs by default. Previously the Zoho Writer, Sheet, Show documents, were accessible from their respective urls. Now they will be accessible from one common URL, making accessibility to these apps easier.
The following are the URLs that will be redirected to the Zoho Docs URL: https://www.zoho.com/docs
Zoho Writer: https://writer.zoho.com
Zoho Sheet: https://sheet.zoho.com
Zoho Show: https://show.zoho.com
First Draft - Create Presentations On The Go!
Create presentations on your iPhone as and when you get ideas. Sync presentations to the Zoho cloud when you login next.
Overall Performance Improved
This update, we have taken efforts to improve the overall performance of your presentation editor. Slides once rendered, will never re-render again. You can see this evidently while resizing the thumbnail area and also while zooming in the editor area. Slide shows will load and render faster.
Shadow Blur and Transparency for Images
Blogs
There are unique ways to set the tone of the images that you add to your slides. Create that desired tone using shadow blur and transparency effects.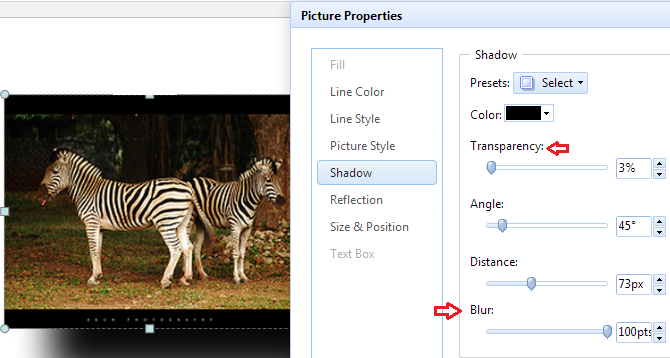 Slide Number and Slide Notes in Shared Presentations
A shared presentation in slide show mode will now show the slide number and slide notes. It's just not the content on the slide, you can share lot more related information through slide notes.
Search Images from Web
Blogs
Looking to add some nice images to your presentation? Search it directly from the web, actually without leaving the editor. You just have to type the keywords there to find the relevant images.

Share Presentations on Social Media
Blogs
Make your presentations social. Sharing on Facebook And LinkedIn is just a click away.

Sep
Crop an Image to Shape
Blogs
Quickly mold images into one of the pre-defined shapes. You will get to see your images beautifully transforming into interesting shapes.

Embedded presentations sports a nicer look
Blogs
The embed toolbar now sports a nicer look and feel. We have refined and improved the embed options further. You'll now be able to easily get a custom embed code for your presentations.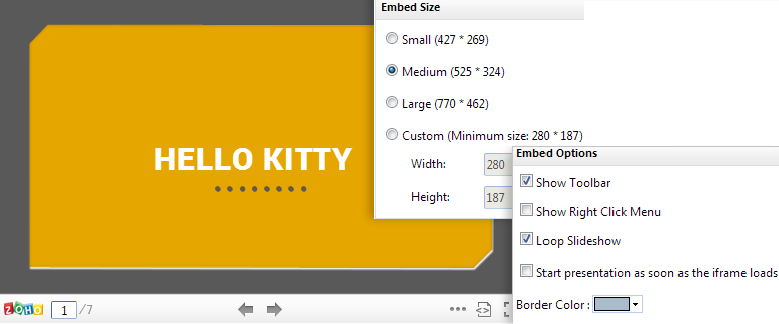 View Presentations on your Android Phones
With Zoho Docs android app, you can view presentations on the go. Though editing a presentation is not possible now, we will soon be supporting it.
Show MOTE is an iPhone app for Zoho Show. The app works in tandem with Zoho Show to provide wire-free mobility when you are delivering your presentation. Basically your iPhone acts as a remote to your laptop. The app can be downloaded from ITunes Store:
You can now export your presentations as PDF documents.
Enhancements in Remote Presentation
Blogs
To help you deliver engaging remote presentations, we have been adding several functionalities to remote broadcasting feature and this time it is the laser pointer and the text and shape animation that makes it to the list.
01. While presenting virtually, laser pointer helps you to draw audience's attention to specific data points and keep them engaged.
02. You can see the shapes and paragraph on the slide getting animated on double click.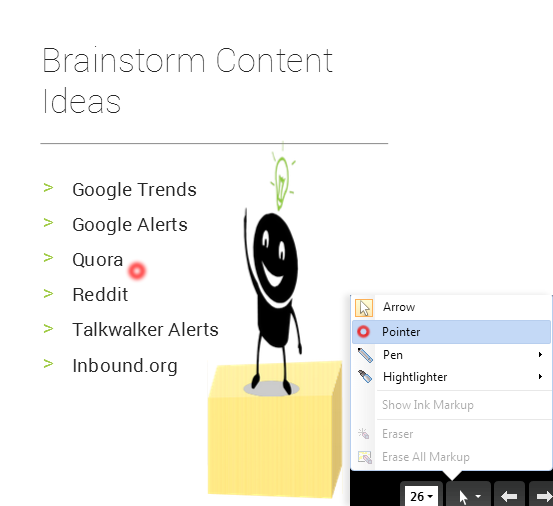 May
Slide orientation in Zoho Show allows the presenter to create slides in Landscape and Portrait modes. Portrait slides opens up doors to creative opportunities helping a presenter to think beyond the run-of-the-mill presentations.
Landscape slide layout is seen default and it can easily be changed to portrait mode when needed. The Slide Setup menu also gives the presenter an option to choose from different screen types: 4:3, 16:9 and 16:10.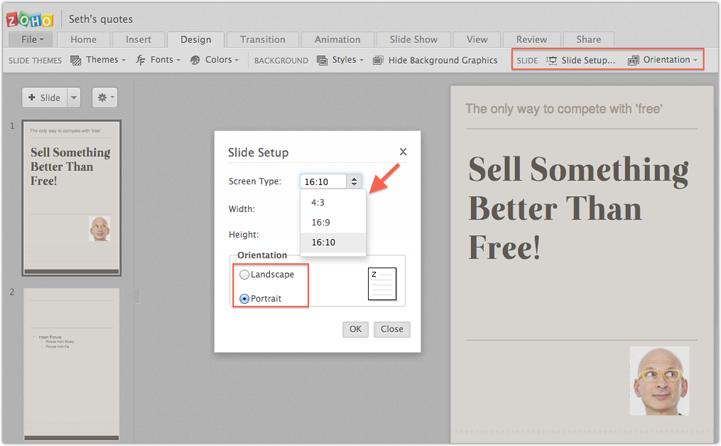 Connectors are the lines that are used to connect shapes and they stay connected even when you move the shapes around. Creating flowcharts and diagrams is now easy with these self-routed connectors.
Master slide helps you to make changes to all the slides at a go. You can set text formatting, slide background, slide themes in a master slide that gets applied to all the other slides in a presentation. Every presentation has a master slide with corresponding layouts beneath it. You can insert or duplicate a specific type of layout. Zoho Show also allows you to customize the available layouts. You can do this by adding placeholders specifically for content, text and picture.
Zoho Show 3.0 Release
Blogs
We are excited to launch the new, improved version Zoho Show 3.0 that promises to deliver the best experience of creating and delivering presentations online. You can now take your presentations wherever you go, apply new ideas instantly, review, edit, share and deliver presentations on the go.
2011
Sep
Zoho Show 3.0 Beta is out
Blogs
We are happy to announce the beta release of Zoho Show 3.0, the newest version that lets you create visually appealing presentations and deliver them anywhere and anytime. It's a complete make-over, click through the presentation below to see what's in store for you.