Get ready for your next great hire
No forced contracts
15-day free trial
45-day money-back guarantee
Monthly
YearlySave 2 months
Recruitment basics for startups looking to hire their first teams.
1 Active Job
Free Job Postings

Candidate Management

Email Management

Interview Scheduling

24/5 Support
Recruitment core for businesses looking to expand their workforce.
10 Active Jobs
Includes everything in FREE +
Candidate Sourcing

Resume Management

Premium Job Boards

Branded Careers Site

Employee Referrals

Social Recruiting

Assessments

Hiring Pipeline

Standard Reports & Dashboards

Department Hierarchy

50+ Integrations
AI-powered recruitment for custom automation and hiring in bulk.
20 Active Jobs
Includes everything in STANDARD +
AI Candidate Matching

Candidate & Staffing Portals

Layout Rules

Blueprint

Advanced Customization

Territory Management

Recruitment Automation

Advanced Analytics & KPIs

Custom Reports & Dashboards

SMS & Phonebridge

Auto Responders

Field-level Security
Prices mentioned are inclusive of local taxes.
Local taxes (VAT, GST, etc.) will be charged in addition to the prices mentioned.
Get employee and hiring manager licenses at
/license/month
Add-ons
Employee License
Refer candidates through the employee referral portal and track candidate status.
Licenses can be used by the employees or hiring managers
Can be purchased as packs of 10 only
Vendor Portal
Manage hiring leads or external recruiters
Send job details for requisition
Video Interviews
Conduct one-way or live video interviews
Provide collaborative feedback from anywhere
*Add-ons are not supported in the Free Edition.
Pricing Calculator
No of Hiring Manager/Employees*
*Hiring Manager/Employee licenses can be bought only in packs of 10
We're here to help
Data Migration
Making the switch? Migrate your data without interrupting your current staffing process.
Premium Support
Get faster answers to all your questions, one-on-one setup assistance, and your own account manager with Premium Support.
Jumpstart
Not sure how to customize Zoho Recruit to fit your company? Work with a dedicated expert in our Jumpstart program.
Refer a Recruiter & Earn Credits
Know any agencies or recruiters that could benefit from a digital staffing platform? Refer them to Zoho Recruit and get 15% of their subscription fee as Zoho Wallet Credits. Credits can be used to:
Explore additional Zoho apps
Upgrade your account
Pay for your own subscription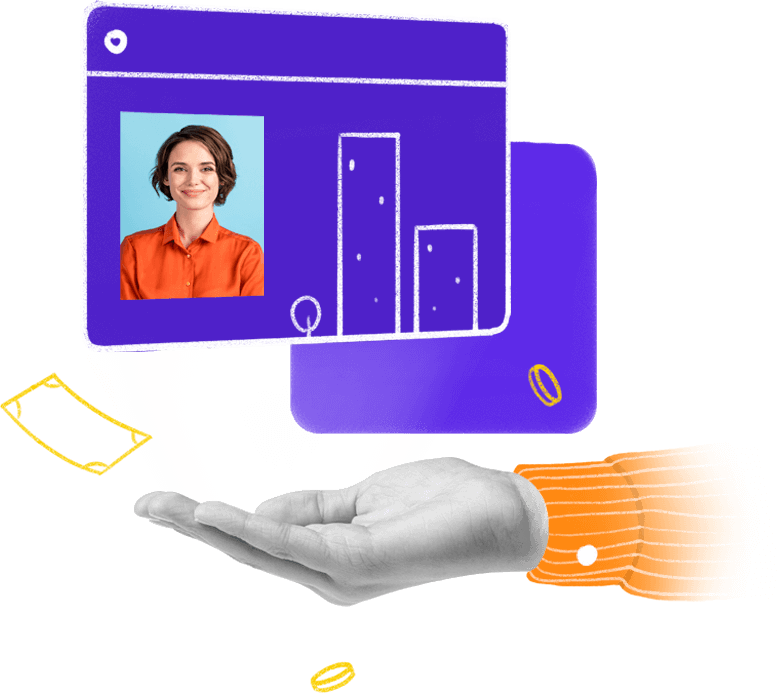 Frequently Asked Questions
Can I demo Zoho Recruit?

Yes, we would be happy to schedule a one-on-one demo via web conference at your convenience. Sessions are one hour long. You can schedule a time by contacting support@zohorecruit.com.

How does the 15-day free trial work?

After you sign up for the trial, you will be able to access all the Enterprise features of Zoho Recruit free for 15 days. After the 15-day fully-featured trial, you will be moved to our Free Plan. You will still be able to use your apps and your data will not be lost.

How does the 45-day money-back guarantee work?

Once you sign up for a paid edition of Zoho Recruit, you are free to use the product for 45 days with no risk. If you aren't happy with your purchase after 45 days, get 100% of your money back. If you go beyond 45 days, there are still options for a pro-rated refund. Check out our full refund policy for more details.

When will I be charged?

At the end of the Free Trial period, you can upgrade your account to a paid plan to continue using all the features. Once you upgrade, you will be charged based on your plan and we will send you an invoice.

What payment options do you accept?

We accept payment via Visa, MasterCard, American Express and PayPal. We also accept payments via bank transfer or check transfer for yearly subscriptions. For more details, please contact support@zohorecruit.com.

Is my data safe?

The safety and security of your data is our #1 priority. That's why our facilities feature stringent 24/7/365 security with video monitoring, biometric access, and advanced fire/flood/theft monitoring systems. Our robust network security system employs the latest encryption and intrusion detection/prevention technology. Read more about our security policies.

Can I switch or edit my plan?

Of course! You can upgrade or downgrade your plans at any time from directly inside the app. You can also add licenses or portals, upgrade your support plan, add additional job openings, or purchase video interview credits whenever you need. For assistance, please contact support@zohorecruit.com. We'll help you get set up.

Does Premium Support include data migration?

No, our data migration services are priced separately. For more information click here or contact support@zohorecruit.com.