ancora education

The TATA Chemicals Limited

vodafone

The stanford university

Dell

bigbasket
Zoho Projects ranked as Leader in top 20 task management software awards
Zoho Projects awarded Leader in top 20 Kanban software awards
Key features of task management system
Why is Zoho Projects the best task management software?
Zoho Projects has a multitude of strong task management features like reminders, recurrence, status timeline, Kanban view, task timers, reports, task automation and more at an affordable price. These are available in an easy-to-use platform that supports team collaboration and remote work, making it one of the best task management software. Zoho Projects also values your privacy and data security. We even have the option for you to create PII fields which is encrypted to store sensitive client information. Customization is another aspect of our task management app that sets it apart. From custom fields and layouts to custom roles and profiles, you have the capability to truly make your tasks your own. For all these reasons and more, Zoho Projects can be considered the best task management tools. Don't believe us? Hear what our customers and critics have to say about us!
Rated by the finest
Leading project management software among customers and critics
"Zoho Projects started to break down silos and focus on getting the task done."
JOYCE LONGTIN, PROJECT MANAGER, DRISTEEM CORP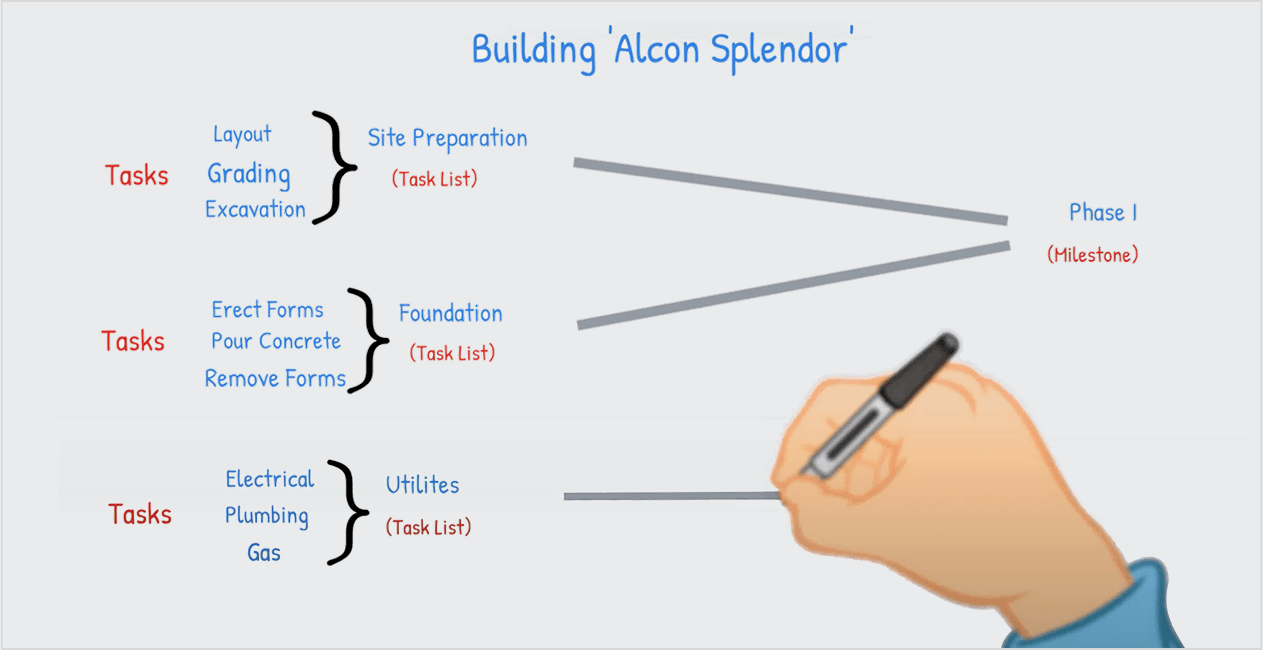 What is task management software?
Task management software is a tool that is used to effectively manage your work by guiding you to find and complete tasks of all kinds- critical or sub-critical. Everyday, we end up spending much of our time on urgent but low-priority tasks, leading us to postpone the most important work. An online task management system helps you prioritize, manage and complete these tasks on time, with the help of essential features like reminders, status timeline and time trackers to keep ahead of the deadlines.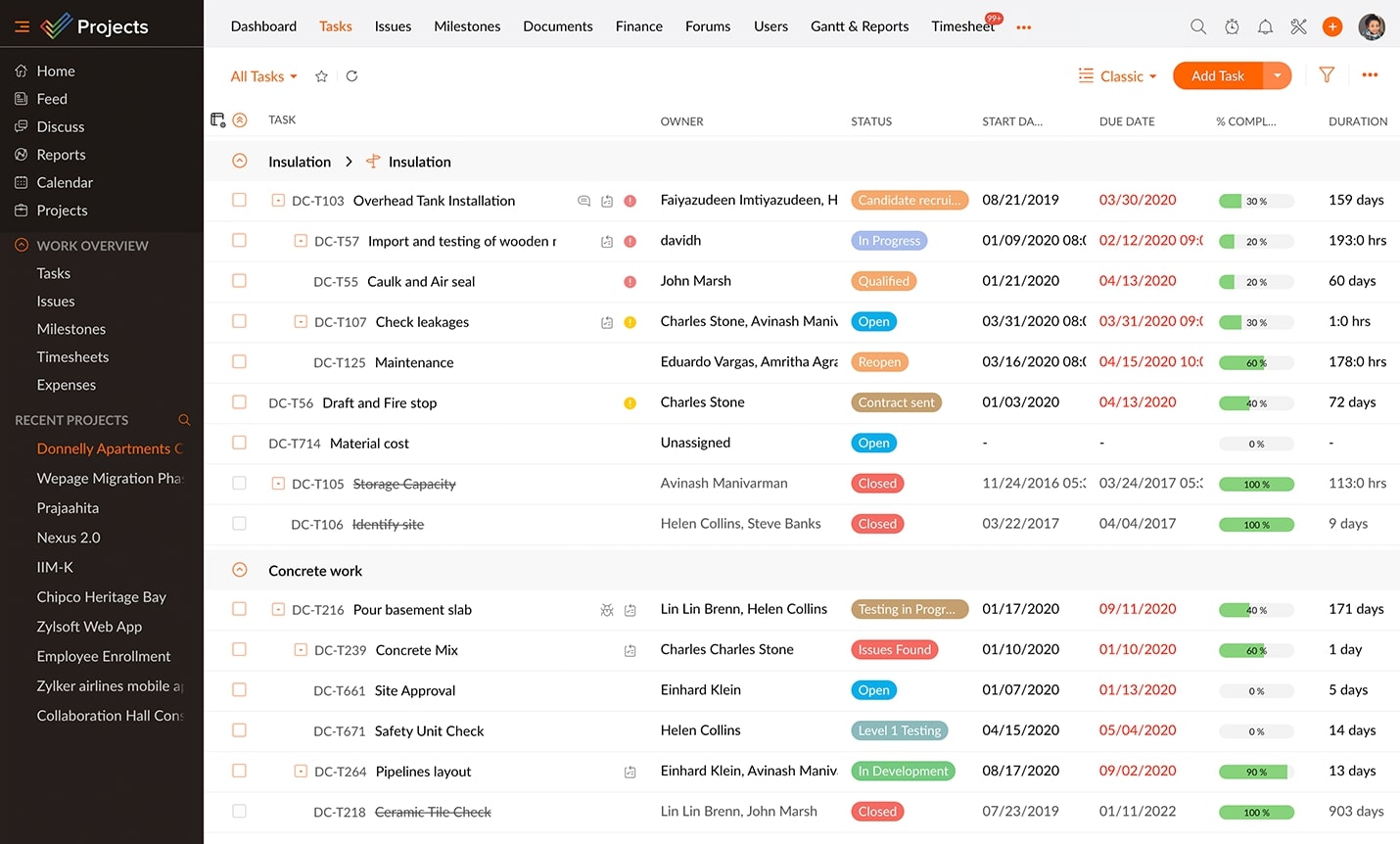 Why do project teams need task management software?
Project management teams require a task management tool to:
Prioritize and manage all work items
Assign work based on employee availability and skill set
Assign and track time taken for task completion to avoid delays
Set reminders and automatic notifications to ensure work gets done on time
Collaborate with team-members effectively
How to track team tasks with our employee task management system?
A team generally works on tasks that contribute towards its organization's goal. While working in teams usually means more work gets done, keeping team members in sync can be difficult. Task management software for teams can help you keep your team connected.
Team workload

Stay up to date on how free or busy your team members are, and delegate work accordingly using an online task manager.

Team groups

Team management software helps you save time in communicating to several team members at once—group employees by project, department, or other factors so you can easily tag them in comments, tasks, issues, or forum topics.

Team updates

Get instant updates and notifications on all work completed by your team members using a task tracker tool.

Team reports

An employee task management system helps you gain insights into the progress made till date, and plan future work strategies using reports.

Team timers

To plan marketing campaigns, track their progress and identify pain points
Top task management tools
Here are some of the top task management tools:
Task management software

The most efficient way of managing your tasks is by using free task management software. It has all the features you need like reminders, recurrence, time trackers, automatic notifications and work assignment. A task management system provides an easy way to collaborate not only with your teammates but also with all other stakeholders. There are several tools available online with varying levels of complexity and features, making it easy for you to find the perfect fit for your business.

To-do lists

To-do lists are probably the most widely used task management tools. People perform task management everyday using these lists. The major pro is that it's so easily accessibly, just a pen and paper will do. Checking things off is also satisfactory in a way nothing else is. While managing simple lists and tasks is easy enough with a to-do list, it's not enough for more complex work items involving multiple people and dependencies.

Kanban boards

Kanban boards are a fun way to manage your tasks. There are several online versions of a Kanban board, but it's just as easy to make do with a whiteboard and several sticky notes. The beauty of this is the visual depiction of tasks that makes it easier for multiple people to get a status update in an instant. The online versions have more complex features like custom task statuses and views based on your business needs.

Spreadsheets

Spreadsheets are also widely used as a task management tool because of their accessibility and easy of use. Similar to to-do lists, any spreadsheet software can be used to populate and keep track of your work items. It's also easy to manage and share data stored in a spreadsheet. The drawback lies in the lack of more advanced task management features like time and progress tracking, workflow automation and resource management.

Gantt charts

More popularly known as a project planning tool, Gantt charts can also perform effective task management. Like Kanban boards, the visual representation helps everyone easily adopt and manage work using this tool. Dependency management and features like critical path and baselines also make it an accurate way of representing work in real time. There are several specific online Gantt software as well as versions that are available as a part of task management software free.
Benefits of using a task manager tool
Even a free task management system helps you organize, assign, and prioritize tasks, all from one central platform
Breaks down complex projects into many related or dependent tasks.
Employee task management system integrates all work to ensure a quality product for the clients
Eliminates the need to remember all tasks and makes you more productive by sending timely reminders
Task manager software allows you to set goals and milestones, keep track of deliverables, and manage deadlines.
How to choose the right task management software?
Choosing the best task management software from a multitude of options and adopting it into your team's workflow is no easy feat, especially since the software's success depends on so many people. Before delving into your various choices and their benefits, it's crucial to review some important points to keep in mind:
Your silver lining may be found with the cloud
There are pros and cons to both on-premise and online task management software. Choose an option that best fits your business needs to get started on this search.
It's your business
Tailor made software is available for different industries or departments to cater to tasks specific to that field. Your business size is also important to consider, as it directly influences your needs and cost, which can help narrow down your options.
Is agile your game?
Task management is often done as a part of project management. Depending on the kind of project management methodology your team follows, your options for task management tools also change.
There are many options available, from free task management software to enterprise-level web-based task management tools. These questions will help narrow down your options. Choose a user-friendly work management software that meets your requirements. Easy implementation and adoption are crucial factors for selecting the right task management software for your organization.
How to access Zoho Projects' task management tool for free?
Zoho Projects is one of the most accessible tools in the market with its free task management system. The core task management features like creating, assigning and managing tasks are available in our free version. There's also a 10-day free trial available for the paid editions of Zoho Projects on sign-up. For more information, check out our pricing information here. Our free task management software has a simple Gantt viewer, project feed, task tracking, calendar, forums, task custom status and many other features with a mobile application that facilitates usage from anywhere in the world. Ready to get started? Just click the button below to sign up for free.