What is task management software?
Task management software is used to effectively manage all tasks by guiding you to find the top 20% of high priority tasks. Every day, we end up spending much of our time on urgent but low-priority tasks, which can lead us to postpone the most important tasks. The Pareto principle, also known as the 80/20 rule, can be applied here—meaning 80% of the necessary work will be completed if you identify and complete the top 20% of high priority tasks.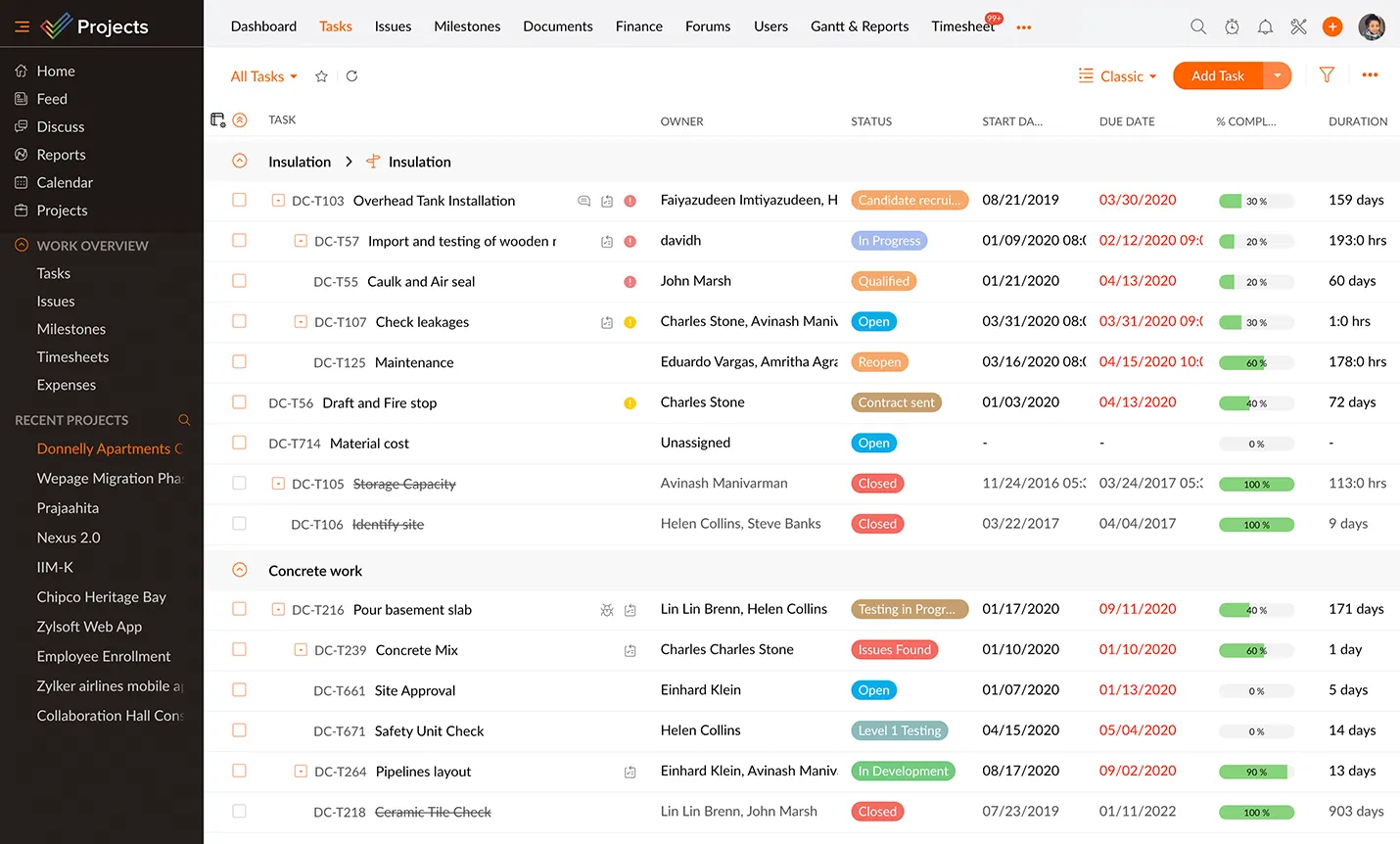 How do you keep track of team tasks?
A team generally works on tasks that contribute towards its organization's goal. While working in teams usually means more work gets done, keeping team members in sync can be difficult. Task management software for teams can help you keep your teamconnected. 
Team workload

Stay up to date on how free or busy your team members are, and delegate work accordingly using an online task manager.

Team groups

Team management software helps you save time in communicating to several team members at once—group employees by project, department, or other factors so you can easily tag them in comments, tasks, issues, or forum topics.

Team updates

Get instant updates and notifications on all work completed by your team members using a task tracker tool.

Team reports

An employee task management system helps you gain insights into the progress made till date, and plan future work strategies using reports.

Team timers

Task tracking software helps you track and approve the time your team takes to work on various tasks using timesheets.
Picking the right task management software for you
Choosing the best task management software from a multitude of options and adopting into your team's workflow is no easy feat, especially since the software's success depends on so many people. Before delving into your various choices and their benefits, it's crucial to review some important points to keep in mind:
Your silver lining may be found with the cloud
There are pros and cons to both on-premise and online task management software. Choose an option that best fits your business needs to get started on this search.
It's your business
Tailor made software is available for different industries or departments to cater to tasks specific to that field. Your business size is also important to consider, as it directly influences your needs and cost, which can help narrow down your options.
Is agile your game?
Task management is often done as a part of project management. Depending on the kind of project management methodology your team follows, your options for task management software also change.
There are many options available, from free task management software to enterprise-level web-based task management tools. These questions will help narrow down your options. Choose a user-friendly software that meets your requirements. Easy implementation and adoption are crucial factors for selecting the right task management software for your organization.
Key features of task management system