Project Collaboration Software
Work seamlessly and collaborate with your team
A project collaboration software must allow team members to get projects done, find information quickly and, above all, allow them to communicate and work together to achieve common business goals. The core elements of a project collaboration software are email, document sharing, group calendar, team collaboration (Wiki, Calendar, Meetings) and real-time collaboration (Stream, Chat, Forums).
Zoho Projects allows you to: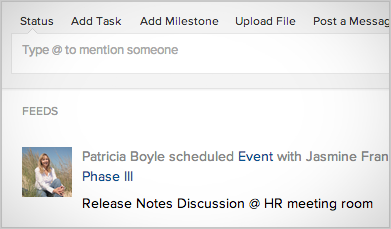 Manage Project Activities
Team Members can view updates on task progress, report an issue, upload files, comment on the status and view the activity stream of any user. You can maintain all updates related to projects at a central place.
Calendar Schedule
A shared online project calendar is easy for the entire team to stay on schedule, remind the team on upcoming tasks and make everyone more productive. Projects calendar is an easy way to securely and quickly organize meetings, events, schedule appointments, manage deadlines and more - all with a browser from your desktop.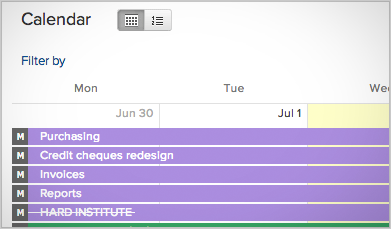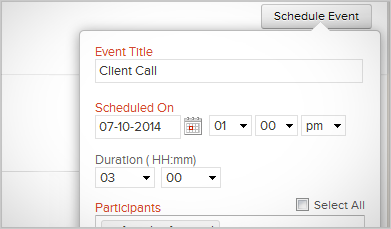 Plan Events
You can create events for any time period. Get reminders for your scheduled events planned in your calendar, so you don't miss a task. You can view elapsed and upcoming events and filter events based on Participants too.
View the Activity Stream of any User
Now, view the stream of activities for each and every update like tasks, issues, milestones, forums and documents. Click on any selected user to view their complete activity stream or send a direct message to the user or Chat or Follow the user.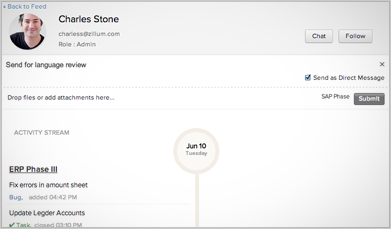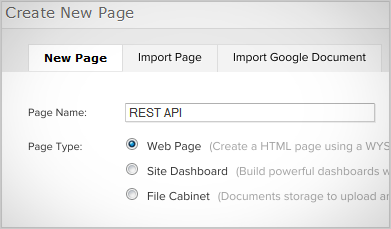 Maintain and Share Project Information
Build a powerful source of information with wiki pages that can organize and manage the pages effectively in one place. You can link, re-order and tag pages which help in fast and easy navigation.You can view the recently modified pages, uploaded files and comments.
Share and Upload Files
Share your files and folders without any hassle. You can check the different file versions anytime and move files across folders. Plus you can upload files from Google Drive, Box, Onedrive, Dropbox and Evernote into Zoho Projects.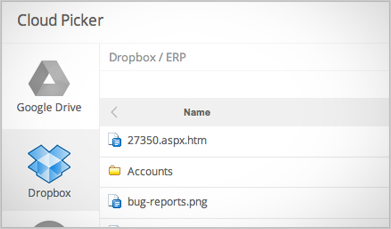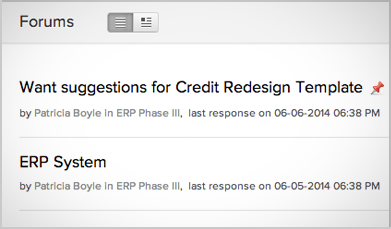 Forums
Forums are interactive message boards where team members can share an idea, spark conversations and get solutions. You can post a topic, brainstorm and get insights on any critical issues.
Chat Rooms
Real-time collaboration through built-in chat rooms, which allows everyone to come together quickly to discuss important topics and make decision faster. You can create chat topics, invite participants, discuss and your transcripts stay there. You can create private or public chat rooms based on your business requirement.