What is document management software in project management?
When it comes to project management, document management software helps with the storing, tracking, sharing, and managing of electronic text files, PDFs, images, spreadsheets, audio, and video. These documents are available to users with project access.
What is the need for a project document management system?
With the hybrid work model gaining more significance in most industries, managing and collaborating over documents has become a necessity. Be they hybrid or remote, teams need access to the latest versions of documents. A central location for all documents allows for speedy approvals. For businesses with innumerable processes and varied departments, sorting documents by category eliminates confusion and multiple user visits. Every visit to a document creates an audit log, which can be later used for audit purposes.
Annotating, commenting on, or reviewing documents together brings about a sense of active collaboration and cooperation within the team, which is possible with a good document management system. Moreover, any changes can be tracked and executed promptly without any hassle, keeping everybody in the loop.
How to choose document management software
Every business has various needs. Factor in your short and long-term goals, and create a list of all the challenges you'd like the software to address. Be sure to gather insights from your team as well. Once you have your software choices, opt for a product demo for each one. You can also have team members evaluate a few shortlisted tools to make the job easier. Zoom in on all the pros and cons; remember, any vendor that you choose needs to offer the best bang for the buck, so take your time until you're confident and have narrowed it down to two or three contenders. Good document management software should have an intuitive UI, seamless integrations with all your favorite applications, robust security and data protection protocols, adequate storage capabilities, customizable user permissions, and collaborative features. Next, conduct research on your potential vendor. What do review sites have to say? How many years has the vendor been around? What are the available prices and plans? Contact the company's support team, and assess their quality of service and product knowledge.
Benefits of using project document management software
Raise your green thumb

Bid adieu to endless sheets of paper, physical folders, cabinets, locks, and the accompanying costs. Sustainability takes the win here. Digitizing your documents makes it simple for remote teams to access project data from laptops and mobile devices.

Protect your documents

Come hail, fire, or storm, project document management software has all your documents covered. With its backup and recovery features, your documents are safe and sound, so you don't need to worry about losing crucial data.

Chin up, look up

Easily search for and access files by entering either a keyword or tags linked to the documents. This means you can find documents associated with any project or task, without having to wait for someone to send them across.

Stay on the same page and same version, always

Do away with confusion and disorganized data, and stay in the know by keeping track of all changes, last minute edits, and audit trails so that you can point yourself in the right direction.

All-you-can-secure

A good project document management software solution provides indispensable security by maintaining a record of all document activity and restricting user permissions on sensitive documents.

Befriend all your apps

Ensure maximized productivity and smooth workflows by integrating your document management system software with your existing apps.
Why is Zoho Projects the best document management software?
From central storage and easy lookup to uncompromising security, Zoho Projects does all that and so much more.
Manage files in one place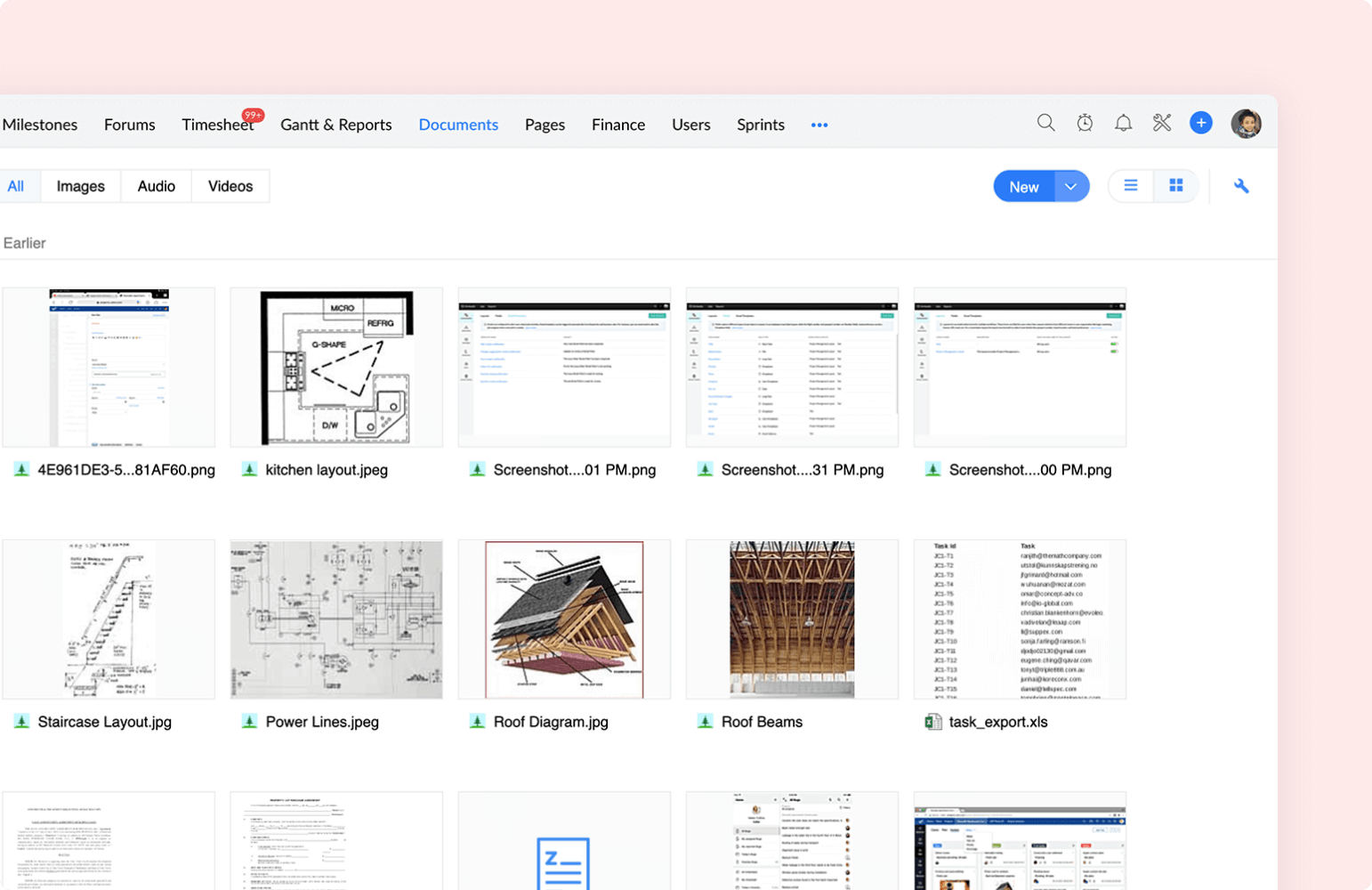 Documents, video clips, graphics, spreadsheets, reports—the average project entails hundreds of different files, often on dozens of different computers. With our document management system, every file is centrally stored and organized, so every team member is always informed.
Share files from anywhere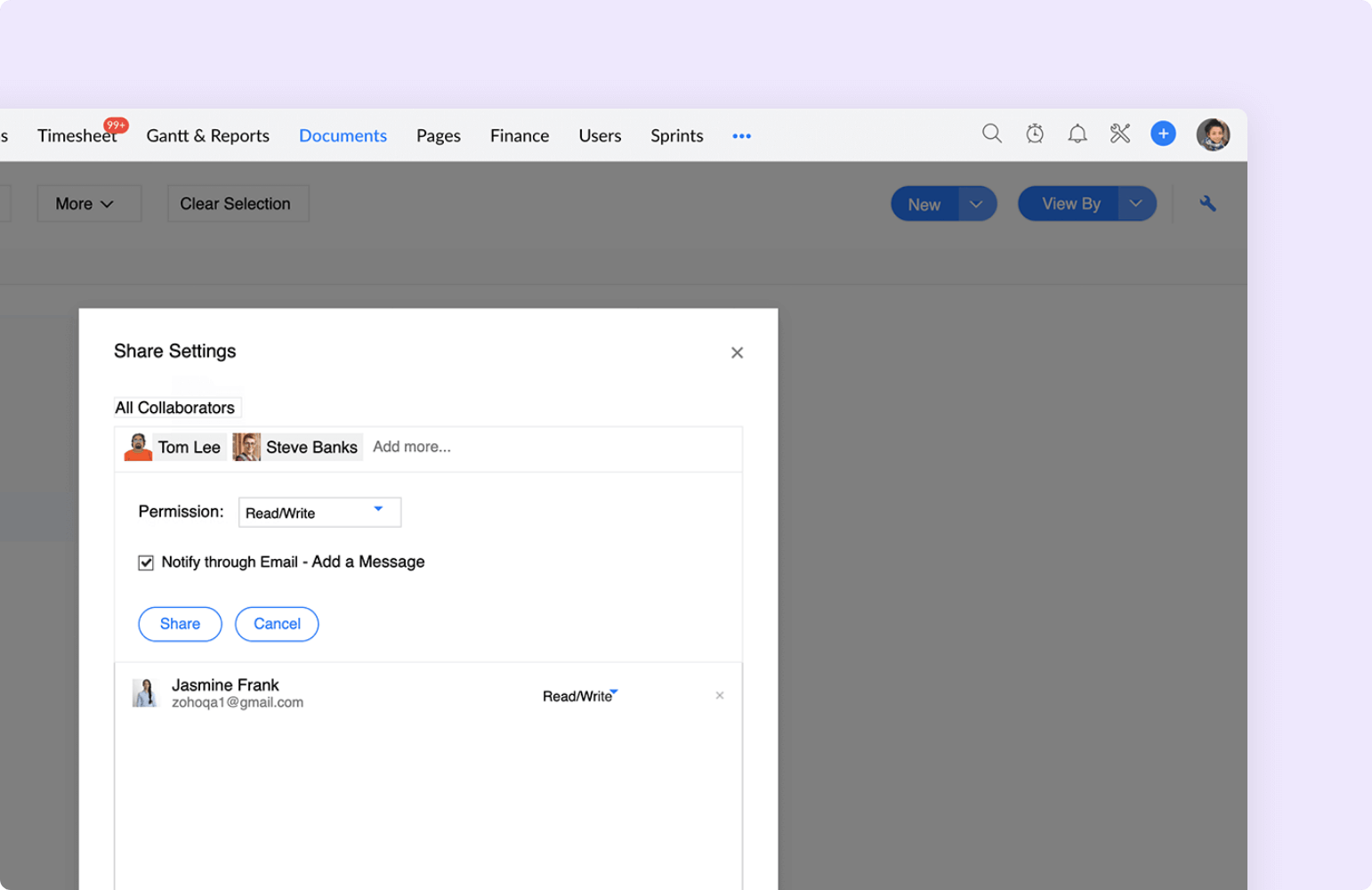 Share files with your team from a single place. You can also associate files with tasks or issues, and organize them into hierarchical folders that mirror your structure and workflow. Enjoy complete control with total simplicity.
Keep track of file versions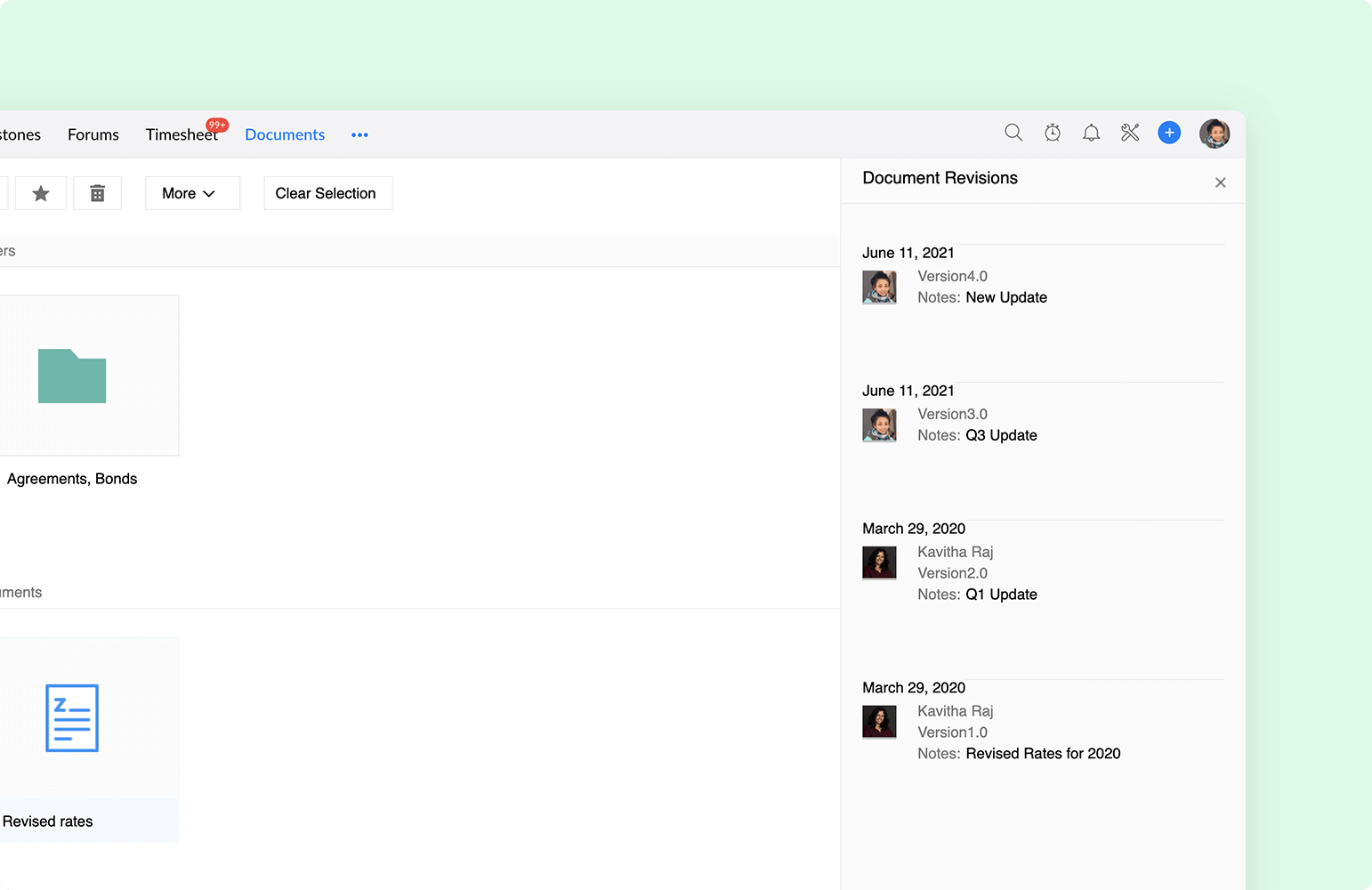 Zoho Projects automates key document processes such as revision tracking, access control, and search and retrieval. All changes are displayed with notes, dates and author information. That way, everyone is always working with the latest, most accurate version of every file.
Find your files easily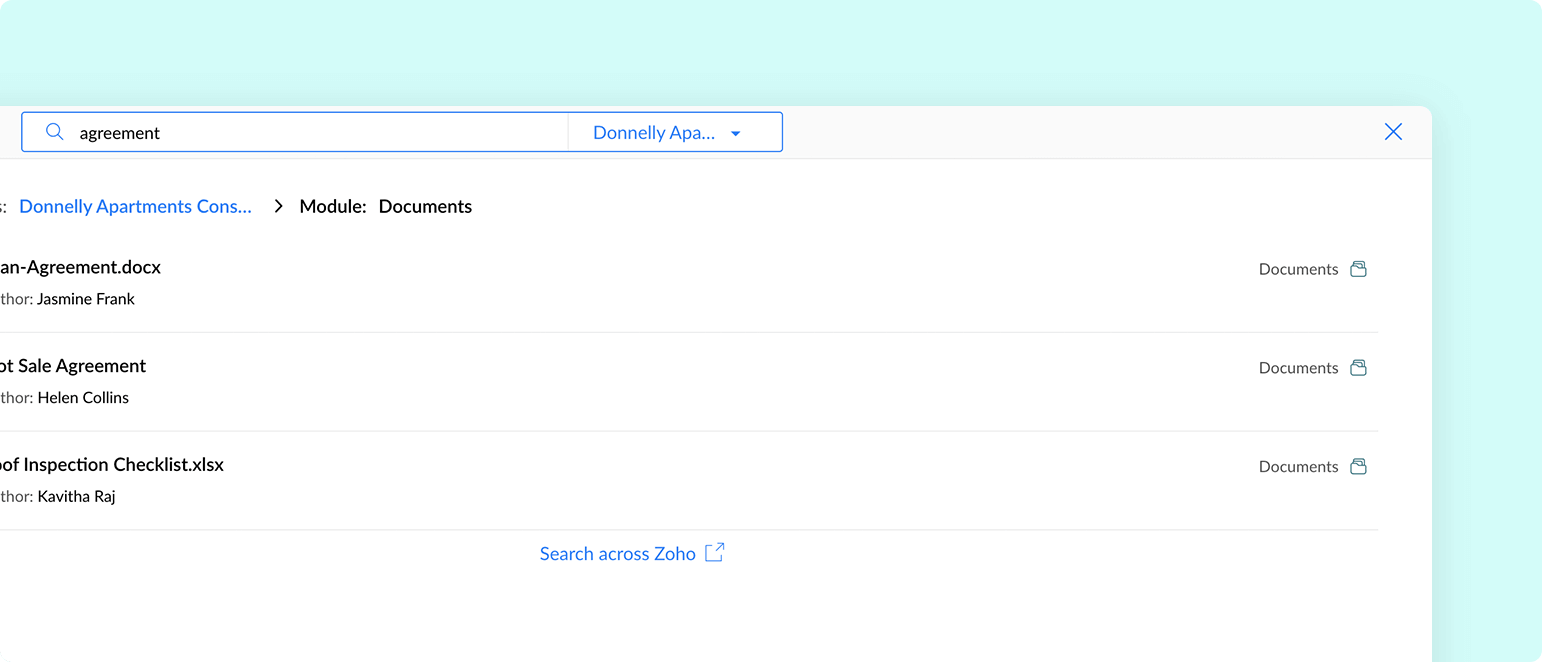 Zoho Projects' powerful search tool lets you easily locate documents within projects. Search for files by using words in the title or content and instantly view results.
Zoho Workdrive integration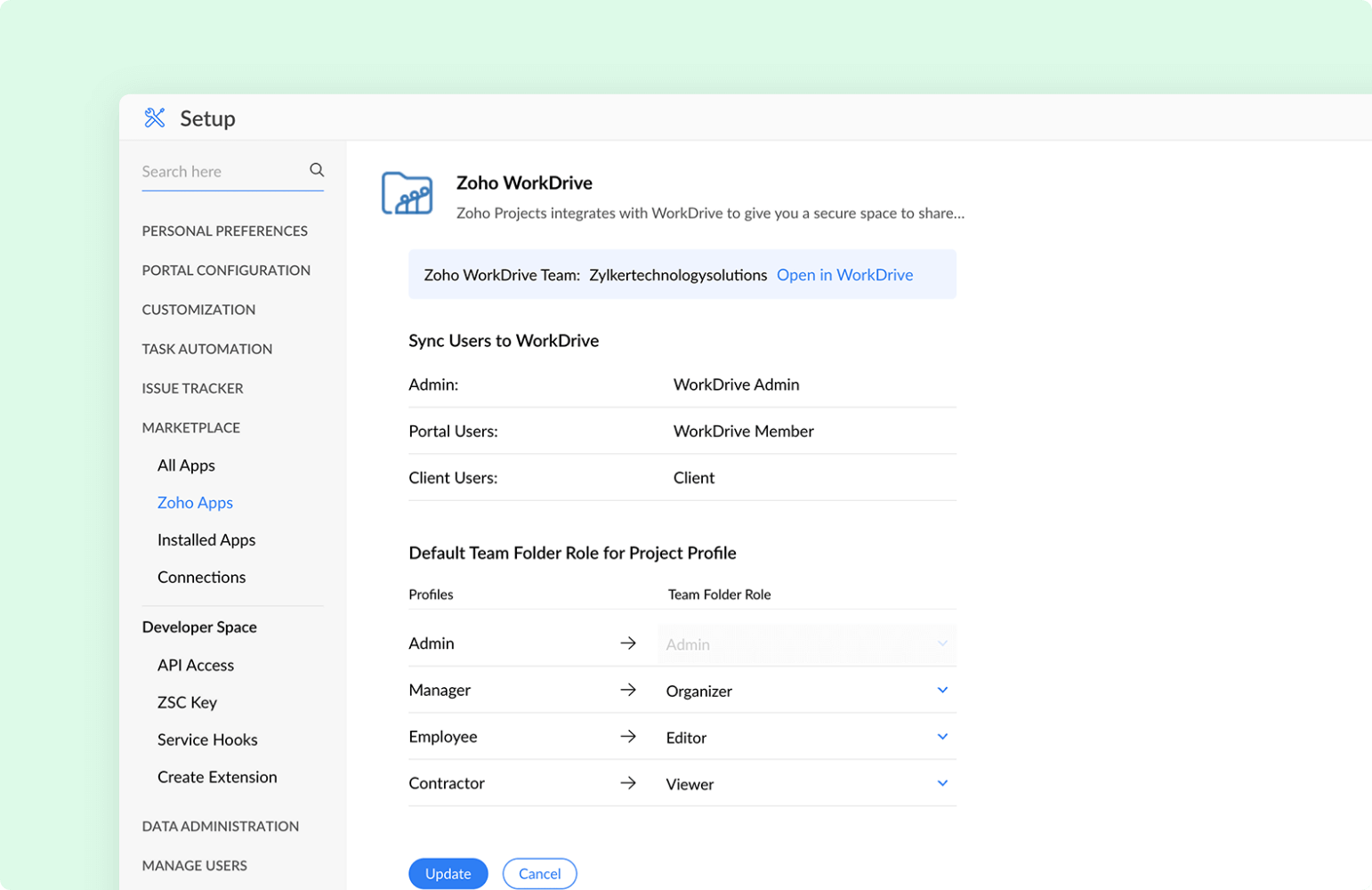 With the Zoho Workdrive integration, users can create and organize team folders to collaborate with other teams more efficiently. You can also assign different roles to members of the team folders with specific access permissions.