What is the goal of a performance review?
What is the goal of a performance review?
Last Updated: December 11, 2023
2.0K Views
4 Min Read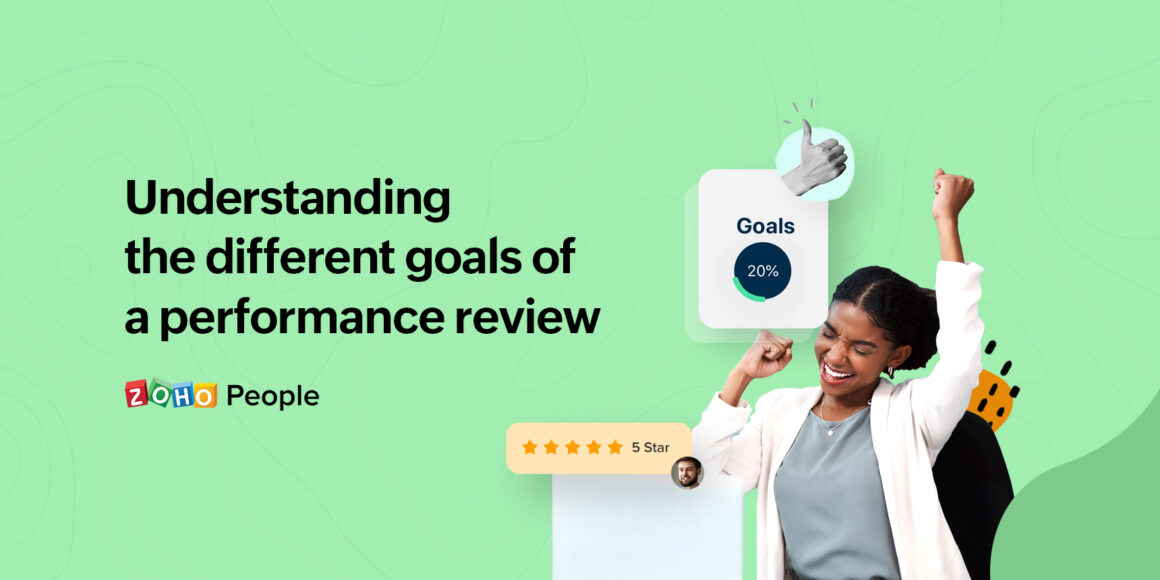 People management involves employee performance reviews, and if they are done effectively, then they'll allow both employees and their organizations to grow. Your employees have to improve their performance consistently to thrive in today's fast-paced business environment. That's why many organizations have shifted from doing annual performance reviews to continually reviewing employees on a monthly or quarterly basis.
Another shift that we're seeing is that performance reviews are now administered in a way that is less stressful for employees. A review is more of a conversation between an employee and their manager these days, which better motivates employees to improve their performance.
To conduct an effective performance review, it's necessary to lay out what you wish to achieve from it before it begins. Whether you're running a startup that's just beginning to implement performance reviews or you're a new HR manager looking for tips on how to get started, we've got you covered. Here are five important goals of a performance review:
Make employees aware of their performance
In the review, it's essential to shed light on the strengths and weaknesses of your individual employees and help them understand how their work contributes to the growth of your organization. This awareness helps them to build on their strengths and overcome their weaknesses. Knowing this information tends to make them more committed and accountable for their performance. Make use of 360-degree feedback from their peers to help avoid implicit bias. Understanding their performance from different perspectives will help your employees grow in their careers and in your organization.
Once the performance review process is over, you'll be able to better understand the training needs of your organization. Be sure to gather training feedback from your employees and team leads during performance review meetings. They'll have a better idea about the skills required to perform their tasks. As your organization takes steps to improve their skills rather than forcing them to perform new tasks without training, employees will feel happier and more valued. This allows them to reach their full potential at work. This will also help your organization to conduct training programs that are more relevant and useful. Otherwise, you may end up spending money on courses that aren't as effective.
Maintain organizational goals
One of the major aims of conducting a performance review is to make your employees aware of your long-term and short-term goals and to measure their performance against those goals. Every review period is a good time to modify existing goals or set new goals for the upcoming period. The process of how to achieve these goals should also be clearly outlined in individual reviews. Employees should be given specific milestones to strive for in order to contribute to larger organizational goals. This gives your employees more motivation because they will understand how their day-to-day tasks help the business succeed.
We've mentioned motivation, but it deserves its own section. Lack of motivation will slow down your organizational growth, especially if you are a startup or a small business. That's why it's a good practice to appreciate and recognize all the good work that your employees have done and provide feedback and advice to improve their weaker areas. Effective communication from upper management will help employees feel listened to and seen, motivating them to do their best work. Performance reviews will also help you understand the concerns of your employees and develop different initiatives to motivate your workforce.
Finally and above all, a good performance review should improve the quality of the work your employees do. How you direct the review plays a very important role in this. With every performance review, you should be able to better understand how each employee applies their skills to their job. This helps you identify the right people to perform different tasks and projects. As you align business tasks with employee strengths, your organization and your employees will start thriving.
A performance review is a great way to engage your employees and motivate them to be better at what they do. An effective performance review enables both you and your employees to speak from your perspectives and reach common ground, benefiting both of you. Mismanaged reviews can waste a lot of your time and sometimes even decrease employee performance further. That's why it's necessary to define the goals of your performance review beforehand. Visualizing what you wish to achieve from performance reviews will help you steer them in the right direction.
HR technology like an HRIS allows your organization to improve its performance management. With the performance management system in an HRIS, continuous performance reviews can be conducted in a straightforward and simple way. It also allows you to run self-evaluations, define goals, track employee progress, facilitate 360-degree feedback, tag the skills required for a specific job, and more. Check out our blog on how to select the right HRIS for your organization.
Tarika

Content Specialist at Zoho People
Leave a Reply
Your email address will not be published. Required fields are marked