September feature updates: What's new on Zoho People?
September feature updates: What's new on Zoho People?
Last Updated: October 6, 2020
2.2K Views
4 Min Read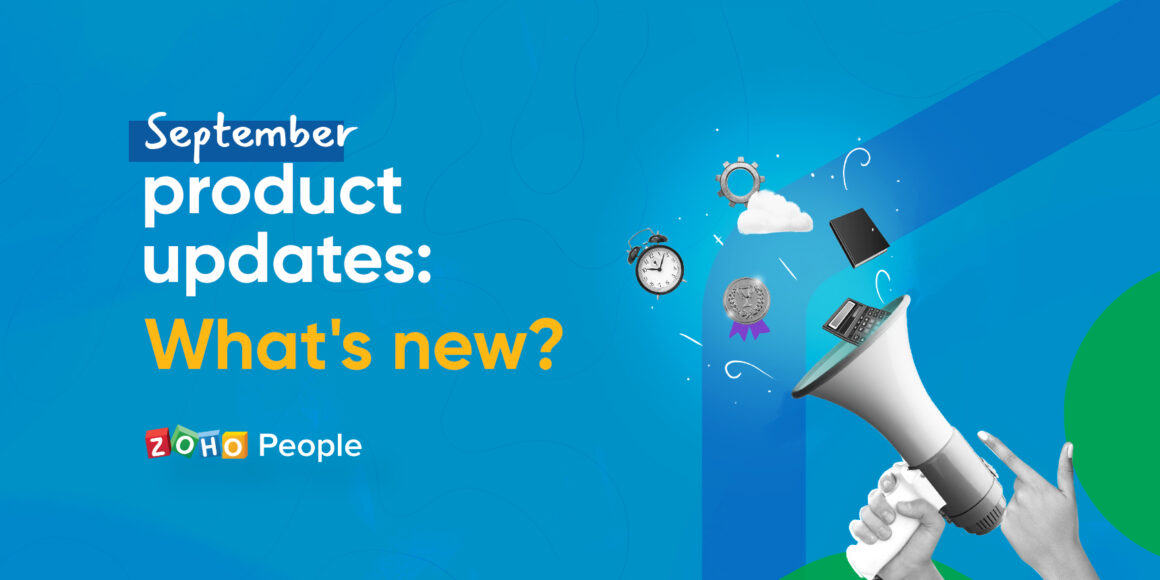 We are back again with our monthly product updates, and this month our developers have introduced some amazing features to facilitate easy HR management. These features are meant to improve user experience and make Zoho People more useful for our customers. Here's a glimpse at all the features released this September:
Private discussions in your LMS
Discussion among peers helps e-learning be more successful. By regularly talking with peers, learners will be able to explore beyond the topic and develop new perspectives. Without this level of communication, e-learning can cause a sense of isolation. The Learning Management System (LMS) in Zoho People allows learners to initiate discussions with their course instructors and fellow learners at any time. With our new enhancement, your learners can initiate a private discussion by picking selected members belonging to a particular batch or course. Even the course admin can participate in the discussion when they are added by the owner of the discussion. This can be helpful when employees are grouped for a specific assignment.
Grades help you analyze how well a particular topic has been understood by your learners, and it allows your learners to track their progress. This will help you to understand if your teaching techniques have been effective or not. Keeping this in mind, we have introduced Grading in Zoho People's LMS, a new feature that will help your grade your learners based on their performance in each learning course.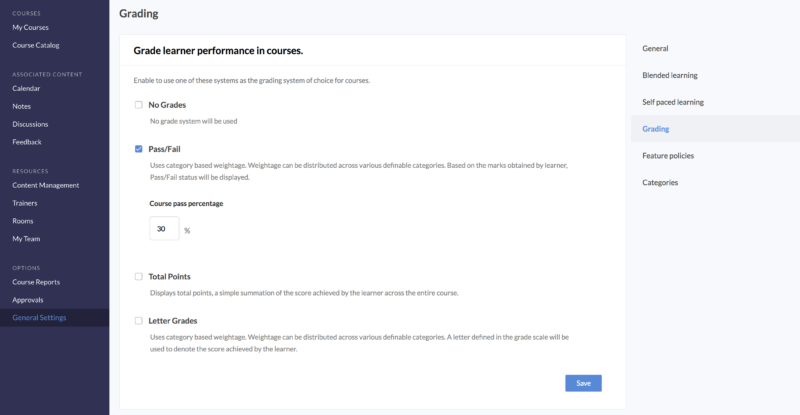 This feature supports four types of grading:
Letter Grades – Learners are graded based on letters that denote a particular score range.

Pass/Fail – Learners are marked as Pass or Fail based on the score they obtain.

Total Points – Learners are given points by adding their marks obtained across a specific course.

No Grades – Learners are not graded for their performance in a course.
Learn how to enable Grades in Zoho People's LMS.
At some point, your employees will get tired of performing routine tasks like marking attendance, checking pending tasks, and raising requests when they could be spending more time on initiatives to help your business grow. We at Zoho People have found the perfect solution.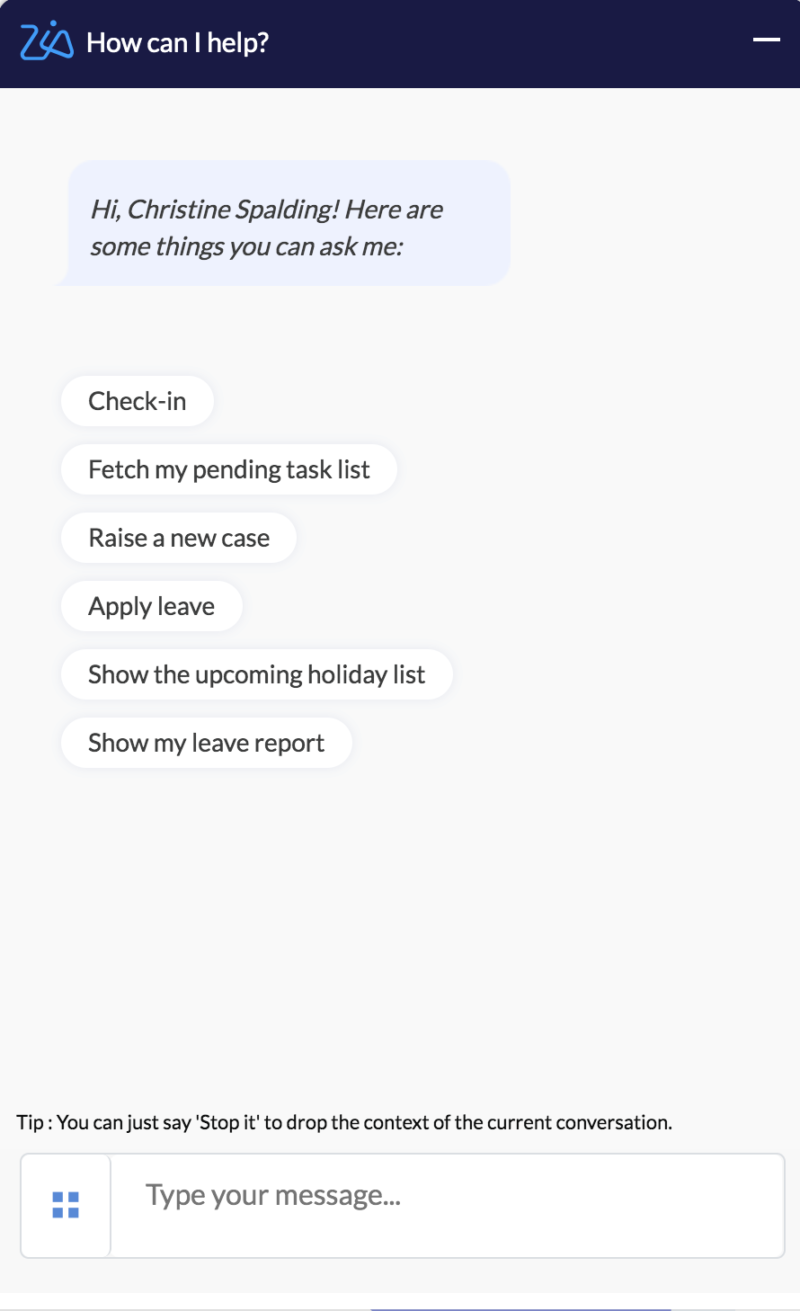 Zia, the smart HR assistant, performs these tasks for your employees. Zia can check-in and check-out for your employees, apply for leave, fetch a list of pending tasks, answer their inquiries, and raise requests on their behalf. Check out our blog to learn more about how Zia helps your employees automate routine tasks.
While you restart operations at your worksite, it's essential to ensure that both you and your employees are completely ready. Missing out even on the smallest of details can put your employees at risk. That's why we have introduced Office Readiness in Zoho People—three forms to help you gather all the necessary information for reopening your worksite safely. All the details regarding your different worksites, including building capacity, main office information, and more can be filled with the Work Premises form.

Employees can request to return to the office with the Work from Office form, and they can request entry for outside visitors with the Visitor at Office form. Check out our blog on how office readiness helps your organization prepare for a safe reopening.
Timesheet, leave, and attendance module admin
Managing timesheet, leave, and attendance data single-handedly can be tiring and time-consuming, especially if you have a large workforce. Reporting managers and admins may not have the time to manage it all either. That's why we have introduced a new feature, where you can assign a separate Attendance Module Admin, Leave Module Admin, and Timesheet Module Admin for a selected group of employees, defined as User Groups. Here's how each of these features work:
Attendance Module Administrator
The attendance module admin can view and edit attendance entries and access the attendance reports of all employees tagged to their User Group. Learn how to add an Attendance Module Administrator to a User Group.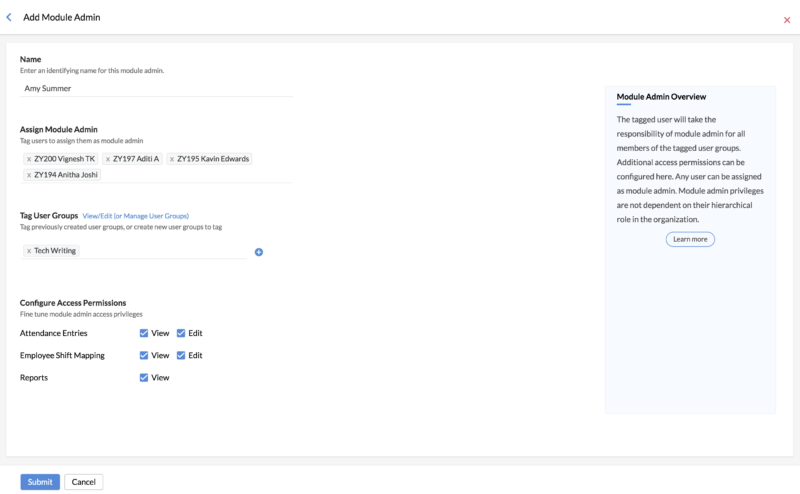 Leave Module Administrator
The leave module admin can view and edit leave entries and access the leave reports of all employees tagged to their User Group. Learn how to add a Leave Module Administrator to a User Group.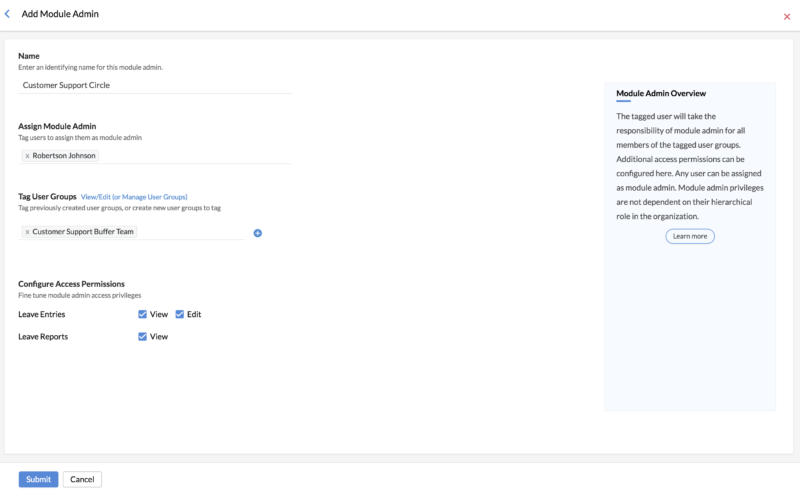 Timesheet Module Administrator
The timesheet module admin can view and edit time tracker entries and access the time tracker reports of employees tagged to their user group. Learn how to add a Timesheet Module Administrator to a User Group.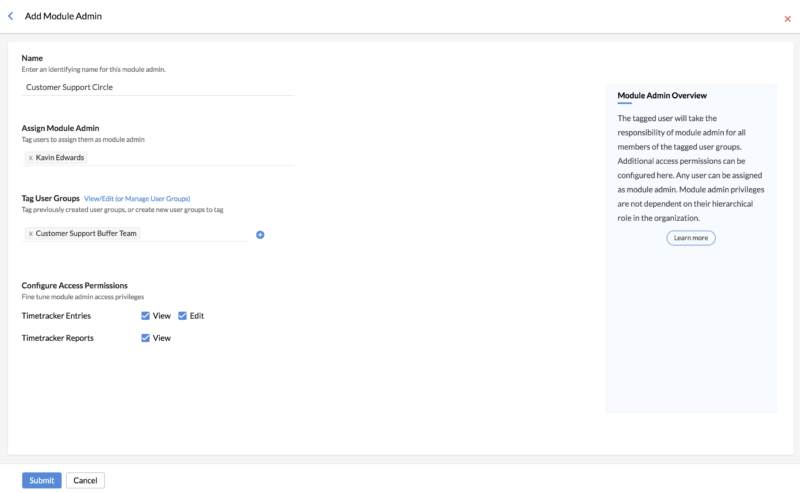 All these features will help your organization level up its HR management strategies and provide a great experience to your employees. Give these features a try and let us know your favorite feature in the Comments Box below! If you have any questions regarding these features, drop us an email to support@zohopeople.com.
Tarika

Content Specialist at Zoho People
Leave a Reply
Your email address will not be published. Required fields are marked