Managing HR operations remotely with Zoho People
Managing HR operations remotely with Zoho People
Last Updated: April 7, 2020
5.4K Views
4 Min Read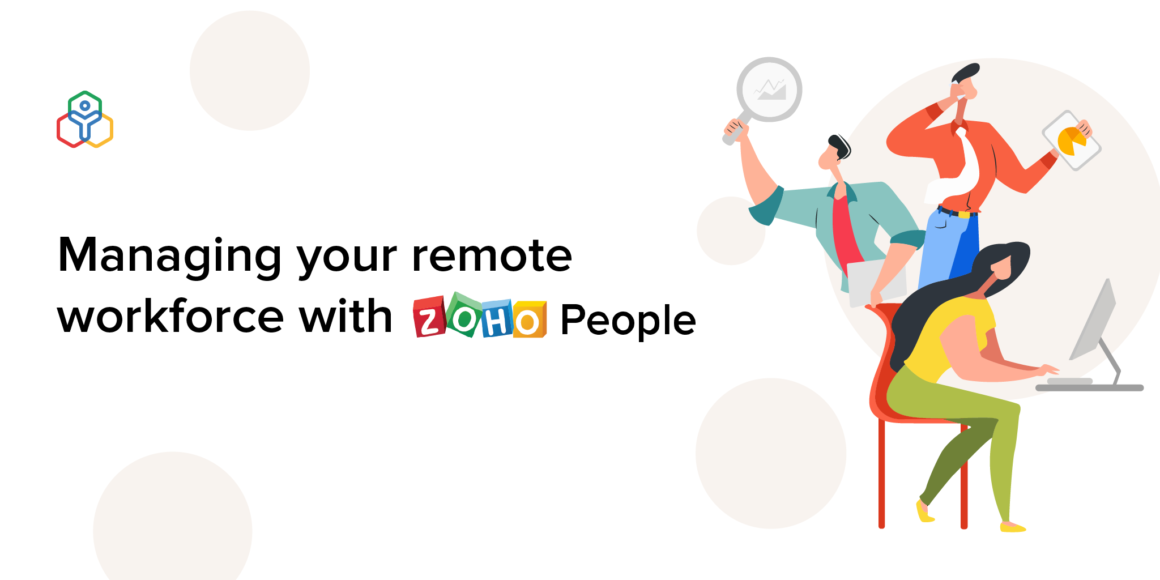 Due to the rapid increase in the number of COVID-19 cases, many organizations around the globe are allowing their employees to work remotely. While employees work remotely, it's essential to ensure that the HR operations of your organization do not suffer. With current technology, managing HR functions remotely shouldn't be a problem. We've put together a complete guide that lists the different ways in which Zoho People eases remote workforce management:
Onboard your employees with ease
With Zoho People, new employees can be onboarded without any hassle even as you work remotely. Your employees can complete the paperwork associated with onboarding online as the documents are stored in a centralized, digital location. You can also introduce your new employees to your team and enable them to communicate with their peers through an internal chat. The company policies and employee handbooks can be stored online to help new hires understand the rules and regulations of your organization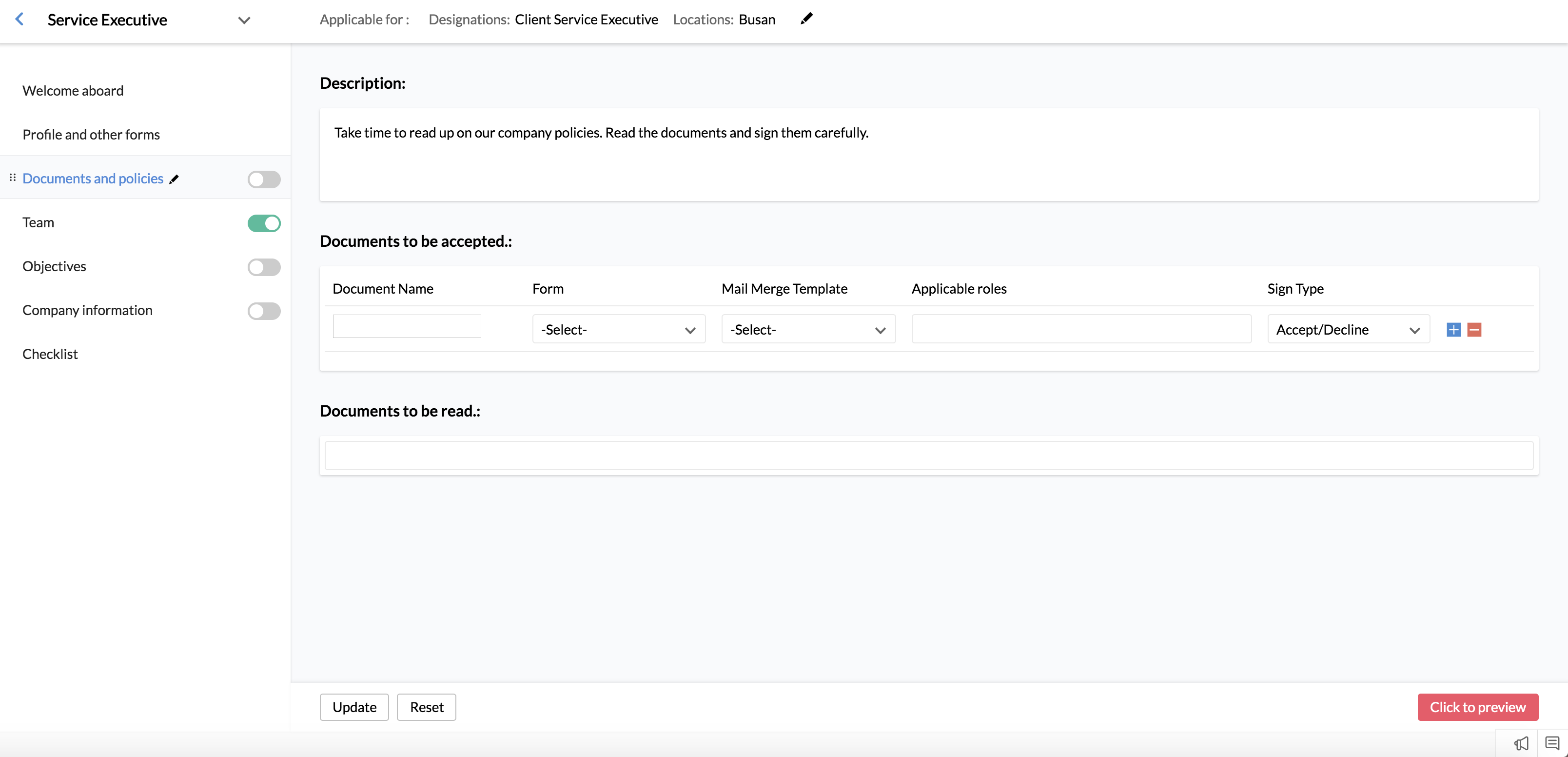 Create a checklist of all the activities that new hires are expected to perform to ensure successful and complete onboarding. This not only helps guide them through the process, but it also communicates your organizational culture to your new employees.
Level up performance management
Provide effective performance reviews even as your employees work remotely with our Performance ManagementSystem. Using 360-degree feedback, and encourage peer-to-peer reviews in an online forum to gain insights about the performance of each team member. This motivates your employees to work better. Goals can also be created online to make it clear to employees about what they are working towards. This is especially important when there are no physical interactions. For example, if you are still looking to promote your product organically during this crisis, define that as a goal. Track how your employees are progressing towards the goal with reports and analytics, and identify areas for improvement.
Our online attendance management system allows employees to record their working hours from the comfort of their homes any time.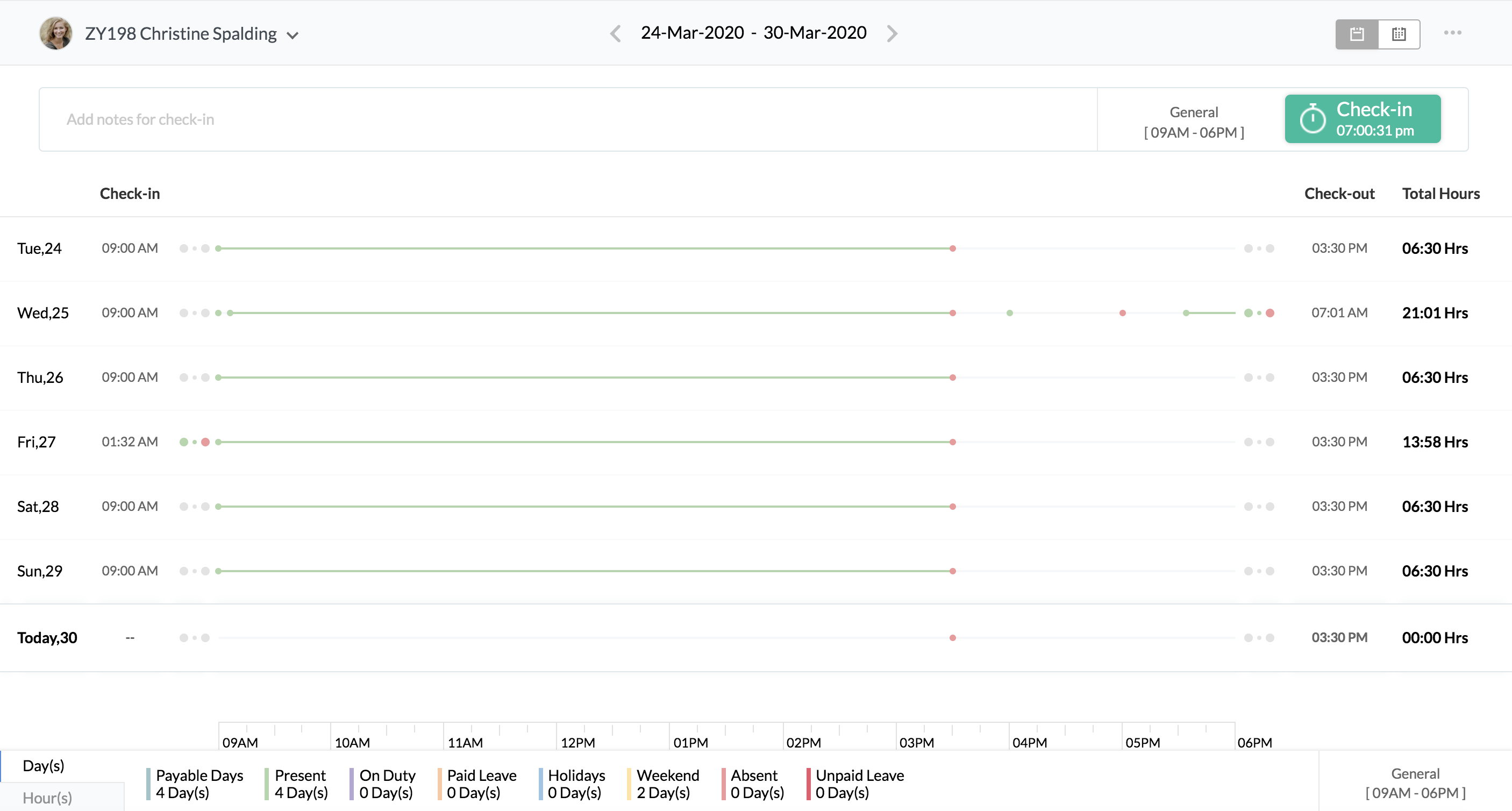 Your usual attendance policies can be customized to accommodate remote working. Lunchtimes and break times can be defined to help your team stay connected throughout the day. Also, collaboration and communication are more efficient with Zoho People because employees will have access to the availability of their peers. Absence management is also eased as employees can apply for time off online, and absence data is consolidated in a single location. This makes payroll a snap for your HR department.
Handle employee cases efficiently
Finding the right person to handle inquiries can be hard while employees work remotely. With Zoho People's case management, employee concerns can be organized and handled efficiently. Frequently Asked Questions, URLs, company policies, and employee handbooks can be attached online. Whenever an inquiry is raised, the appropriate agent for the inquiry can be assigned. Also, your employees can track the status of their query. Our case management system supports comments, avoiding unnecessary emails.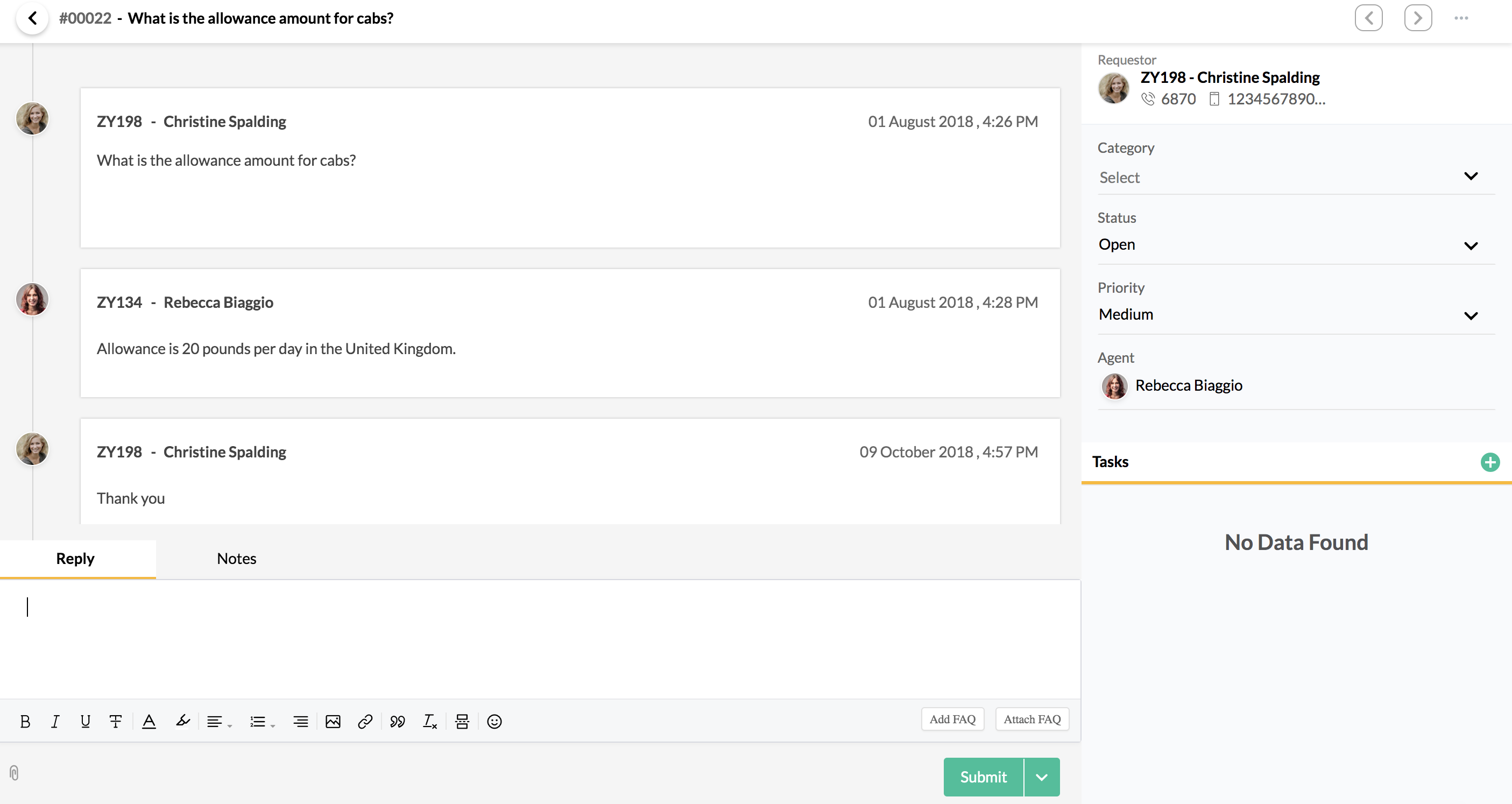 Encourage remote employees to collaborate
It's a known fact that effective communication and collaboration is the key to successful remote work teams. The live feeds and collaboration feature allows employees to initiate and join a conversation in a common thread online. All important announcements can be posted on the feeds and all your employees will be notified immediately. For instance, the Business Continuity Plan of your organization during the current crisis can be communicated easily to your employees. This ensures that all employees are aware of all important developments. You can also make swift decisions while gathering input from your employees.
Timesheets in Zoho People are convenient when your employees work remotely. Managing the time spent on different projects with spreadsheets can be challenging, especially during this time. With Zoho People's timesheets, your employees' daily time logs can be maintained online.
Assign the required time for each work item and bill your clients without any errors. Your employees' timesheets can also be approved by reporting managers in just a few steps, making the payroll process much easier. Detailed reports indicating the time spent on different projects can be generated to identify how your employees have performed while working from home.
Empower employees to track their activities
With an employee self-service portal, one of the essential features of our HR Software, the dependency of your employees on the HR department can be greatly reduced. Essential professional and personal records can be accessed and managed by your employees from anywhere, any time! All information, including attendance hours, sick days, time off balances, and more can be tracked and maintained by your employees, giving them more clarity. Employees check the availability of their peers through the employee directory, which can come in handy when your employees are dispersed in different locations. Also, as the employee self-service portal is password protected, the risk of data theft and misuse is minimal.
Also read:What activities can your employees complete using a self-service portal?
Continue learning and development
With Zoho People's Learning Management System, your employees can train even while they work remotely. Zoho People's integration with Zoho Meeting allows course instructors to conduct live sessions for virtual learning. All learning materials can be uploaded online, allowing employees to access them whenever necessary. The online forum present within our LMS enables instructors and learners to have real-time discussions and debates, improving learner engagement. Assignments associated with a certain course can be uploaded online. Learners, managers, and course instructors can provide constructive feedback, improving course efficiency.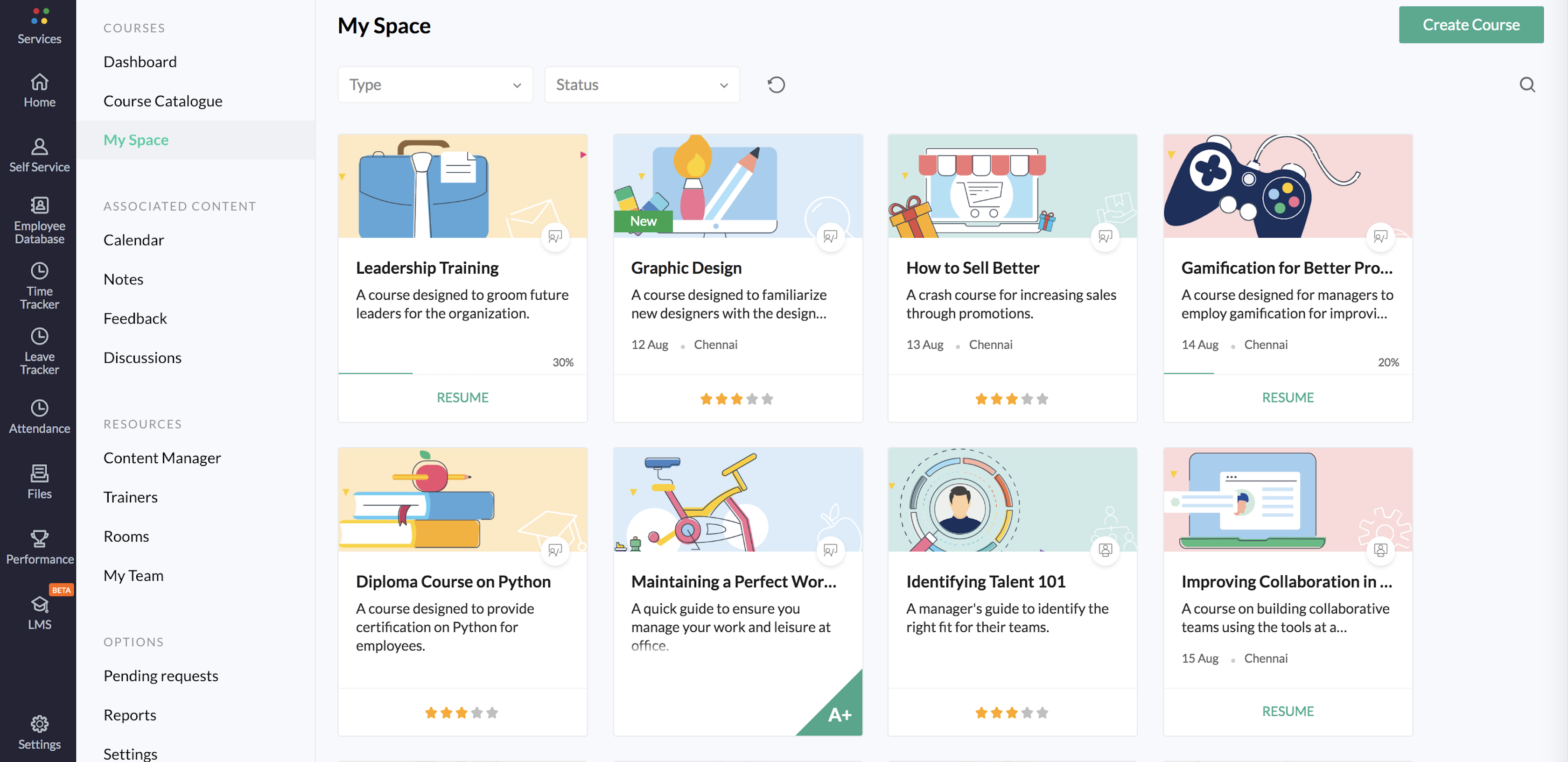 Use custom forms to collect information
Online forms in Zoho People can be used effectively to obtain information and store it online when your employees work remotely. Online forms can be customized according to the data type. Also, different types of access can be given to different employees to ensure data protection. Custom actions can be enabled to download a file or email a document as soon as the form is filled out by your employees. All these actions can be done without physical interaction.
Many organizations are conducting remote work for the first time, and managing their employees can be a bit challenging. Using Zoho People, all essential HR operations, from onboarding to employee learning, can be managed online. This saves both you and your employees any unnecessary confusion while working remotely. To know more about Zoho People, click here.
Tarika

Content Specialist at Zoho People
Leave a Reply
Your email address will not be published. Required fields are marked