Sync your business operations with Zoho People's integrations
Sync your business operations with Zoho People's integrations
Last Updated: December 11, 2023
2.1K Views
4 Min Read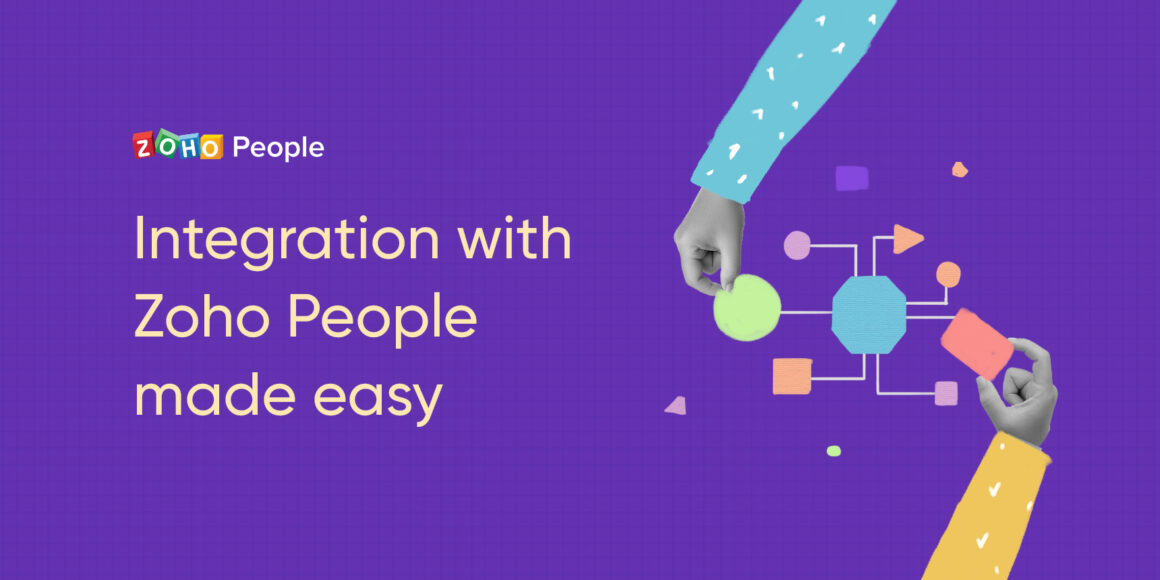 Operating your business with different software applications that don't communicate well together often wastes time and results in process inefficiencies. Your employees may also not enjoy having to log in to ten different applications to get a single job done. With an integrated system, different applications can work together, making everything easier, faster, and more accurate.
At Zoho People, we're constantly looking for opportunities to make integrating with other applications as seamless as possible for our customers. As part of our efforts, we're very delighted to announce that the Xoxoday, Zoho CRM, Zoho Writer, Zoho Books, Zoho Analytics, Zoho Sign, and Zoho Projects extensions will now be available on Zoho Marketplace. These app extensions can be installed easily from Zoho Marketplace, our online store where customers can find and install extensions that strengthen the core functionalities of Zoho products. Here's how to use each of the seven applications with Zoho People to gain the most benefit:
Rewards and recognition are important to keeping your workforce productive, engaged, and motivated. According to a SHRM/Globoforce survey, 68% of HR professionals agree that employee recognition improves employee retention. By integrating with Xoxoday, a cloud-based SaaS rewards system, you can take your rewards and recognition program to the next level by aligning it with your organizational goals. Managers can easily credit reward points to their employees, who can then redeem them accordingly. Learn more about the Xoxoday integration.
Analytics help to strengthen key aspects of an organization's HR process, including employee retention, happiness, engagement, productivity, motivation, and performance. Integrating Zoho Analytics with Zoho People enables you to make data-driven decisions for your workforce by providing detailed insights on different organizational trends. The ready-made dashboards that come with the integration provide all your necessary data in a single window, improving user experience. Learn more about the Zoho Analytics integration.
Project management and HR management go hand in hand. Projects managers have to be aware of an employee's availability while creating and assigning projects to balance workload and ensure that projects are completed on time. When Zoho Projects and Zoho People work together, it makes project management much more efficient. Employee availability based on their time-off data will be readily available in Zoho Projects. Timesheets and tasks can be imported from Zoho Projects to Zoho People, and approved timesheets can be exported to Zoho Projects from Zoho People. Learn more about the Zoho Projects integration.
Being in the HR department means dealing with a huge amount of paperwork, including contracts, offer letters, appointment letters, confirmation letters, appraisal documents, and more. These all have to be sent out to new hires and employees for signatures. Missing any step in this process can lead to compliance issues. Zoho People's integration with Zoho Sign makes the signature collection process effortless. Documents can be sent to multiple recipients directly from Zoho People, and senders can track the status of the document. These documents can be saved in Zoho People once they're signed. Learn more about the Zoho Sign integration.
Zoho People's integration with Zoho Writer streamlines and eases the document management process for your organization. This integration allows you to create standard mail merge templates for all essential letters like offer letters, confirmation letters, and more. These letters can be then mailed to your employees from Zoho People in just a few steps. You can also include e-signature fields while creating templates within Zoho Writer. Learn more about the Zoho Writer integration.
If you are an organization that deals with multiple projects and clients, these integrations can be especially helpful. While employees work on different projects, it's necessary to generate error-free invoices for your clients based on employee working hours. This can be done easily with the Zoho Invoice and Zoho Books integrations. Approved timesheets and bills generated within Zoho People can be exported to Zoho Invoice for the invoicing process. This ensures that your clients are billed accurately, avoiding payment delays. Also, all the details regarding your employees, clients, projects, and tasks can be synced to Zoho Invoice and Books. Learn more about our integrations with Zoho Books and Zoho Invoice.
Zoho People's integration with Zoho CRM can be very helpful for your organization to streamline the time-tracking and project management process. You can simply import leads, contacts, deals, and accounts from Zoho CRM to Zoho People as clients. This way, you can easily associate projects to specific clients while creating and assigning them to employees. You will be able to get a clear picture of the time your employees spend on these projects, allowing you to make improvements in the project management process. Learn more about the Zoho CRM integration.
These integrations can make Zoho People more beneficial for your organization by providing more functions that ease HR operations and streamline your workflows. Additionally, having a single, integrated system is much better than juggling between different software applications. Check out these extensions here.
What's your favorite integration among those discussed? Let us know in the comments section below. We'd love to hear from you!
Tarika

Content Specialist at Zoho People
Leave a Reply
Your email address will not be published. Required fields are marked