A complete guide to choosing the right HRIS for your organization
Last Updated: June 19, 2020
9.8K Views
9 Min Read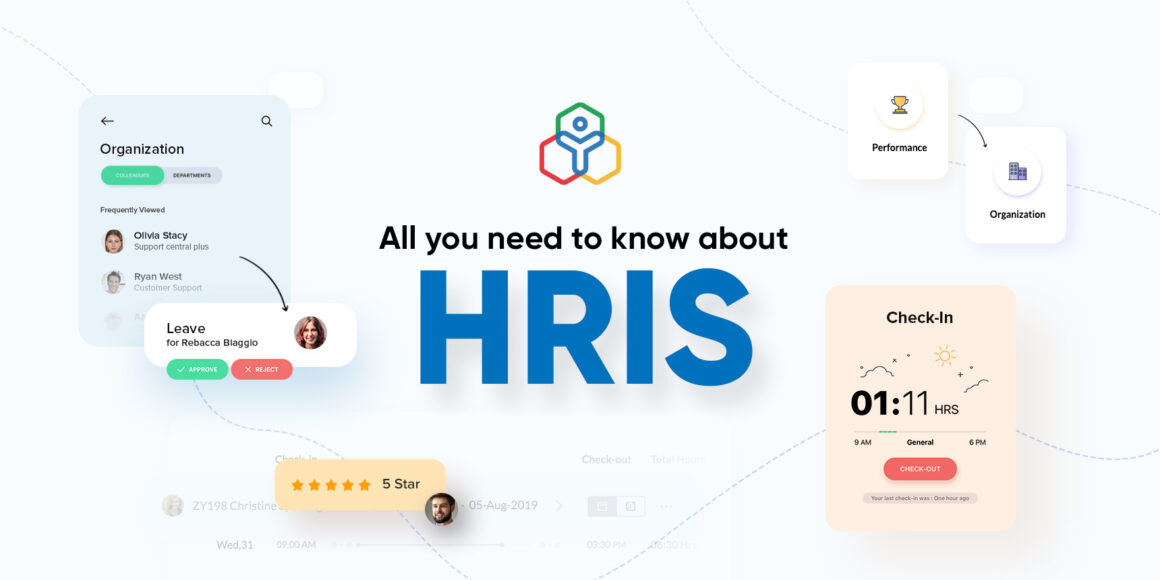 What is an HRIS?
A Human Resource Information System, commonly abbreviated as HRIS, is an integration between Human Resources and Information Technology. It's a centralized system that stores, tracks, and manages all data related to the human resources operations of your organization, including employee demographics, time off balances, attendance hours, medical details, benefits, policies, schemes, and more. Everything from onboarding to attendance can be managed from a single platform, saving a substantial amount of time.
Most HR professionals make use of an HRIS to streamline their workflows and improve people management. All essential HR data can be accessed from any location at any time with suitable permissions. It simplifies and automates the process of maintaining employee records while adhering to all the laws related to employee information. In simple words, it's a comprehensive solution for end-to-end human resource management. Read more about what an HRIS means.
Why is an HRIS important?
Unlike HR spreadsheets, an HRIS puts an end to manual HR management and prevents unnecessary errors and confusion. It saves you from the pain of going through several files or cabinets to find a piece of information. As the data is easily accessible, reports can be generated effortlessly within minutes. These reports can give you an overall picture of your organization, allowing you to make meaningful decisions. Also, different workplace challenges involving employee turnover, giving appropriate recognition, diversity, performance management, and more, can be resolved before they become too big to handle. An HRIS is continuously being updated with current technology, which helps you and your employees stay on top of HR processes. Check out our blog on who uses an HRIS and how it can useful to different employees.
What are the types of HRIS?
Based on functionality, an HRIS is broadly classified into four types, including operational, tactical, strategic and comprehensive. Let's take a deeper look at each type:
An operational HRIS is mostly concerned with internal employee data. It provides all the data that is necessary to make important HR decisions and support your employees. For instance, employee demographic data can be used to improve diversity and inclusion in your organization.
A tactical HRIS often provides data to help you make decisions related to the allocation of resources for recruitment, job design, job analysis, training and development, employee recognition, and more.
A strategic HRIS helps an organization develop and grow strategically by concentrating on their goals and mission. It provides clear and detailed information about the human resources of a particular organization, which helps in workforce planning. This is for organizations that wish to take on new ventures.
A comprehensive HRIS is a complete integrated system that contains everything including HR files, employee-related files, recruitment details, and employee education and experience details. It's a central repository that contains all the essential information required to make decisions for the workforce.
What are the benefits of an HRIS?
Using a proper HRIS can bring a myriad of benefits to your organization. It has the potential to improve the people management process in your organization. Here are some of the different ways that an HRIS can help your organization:
The usual HR processes of your organization become more accurate and efficient with a proper HRIS. By automating routine HR processes, you can focus on more pressing issues like employee recognition, turnover, diversity, inclusion, and more. Adding, replacing, or updating data can also be done in just a few steps.
Boosts employee experience
Insufficient HR technology can lead to poor employee experience. An HRIS allows employees to complete all HR operations from their mobile devices, preventing the need to use different systems. On the whole, it eases every single step in the employee journey from onboarding to offboarding.
Managing recruitment, onboarding, performance, attendance, and time off manually involves a large amount of paperwork. An HRIS takes every single HR process online. The lack of paperwork saves money and time for your organization, allowing employees to be more productive. An HRIS reduces the inefficiencies caused by manual HR processes and prevents duplicate work. This cuts administrative work and costs.
With an HRIS, you don't have to worry about compliance issues. HRIS vendors update their systems continuously to help their users adhere to rules and laws. Data centralization and fewer errors mean your organization is always compliance-ready. For instance, HRIS vendors help organizations to become GDPR-compliant.
What is the difference between an HRIS and HRMS?
More often, the terms HRMS (Human Resource Management System) and HRIS are used interchangeably to mean the same thing. However, there is one basic difference between an HRIS and HRMS that we need to understand. An HRIS is an employee database, containing details regarding benefits, attendance, and time-off. An HRMS includes the functions of an HRIS but also dives deep into talent management. Today, most HR software is customized according to the needs of the clients, irrespective of whether it's called an HRIS or HRMS.
Click here to understand the differences between an HRIS and an ERP.
When does your company need an HRIS?
It's important to understand if and when your organization requires HRIS software. Here are different scenarios that would benefit from the use of an HRIS:
An increasing number of employees
When the employee count in your organization is less than 50, it may be easy for you to manage all the HR operations manually. When the employee count increases steadily, managing employee data and other HR operations in spreadsheets can be tedious and prone to several errors. Data errors caused by outdated systems can lead to compliance issues and employee dissatisfaction. This where an HRIS shines. With an HRIS, you can store data pertaining to multiple HR functions in an organized way easily and effectively. Collecting data from your people and inputting it in an HRIS is much easier.
Using different systems for different processes
Using different systems for managing different HR functions including recruitment, attendance, payroll, and more can decrease your organization's productivity. Your employees will not appreciate having to log into different systems to complete their HR processes. This will only lead to an increased number of questions. However, with an integrated HRIS, you and your employees can complete all HR tasks from a single platform, preventing the need to remember multiple passwords. When all the data is in a single system, you will also be able to gain better insights about the nature and behavior of your workforce.
Lack of employee experience
An HRIS can come in handy when you are trying to improve the employee experience of your organization. Many HR executives have ranked employee experience as one of their top priorities over the next 2-3 years. Having an automated HR system will speak volumes about your company culture, which is a vital aspect of employee experience. It will lead to a better employee-employer relationship by opening up communication between HR and employees. An HRIS also facilitates transparency, accountability, communication, and collaboration, which are the most important drivers of employee experience.
What are the features to look out for in an HRIS?
The features of an HRIS will help you to understand how it will be useful for your organization. Here are some of the common features that come with an HRIS:
According to research conducted by Wynhurst Group, employees who undergo structure onboarding are likely to stay in an organization more than three years. Onboarding is one of the essential features of an HRIS. It provides a great onboarding experience to employees by allowing them to complete all their necessary paperwork online. Automatic notifications are sent to new hires to guide them along every single step. Workflows can be created to customize the process according to your organizational needs.
Database management system
An HRIS stores all essential employee data in a single platform and helps you to stay organized. It allows you to find the exact information you need even when you are outside the office. An HRIS also improves data security by allowing employees to view information that pertains to them. Reports can be generated with employee data in a few steps.
An HRIS empowers your employees by allowing them to track, update, and manage their data. It allows them to add and edit their personal information. They can access essential information without depending on the HR department, and they can mark their attendance and apply for time off right from their mobile devices.
Time off and attendance management
An HRIS automates and simplifies time off and attendance management, preventing the use of multiple spreadsheets. The attendance tracker in an HRIS can be integrated with biometric devices to make the data more accurate. Employee absences can easily be converted to leave, preventing unnecessary confusion in attendance data. Leave policies can also be customized according to your organization's location.
Payroll management system
Using an HRIS that has a payroll management system can do wonders for your organization. Payroll processing is made much easier because the payroll and attendance management is integrated. An HRIS generates reports to indicate the exact number of working days and hours of each employee. Important documents including payslips, investment declarations, and bills for reimbursements can be stored in a single platform alongside other documents.
With an HRIS, you can manage your employee's performance easily. Performance reviews can regularly be conducted to provide continuous feedback throughout the year. Self-appraisals can be executed effortlessly. Goals can be created to help employees gain a sense of direction. Performance reports can be generated to analyze and improve your organization's overall performance.
An HRIS mobile application can help you and your employees finish most HR functions on the go. All information can be accessed anytime, from anywhere. Employees can submit their requests and managers can provide approvals with just a few clicks.
How to select the right HRIS?
Choosing the right HRIS can be a little overwhelming for your organization, considering the number of options available. It's necessary to make the choice that will meet your organization's HR needs. The following tips will make the HRIS selection process easy and effective for your organization:
Understand your organization
Before looking for HRIS vendors, it's essential to understand the HR needs and long-term plans of your organization. Talk to your team and other employees to understand the issues facing your HR operations and how they affect your organization's growth. Visualize the kind of results that you aspire to achieve with the HRIS implementation. Take into account the recruitment pattern of your organization, and assess your current company culture to ensure that the HRIS fits. All these things will give you a basic idea of what to expect from your chosen HRIS.
Selecting the right HRIS for your organization is a huge task, and it cannot be based on one person's decision. Gather the opinions of stakeholders, HR professionals, IT professionals, payroll employees, reporting managers, and certain employees who will be using it. You should also include your legal team to understand if the HRIS ensures compliance with various laws. This will help you to gain perspectives from different users. If you skip this step, there are high chances that your employees may not like the HRIS or will find it difficult to use. Be sure to collaborate with your chosen team at every stage.
This is one of the most vital steps involved in the HRIS selection. There are several HRIS vendors in the market. Make a list of those reputable HRIS vendors that offer a product that is consistent with your organizational needs and goals. Take time to gather detailed information about every vendor. Be realistic when you shortlist the vendors and assess if the features will help your organization overcome your existing HR challenges. Ensure that the chosen option falls within the allocated budget.
Contact service providers
Information gathered from the internet alone is not enough to make a buying decision. Schedule interviews with each of the HRIS vendors to gain a clear understanding of their product. Request live demos and sign up for free trials. Ensure that all members from the team attend the demo sessions. Getting a hands-on experience will help you assess if the product is right for your organization. Also, try to evaluate if the vendors provide timely and helpful support in case any issues arise.
By now you will be almost ready to choose the right HRIS for your organization. Discuss with your team and conclude by comparing the HRIS features against the budget and your organizational needs. Once you are ready to make the big move, talk to the selected vendor and discuss the migration. Ensure that your employees have a clear idea about the HRIS and are ready for the migration. After the implementation, take time to give them a clear demo that explains every module of the HRIS. For instance, confusion in attendance regularization is one of the major HR issues facing many organizations. Discuss with your employees and concerned HR professionals to find out how the use of an HRIS has improved attendance regularization.
Evaluate your choice again
Once the implementation is over, encourage employees to utilize all the functionalities. After a month or so, run a short survey to see if your employees find the system useful. Reconvene the team to find out if the HRIS has helped them overcome the HR challenges that had been discussed.
Conclusion
While selecting an HRIS, it's essential to ensure that it's consistent with the HR needs of your organization. When the implemented HRIS is not suitable for your employees and organization, it can hurt your organization's bottom line. Before buying an HRIS, understand the benefits and features that come along with it.
Zoho People, our HRIS, has everything you need to take your organization's HR processes to the next level. It can be customized according to your organization's needs, and workflows can be created to streamline your routine HR tasks. Learn more about our HRIShere.
Tarika

Content Specialist at Zoho People
Leave a Reply
Your email address will not be published. Required fields are marked