What's new in Zoho People: February 2021
What's new in Zoho People: February 2021
Last Updated: March 4, 2021
288 Views
3 Min Read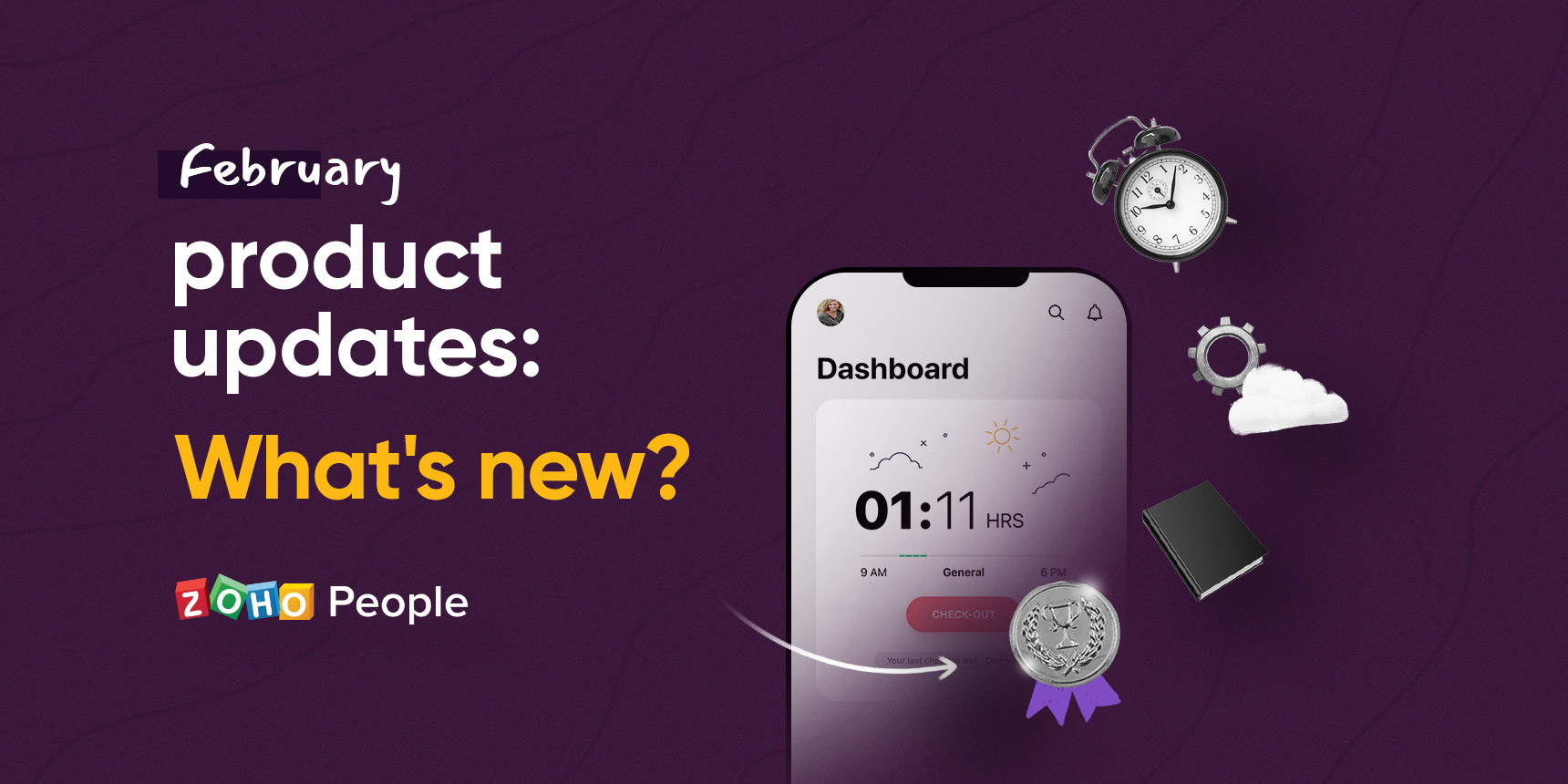 We at Zoho People strive to better understand our customer needs and introduce features that help simplify HR management and provide an excellent working experience to their employees. We have an amazing set of new features that came out last month, and we're thrilled to share them with you. Here are some of the features and enhancements that were released in Zoho People during February:
Facial recognition in our web app
Last December, we introduced facial recognition in Zoho People's mobile application, allowing organizations to validate their employees' identities with photo-matching when they check in or check out. To make this feature more useful for our customers, we have now introduced facial recognition in Zoho People's web application as well. Just like the mobile version, the photo captured while checking in or out through the web can either be matched with an employee's profile picture for auto-verification or saved in the list view under attendance for manual verification by the admin or reporting managers. Admins have to enable facial recognition in the general settings under attendance. Learn more about facial recognition in Zoho People.
Pre- and post-course activities in our LMS
Professional development is key to successful employee management, so we spare no effort to make our Learning Management System (LMS) useful to our customers. Recently, we introduced pre- and post-course activities that help course admins understand the proficiency levels of learners before and after they complete a course. With pre-course activities, course admins can conduct a preliminary test to understand how knowledgeable a learner is in the selected topic. This will also help learners understand what they can expect to learn from the course. With post-course activities, a test can be conducted as a comprehension check that assesses how much the employee has understood from the course. Learn more about pre- and post-course activities in our LMS.
Sometimes you'll need to create a course that is identical to or varies only slightly from an existing course. In such a case, manually copying and pasting the content can be tiring and time-consuming. That's why we have introduced the clone option in our LMS. It allows course administrators to duplicate the overview, module, and members of an existing course as a new course. You can find the cloned course under the My Courses and Course Catalog categories where it can be renamed according to your needs. Learn how to clone courses in Zoho People.
The Tasks feature in Zoho People enables organizations to create and track all the organizational tasks that need to be completed within a given time frame. These tasks can be assigned to different users by mentioning them in the comments section. With our new Task Watchlist feature, users can now get a list view of all the tasks assigned to them in the Watchlist tab present in the Tasks module. Learn more about the Task Watchlist.
With these updates, we hope to help your organization better manage your HR operations and provide an incredible working experience to your employees. Give them a try and let us know how they have helped your organization in the comments section below!
Tarika

Content Specialist at Zoho People
Leave a Reply
Your email address will not be published. Required fields are marked