How to step up your virtual onboarding program
How to step up your virtual onboarding program
Last Updated: April 28, 2021
1.3K Views
5 Min Read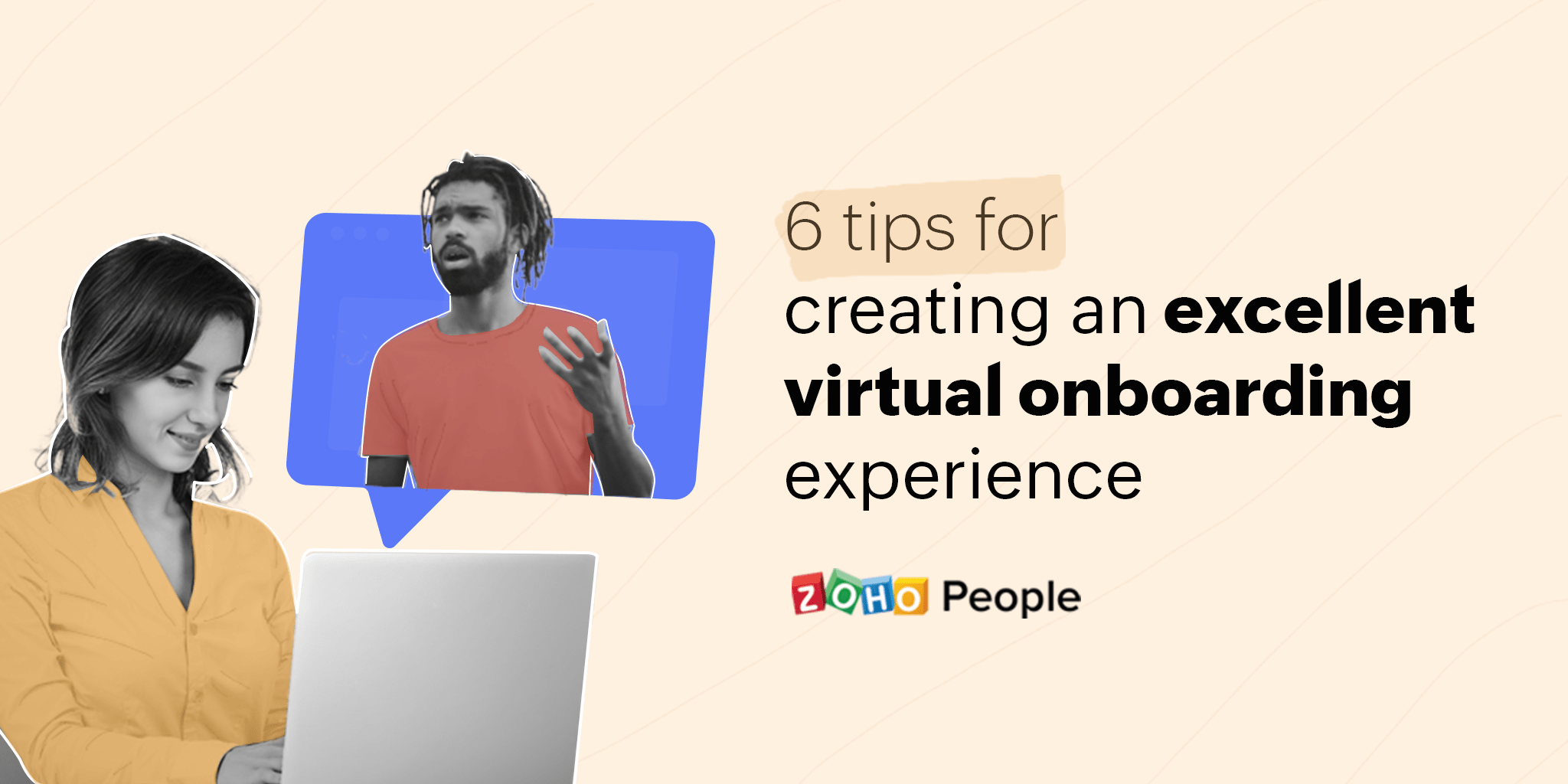 It seems like remote work is here to stay, so many organizations are looking for new ways to provide a better remote working experience to their employees. Onboarding is easy to overlook, but it's probably one of the most important HR operations to tailor for remote employees. If you're looking to ramp up recruitment after last year, you'll need to develop a powerful virtual onboarding program to welcome your new hires and engage them no matter where they work from. Even if it's through a computer screen, this is still one of the first impressions employees will get of your organization. When onboarding new hires virtually, it's important to have a process that gives them a feel of your organizational culture, practices, and values. Otherwise, your new hires will have a hard time adapting to their role and interacting with their peers. A well-designed virtual onboarding program allows new hires to understand what's expected of them, build familiarity with the organization, and feel excited about growing in their role. Here are some tips to creating a high-grade virtual onboarding experience for your remote hires:
Use the right software tools
First things first, you'll need comprehensive HR software to onboard your new hires in a fully virtual environment. It digitizes all the paperwork that comes with onboarding, providing a hassle-free and secure experience. Your new hires can fill out the forms and e-sign them online without having to print or mail hard copies. Try to get this process started early so your new hires aren't burdened with paperwork on their first day. Include a welcome message along with videos and documents that give them a sneak peek into your organization and what they'll be doing. Be sure to have collaboration software for internal communication, video meetings, and screen sharing in case some of the new employees need more in-depth explanations about how to fill out the paperwork.
Remote work usually requires access to a laptop, smartphone, tablet, and/or other tech accessories. If your organization offers these tools to your employees as a benefit of the job, be sure to send them and get them running even before their first official day of work. Consider the fact that remote work means employees will not have access to the amenities of an office, so try to offer a small stipend to help your new hires prepare for working from home. A kit with a personalized welcome message, office supplies, stress balls, tote bags, and company-themed trinkets is also a nice touch. You aren't getting the chance to welcome your remote employees in person, so this will be a way to get your new hires pumped for their new role. Once the items reach your employees, organize a meeting between them and your IT staff to help them get set up.
Tell new employees about your organization
On their first day, set up a comprehensive orientation program to introduce them to your organization. Every organization has a story, and employees will feel more connected to their roles if they understand the journey your organization has been on. Showcase how you align your workplace practices with your company culture and values. A short video from your CEO explaining what your organization is striving for can do wonders as well. This is also a good time to brief them about your organizational policies, and how the core HR processes like payroll, attendance, leave, and performance management. Once the briefing is over, you can bring their manager into the meeting to give more details about their job expectations and goals.
Organize a face-to-face meeting with their team
At this point, your new hires will have a fairly good idea about how your organization works. Now is a great time to organize a face-to-face meeting to help your new hires meet their coworkers. You can also organize virtual coffee or lunch meetings to make it more casual. Hearing positive things about your organization from their peers will make your new hires feel more confident, and the face-to-face meeting will help remote employees feel like they aren't outsiders at the company. This can be especially important if you are just now transitioning to long-term remote work after years of being in an office. Consider that many employees may have had years of personal interaction to build strong bonds with each other, but remote employees will lack that background.
Introducing your new hires to more experienced employees can go a long way toward giving them a better sense of direction. During their initial days, your new hires may not know how to mark attendance or correct irregularities if they forget to check in or out. These small issues can make work stressful if they have no one to turn to for help, and your HR team may not have the capacity to take on this mentorship role. Assigning new hires to a mentor means they'll always know who to contact if they have an issue. The onboarding mentor you choose should be approachable, well aware of your organizational culture and values, and genuinely excited to help new employees get acclimated.
The best way to find ways to improve your onboarding program is to ask new hires for their feedback. Try sending a survey a week after they've joined, and ask what they enjoyed about the onboarding process and what they felt could be improved. Encourage them to be specific in their answers by asking for open-ended details, but otherwise, try to keep it short. This will help encourage more genuine responses.
Here are some questions that you can include in your new-hire survey:
On a scale of 1- 10, how satisfied were you with your virtual onboarding?

Tell us one thing you liked and disliked about your onboarding experience.

Do you feel comfortable interacting with your peers?

Did your manager help you better understand your job responsibilities?
Final thoughts
An excellent onboarding experience is necessary for your employees to adapt well to their new roles, no matter where they work from. How you interact and manage your new hires during their initial days will play a crucial role in keeping them engaged and productive in the long run. When you care about their needs and show genuine interest in providing them with a great experience, they'll be more motivated to give that back in the form of hard work and enthusiasm.
Zoho People, our HR software, has a built-in onboarding module with features like pre-onboarding and custom workflows to provide a great virtual onboarding experience. Learn more about Zoho People's onboarding feature.
Tarika

Content Specialist at Zoho People
Leave a Reply
Your email address will not be published. Required fields are marked