Virtual Onboarding Checklist
Virtual Onboarding Checklist
Last Updated: August 25, 2021
934 Views
5 Min Read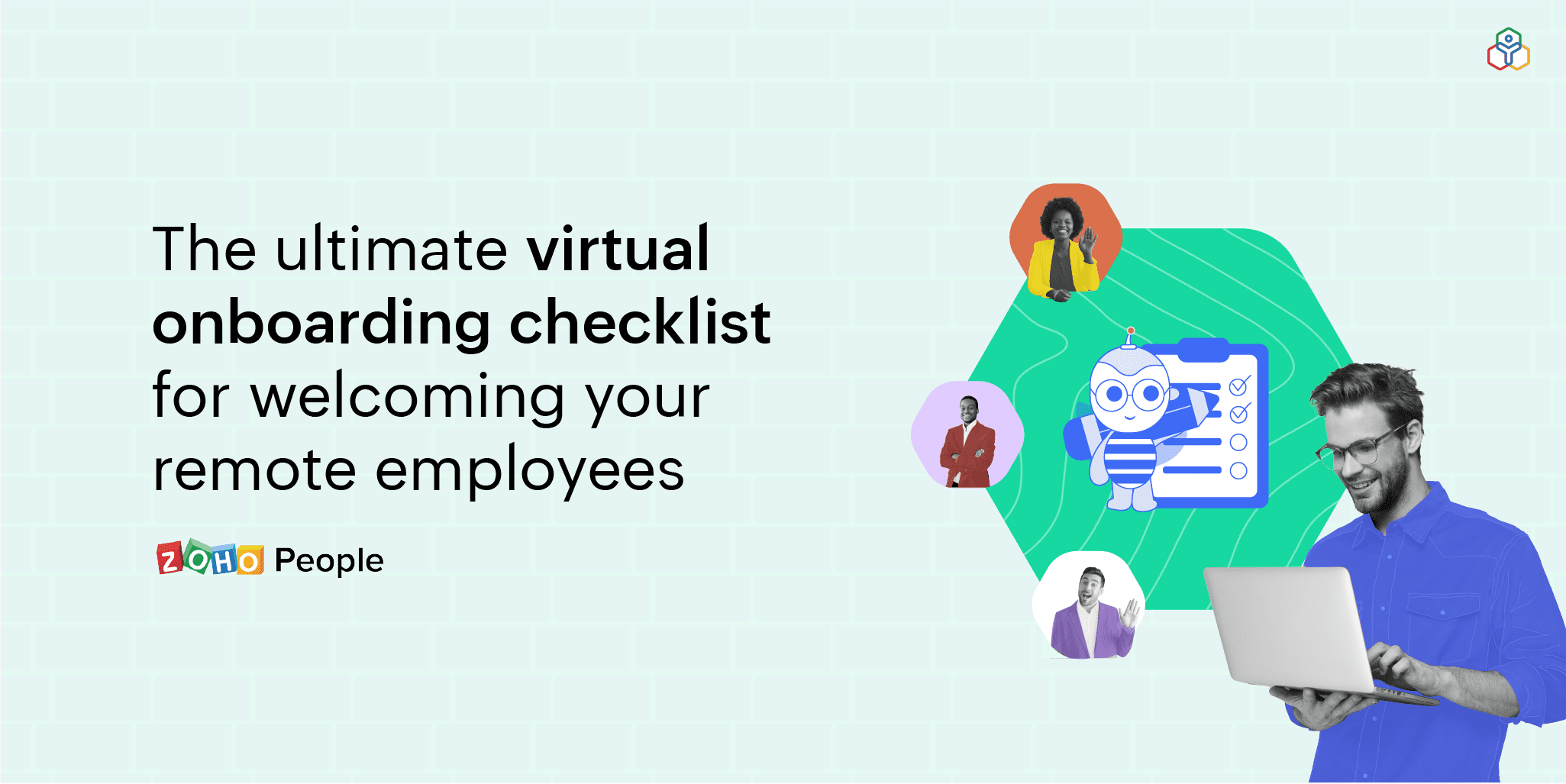 The pandemic in 2020 made many things possible that were once considered unlikely in the corporate world. Once such paradigm shift is the reality of remote working. Remote working, or working from home, now helps sustain many businesses, and also helps employees find a better balance between home and work.
Research by Gallup shows that remote working among American employees increased from 31 percent to 61 percent in 2020, and there's good reason to believe that remote working is here to stay.
However, this transition has brought up some major challenges, especially in the onboarding phase, for both employees and employers.
What are some key challenges faced by a new employee joining an organization remotely?
No feel of the physical space and culture of the organization
A new employee can learn a lot about the culture of an organization when they come to their new office. Setting up their workstation also gives them a sense of belonging in the initial few weeks, and employees miss out on this sense with remote onboarding.
No face-to-face interaction
Without the opportunity to visit their new office and meet their colleagues, new hires may find it harder to adjust and connect with their team members.
Difficulty in building strong relationships
Meeting and interacting with other people in the office fosters a strong foundation for building good relationships and friends at work. Virtual onboarding and work can make it hard for new employees to have this opportunity.
Research shows that a good onboarding process is crucial to retaining top talent, and poor onboarding can take its toll quickly—over 50 percent of employee turnover occurs within the first 18 months of employment. While many companies have become quite adept at refining their onboarding processes for traditional, in-office work, remote work has thrown a wrench into the process.
In the face of this new challenge, here are some key things to include in your virtual onboarding checklist that will get your remote employees off to the best start.
E-signing for offer letters and other documents
It's essential for new employees to sign their offer letters and acknowledge important company policies before they start work. Reliable e-signing software makes these steps easier and quicker, helping to ensure that no employee's first day of work is delayed by unfinished paperwork.
IT support and infrastructure
A reliable computer and a good Wi-Fi connection are must-haves for working from home. However, some employees may not yet have these things, and some may not be technologically savvy enough to set them up. Your IT department should always be available to help in such situations. A dedicated IT chat channel is a great way for an employee to quickly ask for help and get solutions.
The best way to ensure that your remote employees have the technology they need to start work is to send it to them. Have your company's IT team prepare an up-to-date laptop or PC with all required software and accessories, and deliver it to the new employee ahead of their start date. Depending on how close your employees are, you may need either an internal logistics team to coordinate the deliveries, or an organized process for shipping computers by common carrier.
Remote onboarding can be complex, so a simple notification email is not the best way to communicate with the new employee about their onboarding schedule. It is crucial to have two-way communication with the employee, check whether they have seen and understood the schedule, and confirm that they are comfortable with the plan for their onboarding. Virtual calendars and reminders, quick one-to-one chats, and follow-up calls are all effective ways to help ensure that employees don't miss any sessions.
A paper onboarding packet is often part of the onboarding process, and it gives the new employee a ready-made reference for their workplace. With the whole process now going online, it's time to convert those printed handouts and materials into e-resources that are easily shareable and downloadable. Ensure that these resources include contact information for the different teams an employee may interact with. Because remote employees can't simply walk down the hall to find the team they need, this contact info can be especially important for the employees to have if they are stuck and need help.
It's always tough to keep new employees' attention during presentations on their first day at work, and virtual sessions call for even more ingenuity and interaction. Try and keep recorded videos to a minimum, and instead schedule more live interactions with important teams so employees can put faces to names and connect better with them in the long run. Interactive sessions also help break the ice and make the employee feel more comfortable during orientation. When your employees are onboarding from home, don't forget to schedule frequent breaks so your employees can stretch, get refreshments, and get some relief from constantly looking at their screen. Their welfare is key no matter where they connect from.
A remote employee can find it tough to understand the pulse of the organization, unless they have someone who can support them through the journey. A work buddy can answer all those basic yet important questions that a newcomer may have, and help them navigate through the initial awkwardness of starting a new job. This buddy can also be instrumental in helping the employee connect with others in the team and bridge any communication gaps in the first few months.
Approachable manager and team
In a physical office, new employees can mingle with their team and learn to understand the facial expressions and gestures of each teammate. When they work remotely, however, new employees are totally in the dark about things that would normally be communicated through nonverbal cues, like humor, engagement, or concern. This means that team members and managers need to make more of an effort to communicate openly, let the new person know when they are available, and plan to spend a little more time getting to know the new person. Apart from the required discussions about job responsibilities and tasks, frequent calls with new team members are a good way for managers to check how their employees are settling in and to emotionally support them.
Final thoughts
Onboarding is about empowering employees with the required tools, knowledge, and emotional and social support to succeed. These resources are even more essential for workers who aren't in the office, so make sure you cover everything on this checklist to onboard happy, engaged, effective employees.
Zoho People, our HR software, offers onboarding as a built-in feature that you can use to virtually welcome your remote employees. Learn more about our onboarding module.
Leave a Reply
Your email address will not be published. Required fields are marked