8 simple ways to show employee appreciation
8 simple ways to show employee appreciation
Last Updated: December 12, 2023
9.8K Views
4 Min Read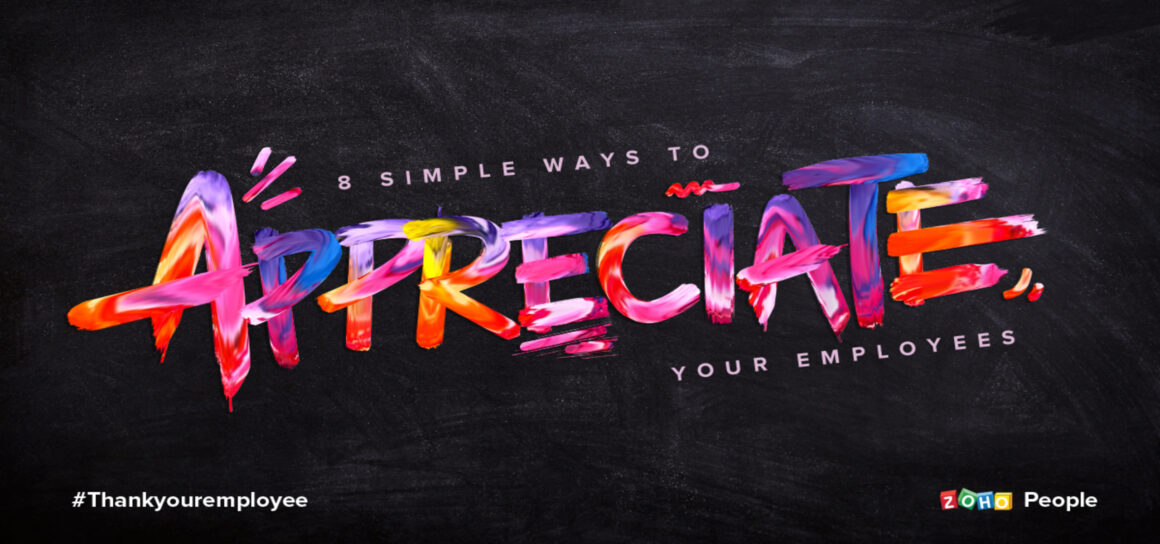 Workplace culture is becoming more open and dynamic, making employee recognition an even more essential aspect of an organization. When an organization fails to appreciate its employees, they will feel undervalued and unsure if their efforts are genuinely contributing to the company's progress. Appreciation and recognition in the workplace helps employees to understand that their work is meaningful. It also helps employees to work harder and better. According to a survey conducted by Deloitte, more than 80% of the employees think that a simple thank you would make them feel appreciated.
Why employee appreciation is important?
Showing employees that you appreciate them will help them to feel good about themselves and their work. Happy employees tend to be more productive and efficient. Recognition also creates an atmosphere of trust between employees and management. A survey conducted by Forbes revealed that employee appreciation is one of the most cost-effective ways to improve employee morale. Building a culture of appreciation leads to a more positive work environment that fosters collaboration and innovation. When employees are well-appreciated in their organization, they'll find fewer reasons to quit their jobs, decreasing turnover. Research conducted by the U.S. Bureau of Labor and Statistics revealed that lack of respect is one of the primary reasons why employees decided to leave a company.
Here are some small but meaningful ways to help your employees feel appreciated and valued at work:
1. Say thank you often
The validation that employees receive from a simple thank you after completing a challenging work task can do wonders. A verbal thank you goes a long way in helping employees to work harder for their organization. It seems small, but it shows to employees that their work is respected and important. Not thanking employees enough can cause employee morale, productivity, engagement, and happiness to suffer, and it will eventually drive people away from your organization. A lack of gratitude can also undermine the productivity of your business. Always thank your employees for going the extra mile, and tell them how their efforts have added value to your organization.
2. Build an atmosphere of trust
Trusting your employees is one way to show appreciation and recognition. When you trust your employees and allow them to take care of their own work, it helps them believe that their autonomous efforts are both satisfactory and relied upon in the company. When employees are micromanaged, they become frustrated, demotivated, and disloyal. Build trust with your employees by:
Supporting their hard work

Being transparent with them

Including them in the decision-making process

Respecting and implementing their ideas

Educating your managers about the need for trust
Also read:7 tips to earn your employees' trust
3. Encourage growth and development
Employees are constantly seeking opportunities to strengthen their skills. They will feel truly respected and appreciated if their organization provides growth and development opportunities for them, especially after a great work performance. This makes them loyal to their organization, builds a strong employee-employer relationship, and helps them to perform better. Here are some tips to provide better development opportunities to your employees:
Analyze the learning needs of your employees

Develop a training plan based on those needs

Introduce appropriate trainers and courses

Provide real-time feedback to your employees
4. Employ gamification for appreciation
Gamification is an innovative trend that can make employee appreciation more efficient and effective. Foster friendly competition in the workplace, and help everyone stay motivated and engaged. Providing meaningful rewards for performing well can not only show recognition, but also make work more fun and interesting for your employees. For example, you can fix a certain number of points for work different tasks. At the end of each month, the total number of points earned by each of your employees can be calculated, and those with the highest number of points can be rewarded.
5. Offer great perks and benefits
Benefits including health insurance, bonuses, pension plans, maternity and paternity leave, wellness programs, flexible time off, and more play a significant role in showing employees that they are appreciated. When the needs of your employees are satisfied by your organization, they will be dedicated to their jobs and the quality of their work will be better.
6. Utilize social media to appreciate employees
With the millennial population seeping steadily into the workforce, it's difficult to keep away from social media. Recognizing employees on the social media platforms they use shows that you want to communicate your appreciation genuinely. It's also one of the most cost-effective ways to show that you care. When employers take the time to write an honest thanks toward their employees, it can have a hugely positive impact on employee morale. Use your organization's official social media to post about the achievements of your employees. Before posting, encourage all your employees to follow your company's social media accounts.
Also read:4 ways HR professionals can use social media to their advantage
7. Listen to your employees
Making time for employee feedback and listening to what they have to say about your organization is another great way to make your employees feel valued. It shows that you are concerned about their opinions and helps you understand what your employees want. This way, you can quickly resolve issues with solutions that will suit your workforce. When gathering feedback from employees:
Avoid distractions while listening

Don't interrupt their conversation

Ask relevant and appropriate questions

Consider their thoughts before offering a solution
8. Introduce a fun element
After achieving the most difficult target of the year or completing a project within its deadline, use fun traditions to help your employees relax! Fun can be one of the best forms of appreciation. It helps your employees beat anxiety and stress while motivating them to perform better at work. Awards ceremonies, peer recognition programs, team lunches, office parties, and more are just some of the fun activities that you can use to make your employees feel appreciated and valued.
Employee appreciation is directly related to employee engagement, productivity, morale, retention, happiness and much more. The way you value your employees matters the most to them. We hope these tips gave you an idea on how to appreciate your employees to build a positive and happy workforce. Whatever ideas you take from them, remember the most important thing is to be genuine and respectful.
Also read our blog 5 Ways to Show Your Employees You Care this Employee Appreciation Day
Tarika

Content Specialist at Zoho People
Leave a Reply
Your email address will not be published. Required fields are marked