Rewards that make employee recognition programs more engaging
Rewards that make employee recognition programs more engaging
Last Updated: August 27, 2021
1.2K Views
5 Min Read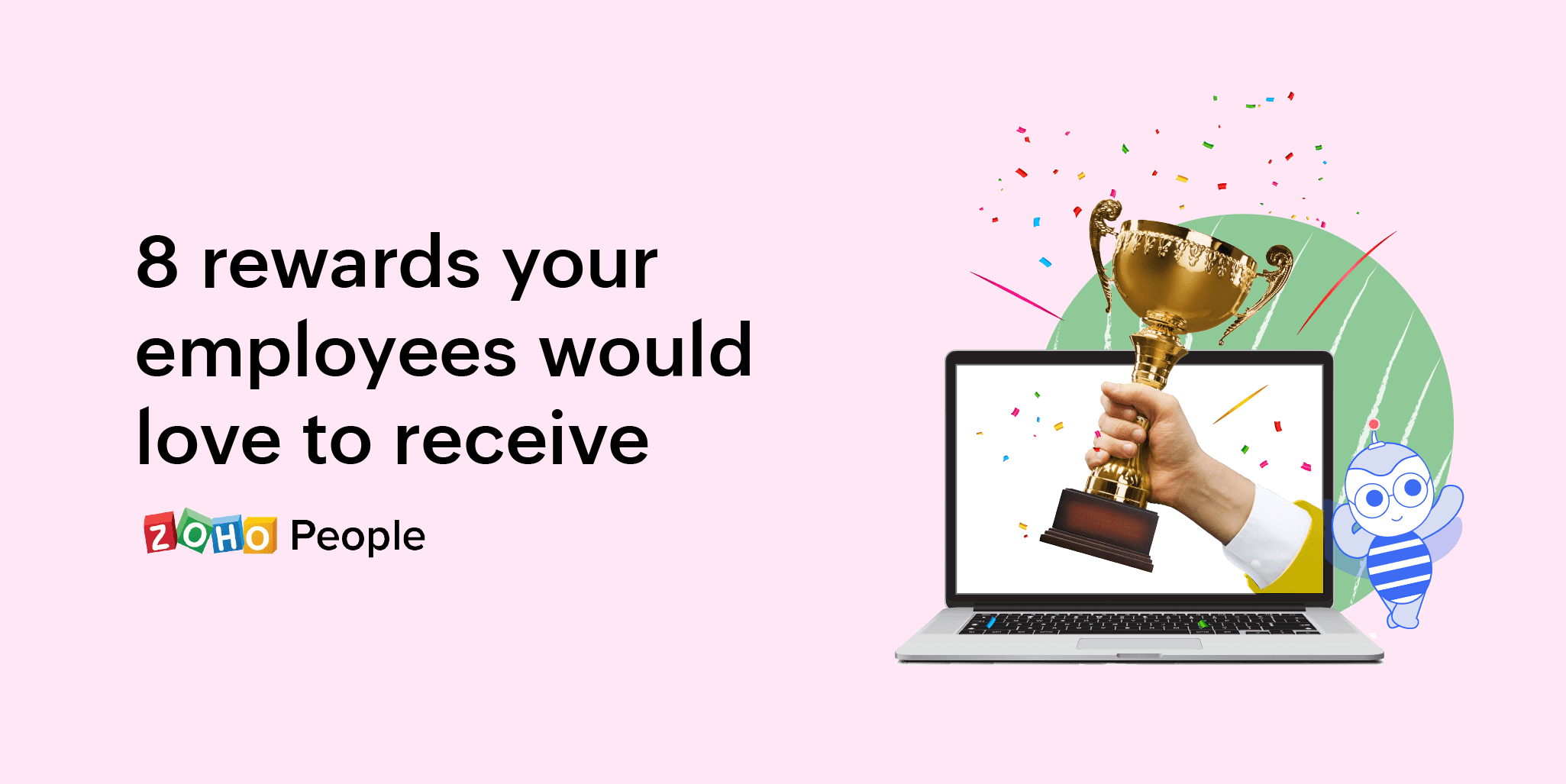 Nobody likes for their hard work to go unnoticed. Recognition and appreciationmotivate your employees to bring their best to every task they take on and go the extra mile to improve organizational success. Without recognition, your employees will always wonder whether their work is having the intended impact. Over time, this feeling can intensify and give way to performance anxiety, bringing down their morale and productivity.
One way to prevent this as your organization grows is to implement a comprehensive rewards program. With a formal policy in place, you establish a culture of appreciation and gratitude that everyone can enjoy. It makes it easier for managers to understand what kind of recognition works best, and the outcomes boost your employees' confidence. In one of our previous blogs, we elaborated on the different steps that go into developing a successful rewards and recognition program. In this blog, we are listing eight different rewards that you can consider including in such a program to maximize employee engagement.
Career development opportunities
Nothing can motivate your employees like career development opportunities that help them move forward in their professional lives. This level of investment on your part reiterates your interest in helping your employees excel, creating an environment where every worker feels valued and respected. To start off on the right foot, understand what your employees expect in terms of their career growth and what would help them reach their professional goals. Whether it's mentoring, training, succession planning, or taking additional responsibilities, ask them what they prefer. Rewards that aren't targeted like this will have much less of an impact.
When your employees perform exceptionally well, it's only fair to promote them and increase their salaries along with their responsibilities. Promotions should be based on an employee's performance and their ability to take on new roles rather than their experience or seniority level. If possible, have a specific promotion plan in place to help your employees better manage their new roles as they can be overwhelming in the beginning. This plan should take into account your employee's current skills, the skills required for the new role, and how you are going to train them.
While this is one of the most common benefits in a rewards and recognition program, it's easy to underestimate just how valuable it is to your employees, especially if there are no other healthcare options available to them in their area. A well-planned health benefits scheme can go a long way towards establishing a healthy workforce and boosting your employer brand. Apart from the usual plans that cover your employees' medical expenses, you can offer additional rewards that aim to improve their overall well-being. Gym or yoga memberships, mental health counseling, fitness equipment, stress reduction programs, or diet consultation gift cards, are just a few ways to go above and beyond for employee health and wellness.
Experiential rewards are now becoming more popular among organizations because they leave a long-lasting impact on employees. Instead of a gift card to a store your employees may not shop at, you can provide them with a memorable experience that they'll cherish throughout their lifetime. This could come in the form of sponsoring a trip to an exotic place or a dinner at a night's stay at a luxury hotel. Survey employees on what experiences they enjoy the most, and then tailor the rewards to your program's budget.
Monetary bonuses and incentives
When done right, monetary benefits are a great way to appreciate a job well done. They help your employees understand that their work has added value to your business and you are thankful for that. You can offer a one-time bonus to employees who meet a sales target or achieve a particular goal. Similarly, this appreciation can come in the form of a profit-sharing scheme that gives a certain percentage of your organization's profits to employees based on their performance. If those options aren't feasible, try something like a Leave Travel Allowance (LTA), which covers an employee's vacation. This is different from an experiential reward in that you don't have to plan the trips yourself, but you can save your employees money on a trip they are hoping to take. Especially for those employees who have large families, this can be a great incentive.
Not all rewards have to be grand or elaborate. It's important to also include rewards that scale, giving you the chance to recognize employee efforts more often. An award or trophy fits this need perfectly while still providing a nice boost to morale, engagement, and motivation. A good award will remind employees about their hard work and motivate them to improve every day. Make sure that the award you give your employees is personalized to reflect their accomplishments to have the maximum impact. If possible, organize a virtual awards night with your teams to make them even more fun and memorable.
There's nothing more satisfying and relaxing than company-sponsored time off when you are least expecting it. Your employees will be grateful to you for recognizing the hard work that went into their latest projects and giving them the break they deserve. When they come back, they'll feel more refreshed, ready to conquer the next set of challenges and take your organization's success to the next level. Consider giving them an extra day off for their birthday, wedding anniversary, work anniversary, or any other memorable day.
Organizing team meetups and outings is a fun way to reward a group of employees for a job well done. Maybe they successfully launched a major product or update, or they organized an event that turned into a huge success. Whether this reward involves taking them to a nearby restaurant for a team dinner or organizing a short trip to a luxury resort, it will be fun and memorable for your employees. It also helps them to bond with each other on a personal level, building better workplace relationships. Team trips instantly boost employee excitement and motivation.
Final thoughts
Creating a comprehensive rewards program can go a long way towards improving your employees' productivity in your organization and making them feel more fulfilled and satisfied with their work. It creates a culture of appreciation and recognition, which motivates employees to come to work every day with a positive mindset. We hope this blog gave you a useful idea for your next rewards and recognition program.
Zoho People, our HR Software, is integrated with XoXo Day, a rewards and recognition platform that helps organizations simplify the employee recognition and appreciation process. This integration allows you to provide employees with points, which can later be redeemed to unlock a variety of rewards. Learn more about the integration here.
Tarika

Content Specialist at Zoho People
Leave a Reply
Your email address will not be published. Required fields are marked