5 tips on how to manage employee attendance
5 tips on how to manage employee attendance
Last Updated: March 27, 2020
12.0K Views
4 Min Read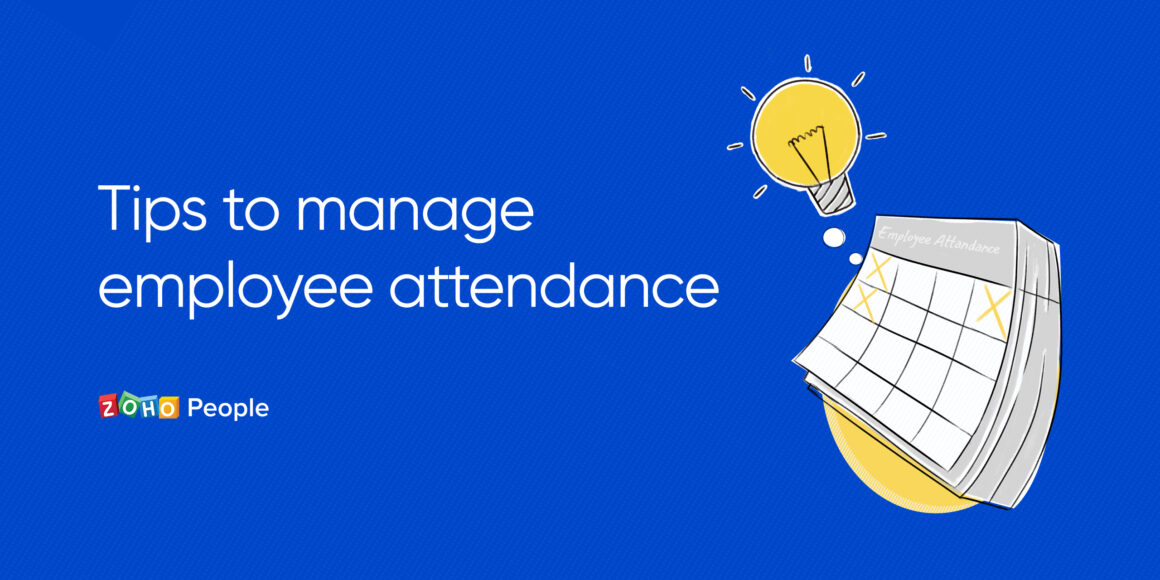 As an HR manager, you understand better than anyone that your employees are the most valuable resource in your organization. Managing them correctly can make or break your bottom line. One important aspect of employee management is attendance. Poor attendance management can lead to a loss of business productivity and profit as well as a higher turnover rate. It's your job to track and maintain your employees' working hours while staying compliant with labor laws and regulations. In addition to this, employees can only be paid accurately when their attendance is calculated properly. According to federal labor laws, full-time employees are required to work for 40 hours a week, and employers are required to pay employees who work overtime. When employees are not paid for their overtime, they can file lawsuits. This shows that effective attendance management is highly necessary in today's workplace. Having a well-managed attendance system can improve your organization's bottom line and improve the overall efficiency of your organization. Here we have listed the different ways in which an organization can track and maintain its employee's attendance effectively,
Set clear expectations for your employees
Drafting a clear attendance policy that lists rules and expectations is the first step to effective attendance management. It helps you run your business efficiently and reduce unscheduled absenteeism. The policy should outline how to request time off and the consequences of not following attendance procedures. Before drafting the policy, however, keep in mind your company culture to ensure that both are consistent. Talk to your employees, listen to their expectations, and ensure they fully understand the policy.
Also read:5 tips to draft your attendance policy
Combine your attendance and payroll
Managing employee attendance accurately is crucial for payroll. When there are errors in your attendance data, you can end up overpaying or underpaying your employees. Analyzing attendance data manually to process payroll can be time-consuming and cause more mistakes, especially when your workforce is large and dispersed in different locations. Using HR software that is integrated with payroll software can help. HR software calculates working hours, overtime, and loss of pay, making payroll processing easier, more transparent, and more accurate.
Encourage employees to manage their own attendance
Employees should be able to access their attendance and time off data at their convenience. This will reduce the questions employees have for the HR department, and they'll be able to plan their own work and vacations. Additionally, you should make the company's attendance policy accessible through an Employee Self-Service portal. With this information at their disposal, your employees will feel like they have more knowledge and control of their work lives. This autonomy will boost their motivation and ultimately reduce turnover.
Rigid attendance policies may make employees dislike their job, and that will reduce their morale. When employees are offered very little time off, unscheduled absenteeism increases, and your company's bottom line may suffer. So, it's essential to make your attendance policy flexible. Millennials and Gen Z, who will form the majority of the working population in the coming years, prefer flexibility over any other benefit. It's important to take this into consideration and respect the concerns of your employees. However, don't allow unconscious bias to creep in. One example of providing more flexibility is giving a remote work option to your employees when they are not able to be physically present at your workplace.
Use an attendance tracker
Managing attendance manually has become a thing of the past. With an attendance tracker, every aspect of attendance management can be automated. Data The inconsistencies can be prevented altogether as the attendance tracker can be integrated with your company's biometric devices. Employees can log their working hours even when they work remotely with suitable IP and geo-restrictions. Employee absences can be converted into days off, easing payroll processing. In addition to this, the attendance data of all your employees can be consolidated in a single location. With it, you can generate insightful reports that show your employees' attendance patterns.
Attendance management is an essential aspect of every business. Efficiently managing employee attendance can lead to increased productivity and a better work experience for your staff. Keeping this data as accurate as possible is necessary for staying compliant with federal and state laws, so we recommend using automated attendance tracking software. As the world moves toward more flexible working environments, technology will help all businesses keep track of their employees with ease. We hope these tips gave you insight on how to manage employee attendance effectively!
Also Read:5 benefits of tracking attendance online
Tarika

Content Specialist at Zoho People
Leave a Reply
Your email address will not be published. Required fields are marked