Why visitors are abandoning your website forms (and how to fix it)
Why visitors are abandoning your website forms (and how to fix it)
Last Updated: April 13, 2021
367 Views
4 Min Read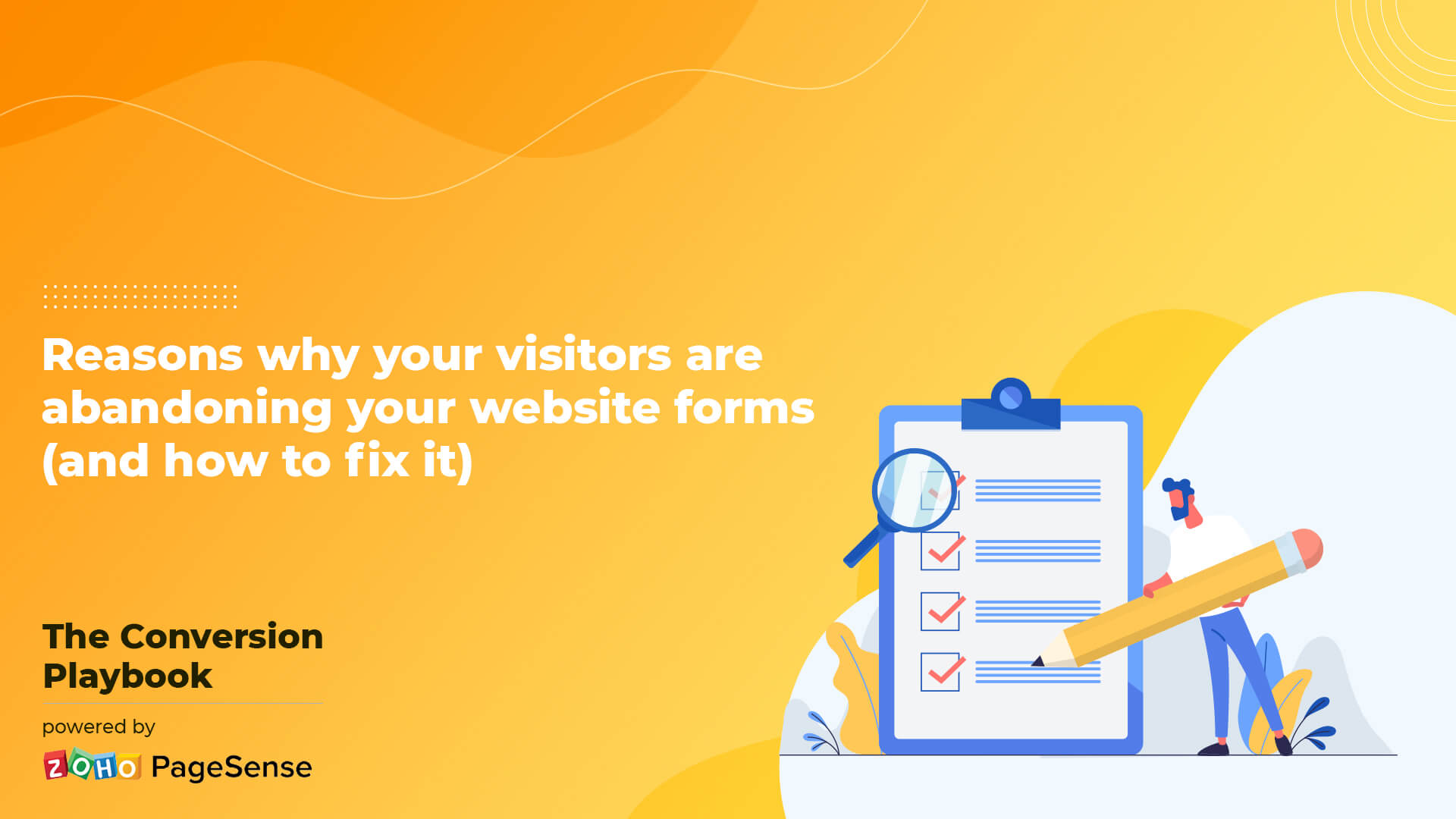 No matter what business you are in, forms are an indispensable part of your lead generation journey. That's why marketers spend a fortune on different avenues to bring visitors to web forms.
However, a whopping 67% of visitors who start filling out a form don't complete them.
But don't lose hope! While there's no trick to get every visitor to submit their details to you, there are ways to get visitors who start filling out your forms to finish them. These are the people who are willing to make a trade-off by exchanging some of their information for something they think as valuable on your site. However, this isn't going to be an easy task unless you know why people abandon forms in the first place.
According to WPForms, the top four reasons for form abandonment are:
Security concerns

Form length

Too many distractions

Asking unnecessary questions
If you trace the root cause for all the concerns mentioned above, you'll see it's "bad user experience." Let's be honest for a second; we all hate filling forms, and the auto-fill option in our browser stands as a testimony to this fact. Even more so if the website experience is bad.
So let's look at some ways you can improve user experience and, eventually, reduce form abandonment.
Be transparent about form data
With new data protection regulations like GDPR, CCPA, and so on coming up now and then, you have to be careful about privacy concerns more than ever. Be completely transparent with your visitors; tell them the purpose of your form and what you will do with their data. It's better to explicitly state if you share the form data with your business partners. This way, you can reassure visitors that you take their data seriously.
‌Test your forms for an ideal length
The length of your form can vary depending on the type of business and data you're looking to collect. Let's say you're in the insurance or travel business and you need to get as much info as possible from your visitors to suggest the perfect plan. In this case, you may need a long form, but that doesn't mean it should be boring and endless. You could break your form into parts and show a progress bar at the top. This will encourage your visitor to track their progress, know what's ahead, and calculate the time they need to do this. If you're not sure whether short or long forms work for your purpose, create an A/B test to see which version performs best.
Have a clear goal
While it's true someone who fills out your forms might be a great target for you to promote your add-on purchases, quite often we're tempted to upsell or cross-sell to our visitors even before they complete a single transaction with us. Too many choices will only confuse your visitors and become a roadblock to form completion. So, have a clear goal and drive visitors towards that by avoiding any distractions. However, you can promote other products after they fill out a form. You could even ease the process by not asking them to go over the form again.
Collect only what is needed
Don't ask unnecessary questions in your forms. For example, asking for a phone number in a newsletter subscription form might be irrelevant. The best way to tackle this is self-evaluation. Before adding a field in your form, ask yourself these questions:
Is this field required?

What do you need it for? Or, why do you need this information?

Will the form make sense without this field?
Optimize your forms
It's said that 45% of form data is submitted from mobiles. That means your forms should be optimized for mobiles—and not just the appearance, but also the experience too. Make sure your form fits the screen, CTA buttons are aligned, text isn't out of place, etc. Minimize the number of fields and include radio buttons/dropdowns wherever possible instead of text fields. Simple things like summoning an alphabetic keyboard for a zipcode field instead of a numeric keyboard can hamper the user experience. So, create a separate strategy for your mobile forms.
Make use of inline validation
Have you ever spent valuable time filling out a form only to get an error after hitting "submit?" We've all been there and know for a fact it's a deal-breaker. This is where Inline validation can help. Use inline validation to tell a user in real time if they are filling a field right or not. This saves a lot of time for your user and saves you from another form abandonment.
Give cues to complete
Guide your users with cues for each field. In addition to inline validation, showing cues to users will help them fill out a field with confidence and reduce the time needed to complete a form. For example, many businesses have unique requirements for password fields—some want randomly-generated passwords while others want passwords with a minimum of eight characters, including one alphanumeric and two special characters. Whatever it is, just tell your visitors what to do!
Win your abandons back
Did you know about 19% of people are willing to fill out an abandoned form if they are reminded of it? Yes, it's that simple—some people will fill out a form if you just remind them. So, craft and send a beautiful email reminder to visitors who abandon your form and easily win them back. Next time you want customers to fill out a form or your event attendees to signup, don't forget to give them a nudge. Who knows, it might work!
Your Turn
Have you tackled form abandonment? If yes, let us know how in the comments below. Or, play the devil's advocate and tell us the reasons why you abandon forms. Either way, we would love to know your thoughts!
Vaijayanthi

A passionate marketer. An advocate of customer-centric and no-fluff marketing. Music, art, and books keep me sane in an otherwise insane world.
Want to break the ice with me?
Let's connect on Twitter and LinkedIn ⬇️
Leave a Reply
Your email address will not be published. Required fields are marked