Getting started with ecommerce personalization
Getting started with ecommerce personalization
Last Updated: April 15, 2021
586 Views
5 Min Read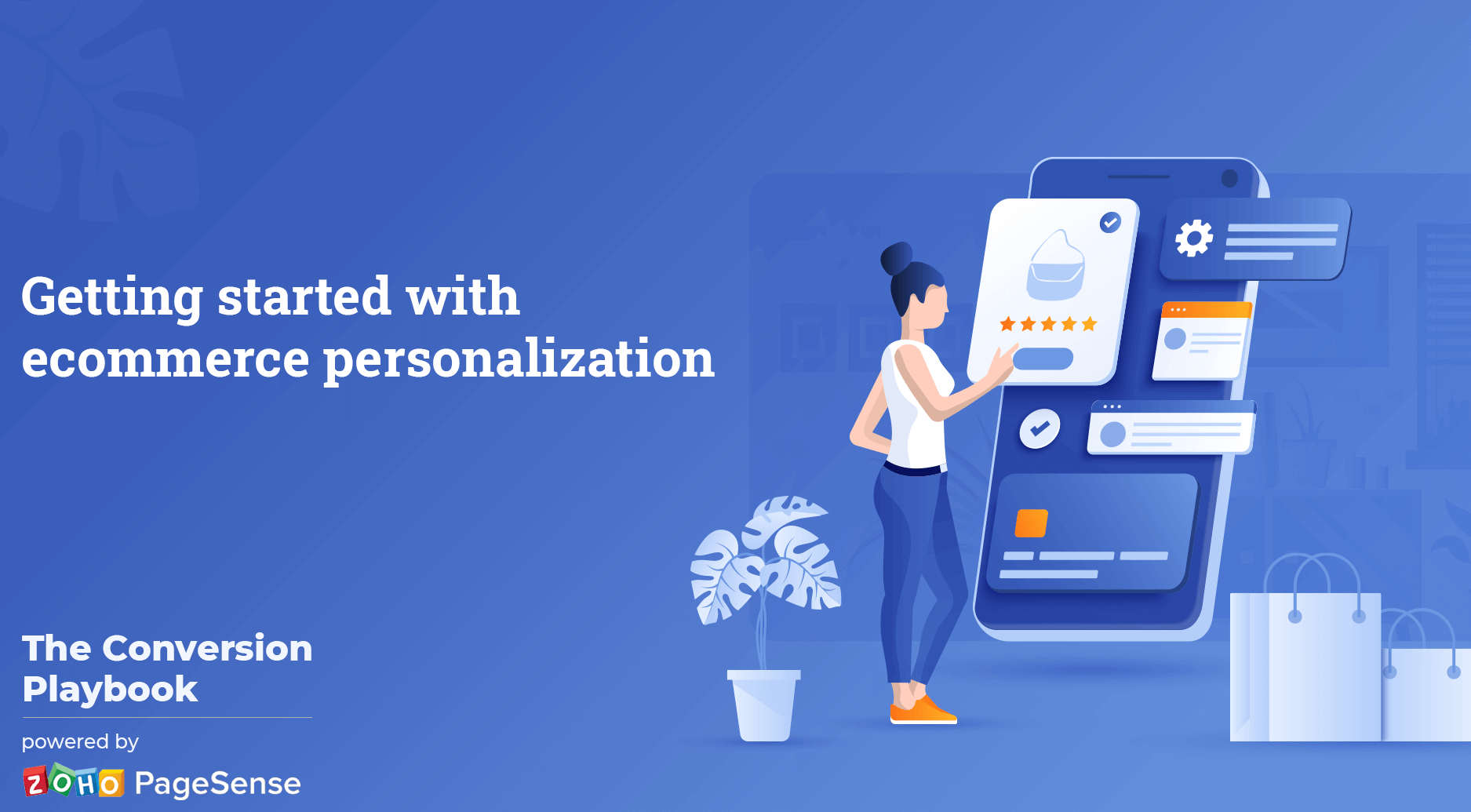 Imagine you need stencils and head to a new stationary store to buy some. Since you've never been there before, you might spend more time than you'd like searching for what you want. In fact, you may eventually need to find an employee to help you. Wouldn't it be nice if the store knew you were coming and had the items you sought set out for you already? As a business owner, ecommerce personalization can help you offer this ideal experience to online customers.
Ecommerce personalization is the art of delivering a personalized shopping experience to a targeted visitor or groups with an aim to improve conversions, revenue, and user experiences. Implementing personalization in your online store makes it easier for customers to choose their products without having any distractions.
Let's begin with the foundations of ecommerce personalization. There are three critical KPIs that power the concept:
Average Session Duration

Increased Product Engagement

Increased orders
Before we go deeper, you'll want to answer the following:
What data points do you want to track?

Whom are you tracking?

Which platform/tools will you use to track the data?
Segmentation is the first step in personalization as it clarifies your visitors' expectations. The five key data points to track when it comes to segmenting the audience are:
Visitors: New and returning visitors

Traffic: Referral links, email, social, etc

Device: Mobile, desktop

Location: Language, currency, country, weather

UTM parameters
For example, you can welcome your new visitors with coupons or first-time discounts in exchange for them signing up for your newsletters. For your returning visitors, you can recommend products based on their previously viewed or purchased products.
Collecting data on traffic sources can help you clearly understand visitor intent, industries, and interests. If they have higher purchase intent, you can offer a coupon for a limited period or even one-day free shipping.
Track your visitors' location to offer weather-based product recommendations or to personalize currency or size charts for different regions.
Finally, you can link UTM parameters to gauge the effectiveness of referral sources, campaigns, or landing pages. This data can help you adjust your marketing strategy by determining your most successful campaign.
Ecommerce personalization examples (2020)
Let's look at some personalization techniques that marketers have been actively practicing to provide a better customer experience.
Website content personalization based on audience segmentation
When you're growing a business, it's important to focus on new audiences. That's when you need to work on your acquisition strategy, including your site's content, ensuring that it caters to the new audience.
Berlin-based giant Chal-Tec was launched as a single online store called Elektronik-Star.de that specialized in DJ equipment. Slowly, they expanded their product categories to other HI-Fi equipment as well as fitness and household appliances. However, they weren't able to compete with marketplaces like Amazon. After a year of constant A/B testing, they experimented with personalization to regain their customer's trust. They started with their DJ enthusiast audience segment, replacing every element of their original site with content geared towards DJ audio and video equipment. This not only created a personalized experience but also increased the conversion rate by 27.6%! Given that success, they began personalizing their other categories in the same way.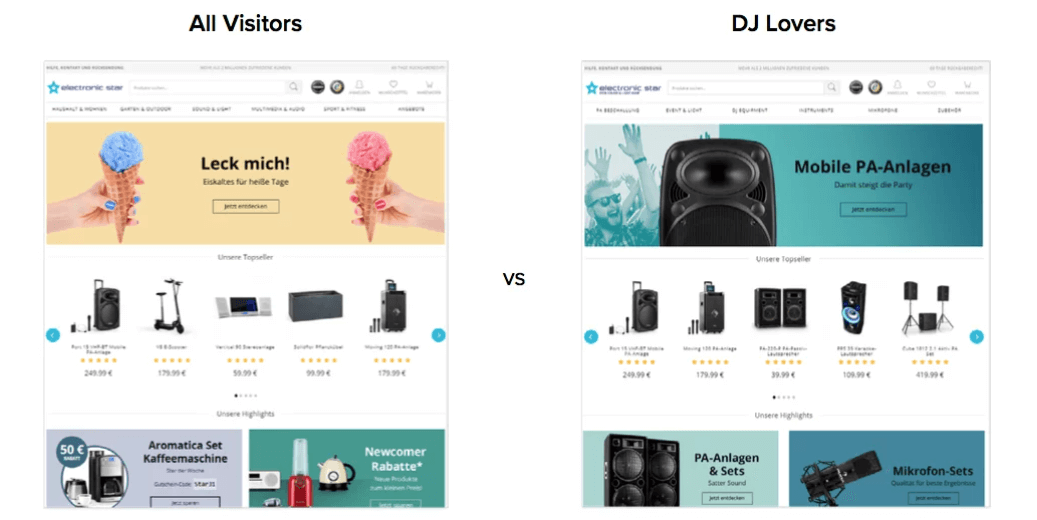 The above experiment can be replicated by creating audience segments based on your website visitors' specific paid campaigns or personal information (age, region, interests).
44% of consumers say that they will likely become repeat buyers after a personalized shopping experience with a particular company.
Category menu personalization based on visitor preferences
Category menus can sometimes create unnecessary barriers to users by highlighting items that are of no interest. To ease navigation, promote product discovery, and drive more conversions, you can personalize the navigation menu based on every visitor's preferences.
For example, on the homepage, new users would be shown the best high-level category menu, but returning users would be shown the products from the subcategories that they previously viewed/visited.
Create social proof triggers
Social proof notification is a recent trend in the ecommerce industry where you can trigger real-time notifications to your customers while they are on the website.
For example, to build trust among their audience, brands can display proof of what others have purchased in recent times— might be an e-book, a product, or a service.
Here's an example of how Snackstar does it.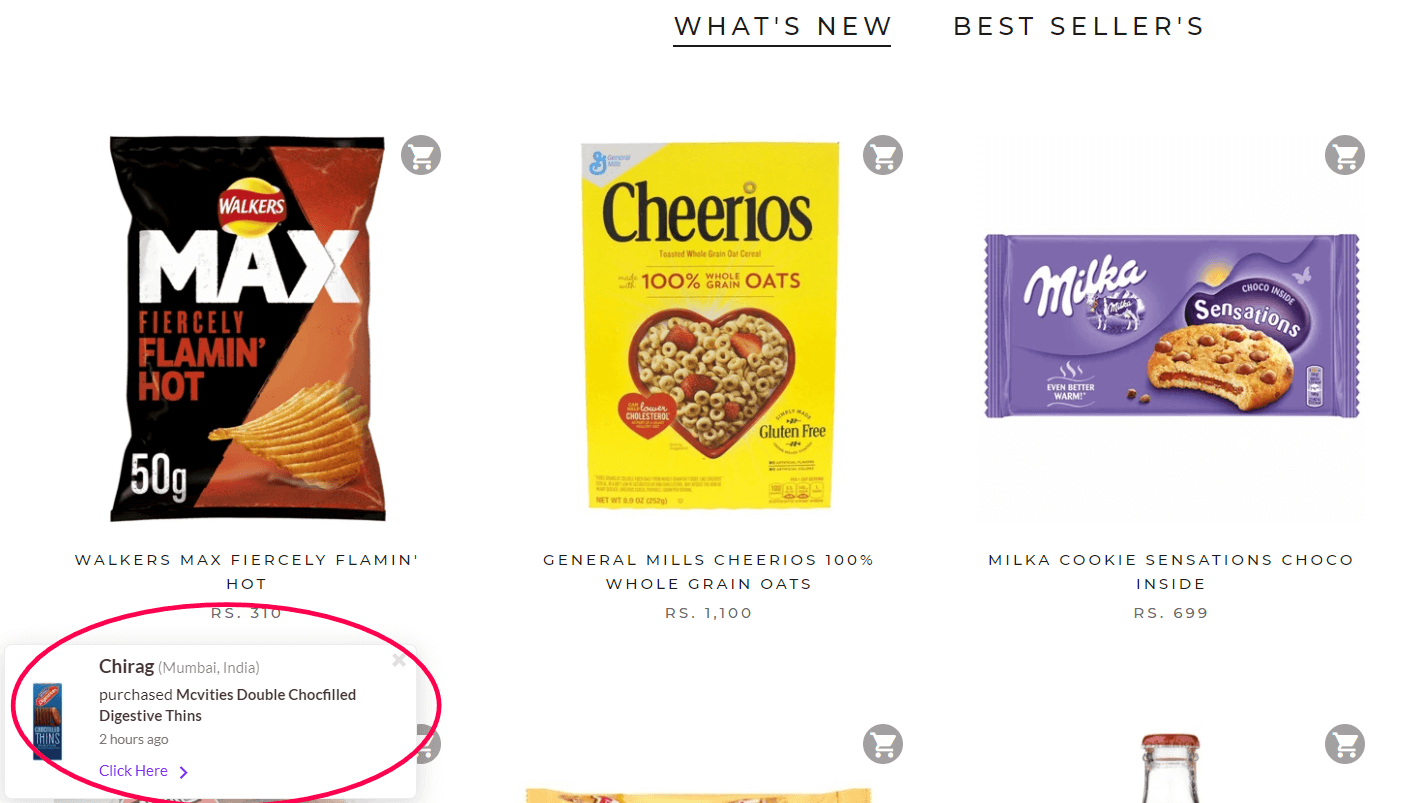 Create personalized retargeted ads
Personalized retargeted ads are quite common in the ecommerce industry. They're more relevant, improve engagement, and drive customers to purchase the product. Generic ads are expensive and can hike up your acquisition costs, which is why businesses are switching to personalized retargeted ads to cut costs and boost their conversions.
Here's an excellent example of a website that showcases retargeting ads on their visitor's Facebook homepage.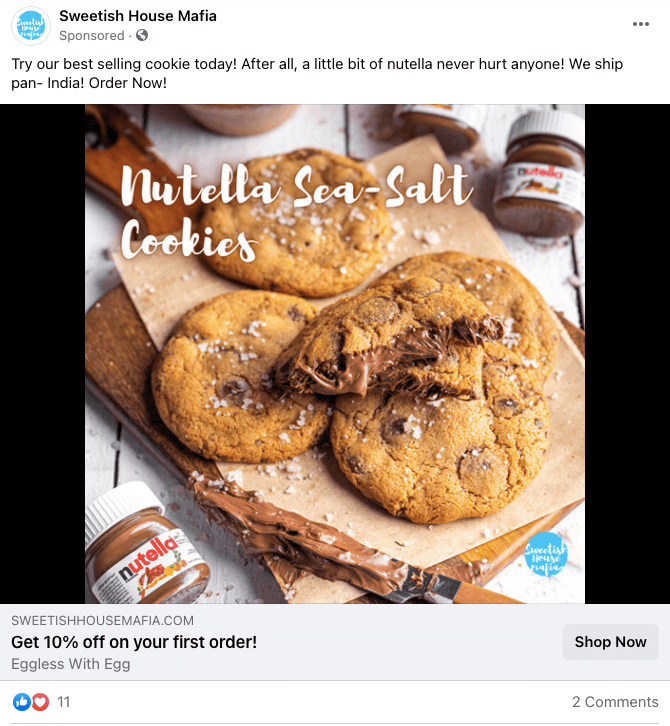 Personalized email marketing
Segment your target email lists by geographic data, demographic data, and behavioral data and then link your email campaigns with contextual landing pages to boost conversion rates. Using URL tracking, you can track visitor activity and trigger an email follow up as well.
Sending your subscribers an email directing them to a specific landing page that showcases products based on their purchase history—as opposed to your homepage—increases the chances of them purchasing the product. In fact, marketers report a 760% increase in email revenue from personalized and segmented campaigns.
You can also personalize your email subject lines to include subscribers' first names and send them birthday or anniversary emails with special discounted vouchers.
Crew Clothing Co, a casual clothing brand, was using a non-segmented, mass email database for every campaign that wasn't performing as required. Keeping their focus on conversions and customer loyalty, they started segmenting their email database based on purchase history and other criteria. Their open rates increased by 75% and outperformed their quarterly revenue target.
Deliver weather-sensitive content
To avoid showing offers for thick woolen sweaters to customers from Florida, you can segment your target audience based on the current or forecasted weather specific to their location.
"Consumers are 2.1x more likely to view personalized offers as important versus unimportant."
Here's an example of a brand that harnessed the power of weather personalization to drive sales and increase their ROI.
Fine-tuning their PPC ad campaign, Bravissimo, a lingerie and swimwear brand, used weather-based targeted data to boost their swimwear sales. They ran this campaign in areas experiencing hot weather, resulting in a 600% revenue spike during the three-month campaign.
Personalize product pages using geo-location targeting
Knowing your customers' location can help you vastly improve a customer's shopping experience. For example, you can personalize sizes and currencies based on your user's location. This saves time as your customer doesn't need to use size conversion charts or calculate currency rates before purchasing.
A simple instance of this is Amazon taking you directly to the US website if you've already selected the US from the country selector on your previous visit.
Upsell or cross-sell your products during/after purchase
75% of customers are more likely to buy based on personalized recommendations. Recommending similar or frequently purchased items on product pages is a must-have for any ecommerce website. It helps with product discovery by assisting the customer in noticing a product that they must have missed out on while surfing through the site.
Conclusion
The above examples show what is currently possible with ecommerce personalization. Almost every study shows positive results.
There are many affordable software solutions that can help you accomplish all of this without you having to think about the technical side of personalization. Offer an enhanced personalized shopping experience for your customers today, because personalization is here to stay!
Leave a Reply
Your email address will not be published. Required fields are marked