Thanks for contacting us! We'll be in touch with you shortly.
The Zoho One Impact: Far and Wide
Over 40,000 organizations across the world run their business on Zoho One.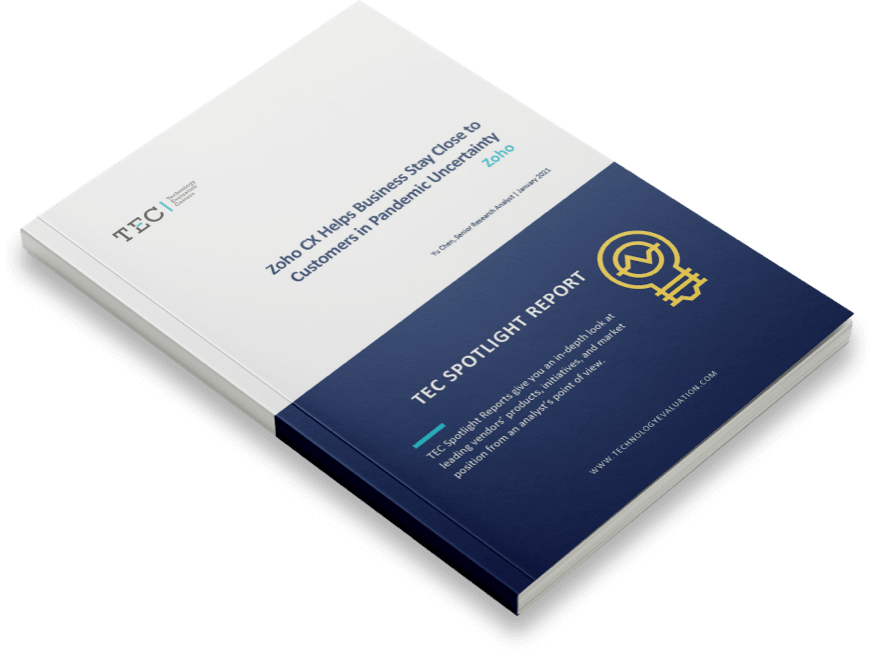 ANALYST REPORT
TEC Zoho One Spotlight Report 2021
Managing the complex web of stand-alone software solutions built by different companies can get in the way of doing business efficiently. The solution to this could be Zoho One, a unified suite of cloud applications that run your business.
Zoho One can help you
Evaluate your business
Being adaptive and agile has never been more important. Zoho One includes out-of-the-box AI, BI, and enterprise search so you can organize, blend, visualize, and analyze your business data to take your business forward.
Simplify your Enterprise
IT benefits your organization. Complexity doesn't. Zoho One gives you a path to streamlining your costly patchwork of cloud applications, legacy tools, and paper-based processes with a proven, integrated solution.
Improve Customer Relationships
Bring your sales, marketing, and service teams together to deliver exceptional customer experiences. From call-to-quote, lead-to-cash, deal-to-delivery, and beyond, Zoho One gives your organization integrated tools that help you break down silos and make customers happy.
Integrate and Migrate
Our relationship with our customers does not end the moment they buy. That's when we go to work. From data migration to detailed consultation and implementation, our team is armed with in-depth product knowledge and industry expertise to meet your unique technical requirements and deploy custom solutions.
Create a Collaborative Culture
Zoho One helps you enable both formal and informal communication, as well as planned and ad hoc conversations. Communicate one-to-one, one-to-many, or on your own feed-based network. Host online meetings and conferences, foster collaboration between employees.
Enterprise capabilities
Scalability & Reliability
Zoho for Enterprise reduces the cost of infrastructure, unifies existing apps, and solves complex business problems for increased enterprise fitness and resilience. Grow confidently year after year without worrying about whether your software can stay ahead.
Security & Privacy
Large enterprises that work with customers around the world shouldn't have to worry about complying with local laws, maintaining strict data security, or having their information sold to third parties. From owning our own data centers to GDPR compliance features, security and privacy are at the heart of everything we do.
Customization & Extensibility
Enterprise software needs to be flexible enough to become anything you need it to at a moment's notice. Through granular customizations and its low and no-code platforms, Zoho lets you automate everyday tasks, streamline data management, orchestrate workflows and SOPs, and build and deploy world-class solutions at scale.
Zoho's Solution for the Enterprise
Zoho One addresses almost every area of business, including sales and marketing, integrated customer experience, productivity and collaboration, business analytics, human resources and accounting, and more.
You're in good company
Hear directly from our customers on how Zoho One has helped enterprises in various areas of business: from marketing, sales, customer support, finance, accounting, remote work management to project management enabling faster adoption of digital transformation for all our global customers.
 

Francis Jobidon

Co-founder - key account manager

"We were losing so much time being on two or three platforms. Being on Zoho One helped us scale way, way faster."

 

Moira Russel

Internation Business Development Manager

"Instead of looking for information in different tools, with Zoho One we were able to see it in one place."