Zoho was rated Outstanding in innovation for next-gen business platforms in the KuppingerCole Market Compass 2021.
Download the Report
Experience an end-to-end business analytics platform
Improve decision-making at every layer of your organization, from frontline workers to C-suite executives. Connect and blend datasets from cloud apps, on-prem servers, and structured databases. Democratize your data with AI- powered digital storytelling to empower your entire organization with better business data.
Pull in data from anywhere
Comprehensive integrations
Zoho Analytics' deep integration layer lets enterprises pull in data no matter where it's located. Bring in large volumes of corporate data from 250+ sources including files, feeds, cloud or on-prem databases, and business applications into one workspace.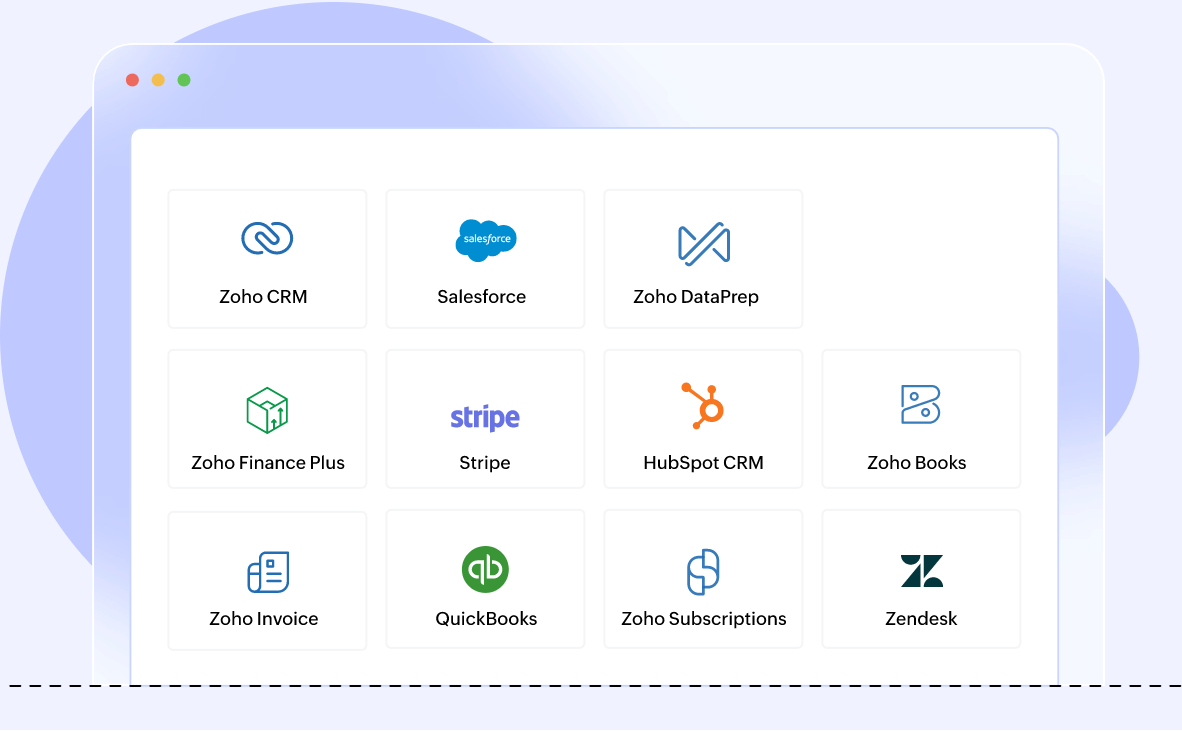 Automated data modeling
Building on broad market knowledge across over 50 different business app categories, Zoho Analytics delivers superior, out-of-the-box data modeling designed to process and categorize data from all of the most popular business apps used by enterprise organizations today.
Clean, enhance, and prepare data for use
Embedded data preparation

Resolve instances of incorrect, incomplete, or duplicate data so leaders can make stronger, more confident decisions. Pull data from wherever it lives and standardize it for use in analytics, machine learning, migration, and warehousing.

Org-wide data hygiene

Maintain good data hygiene so the accuracy of your business data doesn't drop off over time. Periodically push key datasets such as CRM records or marketing data to Zoho Analytics, clean and enrich the data, and then push it back to your internal systems.
Analyze and discover insights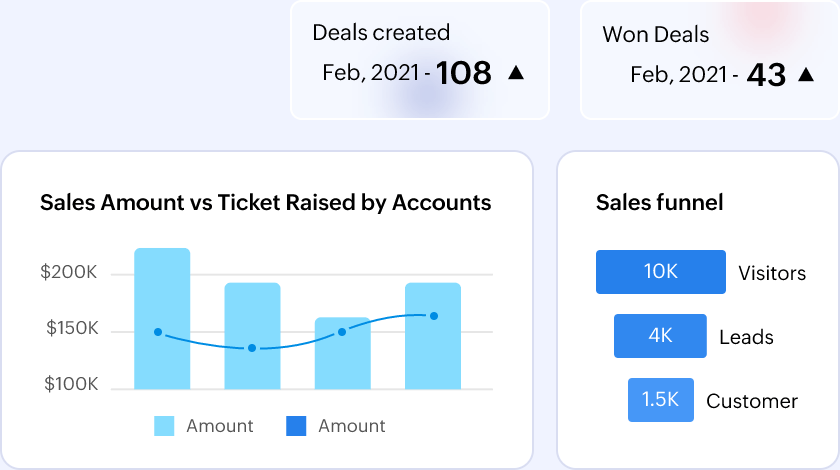 Data blending
Zoho's BI platform allows you to de-silo information from disparate datasets in order to generate deeper and more accurate insights that span teams and departments. With centralized data, you can perform cross-platform analyses to quickly identify trends across all of your connected apps.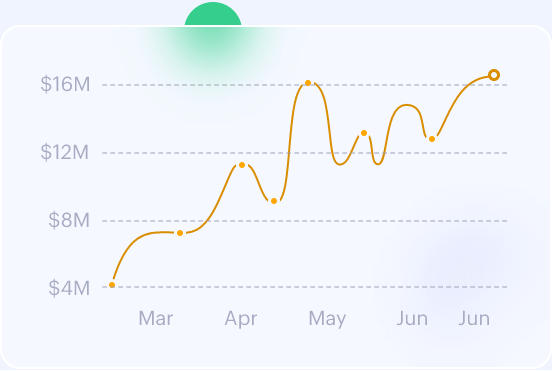 Augmented analytics
Unearth key insights with machine learning algorithms. Consult custom forecast models and conduct what-if analyses to predict upcoming trends and simulate complex business outcomes. Train Zoho Analytics on your real-world data to benefit from true AI-powered anomaly detection.
Visualizations and executive dashboards
Turn company data into charts, graphs, and reports to spot trends, track crucial KPIs, and monitor the health of your organization. Create custom dashboards with our drag-and-drop builder or start with one of Zoho Analytics' pre-built, industry-specific templates, and grow from there.
Share with fine-grained control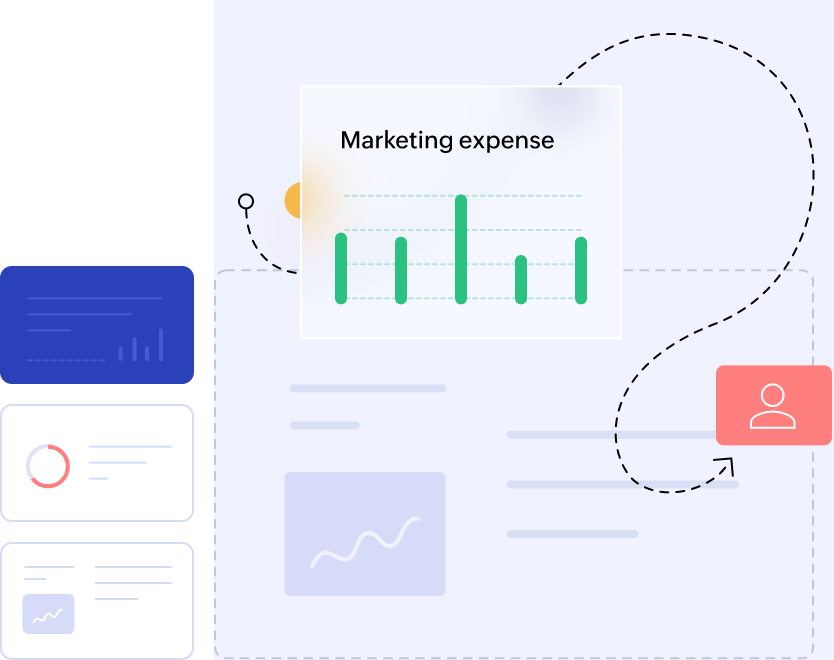 Live reports and self-service portals
Embed live reports and dashboards into presentations to reduce friction and increase data literacy across your organization. Create and share analytics portals with internal or external stakeholders for a real-time view of performance.
Embedded analytics
Embed a fully-fledged BI & analytics interface inside your organization's proprietary digital properties. Increase the impact of customer facing apps, web portals, or product interfaces by white-labeling advanced reports and dashboards built on Zoho Analytics.
Zoho Analytics scores big in BARC's 2022 BI & Analytics User Survey
Find out what customers are saying about Zoho's BI solution in the world's largest survey of business intelligence users.
Download the report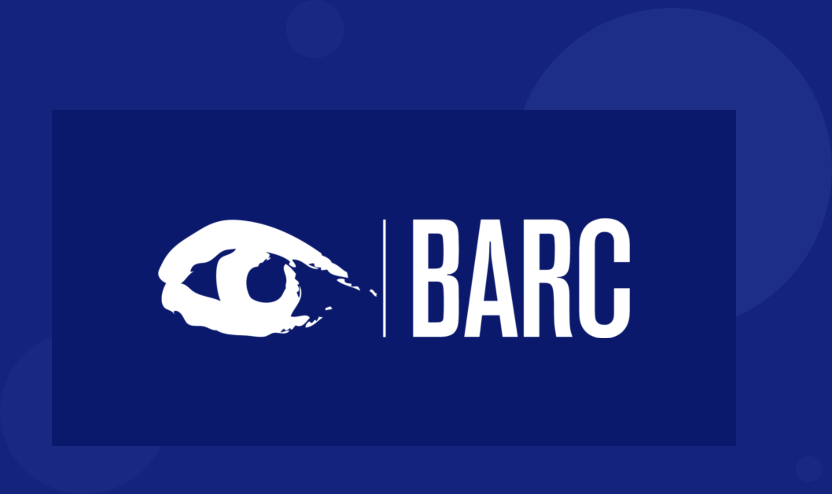 Easy to use, simple web-based reporting/dashboarding/charting. It's so simple to setup and get started. Zoho Analytics allows really nice data visualizations with a lot of flexibility.

-BI Project Manager

Brilliant platform for business users to develop business-related content.

-CIO/Head of IT, Manufacturing
Look at the data
67%

of users chose Zoho Analytics for its price-performance ratio

94%

of users are satisfied with Zoho Analytics

49%

of users chose Zoho Analytics for its ease of use for report designers.
Catalyst Solutions reduced inventory costs by
up to 20%

with Zoho Analytics

DAN CRADDOCK, Zoho Analytics user

Co-Founder, Catalyst Results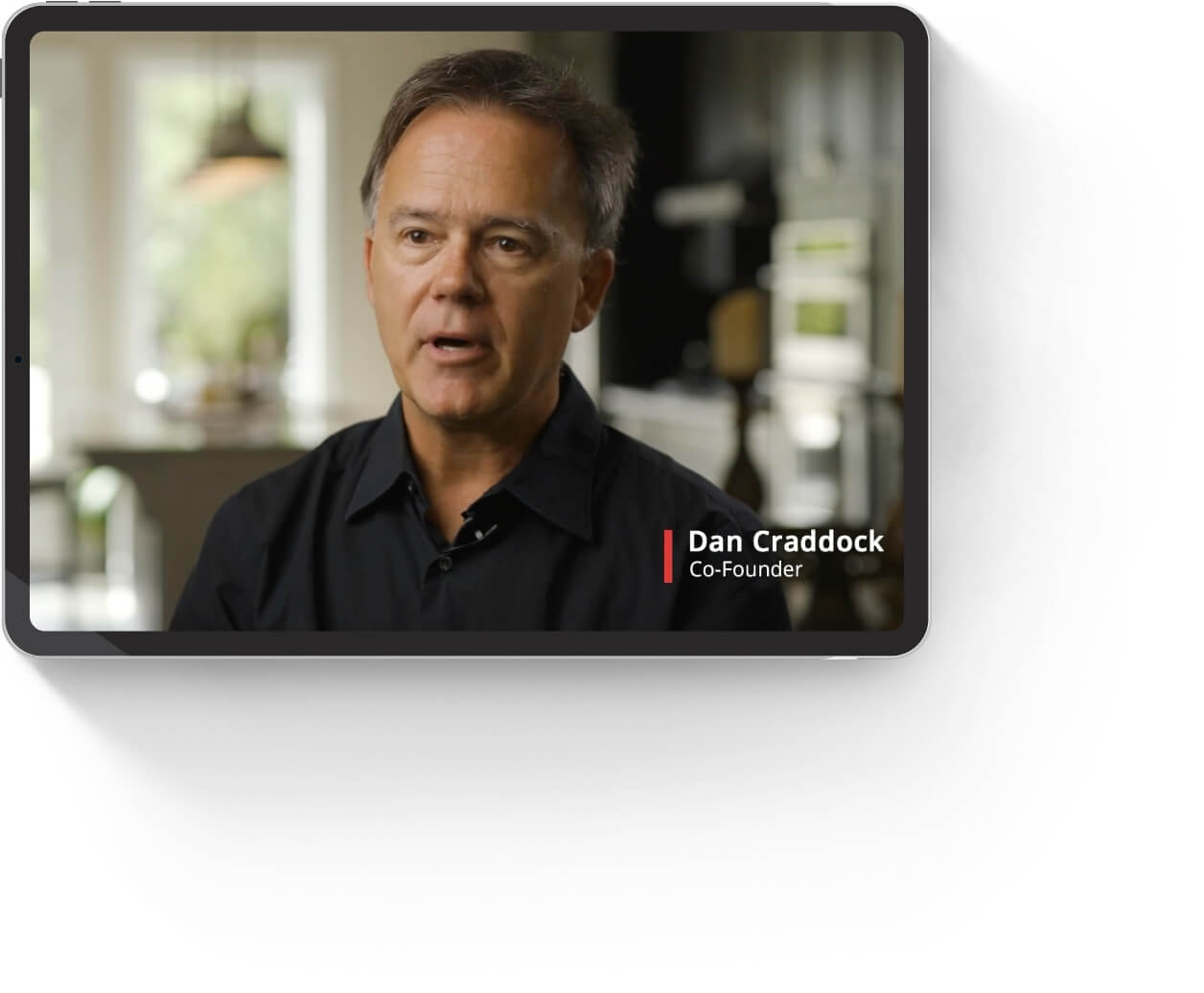 Watch the full story
Virtual data assistant
Give employees of any skill level the ability to generate useful insights simply by asking Zoho's AI assistant. Zia also offers written summaries of key takeaways alongside data visualizations to help your employees quickly and easily interpret complex information.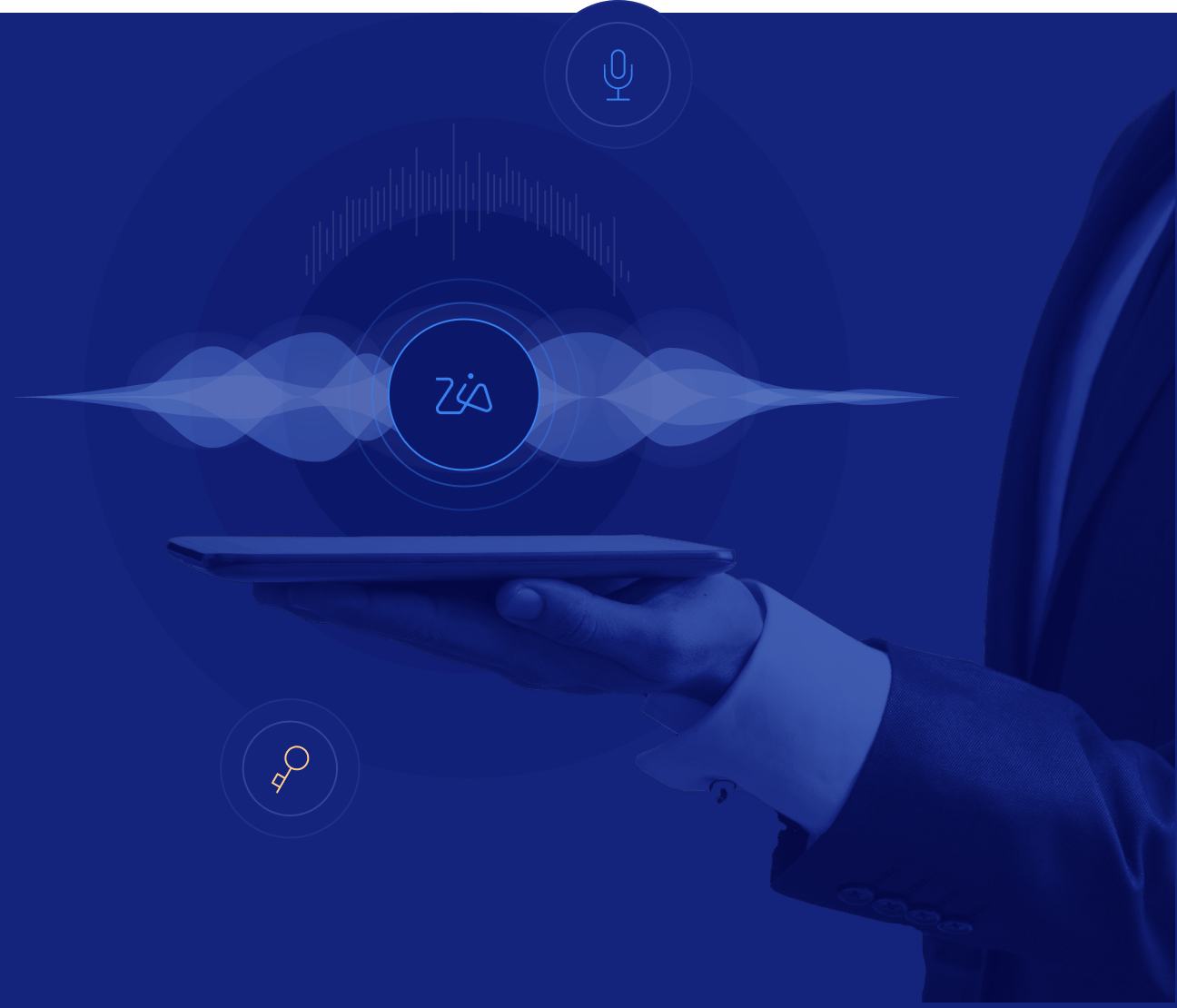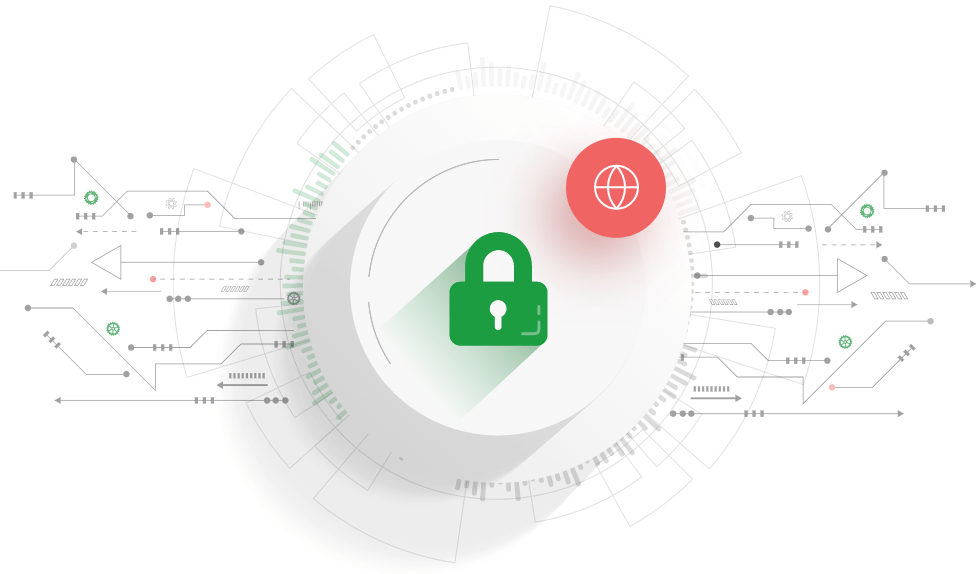 World-class data security
Zoho Analytics is deeply committed to security. With the latest TSL encryption protocols applied to all data in transit, selective encryption at rest for any personally identifying information (PII), as well as comprehensive audit logs, Zoho Analytics guarantees continuous and reliable data stewardship.
Flexible deployment options to fit your IT needs
For organizations with unique security requirements, Zoho Analytics offers solutions for both on-prem and public cloud implementations.
On-prem deployment: Ensure your data never leaves the security of your in-house firewalls by installing Zoho Analytics on your own servers.

Public cloud deployment: Zoho Analytics can be run on all of the major public cloud services, such as AWS, Google Cloud, or Microsoft Azure.
Talk to one of Zoho's solutions experts to learn how you can transform your BI operation.
Request a Demo
Thanks for your interest! One of our product experts will be in touch soon.
✕
Request a Demo
Fill out the form below so we can schedule a demo as soon as possible.