Over
2,00,00,000

users

work online every day using Zoho Workplace
The India Cements Ltd

Star Health Insurance

Kredit Bee

Food Hub

IIFL

Meril

Canival
The support team showcased their brilliance by completing the migration of over five years' worth of data in just 48 hours! While we anticipated potential downtime, their meticulous planning, technical expertise, and unwavering dedication allowed them to execute the migration flawlessly within a timeframe of just two days.

- Naveen Mangle

CTO

Fusion Microfinance

Moving to Zoho Workplace has been fruitful in multiple ways. It fulfilled all our security requirements, the Admin interface made managing my organization easier, and I had access to help whenever I needed. Zoho drastically reduced my cost by more than 65%.

- Ashuthosh M

Director, IT

Kings Group Mumbai

Migrating to Zoho was smooth. We used Split Delivery to do it in multiple phases. We're now a 100% cloud, with no separate IT executive in-charge of managing configurations. Zoho Workplace apps cut down my costs, and boosted my internal collaboration.

- Vishal Datt Wadwa

CEO & Founder

ThinkWP Labs, New Delhi
Awards & Recognition

Sri Kannapiran Mills knits together their departments and branches with Zoho Workplace
Watch now
Emails, but

shareable

Chat, but

made for work

Documents, but

readable

Sheets, but

less confusing

A

Virtual HQ

for your teams.

That's Workplace.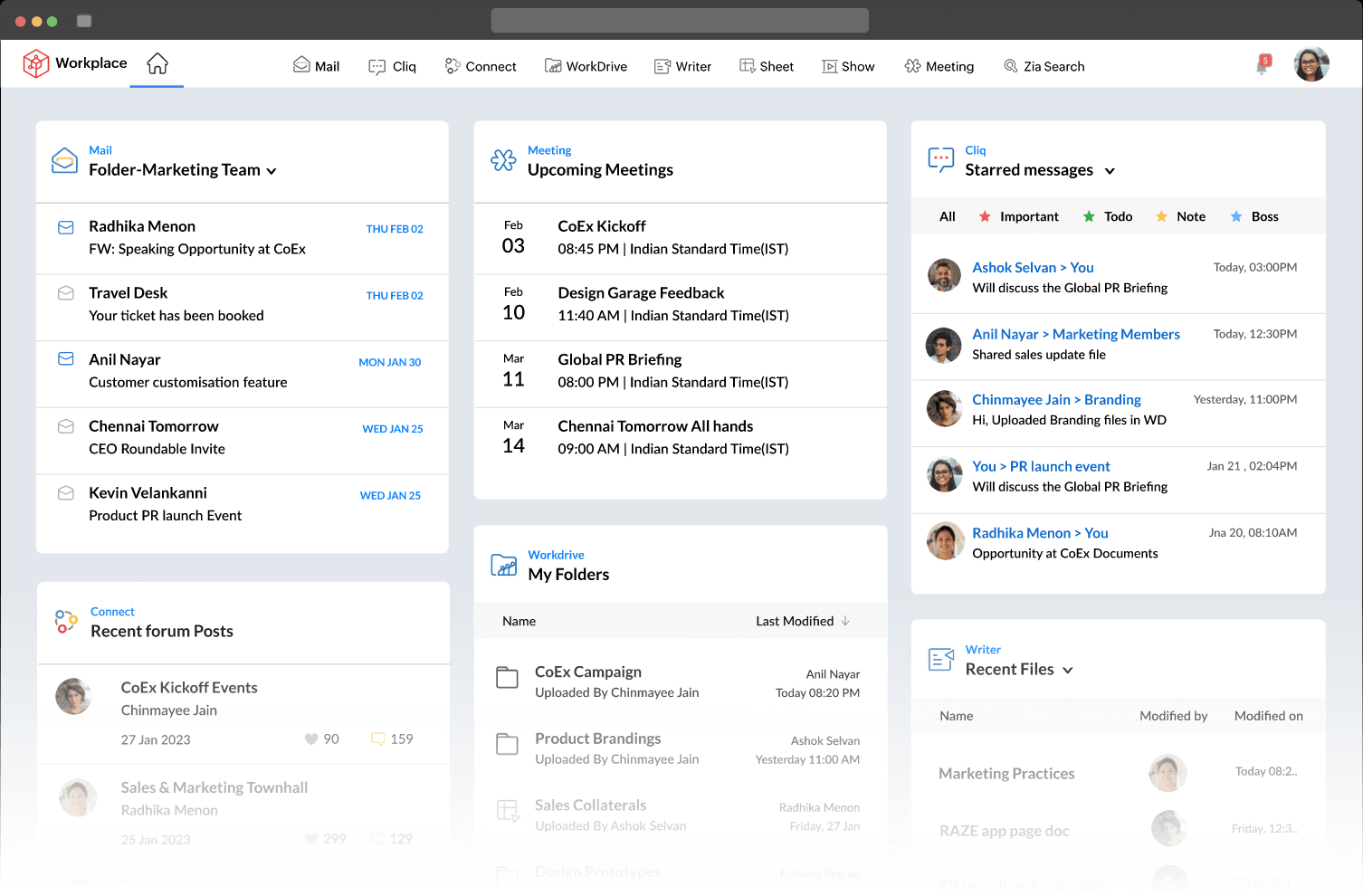 Partner with a company that cares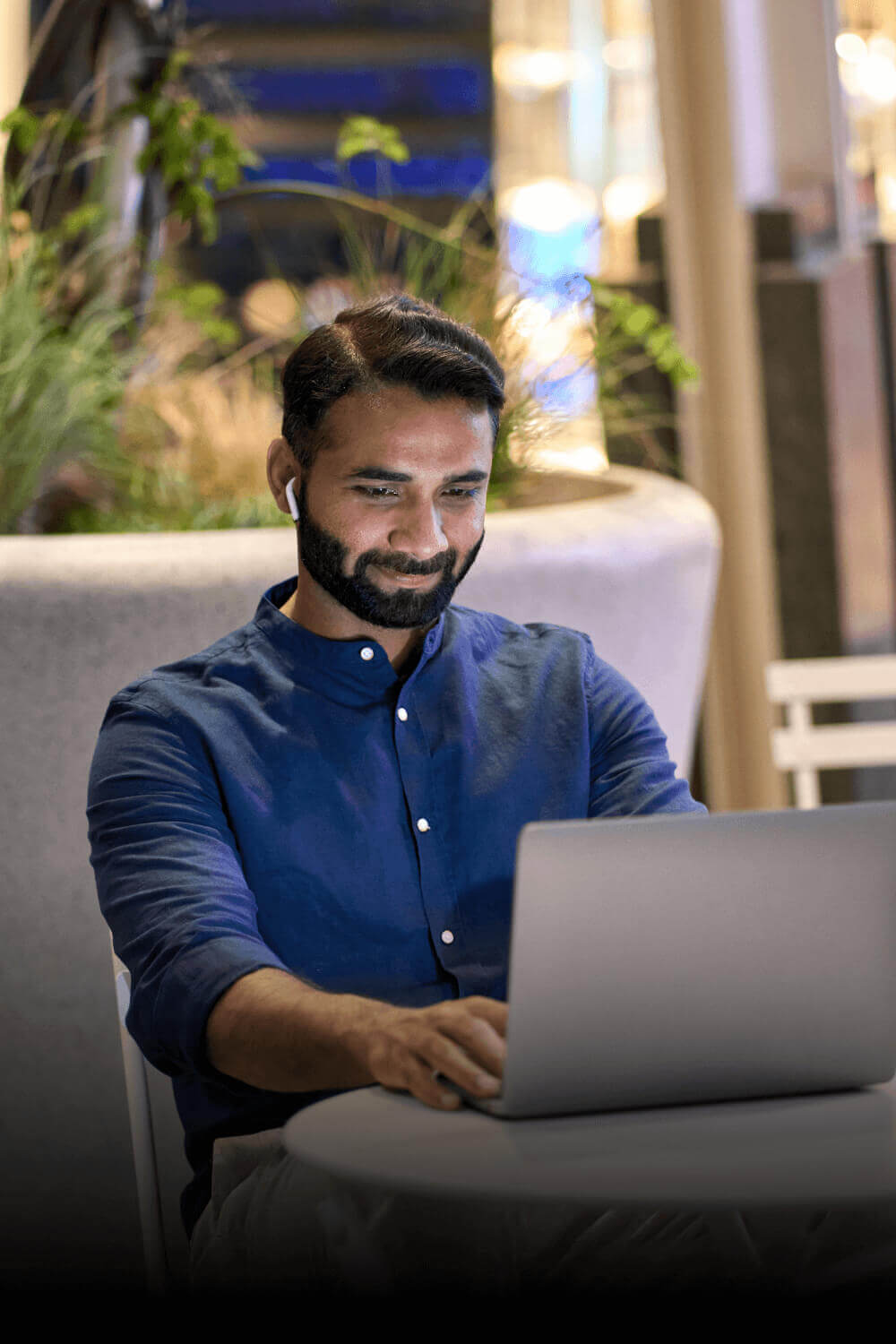 Privacy-first
Approachable
Profitable
Privacy-first

We don't own your data, you do. We don't sell your data to advertisers or show you ads in our products—even in the free versions. Our privacy commitment

Approachable

We believe in investing time and effort in building user relationships and sustaining them. We want our customers to succeed as much as you do. Contact Sales

Private, profitable for 25+ years

We are a privately held, bootstrapped company. This allows us to make decisions in the long-term interest of our customers and employees.
Multiple ways to
get started
Mail Suite
Email, Calendar, Contacts, and Tasks for your team
Mail

Calendar

ToDo

Contacts

Trident

Admin Controls
Workplace Suite
Mail Suite, Office, Team Collaboration, Meetings, and Others
Mail

Cliq

Connect

Meeting

Sheet

Show

Workdrive

Writer

Trident

Admin Controls
What's included
Mail
Cliq
Meeting
Writer
Sheet
Show
WorkDrive
Connect
Trident
Admin Controls

Frequently Asked Questions
What are the storage plans available in Zoho Workplace?

Zoho Workplace comprises of two plans that vary in terms of storage and features across the application suite. The Standard plan provides a storage of 30GB Mail storage and 10 GB WorkDrive shared storage/user, the Professional plan with 100GB Mail Storage and 100 GB WorkDrive shared storage/user.

How does the storage allotment in the Workplace plan work?

Your storage size depends on the plan you're in, and includes Zoho Mail storage and Zoho WorkDrive storage. In the Workplace Standard plan, each user gets 30 GB of Zoho Mail storage and 10 GB shared storage in Zoho WorkDrive. In the Workplace Professional plan, each user gets 100 GB Zoho Mail storage and 1TB WorkDrive Team storage for up to 10 members, and 100 GB additional WorkDrive shared storage for every new user added after that.

What modes of payments does Zoho accept?

We accept payment via MasterCard, Visa, American Express, JCB, and Discover. You can also pay via PayPal, Bank transfer for annual subscriptions. Please reach out to us at sales@zohocorp.com for any further details.

How long will it take for my data to be migrated?

There are multiple factors that come into play while migrating data. It mostly depends on the network speed and the size of the mailboxes being migrated. Generally, for a mailbox with 1 GB of data, it would take approximately 15 minutes for the migration to be completed.

Can I have part of my company on Zoho while others remain on a different service?

Yes. When you choose Split Delivery, emails to accounts setup with Zoho will be delivered to Zoho Mail, while others would be routed to your destination server.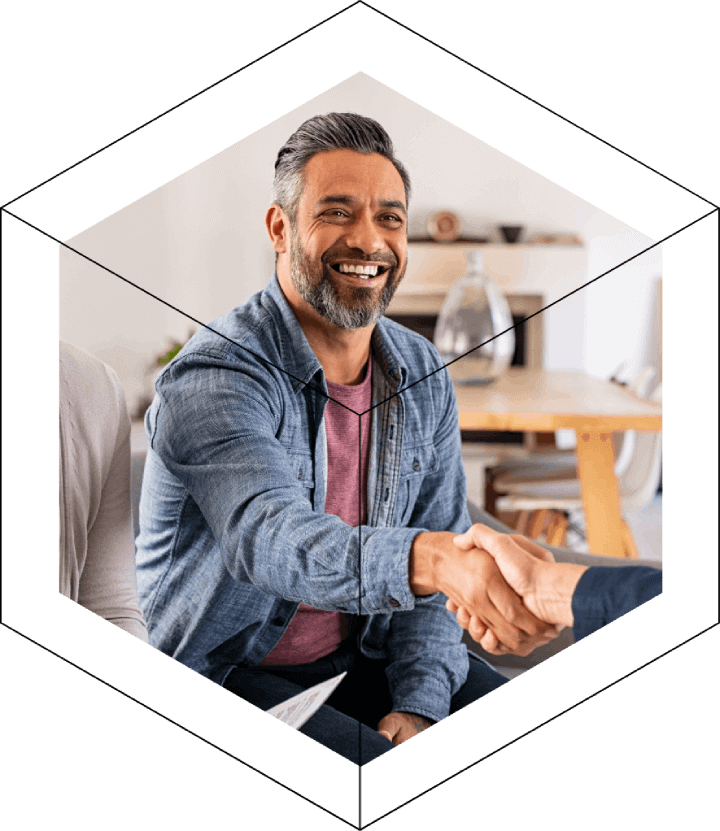 Set up your new workplace today
Sign up for a 15-day free trial. Pay only after you like our platform. We're sure you will.