7 email marketing errors that affect your results—and how to avoid them 
Last Updated: February 17, 2023
453 Views
5 Min Read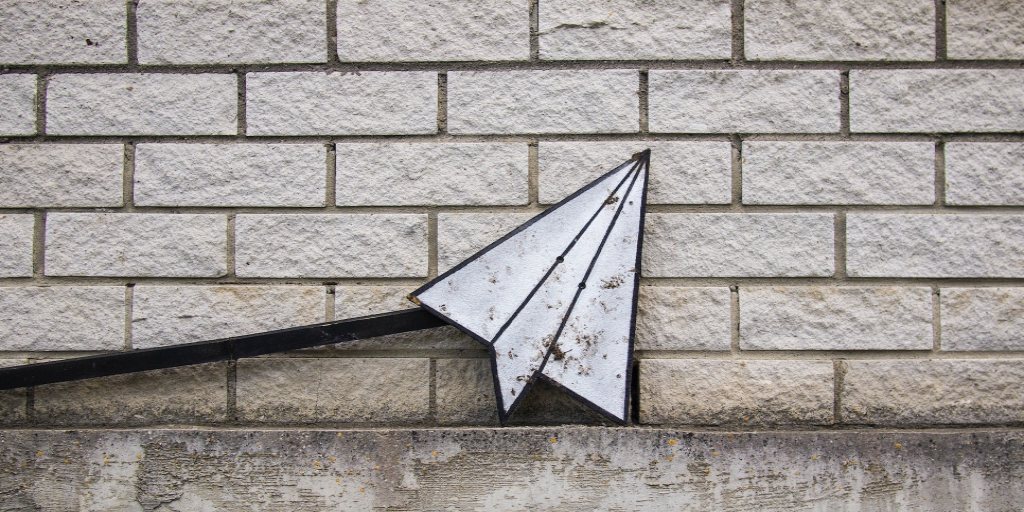 Even in a world of instant messaging and video conferencing, email stands out as a popular mode of communication, especially in the professional world. According to Statista, the number of email users in 2022 was expected to be a whopping 4 billion. But despite numerous studies demonstrating the beaming potential of email, it is often overlooked as a means for brands to drive conversions and grow their customer bases.
To achieve notable results through email marketing, you need to be consistent in your efforts, keep experimenting, and quickly rectify any mistakes in your campaigns. In this blog post, we'll look at common email marketing mistakes people make and share some tips for avoiding them.
1. Writing ineffective subject lines
All the effort you put into crafting a promotional email is wasted if the email never gets opened. This can happen when the subject line is too generic or results in the message being labelled as spam. An ideal subject line should be short and crisp—just enough to spark curiosity. For example, the subject line, "Did someone say free shipping?" is much more effective than, "Don't open this email if you don't want free shipping." A subject line with more than seven words may get cut off in the recipient's inbox, making it difficult to convey the context of your email. Although there are no set rules for subject lines, here are some embarrassing blunders to avoid:
1. Using clickbait or misleading cues
Example: Here's a simple trick to 10x your revenue in a day
2. Overusing emojis and special characters
Example: **** News flash ***** 30% off on your next purchase! 🎉🥳🎊
3. Capitalising every word in the sentence
Example: OUR NEW YEAR SALE IS FINALLY LIVE!
4. Being vague on what the email is about
Example: Mark, do you want our help?
5. Keeping the word length too long or short
Example: Before you google how to make your customers fall in love with your business, read this.
2. Poor mobile optimisation
A study by Litmus found that 50% of Australians open their email on mobile devices. So, if your email campaigns are not optimised for mobile devices, you could be alienating a large part of your audience. Given that screen space on mobile devices is comparatively smaller than on desktops, you need to be mindful of the amount of content you display. Breaking down large chunks of text into shorter paragraphs makes your email easier to digest on a smaller screen. It's always advisable to send yourself a test email to check whether your text, images, and spacing are well-aligned. Spending a few extra minutes doing this can help improve engagement by ensuring a pleasant reading experience for your recipients.
3. Burying (or forgetting) the call-to-action
Your work doesn't end when you persuade your prospects to open your emails. You also need to motivate them to take the next action. Any email you send should serve a purpose. Whether the goal of your campaign is to drive purchases, promote product knowledge, or increase newsletter sign-ups, you need a compelling call-to-action that encourages them to take a desired step. When recipients don't get any instructions on what to do next, they may end up reading and leaving your email without taking any further steps. To prevent this outcome, you need to place prominent calls-to-action in the email and use strong commands that nudge readers in the right direction.
Here's a good example from Grammarly: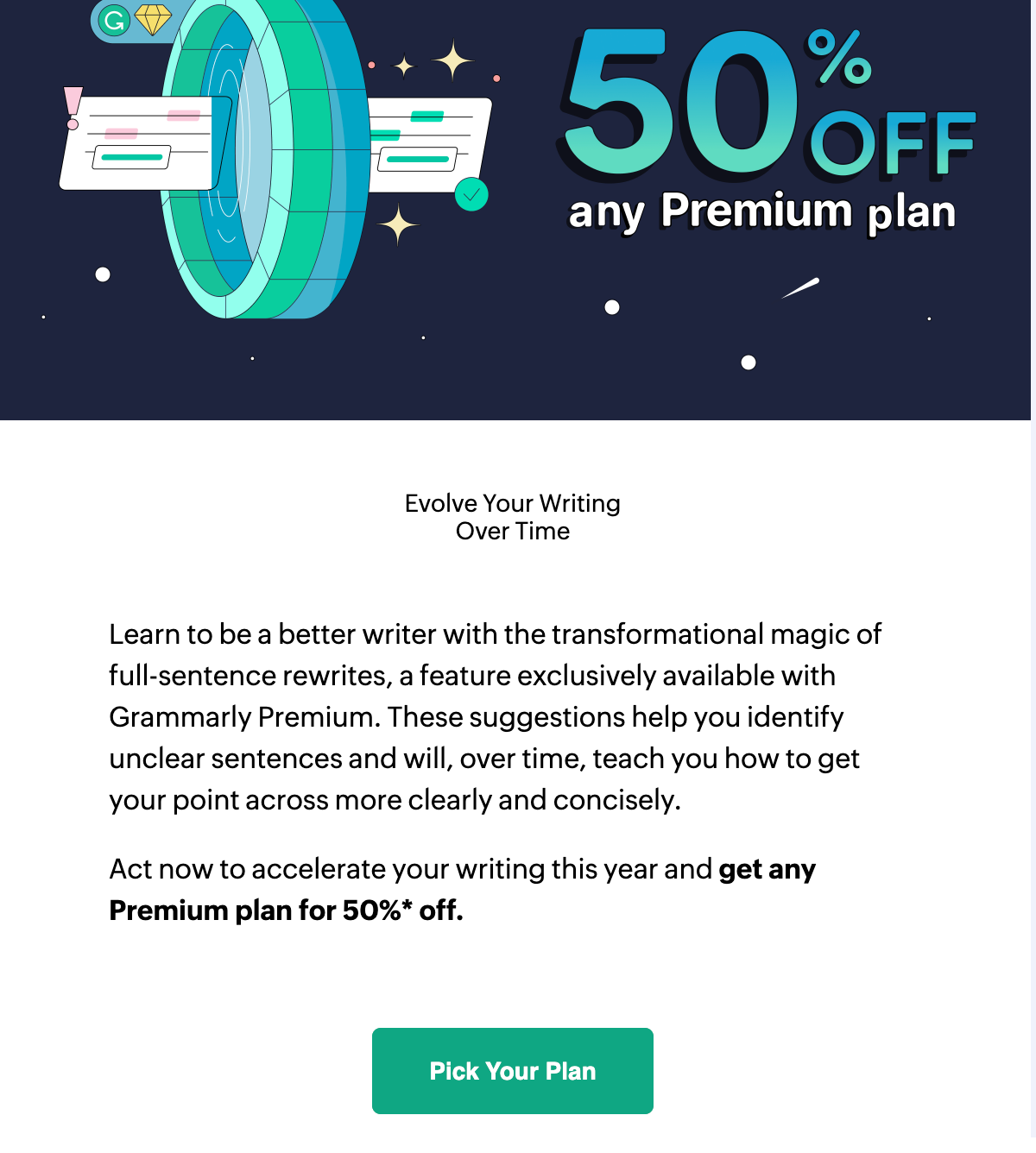 4. Picking the wrong time to send emails
Sending emails at odd hours will likely result in your email ending up at the bottom of your recipient's inbox with a pile of unopened emails that will eventually be ignored. The best time to send an email typically varies based on your recipient's personal preferences, time zone, and many other factors. While most studies suggest that 10 a.m. is a safe bet, you can try A/B testing by sending the same email at various times of the day to determine which version is more effective. Today, powerful email marketing platforms (like Zoho Campaigns) allow you to schedule emails, so they reach your recipient's inbox at an optimal open time based on their previous email activity. Check out this cool feature by signing up for a free Zoho Campaigns trial.
5. Failing to personalise
A study done by Adestra showed that personalised emails can improve open rates by 82% and click-through rates by 75%. When you don't personalise your email, the recipient may perceive it as "just another generic email" and choose not to engage. Sometimes, this may even lead them to unsubscribe or mark you as spam. Remember, personalisation goes beyond simply addressing your recipient by their name. Segment your email list based on your audience's demographics and behavioural traits, tailor your content, and send relevant recommendations.
6. Ignoring metrics
Numbers don't lie. Period. Track and measure important metrics, like open rates, bounce rates, click-through rates, and conversion rates. Make a note of how these fluctuate with every change you make. This will help you gain valuable insights into your target audience's email preferences, which you can use to improve subsequent campaigns. If you are looking for email marketing software that's easy to use and offers real-time analytics of your campaign's performance, check out Zoho Campaigns.
7. Using spam trigger words
Spam trigger words are specific keywords that email providers use to identify spam. This helps keep unwanted and malicious emails from landing in their users' inboxes. Even if your email has great value, using excessive spam words without relevant context may trigger spam filters to push it to your recipient's junk folder. Here are a few common spam words to avoid:
Urgent

You have been chosen

Once in a lifetime

Free money

Final call

Don't delete

Increase traffic

Guaranteed success

Act now
While some of the words mentioned above can be used when they are genuinely necessary, it's still important to use them sparingly.
We hope this blog post helps you create better email campaigns and drive more conversions. Are there any other important email marketing errors that needs to be highlighted by this list? Let us know in the comments below.
Leave a Reply
Your email address will not be published. Required fields are marked