Industry's leading online Client Portal Software
Be available to clients 24/7. Client portal software serve as secured digital gateway for a business and its clients. Know how you can use Zoho desk to create client portals and give a seamless self-service and support experience.
Take a free trial
What is a client portal?
A client portal, like a customer portal, is an organization's digital gateway for sharing information, exchanging digital files, and hosting a community. When set up by companies, it's a secure digital space where clients can log in and access information and available services.
What can you do with a client portal software?
Self-service made better. When you set up a white-label client portal, your clients can access your knowledge base articles, FAQs, product community or forums, and much more. They get a platform to seek information, share and receive ideas, and to build meaningful relationships. All of this can happen while clients are solving problems and staying productive. It enriches the customer experience and builds trust with the brand.
Why do businesses need a secure client portal software?
It's a win-win– we'll explain how. A cloud base client portal software benefits both businesses and their clients in multiple ways.
Multi-resource help center
Most online client service portal software comes with a built-in help center. A good client portal contains knowledge base help articles, step-by-step guides, DIY videos, images, screenshots, and other resources that help clients solve their own problems and become power users.
Interactive community
A secure client portal software comes with a platform to facilitate client interactions where users help each other out and share their ideas. Teams can also benefit from the community to understand clients better, get new feature ideas, and excellent customer stories.
Up-to-date product updates
Clients can get information on release plans, product updates, and other announcements through a client portal. They can learn more about a company's product suite and upcoming offers.
Instant help within reach
The help center means clients can get ready-made results without writing an email or calling customer support. With an efficient client service portal, clients can also create customer support tickets without leaving the help center.
24/7 support without a global team
A well-built client portal acts as the first line of support agents. A knowledge base that provides instant answers leaves your clients satisfied around the clock.
Visible drop in ticket volume
With easily available resources and a space to interact with other users, a client portal reduces incoming tickets. It increases agent productivity as they now deal only with complex issues that need personalized attention.
Regular communication with clients
Constant feedback and positive recommendations make the client portal an invaluable asset for faster growth. You can read the pulse of your clients instantly by skimming through the community posts and know what works for your brand and what doesn't. It helps you make timely changes to be consistent with the quality of service.
Improved CX
A well-branded client portal can help you stand out in customers' minds. They'll remember that you're a digitally savvy business that delivers an excellent customer experience.
Why is Zoho Desk's client portal software an ideal choice?
A few quick highlights.
High-level portal customization
Aside from branding basics, like theme and logo, Zoho Desk's client portal software gives you advanced customization options. The HTML and CSS editors can make your portal look like an extension of your company's website and make it fit your requirements.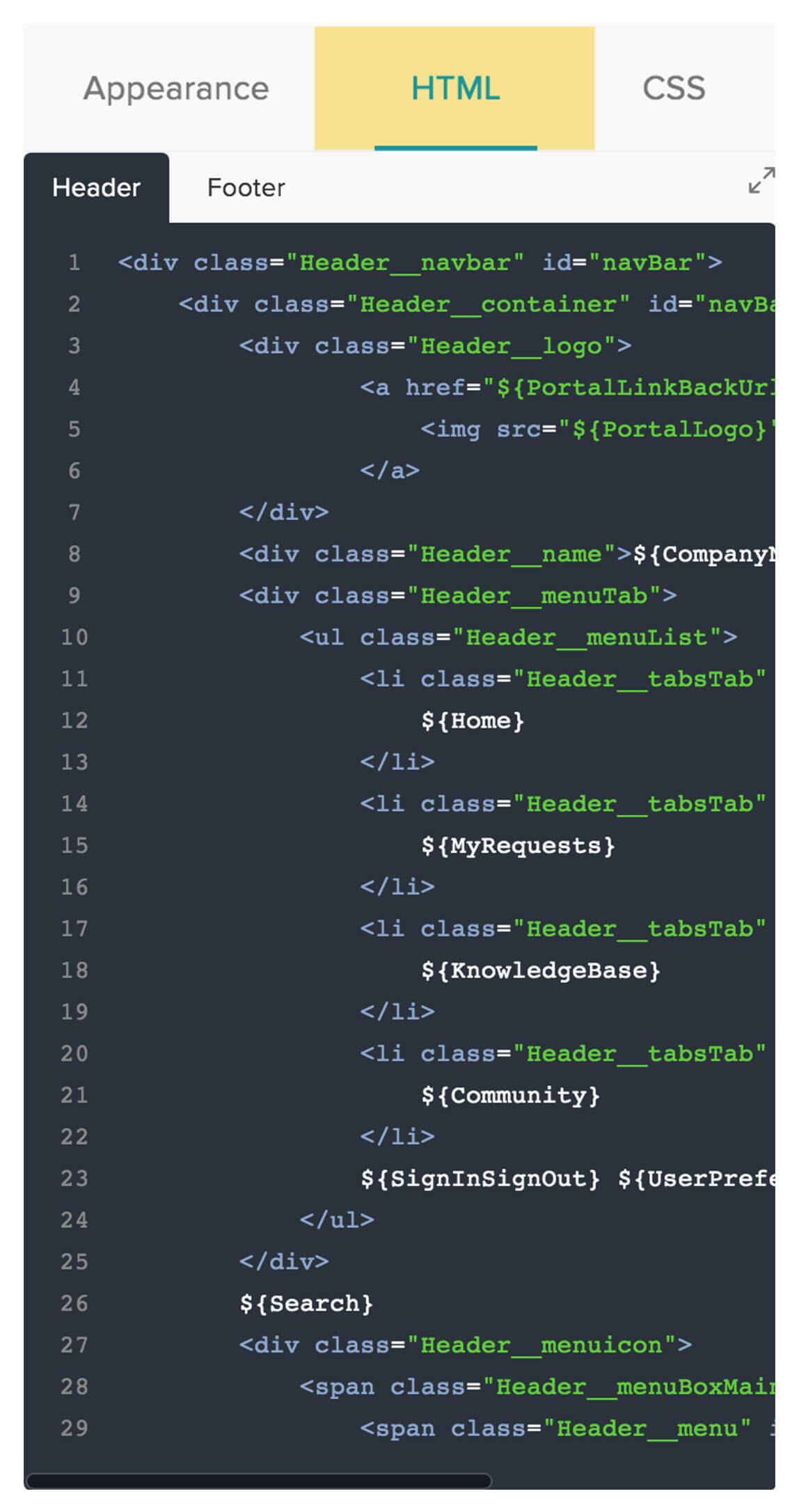 Multi-brand multi-lingual help center
If you have multiple brands, you can set up an individual help center for each with Zoho Desk's client portal software. You can change how each help center looks, give clients different service channels, notifications, and knowledge base articles for each brand. Zoho Desk's client portals support several languages, so your clients can interact in the language of their choice.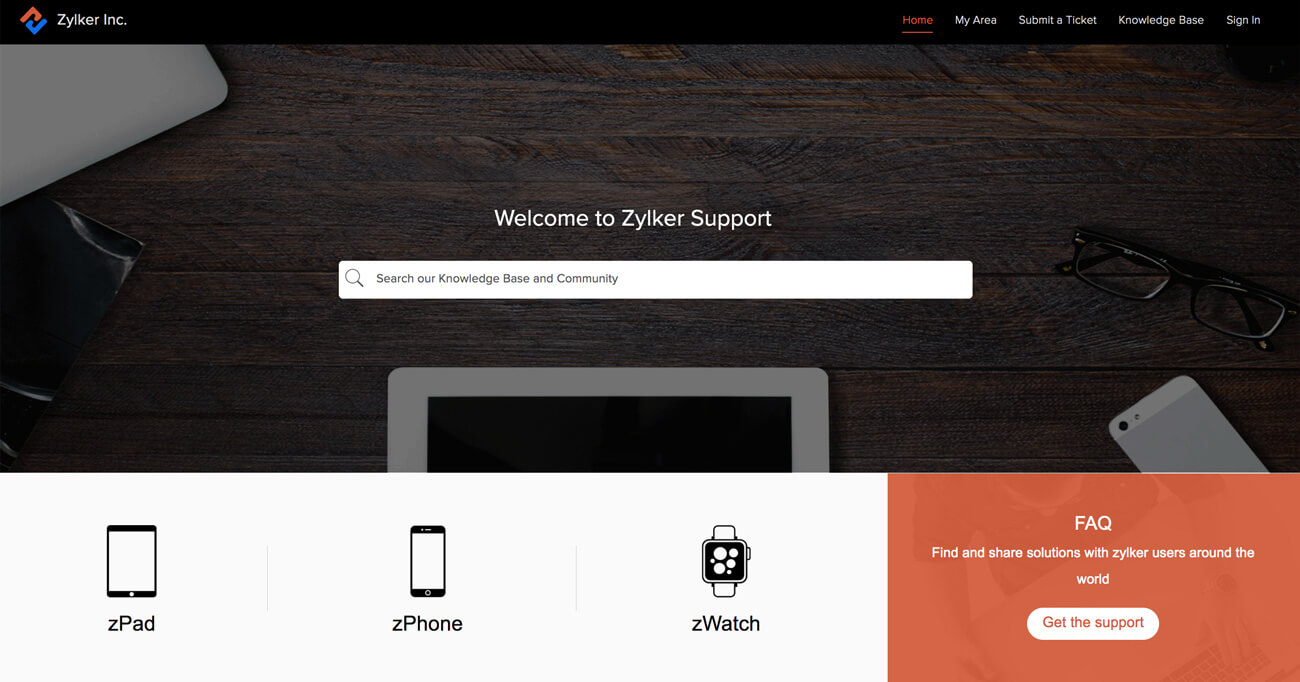 Direct ticket submission
Zoho Desk's client portal software makes it easier for your clients to submit tickets directly from the help center using customized ticket forms. Clients can also easily track their tickets' statuses from the same interface.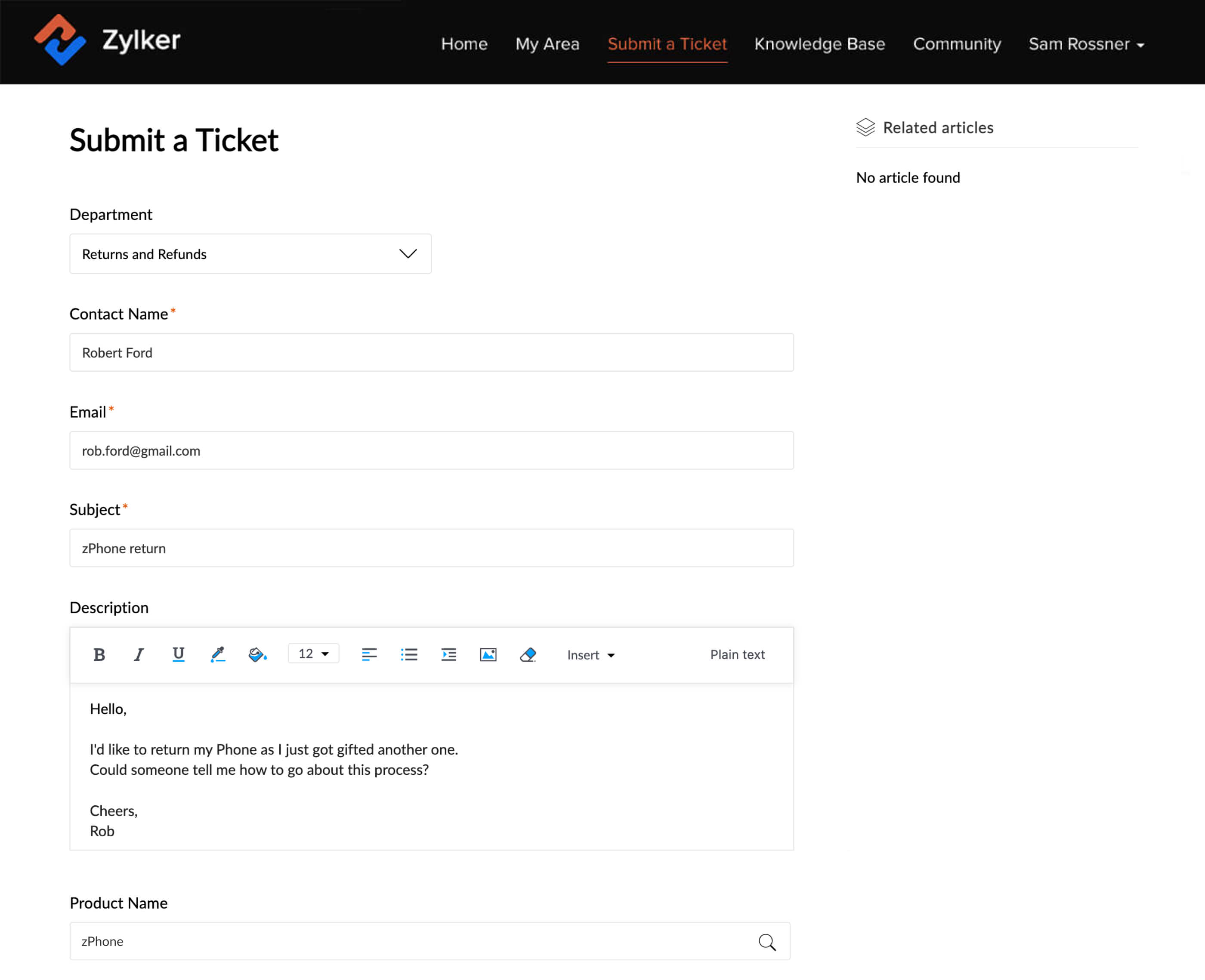 Real-time analytics
With built-in reports and dashboards, Zoho Desk's client portal software lets you monitor clients' self-service behavior and engagement levels. You can create reports and dashboards with the exact parameters you need. Seamless integration with Google Analytics also helps to track how your clients interact with your portal.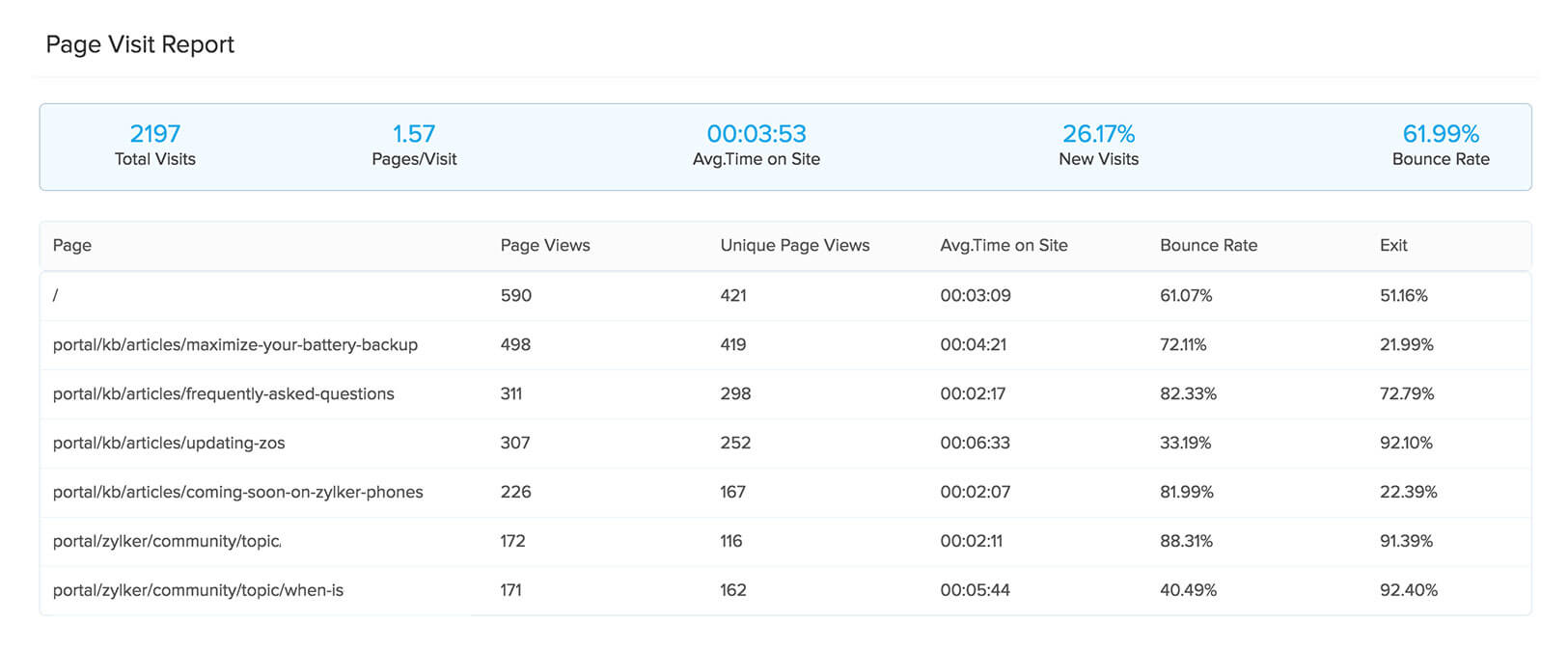 Data privacy and security
In Zoho Desk's legal client portal software, you have complete control and visibility over your help center. We know how important data privacy is, which is why you can set permissions for users. You can also control who can access the portal by requiring a login.
What more can you get with the best online client portal software?
Features available in Zoho Desk's free customer portal software and the paid editions:
CLIENT PORTAL FEATURES

FREE

TRY NOW

STANDARD

TRY NOW

PROFESSIONAL

TRY NOW

ENTERPRISE

TRY NOW
Private Knowledge Base for Agents

Yes

Yes

Yes

Yes

Public Knowledge Base
-

Yes

Yes

Yes

Knowledge Base Dashboards
-

Yes

Yes

Yes

Community
-

Yes

Yes

Yes

Community Dashboard
-

Yes

Yes

Yes

Community Gamification
-
-

Yes

Yes

Article Versioning

Yes

Yes

Yes

Yes

301 Redirection
-
-

Yes

Yes

ASAP
-

Yes

Yes

Yes

Answer Bot in ASAP
-
-
-

Yes

Live Chat in ASAP
-
-
-

Yes

Google Analytics Integration
-
-

Yes

Yes

Themes Gallery
-

Yes

Yes

Yes

CSS Customization
-
-

Yes

Yes

Custom Widgets
-
-

Yes

Yes

Multi-brand Help Center
-
-
-

Yes

HTML Customization
-
-
-

Yes
Along with customizable and affordable self-service tools, Zoho Desk's client portal software also comes with: An omnichannel help desk, Workflows and SLA's, reports and insights, advanced automations, AI, and more.
Personalize support using a CRM with your client portal software
To take it up a notch, you can integrate Zoho Desk's customer portal software with Zoho CRM to get contextual information about your clients. You'll have client data and history the minute they reach out, helping you deliver a personalized client experience. Your sales team also benefits by responding to prospects who reach out for help with the purchase process. It's not just Zoho CRM – Zoho Desk's customer portal software also offers a variety of integrations and extensions to run your entire operation more effectively.