Ever wondered what makes some people buy groceries from the same local store, even when there are other sellers offering the same items for the same price? The store's relationship with its customers is the likely explanation. How does the store build these relationships? With stellar customer service.
Every business can gain a base of happy customers by understanding their customers' needs and delivering good customer service.
How great customer service can help your business?
Today, it takes more than a great business idea to thrive in the market. Unique products may draw customer attention, but they can't build customer relationships. To build these relationships, you must consistently provide timely, friendly, and useful responses to customers on their preferred channels.
Good customer service has just as much impact as a strong marketing strategy. Let's look at the impact customer service can have on your business.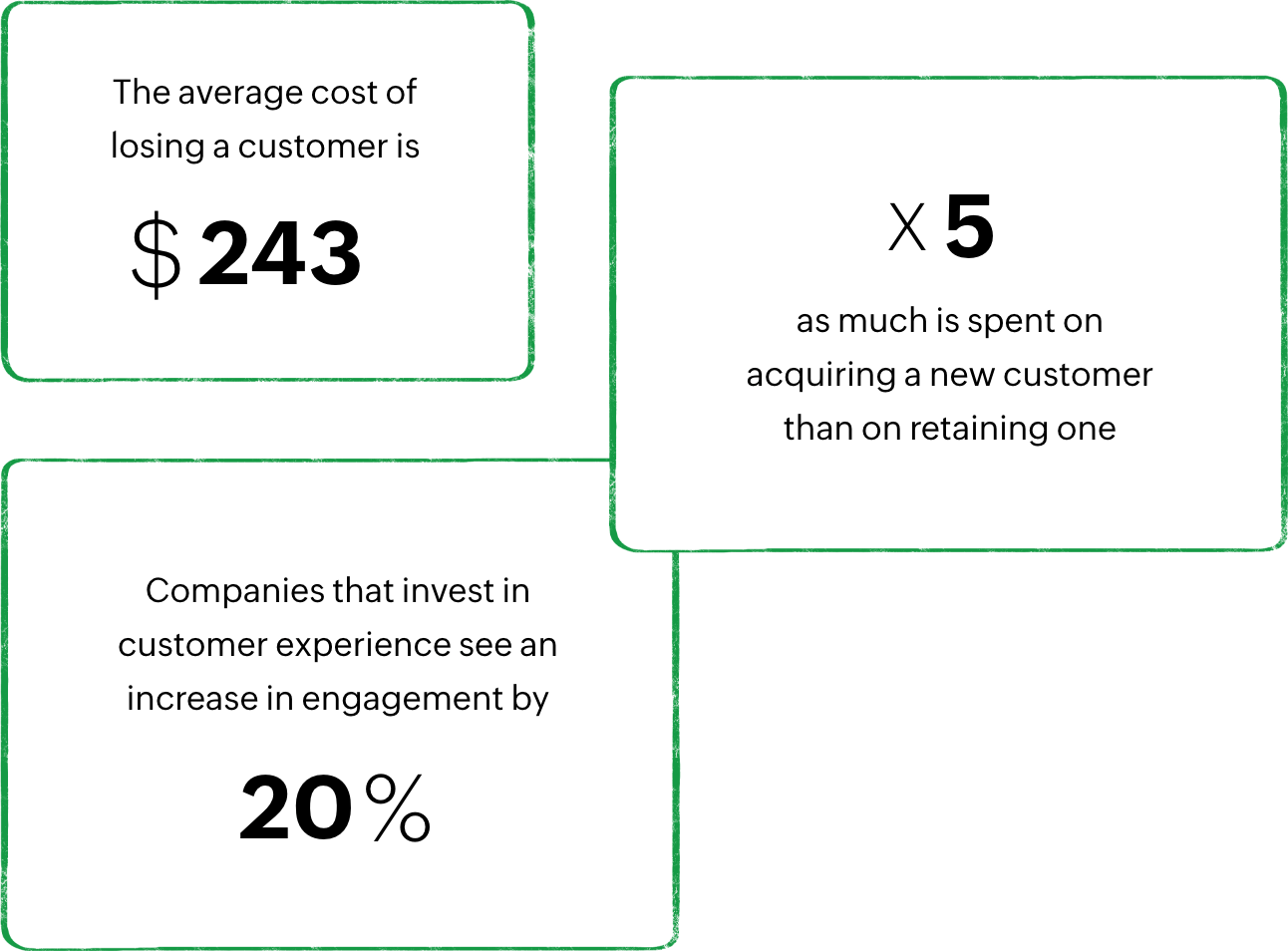 Saves the cost of losing a customer

Bad customer service is costlier than good customer service. When you lose a customer, the impact is a lot greater than simply losing a sale. A single customer might seem like a drop in the ocean of all your customers. But the average cost of losing a customer is $243. From wasted marketing efforts to lost lifetime value, to a damaged company reputation, the cost can be significant.

Reduces your churn rate

If you think you can recoup the cost of lost customers with new customers, think again. Research shows acquiring a new customer costs five times more than retaining an existing one. While customer churn rate can be a scary metric to track, it's the first step to understanding your customers better. Keep in mind, even the most customer-focused companies can't get their churn rate to zero. The goal is to take care of your existing customers and strive for a healthy churn rate.

Increases customer lifetime value

The longer your customers stay with you, the more business they bring to you. Focusing on customer satisfaction and retention can improve your customer lifetime value. Here's how! Good customer service leads to improved retention, which in turn increases the frequency of purchases and spend per order. As a result, improves customer lifetime value (CLTV = Average customer lifespan x Average purchase frequency rate x Average order value).

Creates upsell and cross-sell opportunities

If you offer multiple levels of service or a wide range of products, you can upsell and cross-sell to your loyal customers. Upselling and cross-selling is done when it makes sense. Pushing a product to a dissatisfied customer can backfire. It's easier to sell more to a customer who has made repeat purchases and left good reviews.

Turns customers into brand advocates

Only 1 in 26 buyers actually complain about their bad experience—the rest simply leave. But a single negative tweet about a brand can have far-reaching impacts. Similarly, your most loyal customers can boost your company's image when they rave about your brand online and offline. People trust genuine, unsponsored reviews more than they trust the words of the business.

Offers customer insights

When you make the most of every customer interaction, you gain valuable insights about customer experiences. Your customer service team can gather product feedback, user testimonials, bug reports, and feature requests. These insights can give a new direction to your product, sales, and marketing teams.

Builds a positive work environment

Good customer service usually causes a ripple effect. A satisfied customer results in business success, leading to happy employees and a positive work environment. When a company is known for positivity and productivity, investors, clients, customers, vendors, and job seekers take notice.
If you are looking for customer service software, get a 15-day free trial of Zoho Desk. Supplement your service efforts with the industry's first context-aware customer service platform, trusted by over 50,000 businesses around the globe
It's time to prioritize customer support in your company
According to research, companies that invest in customer experience see an increase in customer engagement by an average of 20%. Excellent customer service keeps your business wheel spinning by acquiring new customers, retaining existing customers, reducing losses, and empowering you to focus on new innovations.
Your agents interact with your customers every day. A good customer service solution helps you monitor your team's effort, identify areas of improvement, increase productivity, and streamline all your customer support tasks.