Gain a competitive edge with low-code BI platforms
Gain a competitive edge with low-code BI platforms
Last Updated: October 5, 2021
209 Views
5 Min Read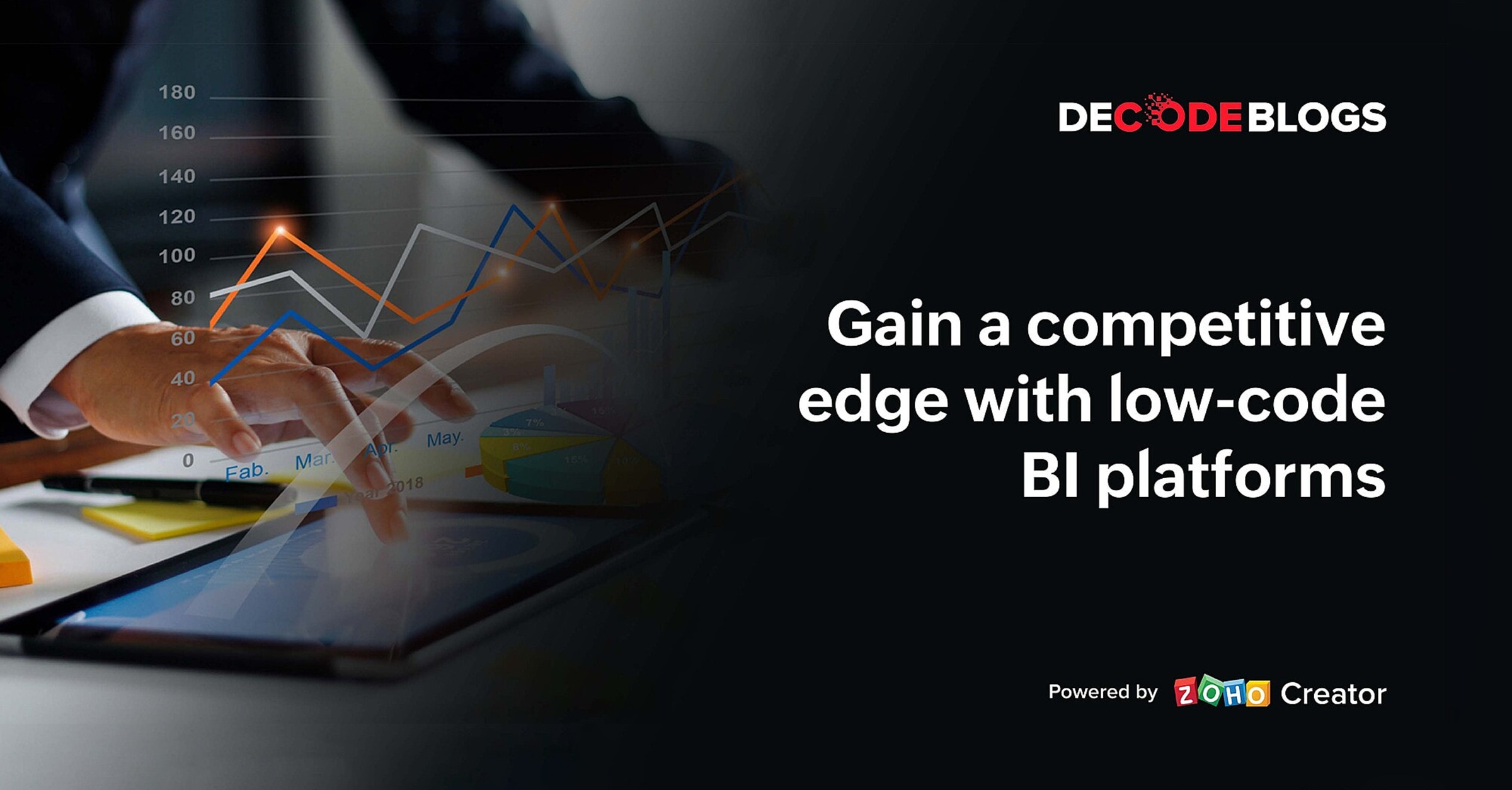 Introduction
"Data for data's sake is useless."
The pandemic has forced businesses to prioritize digital transformation. As companies were compelled to take an unplanned crash course in digitization, this culture shift expedited the adoption of digital technologies by several years.
The move to digital solutions has exponentially increased the volume of data that's generated across industries. Large amounts of data can deliver a better understanding of operations, customers, and markets, and also drive innovation at any organization.
But just collecting this data isn't enough—you must be able to leverage it to take action. The ability to analyze, interpret, and make informed business decisions from well-managed data is vital to the success of any organization. Raw data, when integrated with an analytics program and strategy, can turn into insights and fuel data-driven decision-making.
Business intelligence and analytics on low-code platforms
The low-code approach is an evolution in development environments. Several enterprise low-code platforms offer robust business intelligence (BI) and analytics features that let you transform raw data into easy-to-interpret visualizations, so you can make informed business decisions faster.
By combining BI and low-code, users can build powerful business solutions that enable you to gain insights on real-time information and automate tasks on the go. For example, if you have an inventory dashboard that summarizes all your monthly sales, orders, expenses, and more, you can easily identify low-stock products and automate a follow-up email with the details, directly to your BI dashboard.
Advanced low-code development platforms (LCDP) also incorporate must-have BI features, like data mining and prepping, extensive visualization for extracting insights, augmented analytics, and more.
In this article, we'll see how choosing the right BI platform can profoundly shape your business.
What is a low-code BI platform?
Business intelligence (BI) software is an application that gathers, analyzes, and generates reports from various data sources to help companies in making business decisions. Low-code BI takes this a step further by empowering people that understand their own business challenges with the capability to create easy-to-understand interpretations without any technical expertise needed.
Why choose low-code BI over conventional BI platforms?
If you examine the usage of BI analytics at organizations, you'll notice that most of it is operational—intelligence gathered by evaluating operational business processes, activities, and data. Utilizing operational business intelligence (OBI) enables your organization to improve processes while reducing costs. This is where low-code development can help. Using low-code functions and augmented analytics, you can deliver powerful dashboards that automate actions and integrate your workflows. Other benefits include:
Self-service and user-friendly UX
The purpose of a business intelligence tool is unfulfilled if your end users cannot utilize it to create ad hoc reports and dashboards. Low-code BI provides intuitive, graphical tools that enable everyone—from C-level executives to sales reps—to create charts by themselves using your data.
Built-in database management
You can gather, retrieve, visualize, and maintain the entire lifecycle of your data on low-code BI. Most BI tools can only pull data from your database and perform analysis, but can't write back to the database. However, a low-code BI platform enables you to edit your database manually or through automation, even after dashboard creation.
Collaborative analytics
Users can also comment on any report and have contextual conversations, right within the platform, without relying on an external chat or collaboration tool.
Powerful no-code integrations
If your business intelligence solution isn't compatible with your existing software it can become quite difficult to create visualizations for your existing data. Conventional BI solutions require extensive coding to be integrated with other software. But low-code BI can be directly plugged into your CRM through a prebuilt connector.
Data governance and security
Not all users should have access to the same data. That's where role-based permissions come into play, where the data administrator can assign data access permissions to employees based on their role. This balance of security and accessibility presents users with the data relevant to them, while protecting sensitive corporate data from unauthorized access.
Mobile BI
When decisions must be taken on the spot and at the moment, mobile BI comes in handy. Mobile BI gives sales teams, remote workers, and field employees a competitive edge by providing them with answers to customer queries at their fingertips, whenever they need and wherever they are.
AI-powered, conversational analytics
Some low-code platforms, like Zoho Creator, provide built-in AI models, such as sentiment analysis and keyword extraction, to speed up data processing. Zoho Creator also has an AI assistant, Zia, that converts questions asked in natural language to complex SQL queries in the back end, and comes up with multiple relevant report suggestions.
Embedded BI
Embedded BI takes data visualization to the next level, by providing users with reporting and analytics in the applications they already use. You can also enable single sign-on in your application, so that your end users can enjoy a seamless user experience without leaving the application.
Go beyond analytics and dashboards
The combination of low-code technology and business intelligence opens up a world of possibilities that most BI platforms don't offer. Apart from just creating analytics and dashboards, low-code BI lets you:
Automate business processes based on data changes and trends.

Schedule records that need further approval for review.

Build online databases and forms with validation rules.

Create impressive UIs with widgets.

Create self-service portals for all your stakeholders.

Set up email, SMS, and push notifications when key metrics change.

Deploy your solutions as standalone web and mobile applications.
A low-code BI use case
Businesses across many industries, like telecom, manufacturing, and education, have benefited from the flexibility that our low-code platform offers. Here's just one of our success stories:
MTN, Africa's leading telecom operator, with business in 24 different countries and 223 million subscribers, successfully transformed its data management with Zoho Creator.
MTN was using Excel sheets, with inconsistent data from multiple sources, to run their procure-to-pay solution. The process lacked automation and controls, and the data collected was not "smart"—employees had to spend valuable time authenticating all the information. The firm also could not gain any real-time insights from this raw data, which they needed to grow as a business.
MTN needed an agile digital platform that would provide an uncomplicated solution to their problems. With the help of low-code, they built their own business process management (BPM) solution, a procure-to-pay cloud-based process automation tool, which gave them real-time visibility, data accuracy, and operational efficiency. With workflow controls and audit trails, the whole process is now more transparent, accountable, and accessible to anyone managing their payment process, across vendors and geographies.
The app went live with around 400 active users across the Middle East and Africa region in three months. It provided harmonized, smart, and ready-for-analysis data, making it a win-win for both the organization and its users.
Several successful companies, like MTN, have found their competitive edge in data. Utilize BI to boost functions and collect and analyze the data that flows through your organization, with Zoho Creator.

Rashmi Sasi

Product marketer at Zoho Creator, where she researches and creates content about all things low-code. Writer by day, reader by night, into eclectic books and long sentences, sci-fi enthusiast, and novice painter. Dislikes character limits.
Leave a Reply
Your email address will not be published. Required fields are marked